Could it be one more? - 1MORE ComfoBuds Pro earphone test
1More is the top category of Chinese earphones, and this is their earliest earplug.
---
Introductory
The market is flooded with Chinese ears, neither the number nor the number of manufacturers. Some of them are better, some are worse, some are producing clones, but there is only one of 1More. The name in this case is a rope, since 1 more, or even more, or even more, is a serious undertaking. To be more, better than others.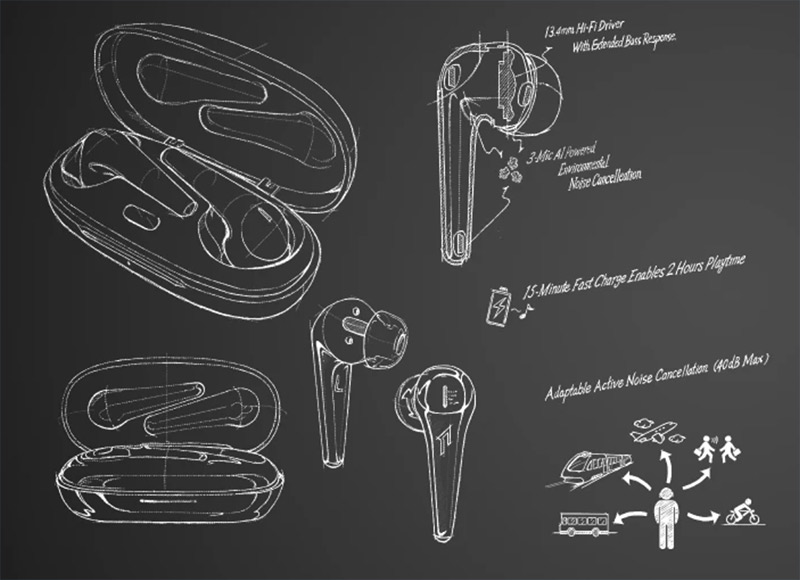 Fortunately, the mission is mostly accomplished by the company. I haven't come across their product yet that I couldn't have mentioned with the best. The materials used, the percussive design and last but not least the great sound were always there.
The tab in the present test also meets the above, at least for the most part.
---
Packaging, accessories, exterior
The fact that the packaging of the product is first-class is not very large, the attractive cardboard, the dripping interior, is already common in one of the lower categories. When you open the magnetic cover first, the graphics on the inside of the cover captivate the eye, the whole thing is unconsciously cool and elegant at the same time.
In the box you will immediately find the earpiece in its filling box, below it in the smaller box you will find a charging cable, earplugs of different sizes and a small bag in which you can carry the filling box.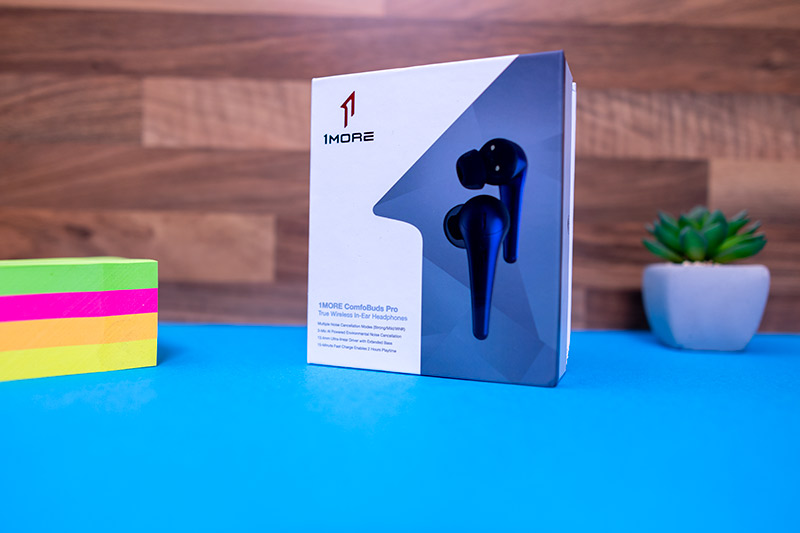 There is also a description, a sticker and a QR code on the paper, on which the code does not take you to the application that comes with the tab (you can find it on the first page of the description), but you can check the authenticity of the product.
I couldn't wait to get over the accessories and open the top of the filler box. The earpiece came to me in blue, which is perhaps the most beautiful of the three available designs, as black and white are available in addition to blue.
So both the box and the earpiece are blue, which really fits in, but the shape of the earphones is a bit of a disappointment to me. Don't get me wrong, there's nothing serious about it, it's a completely subjective thing, I prefer the slightly more square design.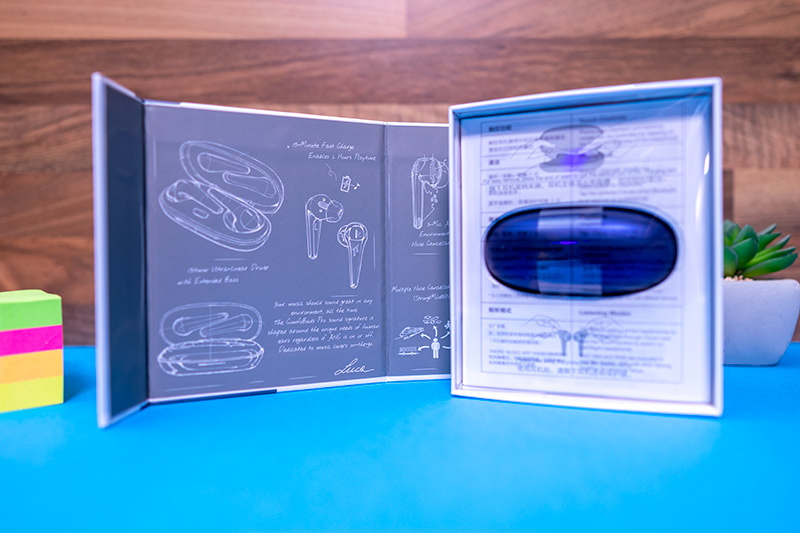 At the same time, of course, the 1More's ears have once again become first-class. The use of materials, the assembly, everything is perfect. I really like the red grid in the blue tab in the silicone plug. The hidden indicator LEDs at the end of the stems did well when it glowed red to capture a little ET home phone feeling. It's all great.
The case is also very fine-lined. It's metallic, but I think it's plastic, though it could even be metal, quite deceptive because of the polish. The 1More logo at the top is barely visible, not intrusive, it just looks so much that curious eyes can satisfy their desire, and we can be a little proud that the music isn't about some cheap crap.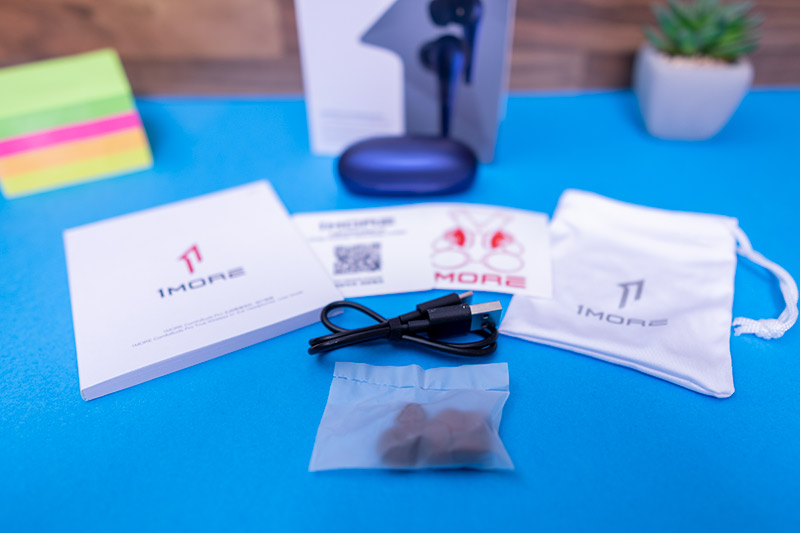 Of course, we can't find push-button buttons on the ear, at this level you can expect a lot of touch-sensitive use.
Ok, let's see the bear, that is, what we get in paper form!
---
Specification
The 1More ComfoBuds Pro, according to the manufacturer, clearly wants to compete with the Apple AirPods Pro, and in some capabilities it not only competes with it, but better than that. In sound, say no, but for half the price it may not be to be expected. Well, let's not run so far ahead, let's stay with the skills!
So, 1More's ear is clearly better for two things. It weighs less (5,2 vs. 5,4 grams) and has a longer battery life (6 vs. 4,5 hours), with 1More turned on for noise reduction, with 8 hours of operation on a single charge. is. This is quite a parade! Added to this is the charging box, which gives us another 20 hours of charging!
Another great benefit of the 1More ComfoBuds Pro is its excellent noise reduction. No less than 6 microphones are built into this. There is a fully interoperable mode where almost all external noise can be heard, there is one where most but not all of their noise disappears, so it can be good at work, for example, if you don't want to completely exclude the outside world. Finally, there is a completely isolated way.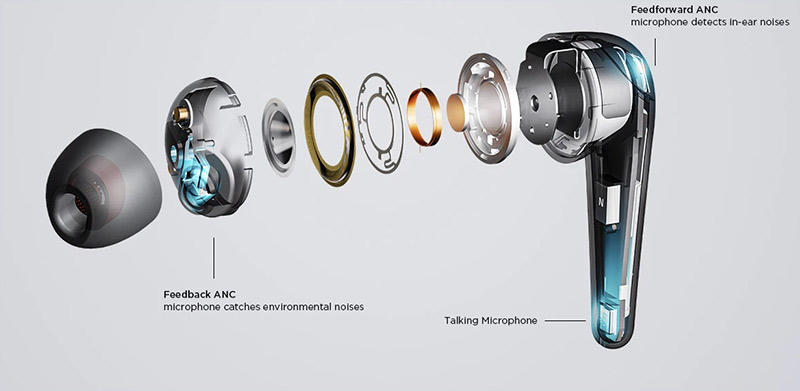 Another curiosity is wind noise filtering, which can be used specifically in situations where the wind. must be eliminated. Let's say while running.
In terms of capabilities, it should also be noted that the diaphragm of the only driver has become surprisingly large compared to the size of the tab, 13,4 millimeters!
Specification:
Earphone weight: 5,2 g.
Weight case: 40 g
Gross weight: 50,4 g
Earphone dimensions: 1,5 mm: 42 x 23,95 x 20,93 mm
Case dimensions: 80 x 37,5 x 30 mm
The capacity of a headset is 50 mAh
Egg battery capacity: 450 mAh
Earphone charging time: 1 hour
Bag filling time: 2 hours
Playing time * (ANC on): earphones fully charged: 6 hours, case and earphones fully charged: 20 hours
Playing time (ANC off): Fully charged earphones: 8 hours, fully charged case and earphones: 28 hours.
Speaker impedance: 32 Q
Bluetooth range: 10 m (outdoors)
Bluetooth version: bluetooth 5.0
Bluetooth protocols: bluetooth 5.5.5 HFP / A2DP / AVRCP
Input: 5V 1A
Operating temperature: 0 ℃ -45 ℃
Frequency range: 2,400 GHz to 2,4835 GHz
---
Experiences
This will be the longest chapter again, because I'm going to list the app that comes with the earpiece here as well, because without it, 1More ComfoBuds Pro would be a one-legged giant.
Where do I start? Maybe there to take the earpiece out of the charger!
I hate earplugs when I have to take stuff out of the box. If the magnet is strong enough not to pop out, beef is hard to take out. Form doesn't help that either, so I tend to sanctify it. With 1More ComfoBuds Pro, we get so much help that pushing the end of the shaft halfway out of the tab makes it easier to lift. I still managed to kill it 1-1 times.
Okay, now let's put it in my ear and see what it's like!
I don't even have to describe the perfect shape. It sits great in the ear, and we get a significant reduction in noise even without turning it on, as it closes the ear canal perfectly. So passive noise reduction is great!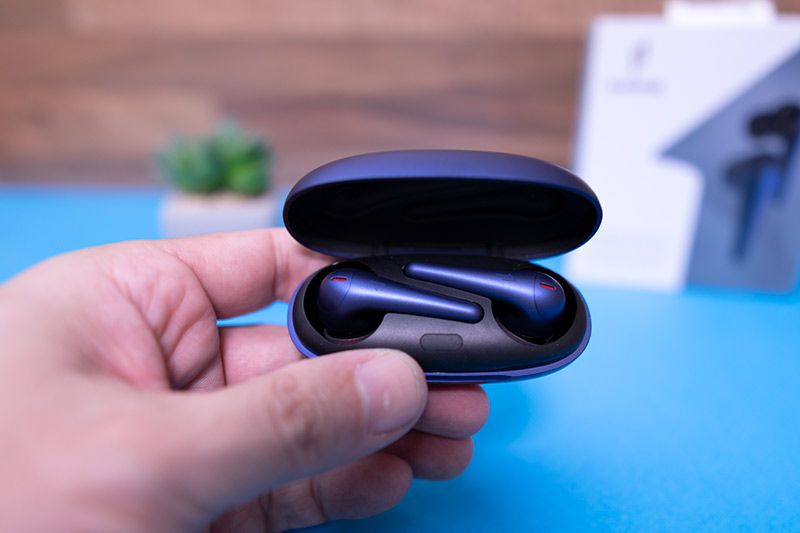 Due to its low weight and good shape, it was not disturbing when used for a long time. He is still in my ears as I write this article. That's what Lana Del Rey is talking about, which I really enjoy listening to while writing an article. Let's say it wasn't in my ear for more than 5 hours at a time, but I think that can be said to be quite a lot on average use.
The application can come!
If you want to take advantage of all the capabilities, you have to use the program, so this is not a solution that is only there to tell you from your phone (also) controllable. From here, you can switch noise reduction profiles or choose from a plethora of pre-programmed audio images.
You can see the filling of the ears per page and you can also see the filling of the filling box. I really loved this, it's good to know how long I can use it for longer, it's not that it just goes silent one day.
You can turn on Smart Playback. In practice, this means that we can choose what happens if we take the ear out of our ears. The first option only stops the music, the second if you take it stops, if you put it back it continues, and the third option completely shoots the function.
Interestingly, for Smart Playback, it uses infrared sensors that "see" when the earpiece is plugged into our ear.
Under Custom Settings, you can set what happens when you touch the tab. I would like to make two comments on this.
The first is that we can turn off the voice assistant, which I'm glad I never use, here I can program another function in its place. The other is that there is no option for the earpiece to touch it once and do something (the music stops, starts, gets quieter or louder, etc.).
There will be someone who hates this, someone who loves it, I'll tell you why. One of the most annoying things about touch-controlled ears is that if you accidentally touch it (say, poking your hair, putting on sunglasses, etc.), the music will stop, skip to the next track, turn up, fade, that is, something you didn't want to happen . Since there is no one-touch function here, this will not happen, which is good!
However, it's so good when it's a light touch and you're already coming to the next track or turning off the music. Well, it won't be like this here, at least two touches have to happen.
So decide if it's good or not. I think it's more good and just a little bad.
The next menu item is Equalizer, maybe I don't have to explain it, we can find various pre-programmed sound images here, namely no less than 23 kinds!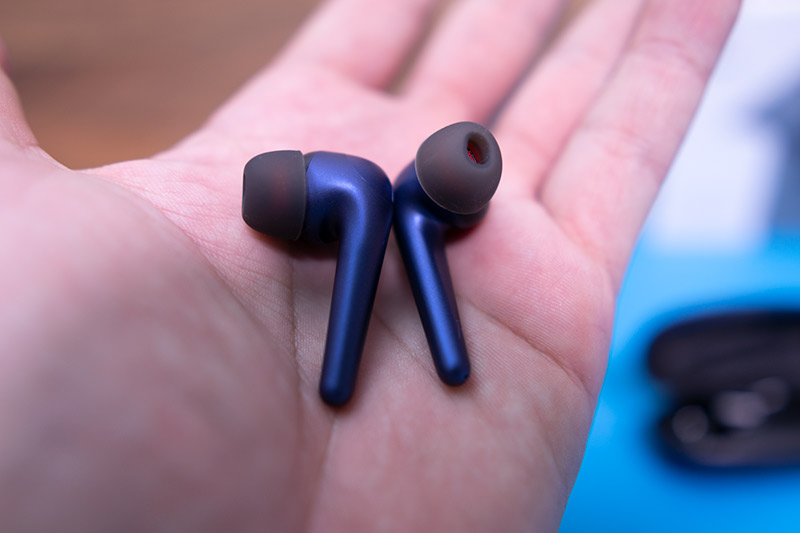 Quick Guide is not interesting, this is the next point, but the last menu is good again. There are relaxing background noises here. The sound of rain, thunder, wind, etc. etc. etc. There are plenty of sounds to choose from if you just want to turn off your brain smoothly. From experience, anyone who does brain work will come in very handy, sit back for 2-5 minutes, turn on a sound, and relax. Just don't fall asleep!
So you can see that the application is here, you will need it, otherwise you will have most of the services unavailable!
---
But what does the earpiece sound like?
Let's start with noise reduction! I'm not saying I haven't met better anymore, but I certainly haven't met much better. It isolates us incredibly well from the world, so much so that I don't even recommend full screening on the street. At most, if you're sitting on a bus or in your mother's seat, you don't have to drive and let go.
Wind noise filtering is also good, though, this could still be improved if not much.
And then the sound!
As usual, I tried it with a variety of music. In addition to the usual list of AC / DC, Guns, Yello, Adele, Lana Del Rey, there was also a small Ella Fitzgerald, Herbie Hancock. So the immersion was bigger than usual.
The first thing that was noticed is how wide the sound field is, how nicely the vocals stay there in the middle, and how well the layers of music separate. I understand this the jazz line the most, because of course I considered the clarity of electronic sounds much more important in the case of a Yello. Even though the manufacturer used only one driver, the treble sounds surprisingly clear and the bass sounds very warm.
The reproduction of the vocals is almost perfect. As I wrote above, Lana is an almost constant companion to me while writing articles, sometimes even Adele takes the stage next to me. I don't usually listen to them anyway, but their background music is perfect. These are heavily vocal-focused songs, and the singing voice of these ladies sounds wonderful from 1More ComfoBuds Pro.
Honestly, I'm not a big jazz fan, I'm not even at home on the subject, so all I would write about was that the vocals were perfect here, be it a man or a woman, the hoarseness of the wind instruments came through very well.
On the other hand, Blues Rock came in very much while listening to 1More ComfoBuds Pro. I like it anyway, but the ears are especially good for that. If you don't know me, I recommend Indigo Road, a song from a team called Saving Escape.
(I note in parentheses here that it is mandatory to listen to an early work by the singer. The otherwise brutal good band, a dance band called Forty Six & 2, has been processed in some amazing way. Search Youtube for Kids Cover 13 and 46 by Tool / O'Keefe Music Foundation)
If I really wanted to get involved in something about music, I might mention that harder rock would have fit a little more scratchy. To give you an example, listening to Motörhead's album Ace of Spades, Lemmy's madness didn't come through, his voice sounding too soft. Anyone who knows his work will understand what I mean by that. Let's say Ozzy was good and listening to AC / DC was good, though…
What's even more striking is that when listening to rock, at maximum volume, it's as if the driver is a little out of place, i.e. as if the diaphragm is moving too much. At least I hear a sign of that. But that's really just rock hard bass and full volume.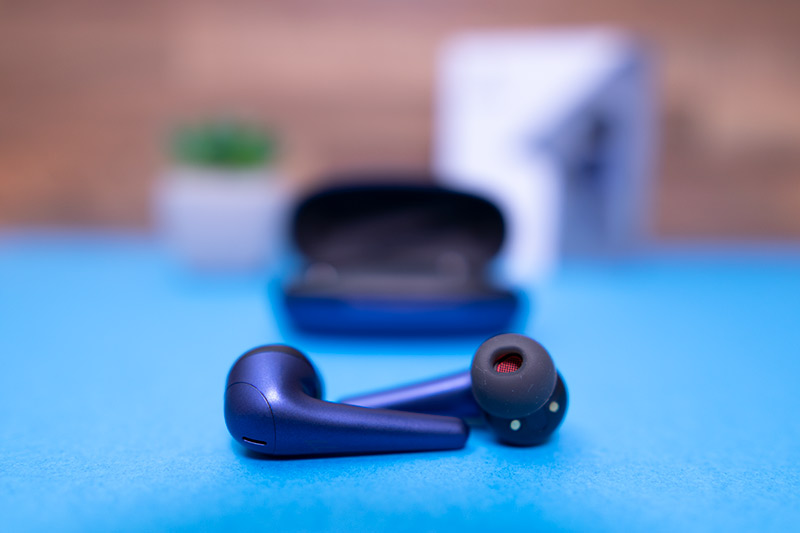 If I have to average my performance, I can only list the positives next to the stumbling block of hardest rock, it's great for essentially every other style, but you don't have to give it up to someone who listens to a different kind of rock, Queen, Guns n 'Roses or say Led Zeppelin .
So overall, what comes out of this tab is far superior to the 20 category, but not a 70-80 AirPods, even if you approach it.
One more important thing I haven't written about is how to use it to make phone calls. Well, of course, flawless, the sound quality at the other end of the line is indistinguishable from a normal phone conversation. Even when used on the street, it would sound completely clear. The sound in my ear is also good.
That's pretty much all I can say, honorable jury. The summary can come!
---
Summary
I used to write so much about a headset, but in this case there was something to write about, I didn't fill in the "paper" with empty words.
1More brought the mandatory again, putting an almost perfect earphone on the table. It's obviously not good for all music, so if you just want to listen to Mötorhead, don't buy it, you'll be disappointed. But anyway, out of a lot of music I've listened to, I can't really say anything else that didn't come in.
I would say that it is good compared to the 20 thousand category, but it would not be true, I think it is also good for the 45-50 thousand category, only the really expensive high-end ears, which can give noticeably more, more detailed sound to an uninitiated ear.
It can be purchased from 1More ComfoBuds Pro Eu (Spanish) in stock, so you don't have to expect customs clearance. All three colors are available in the store. If you liked trying it out, click on the link below: