Top performance at half price - BlitzWolf BW-HC1 vacuum test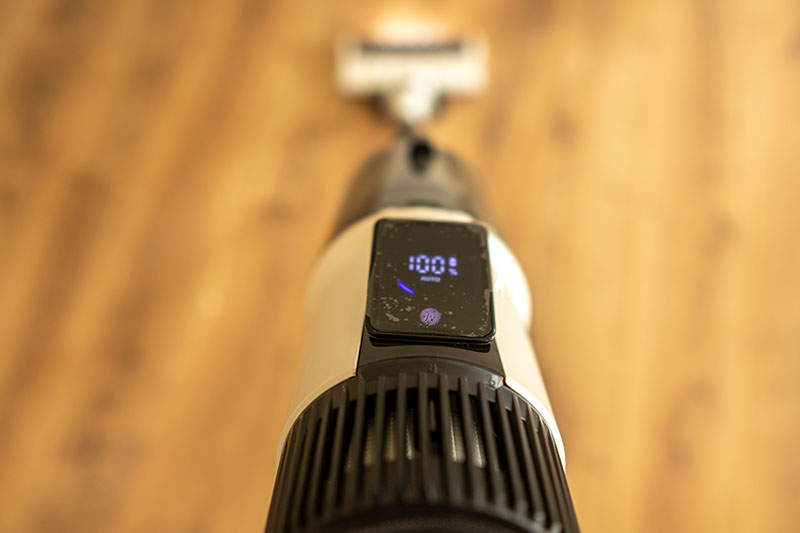 The BlitzWolf BW-HC1 was a pleasant surprise, I think it would be for you too.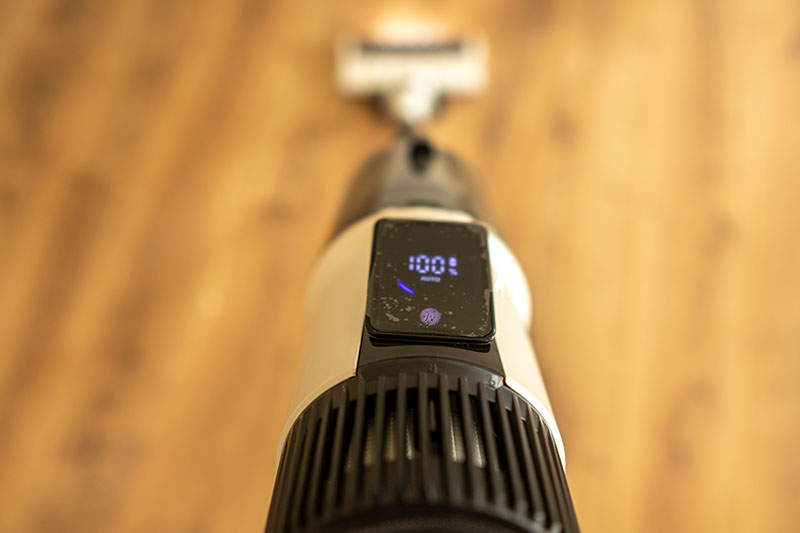 ---
Introductory
For some reason, in Hungary, robotic vacuum cleaners are really for sale, stationary vacuum cleaners are less so. It may not be as cool as a robot, but at least as useful, in fact, it makes our lives easier and, of course, keeping the apartment clean.
I have had quite a few similar machines in recent years and the development can be well followed. More and more suction power, more and more service. Nowadays, among the more expensive machines, we are no longer surprised by an OLED display.
The problem is that more and more services have made these machines more and more expensive. The lower or middle category is quite detached from the upper category in terms of knowledge, it is true that they do not cost as much in return.
The fact is, however, that the upper class is miles better than the cheap machines. Until I tried an expensive one, I said these are electric brooms that you can quickly combine e.g. vacuum the crumbs. Ever since I use a more expensive machine, I know they know a lot more than a plain electric broom, and I've been able to vacuum up to 100 square feet quickly with it.
Well, the good news is that at Blitzwolf, they decided to try to squeeze high-end properties into the price of a mid- or lower-mid-range. From this article, you can learn how successful this commitment was.
---
Packaging, accessories, exterior
I just want to cover the packaging in terms of what lies in the box, because the box is the usual Blitzwolf cardboard anyway, but now the green colors have been forgotten about it.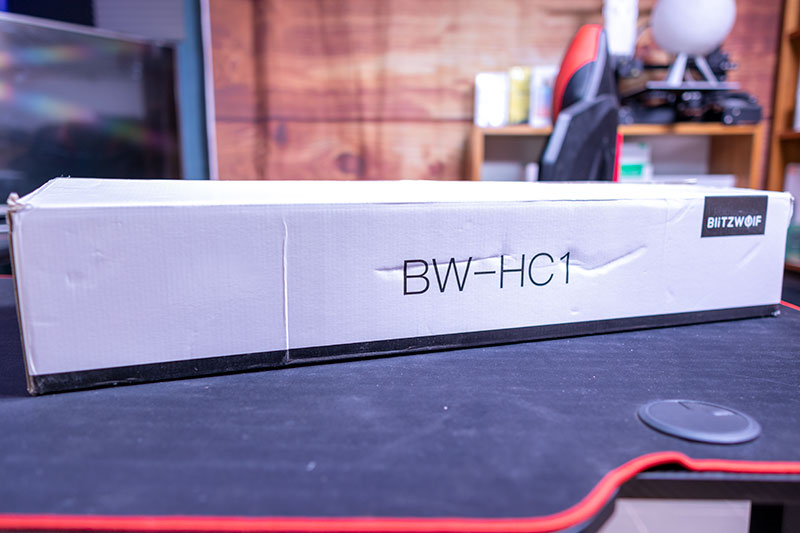 When you unpack the accessories, you can immediately discover two things that suggest cheapening. There is no motorized upholstery head and no hose. The former kills the ability to absorb mites and the latter makes it difficult to e.g. use as a car vacuum cleaner. So that's not so good news.
However, there are no other shortcomings. We have a long pipe that bends in the middle (it's not even basic in the more expensive category, I'll write about what's good later), we have a large motorized floor nozzle for hard floors (stone, parquet, laminate, etc.). We get a small brushed upholstery head and an even smaller one with a small hair collecting flange. These will be good for a car, upholstered furniture or to remove dust from shelves, for example.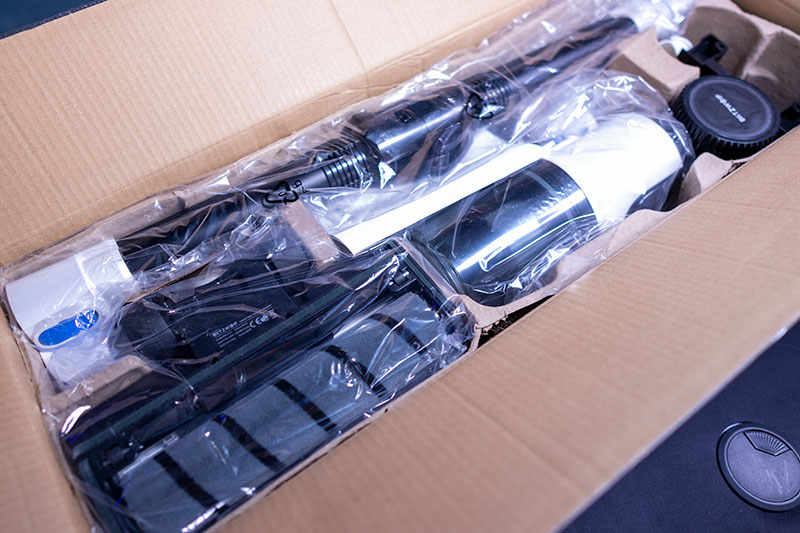 The package also includes a vacuum cleaner, a wall bracket, an adapter for charging (of course with an EU plug), a battery, an instruction manual, and of course the basic machine itself.
If I had to rate the look, I would add four out of five. Maybe a strong foursome, so there's nothing wrong with that. The shape and design are good, the grip is comfortable, the weight distribution of the machine is also okay. For me, this white color doesn't come in so much, but it's just a search for the bunch on the poop, it's not appropriate to tie it into the color, maybe it's someone else's favorite.
When scoring, I give the strong four because the plastics seem to be a little lower quality (in places) compared to the top category. It's not a breast-cutting thing, but it also belongs to completeness.
---
Knowledge, paper form
Let's start with the suction ability. According to the manufacturer, the suction force is 25 Pa, which is more than just a category. This is essentially a top notch value. The machines close to it in the price know a value between 000-15 thousand, so it is good so far.
The power is 350 watts, which in turn seems a bit low. Not in terms of price or category, but in terms of suction power. I have never seen anything like this before, we have been looking for a value of 25 thousand Pa somewhere around 500 watts so far. Of course, this does not mean that the numbers are not right, the blade, the turbine design can push so much into the lat.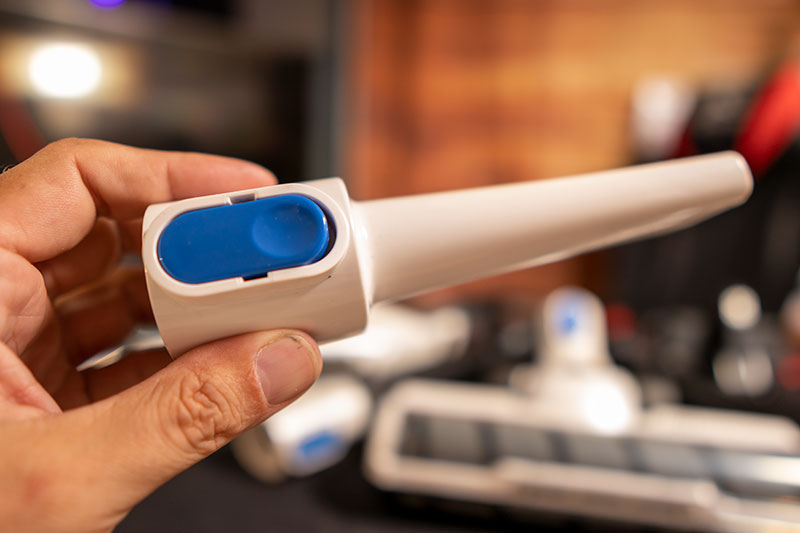 The machine is of course battery operated, with a capacity of 2500 mAh. According to the manufacturer, after 4-5 hours of charging, you can spend between 14-60 minutes with vacuuming. This typically means that we have 14 minutes at maximum speed and 60 minutes in ECO mode.
These values, if the test also proves them to be sensationally good, can take 14 minutes for the Jimmy H8 Pro currently in use with us, except that the point costs twice as much as the Blitzwolf machine. So, I'll be curious about that!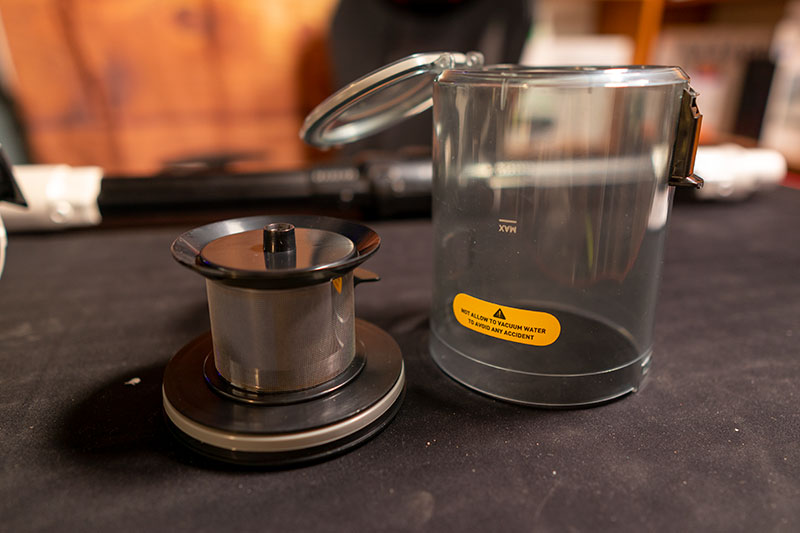 The good news is that the machine's dust container will also stand out from the field with its 700 milliliter capacity, less will have to be emptied.
According to the factory data, the generated noise can be up to 68 decibels, I think this is also at the maximum speed, that is, using the turbo mode.
If you have turbo. I also mentioned the ECO mode above, in addition to these there is a third optional mode, this is called auto.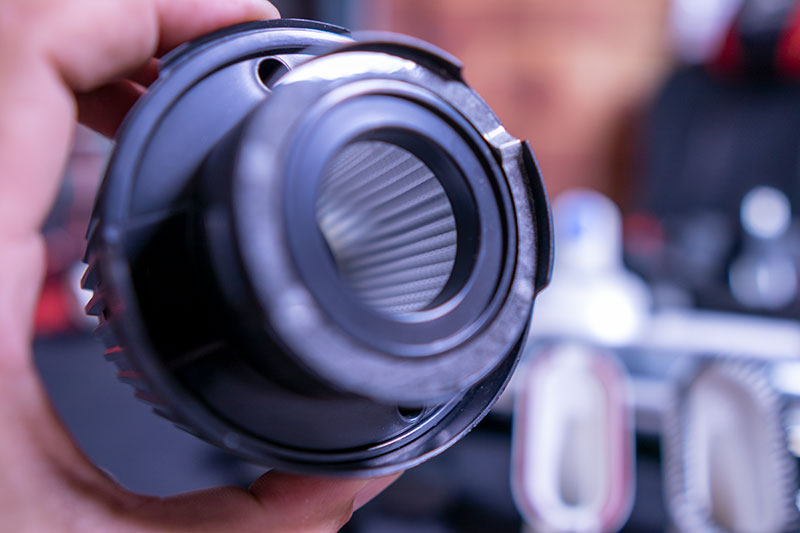 It would have really belonged to the exterior, but I'd rather insert here that we also find a frank-looking, touch-sensitive OLED display on the vacuum cleaner. Here we can switch the cleaning modes and also see the battery charge.
Importantly, Blitzwolf packed a 5-layer filter system into the machine. With this, again, according to the manufacturer's data, 99,99 percent of the dust enters the machine, so it does its job pretty well!
---
Knowledge, real experience
I have already mentioned above that the weight distribution is very good, which is why it is good to handle and vacuum with the machine. At least my wrist wasn't tired, and that's really good for a start.
I was a little scared of the noise. As I wrote next to the 350 watts we get a fairly high suction power of 25 Pa, I was afraid we would drink the juice of it somewhere, like on the noise side. Well, it didn't.
I measured 63 decibels with my own instrument, the factory value says less than 65, so that's true too. Of course, the volume of the sound is not everything, because 65 decibels can be annoying clapping, creaking (this word I don't know where it came from, maybe it doesn't exist), but here it isn't either. A constant, normal buzz, engine sound + the sound of air, so absolutely good!
To my great delight, it turned out that the wall bracket was also a charger. For example, my current machine has a floor-standing console, through which it is not possible to charge the vacuum cleaner, the cable must be plugged into the ass of the machine.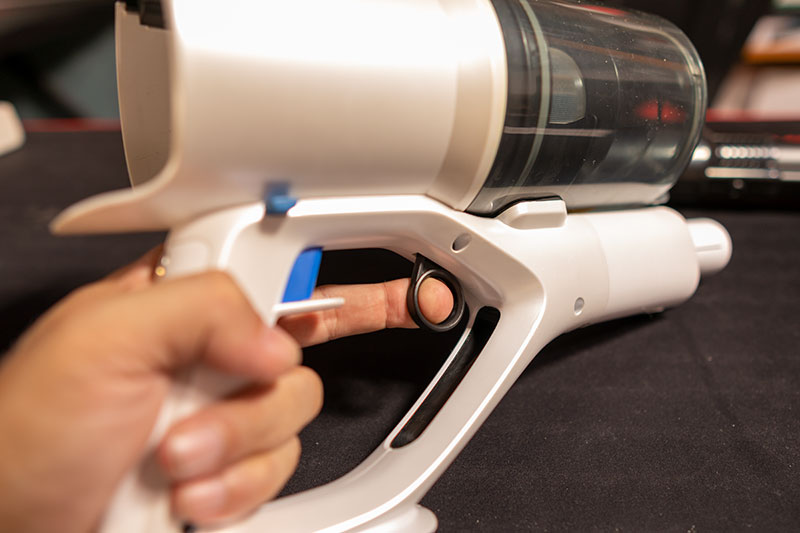 It's much more convenient than that, the Blitzwolf BW-HC1 just needs to be hung on the console and charged. This is also a big red dot.
Even bigger red dot to get a folding extension tube in the middle!
It's something quite a sensational invention (not invented by Blitzwolf). For stationary vacuum cleaners, the difficulty is that the long suction tube cannot or hardly be inserted under the furniture. For this reason, e.g. I can only vacuum under the couch if I lie down on the floor. Brain trouble.
This is not the case with Blitzwolf. Due to the flexible tube, the vacuum head goes all the way deep under the sofa, almost to the wall. This is typically a capability we are only used to with the highest, most expensive category of machines.
I wrote above that I would be curious about the uptime. Well, I didn't have 14 minutes, but 13 almost. It doesn't seem like much, but if I also describe next to it that 5-7 minutes is the usual (full turn) in this price range, you can already feel that this 13 minutes is very human.
I did not measure the 60-minute ECO mode, there is a good chance that very few will use it, the auto mode is difficult to measure because it is auto, that is, it depends on e.g. how many carpets are in the apartment.
I also love the OLED display!
It's terribly annoying with other cheap machines that with the short battery life, you couldn't really tell how much cocoa is still in the battery. Needless to say, the souffle always ran out in the middle of the word. Well, that can't happen here.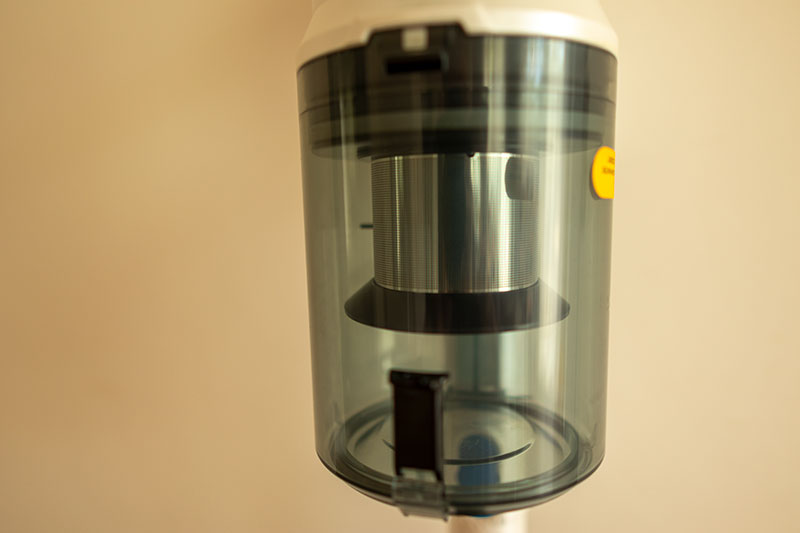 On the one hand, the battery life is quite long, on the other hand, the display shows how much spare time is left, so we can pull it in when we are running out of charge.
I also really liked that the elements of the five-layer filter system were placed on two sides, in the dust container and on the butt of the machine. The practical benefit of this is that the filter cartridges take up much less space in the dust container, thus suspected of achieving an exceptionally large space size.
There are two things on the Blitzwolf BW-HC1 that I really like because of their ingenuity.
One is the cunning that can be pulled to detach the dust container from the machine. I love this too, no need to roll the tank, no need to press hidden buttons, we pull the lever and the tank in our hands.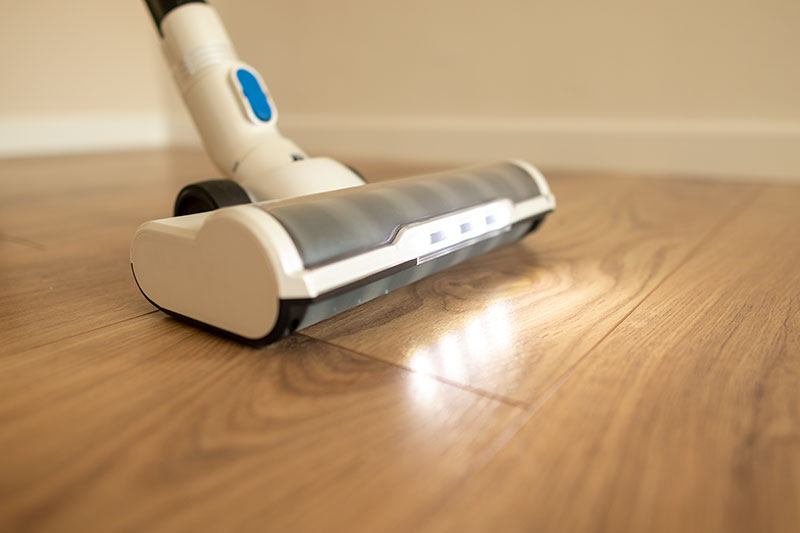 The other is the little dicks that e.g. can also be found on many machine tools and with which we can lock the power button. The great advantage of this is that you do not have to press the button continuously when vacuuming. Believe me, after a quarter of an hour of vacuuming, it starts to get uncomfortable to have to press a button.
Well, you don't have to here!
And what makes the solution so awful is that it was the same on the recently tested Dreame stationary vacuum cleaner, but there had to be a switch on the OLED display. Maybe I don't have to explain how much more complicated that kind of implementation is than what Blitzwolf used. Such ideas are needed to be able to implement a wealth of outstanding capabilities cheaply into their machines.
Then there's one more interesting thing, or let's say more extras. This is nothing more than that LED lighting has been placed on the motor nozzle. This may make sense when vacuuming under a bed or closet, I think they use the service less at night.
The lamp has only one bad feature, it cannot be turned off. Let's say those four tiny LEDs are likely to have zero power consumption, so battery life wouldn't be longer without them. If not, why not have the lights there?
Finally, it's a matter of suction power, which is perhaps the most important thing about a vacuum cleaner.
The big question was whether or not the 25 Pa fair value. Well, I can't measure, I don't have the right instrument for that. To be sure, there is no problem with efficiency on hard floors. Carpets are theoretically given a different brush than hard floors, but fortunately the Blitzwolf BW-HC000 has enough suction power to remove dirt, crumbs, pieces of plasticine scattered by my children, and dried plastic pieces from shorthair carpets.
As I wrote on hard floors, everything from flawless cat food to rice and flour is flawless, and the machine performed well in every test.
---
Summary
I've bought several Blitzwolf machines for myself lately and I'm happy with all of them for now. The manufacturer is developing the household appliance family at a rapid pace and is doing well.
Blitzwolf machines are extremely good value for money. In the past, I spoke to one of the man in the manufacturer and revealed that serious market research is being done before a machine is launched on the market. And this market research is very important in terms of pricing because they price their machines in two ways.
The new Blitzwolf home appliance must either be 20 to 30 percent cheaper than the competition on the market or provide 20 to 30 percent more service at the same price.
Well, with that approach, you might already understand why you should buy a Blitzwolf machine.
The formula also works for Blitzwolf BW-HC1. We get an upper class approaching machine for the price of the middle class. Okay, the savings seem to be there, as there is no upholstery cleaning head, for example, but it is a tolerable price for cheapness.
Good myself, for example, I don't really use upholstery heads, even though it's for our machine. I miss the short hose a little better, which makes it easier to vacuum the car.
Well, let's face it, there's nothing for free. The Blitzwolf BW-HC1 features top-of-the-line suction power, a center-folding intake manifold, an OLED display, and extremely long uptime. These are abilities that are able to forget the missing things a lot, especially that they are not asking for 90-100 thousand forints for it.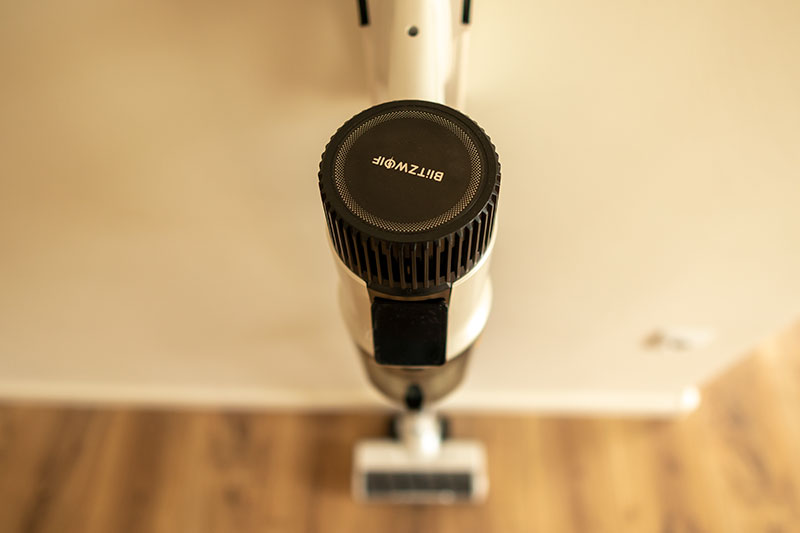 So the summary:
The Blitzwolf BW-HC1 has become a very good machine, and not only in terms of price or competition, but in itself. It is comfortable to use, the suction power is adequate, due to the long operating time it goes well beyond the "I quickly suck up the spilled crumbs" task. Definitely a place to buy in the recommended category!
You can buy the vacuum cleaner from a Polish warehouse without customs clearance, without paying customs duties and VAT. The price with coupon code BGHU0736 is 45 forints, delivery is free.
Click on the link below: