BlitzWolf BW-BS10 Pro All-in-one selfie stick test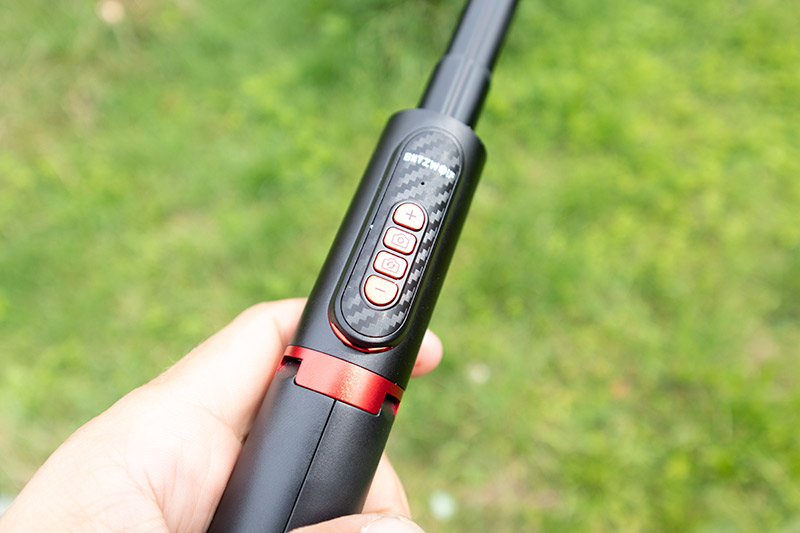 What does a modern selfie stick know beyond stretching your arms?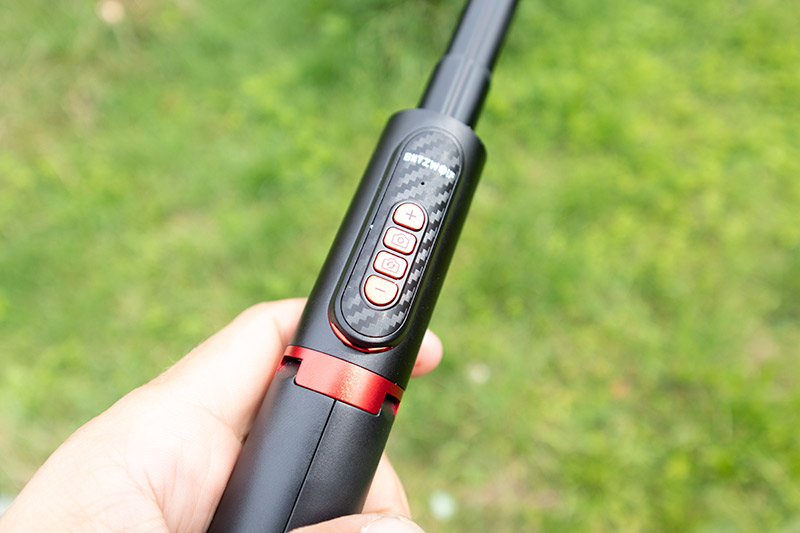 ---
Introductory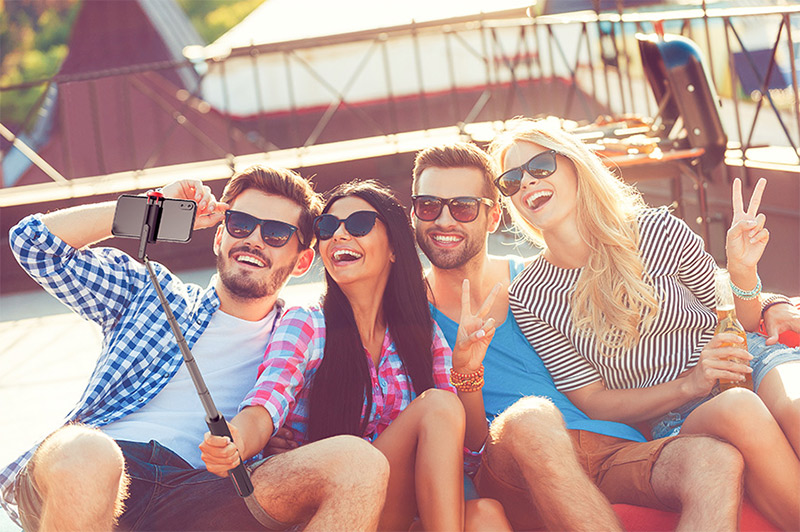 Ever since you can get a selfie stick, you've been running around with a happy, unhappy one. It is no accident. They fit in a small space and we can shoot much better selfies on vacation than if we want to take photos from arm's length. The picture fits the whole family, you can see behind us the sea, the church, the prairie, or whatever you want it to look like.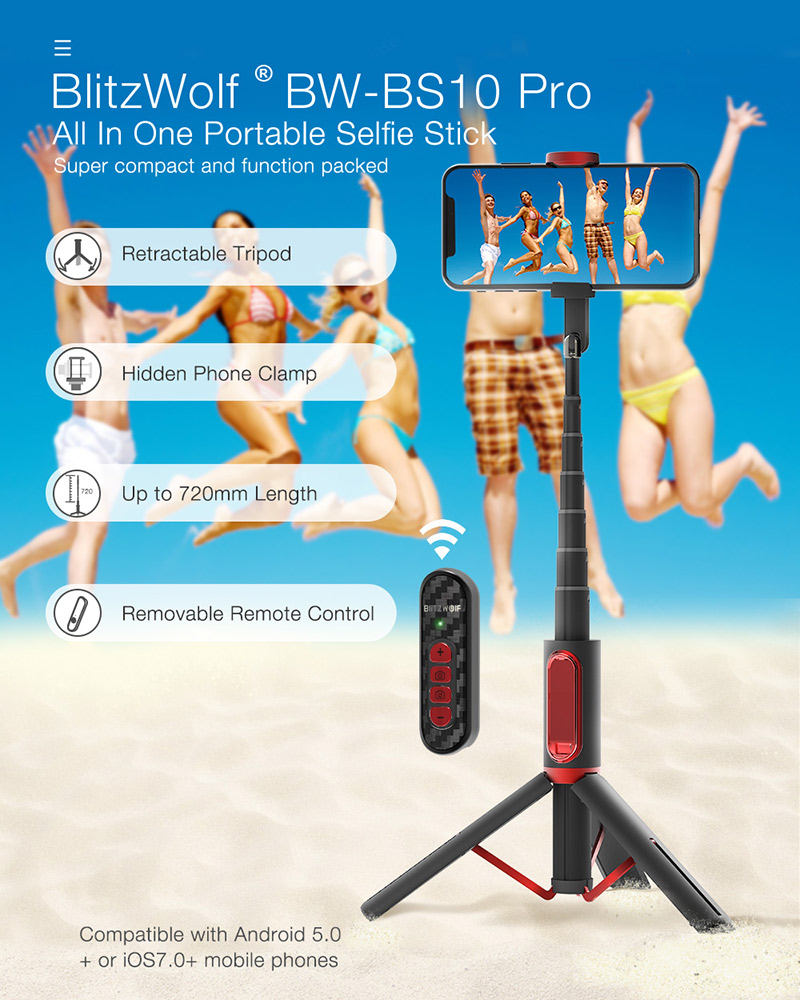 We could achieve this without a stick, if we would take a photographer with us on vacation, but for the time being, only Timea V. can afford it, we will have the selfie stick.
---
Packaging and accessories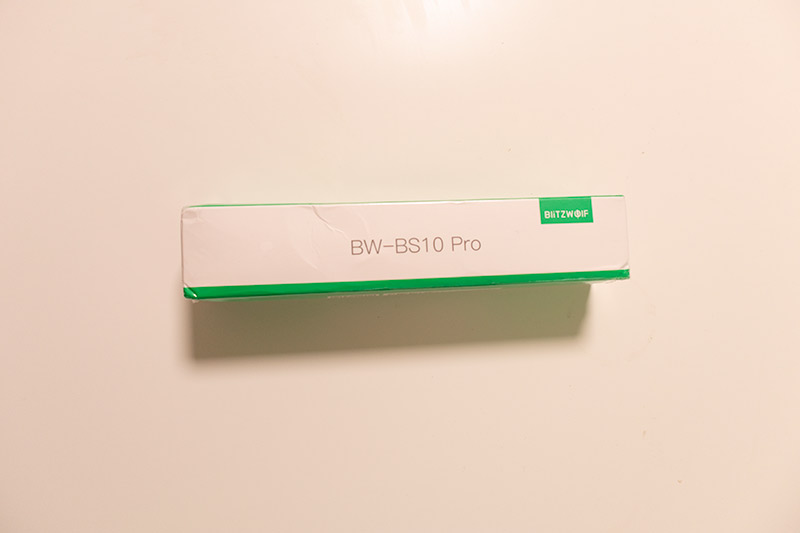 We can describe the chapter in about two sentences. The box is the usual green-and-white soft cardboard from Blitzwolf, with a stick, a short user manual (in English) and a charging cable. Shut up!
---
Exterior and capabilities
What does a good selfie stick need to know? To keep the phone stable, to be strong enough not to be broken by the first wind, we need a shutter button with which we can take photos. That's about it, and the first such structures are approx. they knew that too.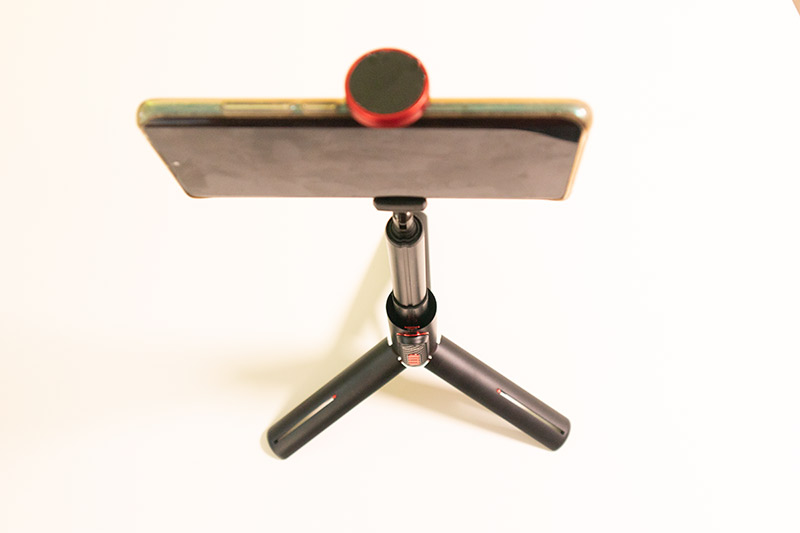 Nowadays, we expect a little more than that! Let's just say it doesn't hurt if the stuff looks good, because don't put a lot of tens or hundreds of thousands of phones in a penny crap anymore. Then it doesn't hurt to be made of normal materials, yet our arm isn't torn off by its weight (mass). For this, it is obvious to use aluminum, which is strong enough, not expensive, and light.
The Blitzwolf BW-BS10 Pro is thus made of aluminum, except for a few plastic elements, of course, and the rubber on the sole to keep it stable. But why does a selfie stick have to stand stable when we hold it in our hands? Because nowadays it is a basic requirement that the stick can also function as a tripod.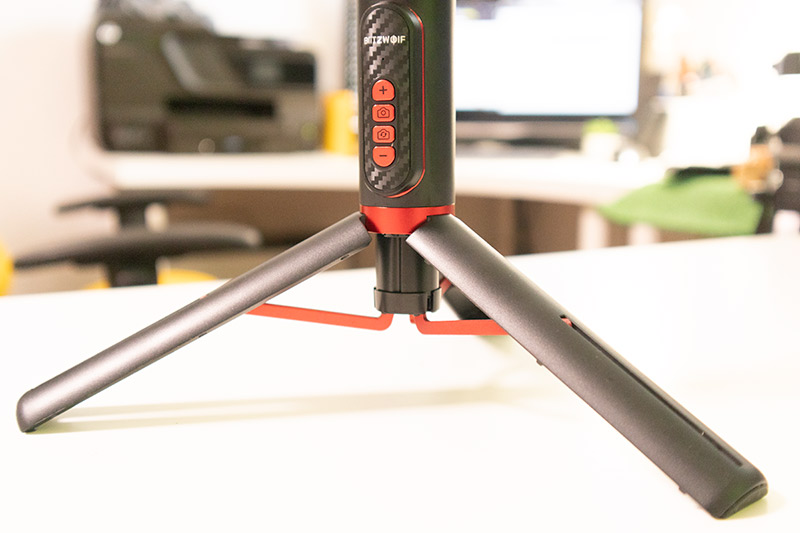 The picture, of course, is not the returning unit of Elon Musk's missiles, but the legs of Blitzwolf's stick.
A tripod is the three-legged thing that photo cameras are used to if they don't want to take photos by hand. This is good for pros when working with slow shutter speeds, for example, so it doesn't hurt to keep the camera moving until the photo is taken.
In our case, this is less important, as with a long shutter speed, only the most distorted take photos with a mobile phone, and for the remaining 99 percent of users there is the fully automatic mode. Unfortunately… So in the case of a selfie stick / tripod, the most important thing for us is to be able to stop the phone rather than a tripod, move away from it, and take photos from a distance of up to 10 meters.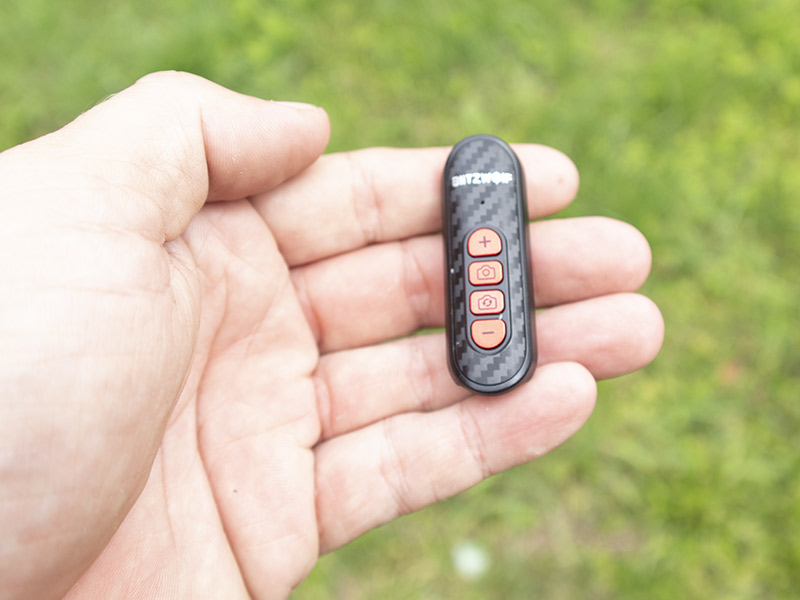 The next question is to press the firing key on the stick from ten meters? This is the next perfectly legitimate expectation from a modern selfie stick to enable us to do the same, and to use Bluetooth for this. There is Bluetooth in the phone as well, and there is also in the control of the Blitzwolf stick. We can snap this out of place and move away with it, so we can take photos from further away than the length of our arm or selfie stick.
There is another feature here that is not common. On most sticks, we only have the option to take the picture remotely, but the Blitzwolf BW-BS10 Pro knows more than that, it can also zoom. Foam on the cake is that you can use the buttons on the remote control to switch between the front and back camera, so you don't have to tap the phone for that either.
The zoom is of course most good on phones where there is an optical zoom, so it's good for myself, like my Xiaomi Mi Note 10 phone, which is capable of real 5x zoom I could quite benefit from.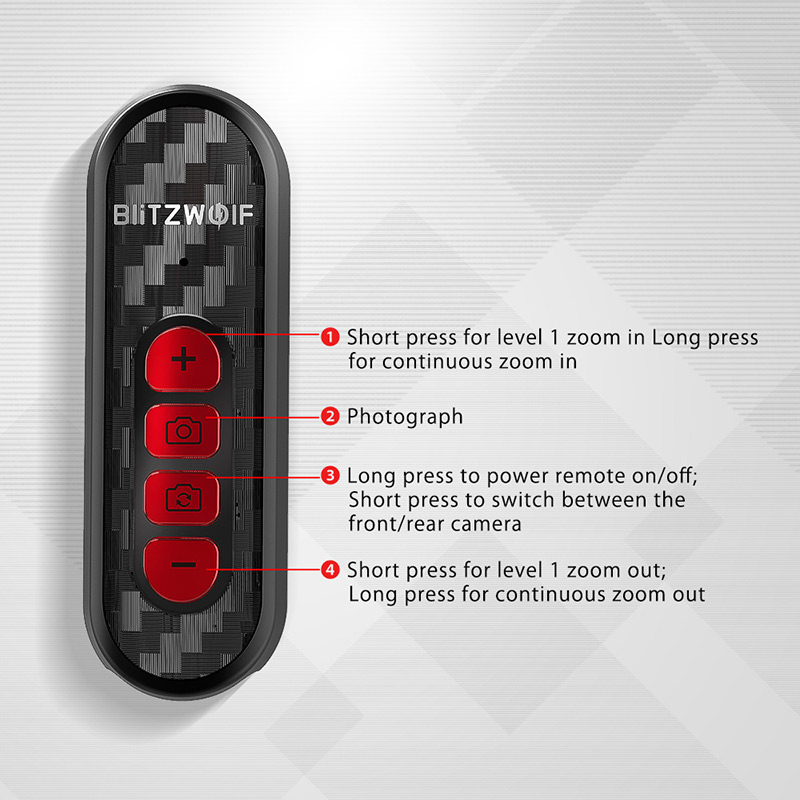 Let's see the buttons and their functions on the remote control.
The top button is the zoom function, you can zoom in / out with it. By pressing briefly step by step, and holding it down, things go steplessly.
The second button is the shooting button from above, so you can shoot the images.
You can press and hold the third button to turn the remote control on and off. Press briefly to switch between front and back cameras.
The fourth button again acts as the opposite of zoom, the first, i.e. zoom in / out in steps or incrementally, depending on how you press it.
---
Use and experience
Let's start with the bad things that don't have many, you don't really have to use the plural because there's only one. Plus, it's not really bad either, I'm just lame.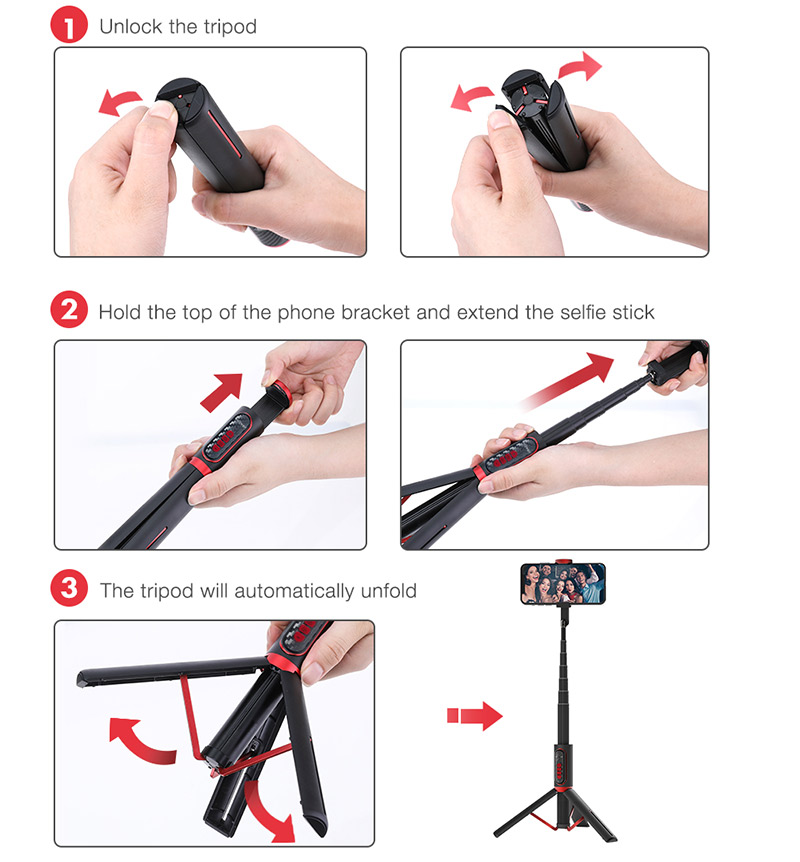 So the legs of the tripod are hard to open. This is half true, half not, because the first moment of the opening is that we snap the legs out of place a little, it's really cumbersome, but after that, it opens easily. Of course, only if we realize the trick that we have to pull out the telescopic stem to open it. Absolutely! This is because the lower, thicker part of the stem is attached to the three opening legs, and the legs are opened by pulling them out.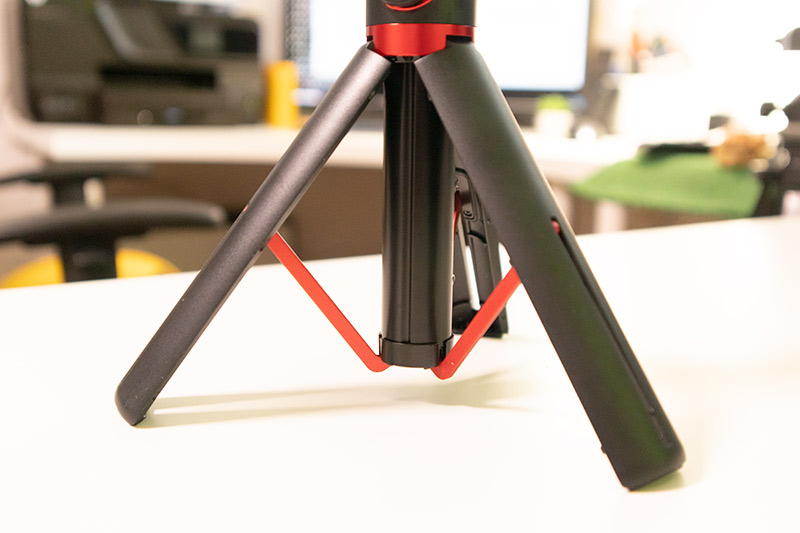 Needless to say, as a one-time 1.0 user, I didn't look at the description, though I'm sure how to do it. Instead, I tugged, stretched, and sanctified. I never learn from my mistakes, even when assembling an IKEA cabinet, I only open the assembly guide in a quarter of an hour, I always try to see if it goes without. It's not going. It didn't work either.
However, there is no other difficulty. Or so much so that the stick can be pulled out quite a long time, which is why my otherwise not very heavy phone pulled my arm properly while I was trying. But for something, it's not Blitzwolf's fault, it's his long arm of power, and his gravity.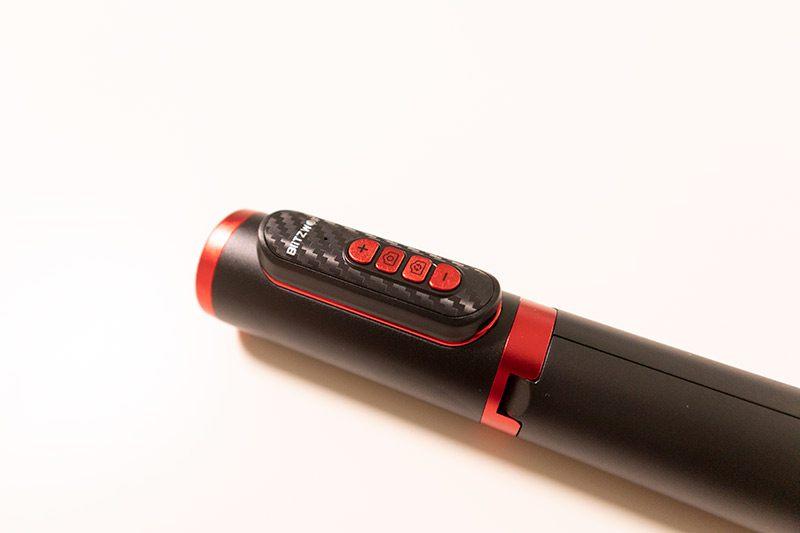 It's easy to pair with your phone, and when you turn it on, it searches for available Bluetooth devices, and you don't need a password or code to pair. We tap on the device found on the display, it is connected and we can use it.
The manufacturer writes that with a single charge, a 50 mAh battery, the Bluetooth remote control will work for 40 hours and we can take approximately 20 pictures with it. Maybe I don't have to say, but I didn't test myself to see if I could take 40 photos in 20 hours, not least because my phone's battery couldn't stand it. I don't know how many photos I took and how long the remote control was actively used, but it still has the soufflé that the Chinese put in the Far East.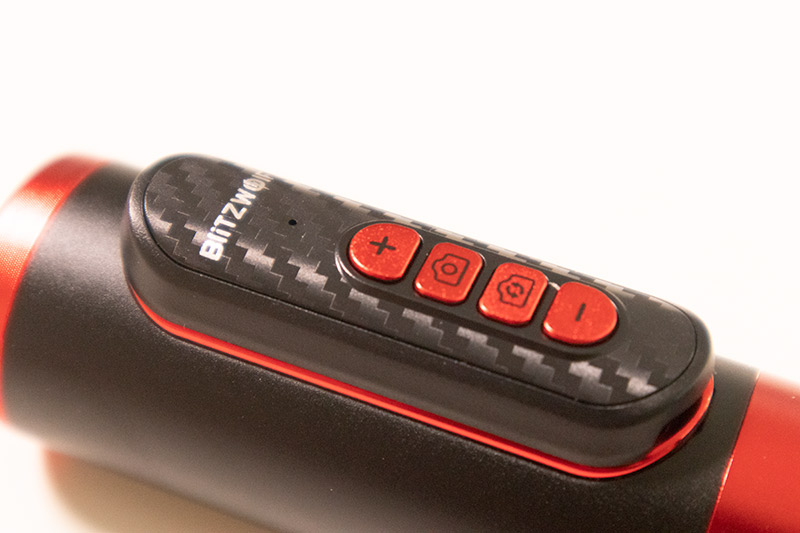 I used the remote control from 8-10 meters (also), it worked. From a distance, I don't think you're going to take much photos of yourself either, because then you'll be so far away from the phone that you won't be able to know who you are later.
I really liked that in tripod mode the structure was really stable with the phone. Care must be taken to ensure that the center of gravity is very high due to the long pull-out arm, in which case the wind can upset you from the telephone, and you are guaranteed not to be happy about it. So either don't pull it out completely, or let there be windless, peace is better.
---
Blitzwolf BW-BS10 Pro - Summary
The Blitzwolf BW-BS10 Pro is good stuff. Why I got the word Pro in the name I don't know, maybe the zoom feature is what you deserve, maybe the option to switch cameras. It is light, easy to use, stable, put together from good materials and looks quite good. So I can't recall a negative beyond my misfortune with my legs.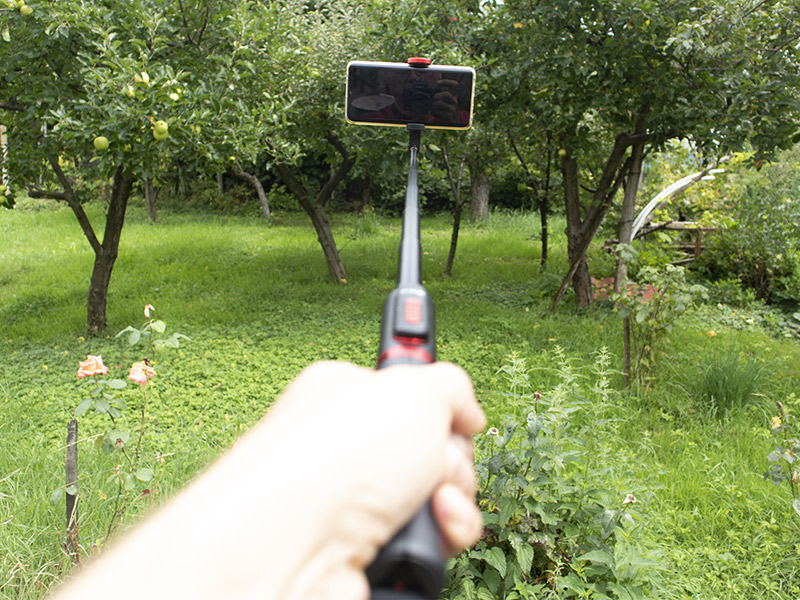 Fortunately, it doesn't cost much, we can order from a European warehouse, so you don't even have to wait months for it to arrive. It is a useful gadget during holidays and travel, it does not take up much space, it is always worth taking it with you so that we can take more beautiful photos with it.
Here you can buy, use the 935d63 coupon code to make it cheaper:
More Blitzwolf content on our site