Tronsmart Element T6 Max - when the bass rips your face off
It speaks with elemental power, you won't complain about the bass boost!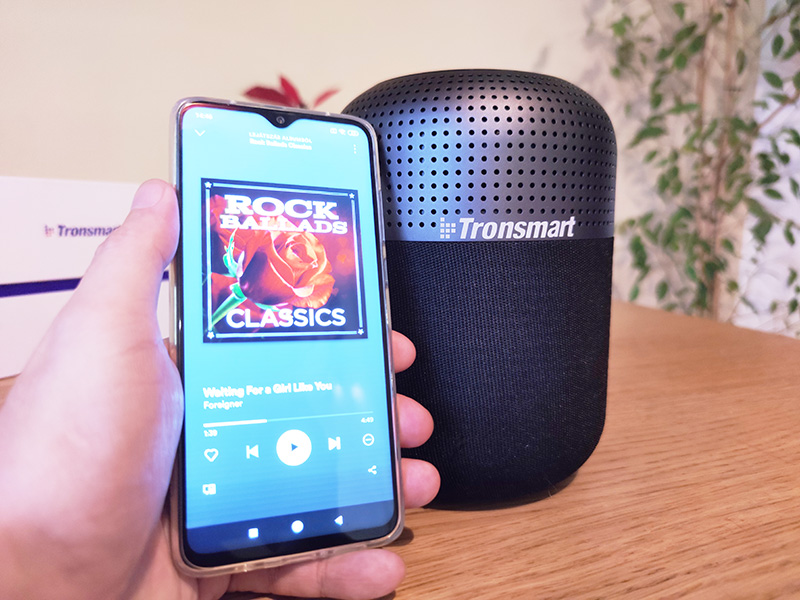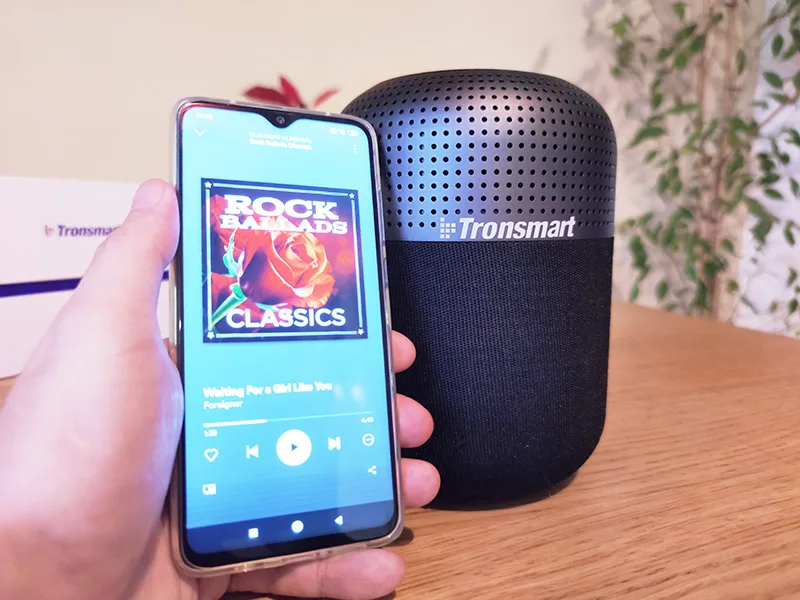 ---
Introductory
I can call myself lucky because I was able to get acquainted with Tronsmart products quite a long time ago. The first two speakers were sent by the manufacturer, now the third by the Geekbuying web store, where Tronsmart products are featured prominently and at a very good price.
The company is young, founded just seven years ago, but during that time it has become a major factor in mid-range Bluetooth speakers. They can already afford (since 2018) to have the company's permanent advertising face as the famous football player, Luis Suárez, so they are serious not only about the products but also about the marketing.
The two speakers we've had so far, the T6 and Mega, have delivered convincing performance, so much so that I've asked for the T6 in a cheeky way after the test, and I've been using it happily ever since.
Now that Geekbuying offered the T6 Max for testing, there was no question that I would say yes because I was sure I would be able to report all good things. But before we get into the experience, let's look at the speaker itself!
---
Exterior and capabilities
The Tronsmart T6 Max, as its name suggests, is great. Not that much, the manufacturer's largest speaker weighs nearly two pounds, and the 14-centimeter diameter is associated with a height of almost 20 centimeters. There is a lot to fit in this space size, and the designers have taken advantage of the space available.
The most important thing about a speaker is the number, size, and type of speakers. Well, the Max has no less than 13 speakers, 8 of which are passive and 5 are active, meaning a real speaker. Unfortunately, the manufacturer did not provide an exact specification in this regard, so I can only rely on the pictures and my experience.
The unit responsible for the bass faces down. Next to / above it are four passive radiators that are moved by the air of the "subwoofer". Above these, we find four small active speakers in a circle, and four passive speakers placed alternately with them. Because of their location and size, they are likely to be responsible for the mid-range top and treble. According to the manufacturer, the total power of the Element T6 Max is 60 watts, which is data to be glazed.
The exterior has done quite well, although, so far, there has been no problem with the Tronsmart product. At the same time, in the case of Max, the manufacturer has reached a level, the use of materials is perfect, the shape is pleasing to the eye.
The controls, with the exception of the power button, are located on the roof and are all touch sensitive. There is also a button for the Bluetooth connection, a volume control, a switch between the set audio images and a microphone switch. The USB cable and the conventional jack are located on the bottom of the speaker, behind a rubber cap. With regard to the rubber cap, it is important to mention that although the speaker is not waterproof, it has received IPX5 water protection, ie splash water does not damage it.
So far, it has been revealed that the Element T6 Max can also receive an external signal via a Bluetooth and traditional jack-ended audio cable, but we haven't talked about whether NFC has been built in yet. True, I've never used this before, but if it's someone's heart desire, then go for it!
In terms of capabilities, there's one more thing worth mentioning, even that Element Max's built-in microphone and Bluetooth connectivity allow us to use Google, Siri, and Cortana assistants with voice commands.
---
Experiences
Turning on the Element T6 Max wasn't smooth, at least in the sense that for the first time I thought I'd cut out the window. I mostly listen to rock music, so it was only natural that I first sent the speaker on my desk with a drop of Motörhead music. The result was catastrophic, I had never heard a burning rattle, a click that Element Max had produced, I had not been able to find the stop button on the phone.
I looked at the speaker in despair and tried to send in a little softer, more whispering music, which was a number from an English team called Talk Talk. It sounded perfect, the sound image is wonderful, full, maybe with a very little more depth and less treble than you need.
Third came the epic Guns Civil War, and as it spoke I realized what was wrong with Motorhead. What happened was that because of the great fright, I didn't notice that the deafening cacophony came not from the speaker but from the jumbo stored on my desk. It simply happened that at a volume close to the maximum, the bass sounded so strong that it made everything vibrate on the table, turning it into a speaker that it shouldn't have.
Once I realized this "tiny" error, it was no longer a problem. Simply keep in mind that the Tronsmart Element T6 Max is not for my 4-square-foot study and is designed for my desk with plenty of shit. If we put it in a stable place, if we listen in a suitable room, say over 10 square meters, it is a miracle of miracles, things will fall into place.
And I can illustrate how much they fall into place with the following example. As I mentioned in the introduction, the Tronsmart T6 speaker is what I use often, if not on a daily basis. When I got it I was amazed at how well it sounds, how much dynamism it has, how friendly, warm it sounds from the middle range. With the installation of the Max, however, I had to realize that although the T6 is a good speaker, it is only in its category. Next to Max, his voice seems so dry, almost squeaky, that I find it hard to put into words. After all, nothing happened but I had to realize again that quality is always worth considering depending on the price, so the T6 won't be sold either because it's perfect in the portable category, but the Max can stay, because from now on it will be the one through which music we listen at home, at least when we want to listen to MP3 over a Bluetooth connection, because everything else stays the normal speaker set and desktop amplifier.
So what can a buyer expect from a Tronsmart T6 Max? Basically good things. One of the biggest drawbacks of Bluetooth speakers, i.e. the lack of bass, will not be a problem here. Not so much that if I had to look for a flaw in the sound, one point would be that an ant less from the deep would be enough. The mid range sounds good and the height could be a little more. Along with these, the sound picture is almost perfect, and although we can forget about the stereo effect (we're talking about a speaker), we get a fairly wide stage picture because of the circular arrangement of the speakers. If that's not enough for someone, it's good to know that Tronsmart speakers, like earplugs with Bluetooth earphones, can connect so they can be used as stereo speakers using two pieces. In the case of Max, so the combined power of the two speakers will be 120 watts, which can shake our lungs due to the bass capability mentioned above.
What did you dislike? There would be three things that are a little confusing during use. One is that the backlight of the touch-sensitive switches on the roof is not constant, and if it is not lit, it is not possible to see which button is where. The other is that when the music stops, the stuff goes to sleep, but when we wake it up it doesn't automatically connect back to our phone from where we play the music. The third is that although we get three pre-programmed soundscapes (normal, bass boost, 3D), there is essentially no difference between them. Oh but, there is so much that 3D is completely useless, annoying rather than good.
---
Conclusion
It's not a good tactic to leave bad things at the end of an article, you could say it's quite counterproductive if you want to sell it. But since those mistakes can be coexisted, and since this is a test and not a marketing mogul, I think it's okay to mention three such little things on the minus side in addition to the many positives.
Overall, the Tronsmart Element T6 Max is really good stuff. It sounds good at low and also sounds good at high volume. No distortion, no rattling (at least if you put it in a good place), and the sound is really very warm, velvety, a pleasure to listen to. With a little more bass than you need for very pounding music, it doesn't hurt to install an equalizer on your phone so you can knock it out of the bass, but in all other cases it's close to perfect. If I want to tie something in this area, it would be that the sound of cymbals is lost a bit, meaning it cuts off most of it from the top sound range.
As I mentioned above, the quality of the products is always worth considering in terms of price, and Tronsmart speakers are very good in this regard. Max does not stand out from this line either, depending on the dollar-forint exchange rate, the structure available between 29-31 thousand forints is well worth the price.
If you liked the speaker, you can now order it from a European warehouse, guaranteed duty and VAT free, with a delivery time of 2-7 working days, with free delivery. Use to purchase GKBTS13 coupon code, so the price to be paid will be HUF 30!
Buy here: