Cheap cordless vacuum cleaner for car, home, anywhere - Blitzwolf BW-HC2 test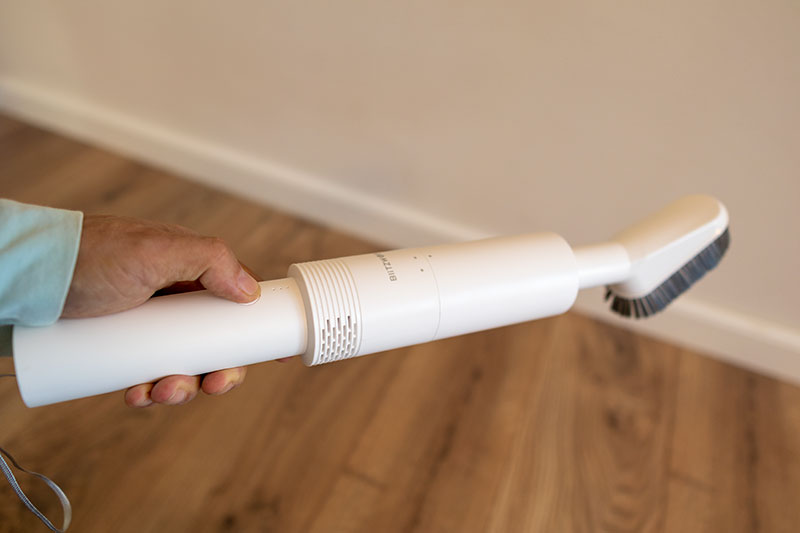 Amazingly light, amazingly small, amazingly cheap, amazingly versatile.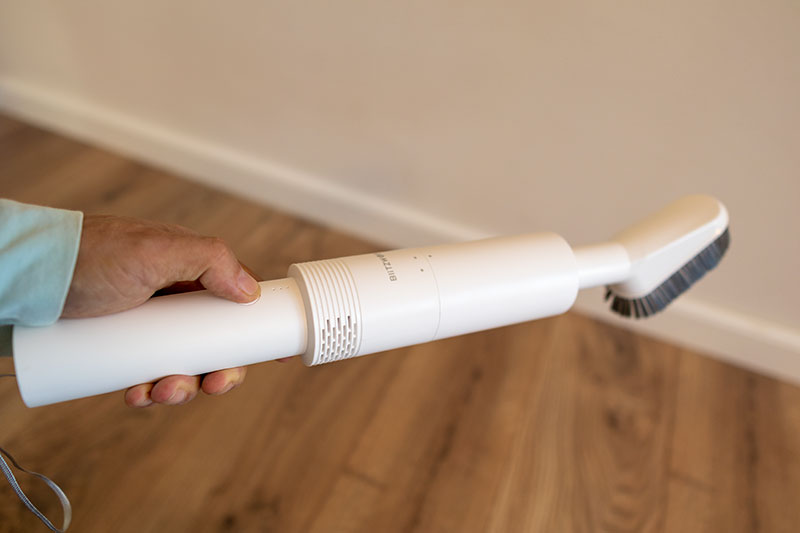 ---
Introductory
There are times when we don't want to spend much, we just want a simple but versatile vacuum cleaner. Well, the Blitzwolf solved that too, not just anyway, as the new HC2-type machine became just that. It's very cheap, it's very good, and it's cheeky enough to catch our eye.
One of the company's more expensive machines, the BW-HC1, was already with me, I was also happy with it because, as we were used to with the Blitzwolf, it had very good capabilities and the company priced it well below the competition. It's no different with HC2 either.
---
Packaging, exterior and accessories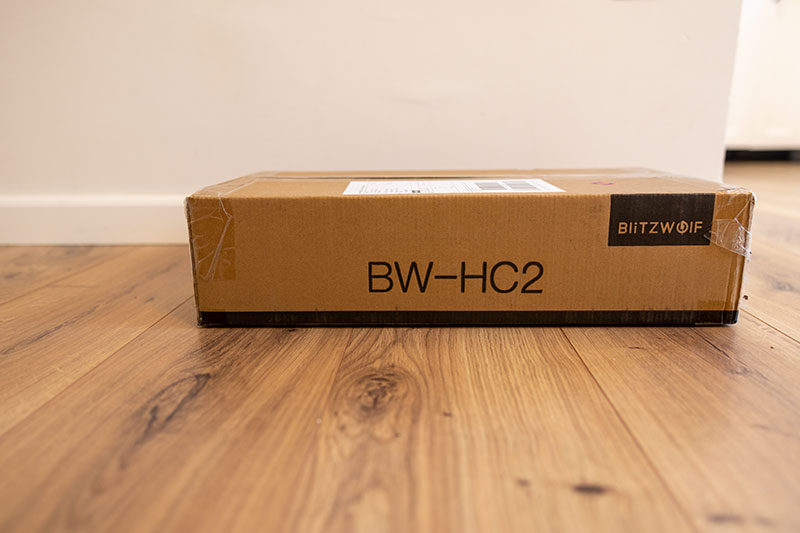 The machine comes in a rather tiny box. Only its weight is smaller than its size. Cardboard exceptionally does not carry the usual Blitzwolf colors, white and green in a private, simple unpainted cardboard box. Inside, of course, everything is nicely arranged, so the machine arrived to me from the Czech warehouse without damage.
There are some accessories, they are not bad either. We get a long extension tube to use as a regular stationary vacuum cleaner. It comes with a simple floor nozzle, a smaller upholstery nozzle, a vacuum cleaner with a brush. For charging, we get a USB cable, a spare HEPA filter is included in the package (another one is in the machine), a small cleaning brush with a blade is included, and last but not least, a magnetic wall mount is included in the package.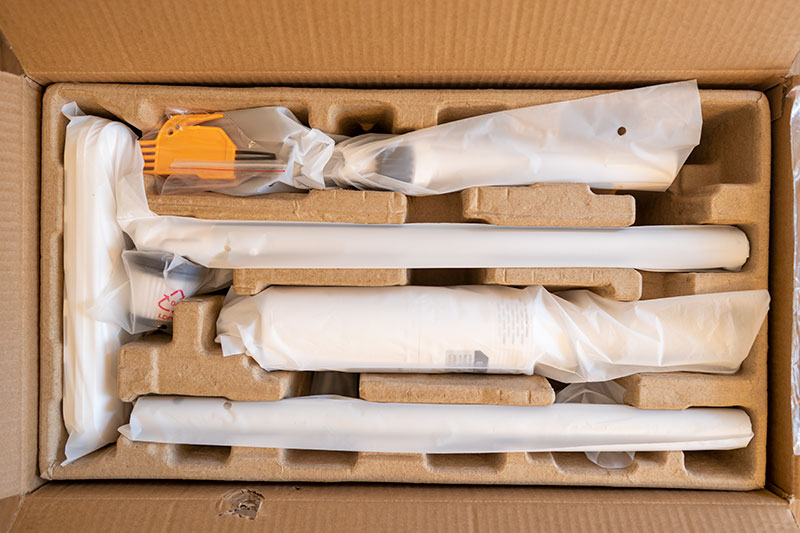 So far, everything is okay. It doesn't seem to be a premium product, but the plastics and the parts are of good quality and they look good, although it is a fact that they are thin compared to an expensive stationary vacuum cleaner.
Fortunately, the extension pipes are made of aluminum, there will be no problem with them. The floor brush is a fairly simple piece, but it serves the purpose. So, for the time being, we can't regret our taxed forints spent, especially since we didn't have to spend much.
The base machine is very flashy, clean, even Xiaomi could be based on the exterior. There is a button on the handle that allows you to turn the power levels on and off and toggle. The dust container stays in place using a magnet. What is also worth mentioning is that in front of the power button we find 3 tiny LEDs that show the charge of the machine.
Really pleasant first impression, let's see what the machine knows according to the manufacturer!
---
Paper form
The Blitzwolf BW-HC2 is therefore a multi-purpose vacuum cleaner. It can also be used as a normal stationary vacuum cleaner, as a crumb vacuum cleaner, as a car vacuum cleaner or as an upholstery vacuum cleaner.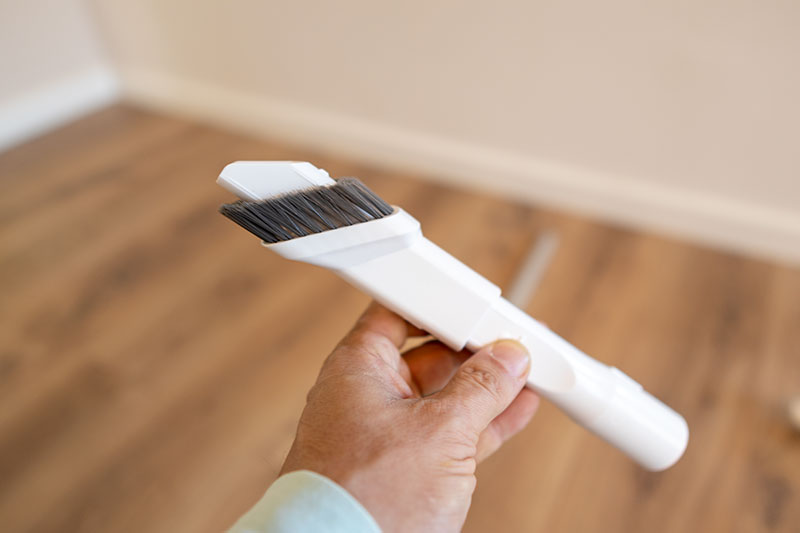 Multi-purpose use is aided by small size and low weight. The base machine is only 35 centimeters and weighs half a pound. However, if we use extension pipes and a floor suction head, it reaches a length of 116 centimeters, but still weighs only 0,75 kilograms. That doesn't break your arm!
The machine, of course, has a battery with a capacity of 2200 mAh. This drives the 100-watt motor, which has a suction power of 15 Pa. Just for the sake of addition, the Dreame Bot L000 Pro robotic vacuum cleaner with outstanding suction power knows 10 Pa, it's true, it has a rotating brush, it doesn't.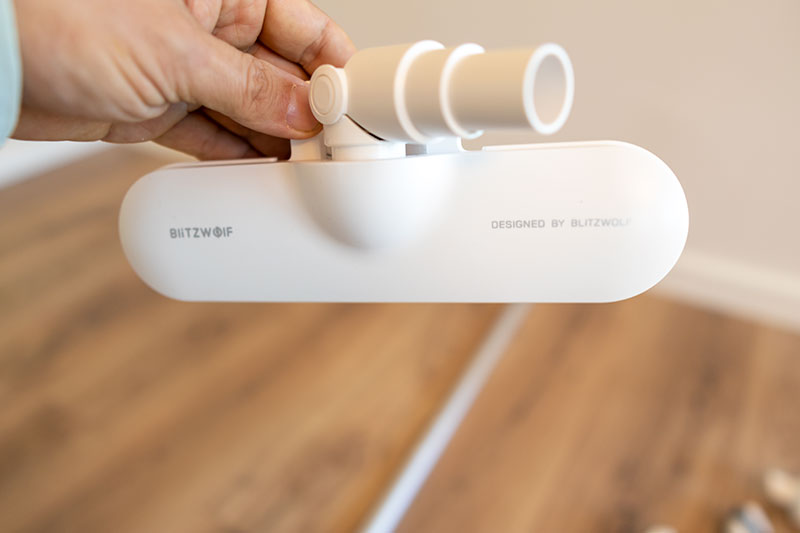 The machine has two suction strengths. For the weaker one, the operating time available on a single charge is 30- for the stronger one, 15 minutes. These are not bad values ​​from a cordless vacuum cleaner, and if we add that we can charge via USB, even in our car, you can immediately feel that we are talking about a pretty usable machine.
---
Experiences
The point may be how to use the vacuum cleaner!
I would like to emphasize at the outset that if someone thinks of a typical stationary vacuum cleaner, they will be disappointed. In terms of dimensions, the diameter of the tubes is smaller, less than with a typical stationary vacuum cleaner, but this is understandable since HC2 is a multifunctional structure.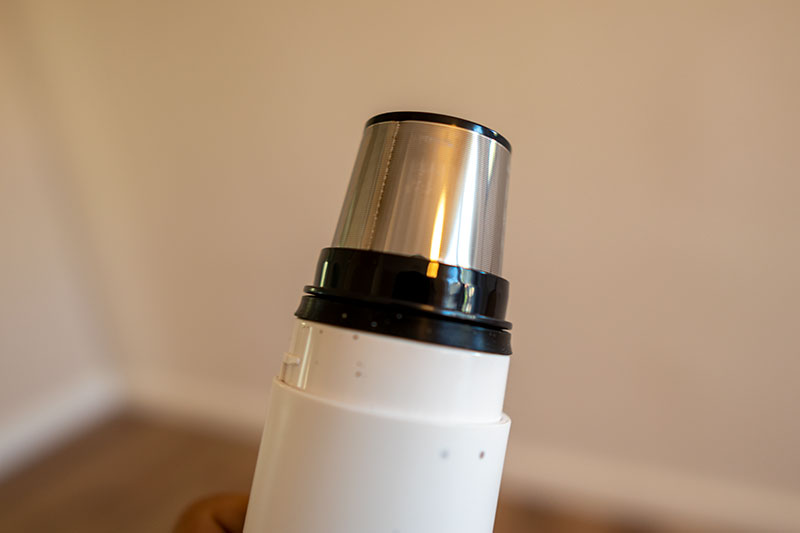 Sliding the accessories together is as simple as possible, maybe just one thing I didn't like, pulling the long extension tube apart is no easy task. Of course, this will not normally be disassembled once we have put it together, I also only faced the problem when packing.
The floor nozzle is as simple as possible, but it serves its purpose. There is no motorized roller brush in this, it simply does not fit in at this price, and it would be unnecessary. Fortunately, the suction power of the vacuum cleaner compensates for this shortcoming.
The vacuum cleaner and the upholstery brush are also as easy to use and install as possible, but this does not affect the use, they do not want to fall off the machine.
The dust container is relatively small, but I don't feel this is a particular problem. The tank is held in place by a bayonet lock with a spring-loaded spring lug. That is, we join the two halves together, rotate them relative to each other, and the ear snaps into place.
What I really like is the magnetic wall mount. A simple piece to which we can easily "glue" the machine. Pumpkin is easy to put in place or take away if you want to use it.
What deserves a red dot is that the charging is already done on a USB Type-C connector, so it is compatible with all new chargers and cables.
How to clean it?
Well, the suction force of 15 Pa won't pull the carpet up, but the curtain will already get in trouble if we don't pay attention. Roughly, a cat litter can handle particles of a size and weight, and of course anything else that is smaller / lighter than that.
It can also suck crumbs from upholstered furniture, but I find the strands of the upholstery brush a bit long. For larger crumbs, you already need to push the brush a little so that the head can get closer to the furniture and suck up the crumbs.
The vacuum cleaner is flawless, I especially liked to use the brush. I made very good use of it when vacuuming the car, because the reducer sharpens the already quite strong suction power even more. Anyway, I used the machine the most as a car vacuum cleaner, but this is due to the fact that there is already proper mechanization at home for other purposes.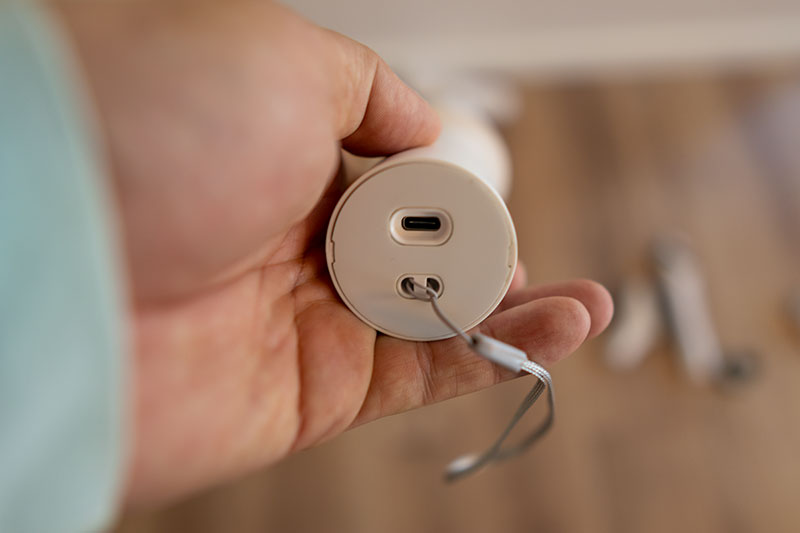 Overall, I'm happy with the Blitzwolf BW-HC2 vacuum cleaner. Now I feel that it is worth considering it first as a crumb, car and upholstery vacuum cleaner, and secondly as a floor vacuum cleaner. However, the latter is also suitable for the latter, if we do not want to use brooms and shovels anymore, they will be good for replacement.
---
Summary
The Blitzwolf BW-HC2 can really be considered the successor to the old crumb vacuum cleaners. However, this is still not a machine that can replace a traditional vacuum cleaner.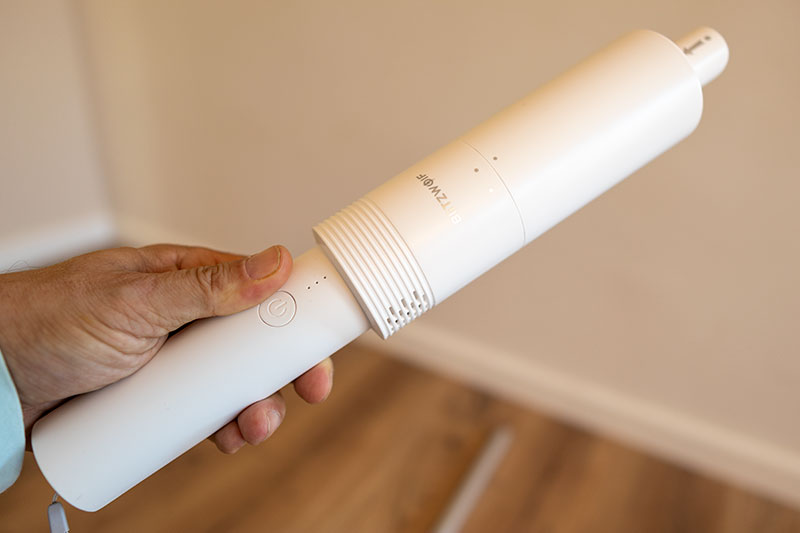 Great for small size and weight. You can buy it if you are looking for a cheap solution for quickly vacuuming the floor after dinner or cooking. You can buy it if you or your kids like to have dinner in front of the TV and have to vacuum the crumbs off the couch.
You can also buy it if you are looking for a car vacuum cleaner. I remember a long time ago, my grandfather lowered an extension cord from the seventh floor so he could clean the Zsiguli with the old, still-sliding Rocket vacuum cleaner, and well, as I remember, it wasn't much more powerful than this machine either. Nowadays, He wouldn't be prolonged either.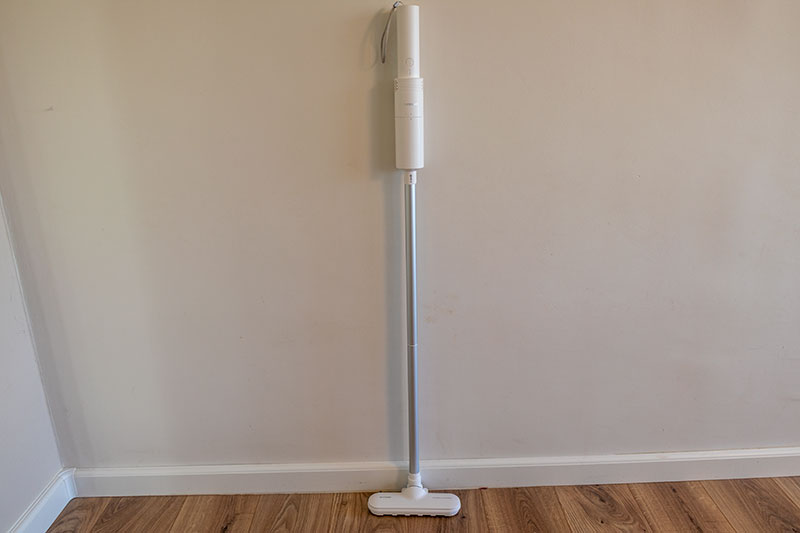 Overall, then, I was satisfied with the knowledge of the vacuum cleaner. What I expected from him, what the manufacturer promised, also brought.
Finally, the price. I don't really know yet about such a cheap vacuum cleaner on the market. Sure, there are tiny car vacuum cleaners a little cheaper than that, but you won't be able to work with them in the apartment. They're not there either.
The HC2, on the other hand, is versatile, so it's a great electric broom, a great crumb vacuum cleaner, and a great car vacuum cleaner in one person, so in my opinion, it's well worth the price. Especially that, as with my recent articles, I've got a price for it that we haven't seen before. That is, so low. Unfortunately, the attached coupon is only valid for two days, i.e. until October 30th.
If you like it, use the coupon code BGHU1154 and you can add it to your cart for HUF 30 instead of HUF 711. Of course, it arrives from an EU warehouse without customs clearance.
Click here: