Your living room will be the key - BlitzWolf BW-FLT1 corner light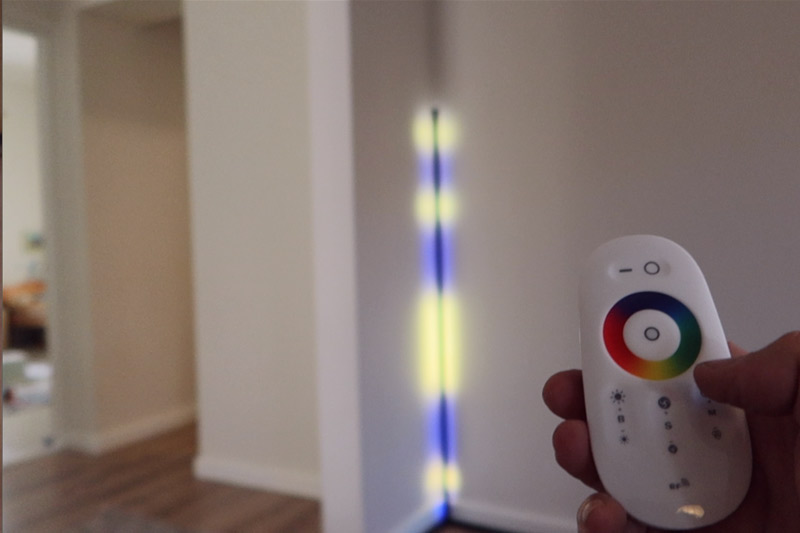 I bought it barely a week ago, but it has already arrived, I operated it!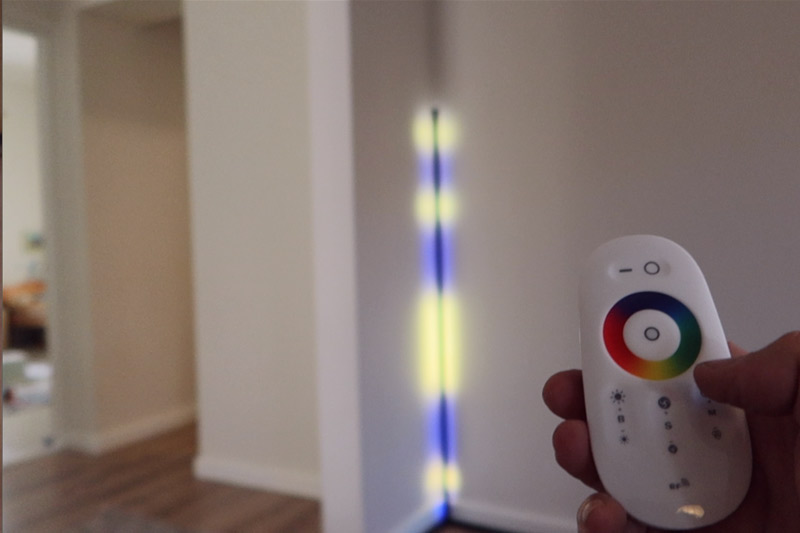 ---
2-minute tutorial video
---
Introductory
I don't know how you are with him, but I don't like sitting in the dark while watching TV or projecting. My eyes are tired of the contrast between the image and the blackness around it. Supposedly, total darkness is not good either, because if there is a little light, our eyes can sometimes focus on the wall and so on, thus delaying the deterioration of our eyes.
So far, I've put a smart light in the lamp above the coffee table, or as the English says the coffee table (since I don't smoke anymore it's a better name for him), the brightness of which I minimize when we watch TV. However, this is not a perfect solution either, because if only peripherally, not only the light of the lamp but also the lamp itself is in the field of view.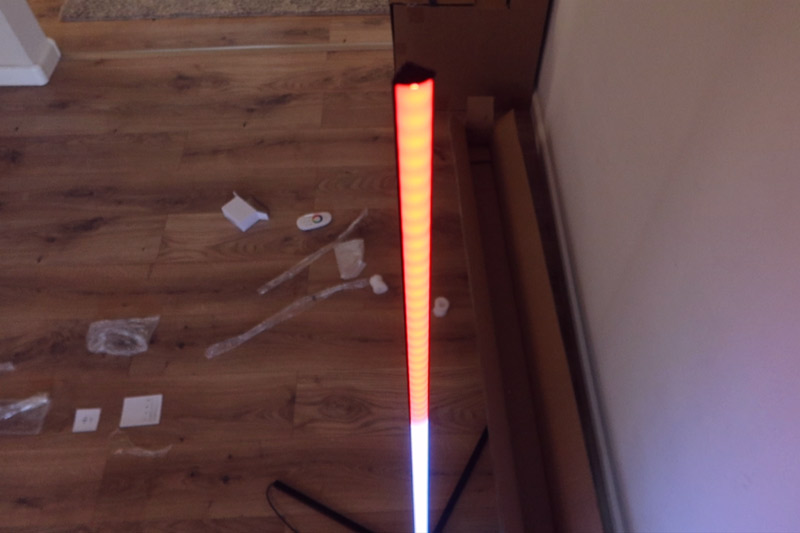 I came up with a way to buy a corner lamp behind the couch, in the corner. It illuminates the wall behind me. A thin tube, not even intrusive, no need to fear that it doesn't fit into the design of the room, so if I don't use it, they'll hide nicely.
If, on the other hand, I want to use it, I can adjust its color, brightness, or if I'm very kinky, I can choose from light effects (I don't use that).
So, this article will be about this lamp. It won't be long as it's a pretty simple piece for both use and assembly. I'll give you pictures, I've made a short video, take a look!
---
Packaging, assembly
The BlitzWolf BW-FLT1 comes in an elongated, completely unadorned box. Inside we find the lamp divided into three parts, we find an external adapter and a remote control. There is a description too, but it doesn't have to deal with much, like I said, everything is simple!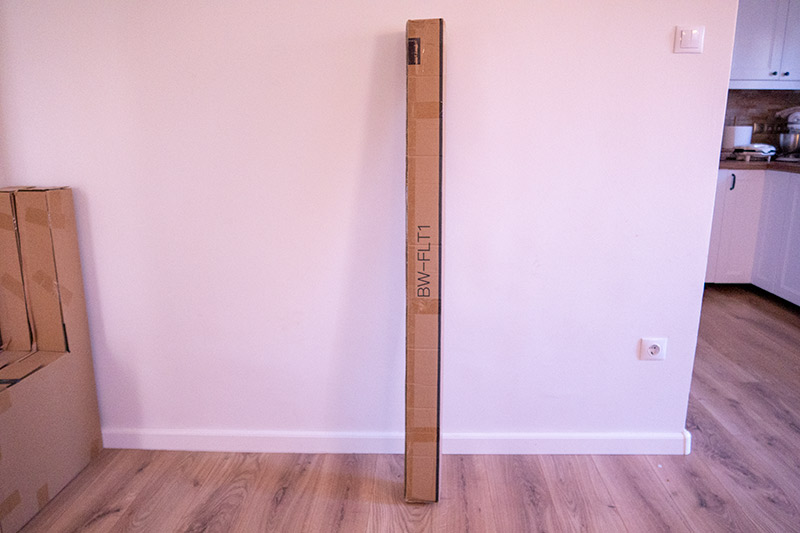 Of the three pieces of lamp, the long is the luminaire, the two short are the two legs. The power cord runs into one of these.
Assembly is damn easy. The two legs should be secured with two small studs, the screws and the key to them can be found hidden in the box. You just have to pay attention to one thing. In the foot in which the cable runs, the connector is secured with a quick-release fastener to prevent it from slipping into the pipe.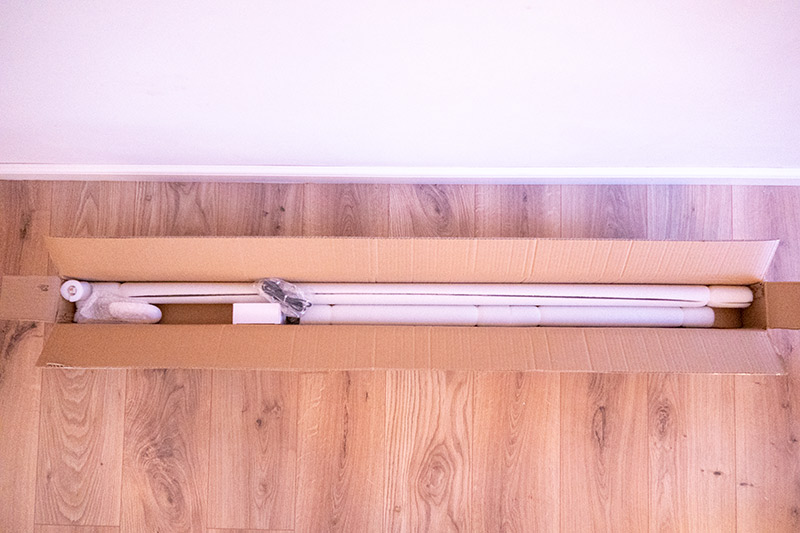 This quick release must be cut off, but care must be taken to ensure that the cable DOES NOT SLIP INTO THE PIPE! If you slip in you can go fishing.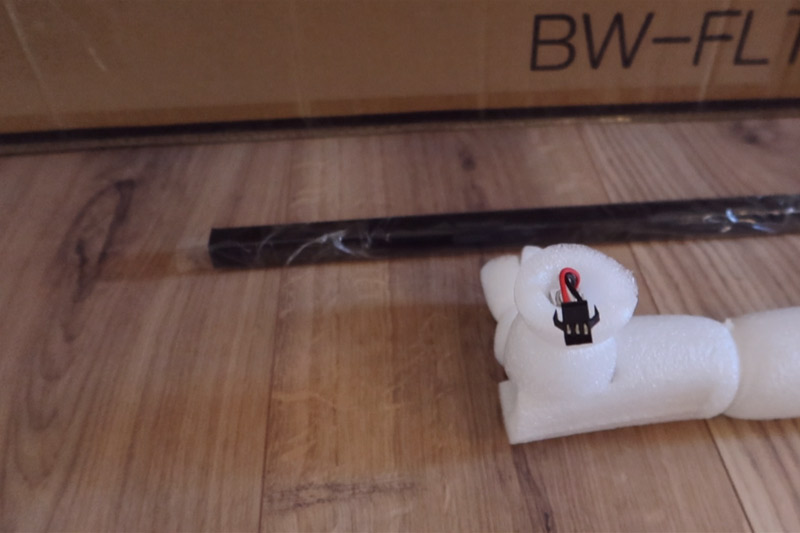 The plug of the cable must be connected to the connector of the luminaire, the external power supply must be connected and the remote control can already be pressed. The remote control is radio frequency (RF), not infrared anyway, so you don't have to turn it to the lamp all the time if you want to use it.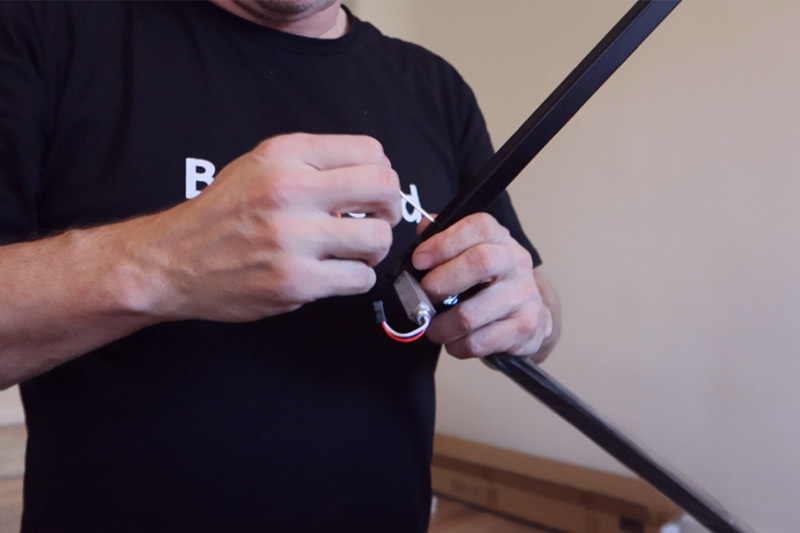 We are ready!
---
Use
My new lamp is 142 inches tall and my legs are 40 inches. It is worth placing it in the corner so that it does not touch the wall, so there will be no light. For me, a distance of 5 inches has worked.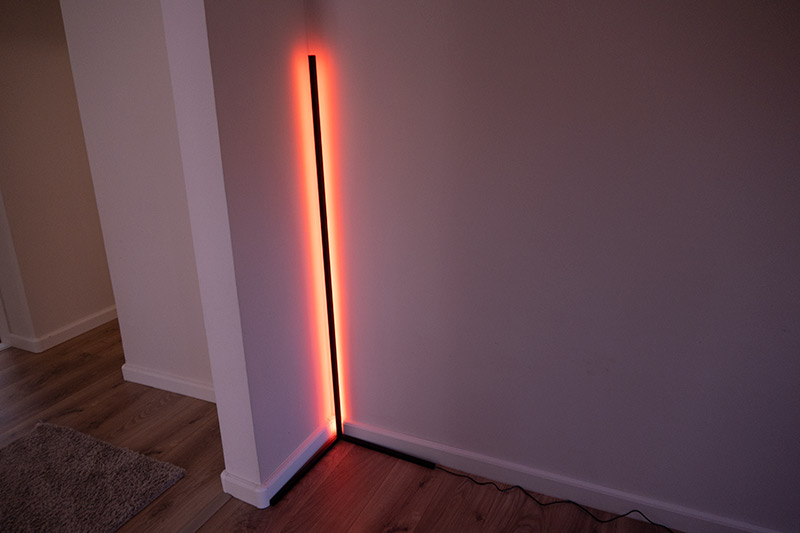 The power is 20 watts, our head is not devoured. I don't know how many LEDs it has (many), nor how bright it is, because they are not specified by the manufacturer. I'm sure I'd buy something else as a reading lamp. What we do know, however, is that it knows no less than 68 different lighting effects. You can even go crazy by adjusting the brightness or the speed of the effects, or you can stop the effects.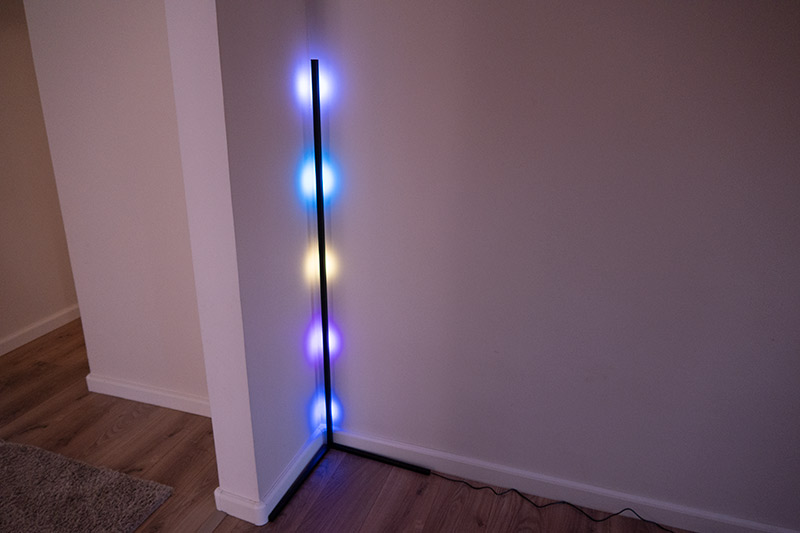 I think the lamp is very good for what it was invented for. I can set different colors to suit my mood and mood, but if I like it and really want mood light instead of lighting for TV, I can select an effect, slow it down, speed it up, or stop it.
Needless to say, my four-year-olds are also in love with him, before the evening storytelling there is always a 15-20 minute turn on the lights and shouting to look at Dad, miiiiilyeeeen gorgeous! So the lamp is a success.
Of course, not only can it be used in the living room, I thought in the first place that if it didn't, it would be an ornament of my YouTube studio. It won't be, that's for sure now. The point is, I went for sure when I bought it, I knew I was going to be able to use its abilities.
We're basically talking about a corner lamp, so it was invented to put it in the corner of the room and reflect light from the wall. I can imagine another place for him, next to a closet, a bookshelf, or even a nursery if the seedling is a little bigger and RGB LEDs are lit everywhere in his room anyway.
So, placement is limited only by our imagination!
---
Summary
I've been looking at this lamp for a long time, but luckily I didn't buy it. Fortunately, because its original price has dropped significantly, it has become roughly 30 percent cheaper than when it was introduced. I also pushed the price a bit, but now that I could buy it for under 20 thousand forints, it didn't hurt so much. In fact, I think for this lamp, for the sake of knowledge, this price below 20 is completely realistic.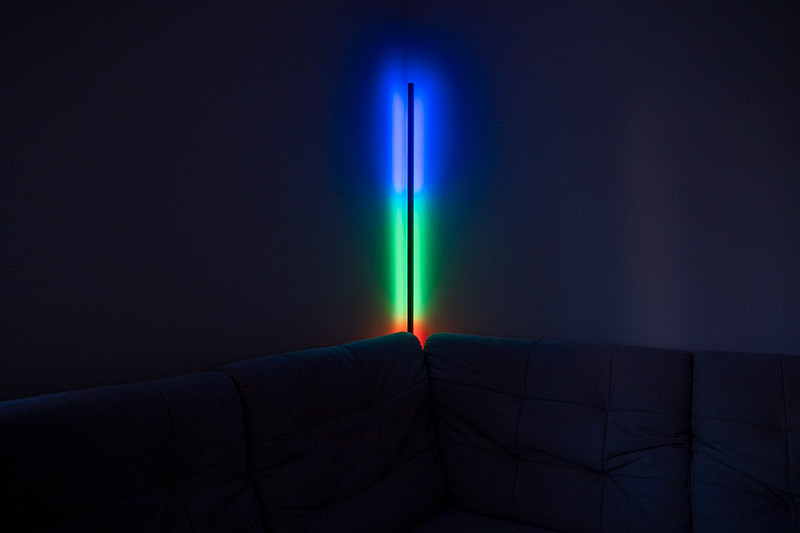 The quality, the assembly, the materials are good. Its brightness is strong enough, and the colors and variability are excellent. The remote control is good to use and we can really make our room very cozy with it!
If you liked the pictures and the video, you can buy it from the Czech warehouse by clicking on the link below. Use to purchase BG53a393 coupon code here: