BlitzWolf BW-SDB1 - finally give your TV sound!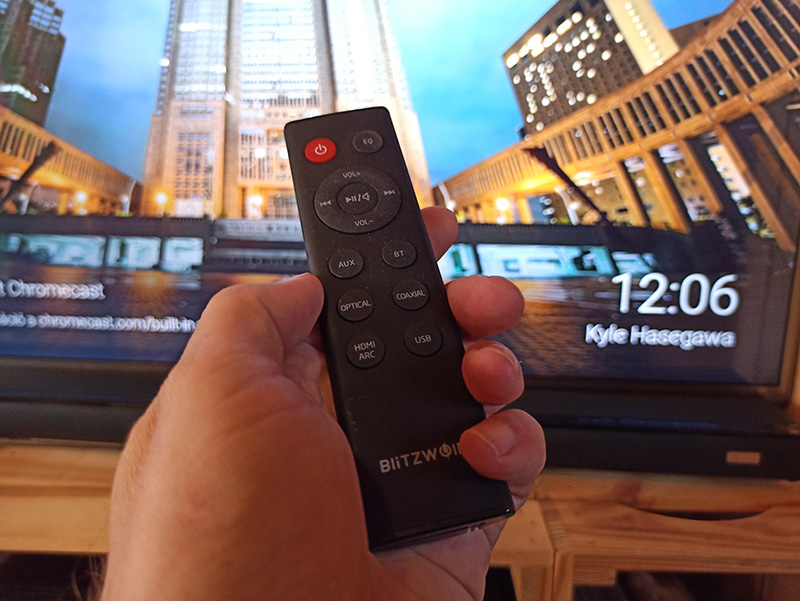 Goodbye box sound, crackling, puffing and distortion, here's an affordable sound projector!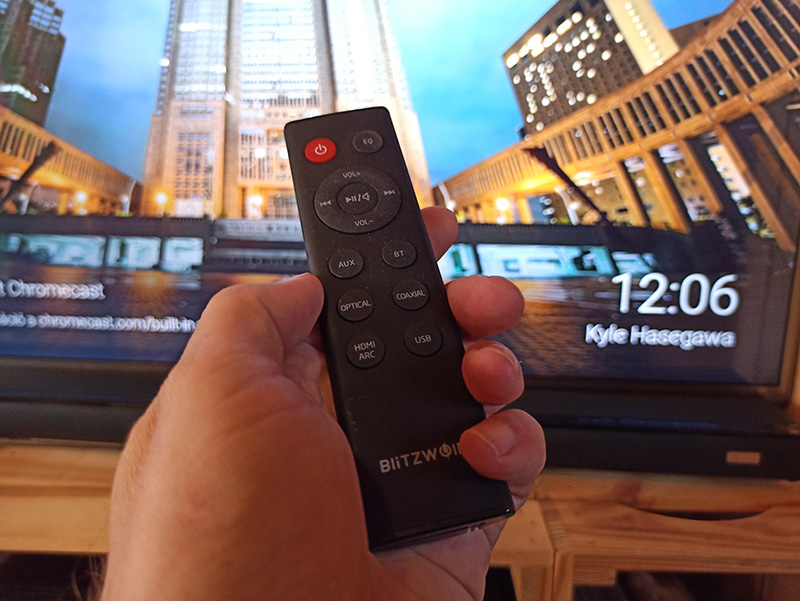 ---
Introductory
Although at home the soundbar is usually translated into a sound projector, the name is not accurate. Although form and speakers are present in both, the sound projector is much more than a Soundbar, as it can produce surround sound without a lot of speakers, as opposed to soundbars, which mostly sound only in stereo, they get some passive subwoofer at best, but on the whole, they cannot produce any spatial effect even then.
Viewed from this perspective, the BlitzWolf BW-SDB1 can be considered a sound projector, even if not very advanced. However, as the test shows, we can't complain about its performance at all, and we can't complain about its price at all!
---
Packing, outer and inner
Blitzwolf loves green, the BW-SDB1's long box has also been given white and green. Inside, plugged into the anti-vibration cap on both sides, you will find the body of the projector and the accessories in a separate box. These include an optical cable, a jack / RCA cable, and a Chinese plug razor cable. The latter is a fairly common thing, if you just can't find one at home, they will give you a hundred EU plugs in almost any technical store, so you won't need a converter either. The last essential item in the box is another tiny remote control, which will come in handy if you want to listen to music from, say, Bluetooth.
The sound projector is an encouraging phenomenon even at first hand. It's roughly the width of a 106-inch flat-screen TV, so it's a distinctive piece, and it has the weight for that too. It is so true, there is material trust in it that develops right away, not in vain.
There is no display, but hidden on the front panel are LEDs of different colors, not very bright, of different colors, which show exactly what mode the little one is in. The connectors are waiting for us at the back, there is a coaxial and optical input, a 3,5 mm jack for analog signals and an HDMI ARC connector. It is because of the latter that the Blitzwolf owes the pat, but about that later. Of course, you can connect to it wirelessly, the Bluetooth connection works well, and you can pair the audio projector with your phone or tablet in a matter of seconds.
At the bottom of the "tube" are rubber pads, anti-slip checked. One thing I miss, however, is the lack of hanging on the wall. Not only is there a problem that there is no hanger that the screw head would go into, but also that the connectors don't sit deep enough to fit behind the box when hung. So, this will be a speaker in front of / under the TV, there is no other option unless you place a shelf over the TV and place it on it.
The materials used are very good, the quality of the whole stuff is six (it is), so if you put this in front of your TV, the guests will definitely not watch with regret.
Let's say a few words about the inside because it's, if you can, is even more important than the outside! As I mentioned in the introduction, the BlitzWolf BW-SDB1 can also be called a sound projector. True, you can't emulate a 5.1 system, but you can emulate a 2.1. This is possible because of the six built-in real speakers, two face forward and four face up, and forward-facing speakers sound like separate center speakers.
In the upper part, facing the ceiling, we find four active radiators per side, and in addition one passive membrane per side, which is responsible for producing bass sounds.
According to factory data, these six pieces of active and two pieces of passive radiator sound at 60 watts, which is quite a human power, especially from such a "thin" tube. The big question is whether this volume will actually be created, and how wide the sound image will be, how much it will distort at higher volumes.
---
Test
Well, the thing is, the BlitzWolf BW-SDB1 sounds particularly good. Once again, the thesis was confirmed that a miracle cannot be done with little money. I tried pipes that promised similar knowledge but cost half or two-thirds, but the end was always a disappointment. True, everything from China is cheaper, but what is very cheap is already very crappy. This was exactly the reason for the long labor and after several unsuccessful attempts, I decided to move up one price range. I'm not interested in the priceless, overpriced things, I just wanted to make the TV sound and sometimes listen to some music.
The selection of BlitzWolf BW-SDB1 was the result of the -performance relationship. The power, and the number of active radiators, encouraged me to give it a try.
What's the result? More than I expected! The BlitzWolf BW-SDB1 sounds clear and powerful. No trace of box sound can be detected, although of course, as expected, most of it is from the mid-range. No matter how well it sounds, it still doesn't come up with a better, real 5.1 system, there's no speaker for treble, for example, but it's still not bad. The sound image is full, and compared to its size, we get quite decent dynamics in the field of bass as well. A particularly good point is that the passive diaphragms face upwards, because whoever has a built-in home theater knows, the bass sounds have no role in sensing the direction, so not that the subwoofer doesn't have to look towards us, we're even better off straight facing the wall. It's no coincidence that in serious boxes (we're talking home theater), the subwoofer is turned toward the floor to transmit vibration to it.
So, the BlitzWolf BW-SDB1 sounds really good. We also get pre-programmed tone images, such as music, sports or cinema, with noticeably more dynamic depths than the first and last.
There can be no complaint about the control either. As you may have read above, there is no display. When we choose from the tones, a pleasant-sounding lady speaks from the sound projector and tells us just what we've switched on. Switching between inputs is indicated by the front panel LEDs. I really like that if you turn it off, you won't forget the last setting either, the input, the set tone and the volume will be retained. The Blitzwolf also comes with a remote control, a bit easy to use, but you can also find control buttons on the top edge of the projector. They're rubberized, not very conspicuous, but because they have to be there and do their thing.
I also wrote that we also get an HDMI ARC connector. Even my many years old LG smart TV has an output of this format, through which it is possible to control the sound projector via the TV remote control. With a remote control, you already have less on your desktop.
If you still use your own remote control, that's okay, especially if you're playing music from your phone via Bluetooth, for example. In this case, you can use the remote control to stop playback, skip to the next track, or adjust the volume.
---
Is it worth buying?
I honestly say yes. I have a technical article or two lately that I've walked along the path of the armies. I tried to save, it would be good to say, but it always turned out that in vain Chinese, we should not go below a certain level in price because we carve it.
The price of the BlitzWolf BW-SDB1 is not in the skies, but it is not the crappy category anymore. Currently, the BGBWSDH with a coupon code we can find a price of 25 forints, which I think is an affordable category, especially if we take into account that those who scratch the limit of uselessness do not cost much less than 195 thousand forints. So this is a good choice, I promise you won't be disappointed in it!
Here you can buy:
Choose free and duty-free EU Priority Line as your mode of transport!
.