Is Blitzwolf the new Xiaomi? – the 20 best deals
There were times when we would have been happy with such things from Xiaomi!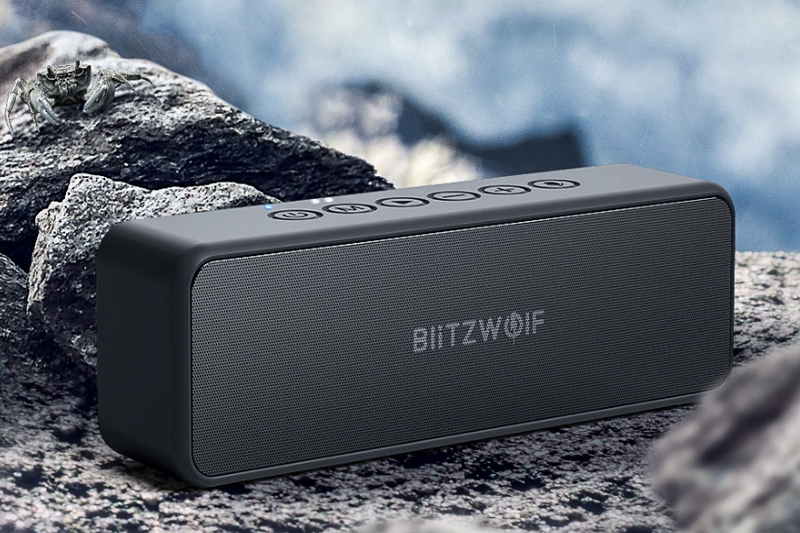 ---
Introductory
I know the title is provocative, but not unfounded. I've been dealing with Chinese products for many years now, so it doesn't seem too long ago to me when Xiaomi was just spreading its wings. We received good stuff from them, but on one occasion some weak products were included in the offer.
So yes, there was a time when we would have been happy to see products of the same quality from Xiaomi as we are seeing from BlitzWolf these days.
In this article, I will briefly present 20 discount products that can be ordered from EU warehouses.
All descriptions are based on data provided by the distributor.
---
If you are looking for sales, then visit our new site, where you can choose from thousands of products in the sale range of six large online stores. Product ranges divided into categories and a good search engine await you here:
---
The BlitzMax BT06 is a 2-in-1 portable Bluetooth adapter that can act as both a transmitter and a receiver. It is equipped with a Bluetooth V5.2 chipset that supports apt Adaptive Bluetooth encoding, providing high-quality sound and low latency when listening to music, watching videos or playing games.
The device can connect to two wireless audio devices or receivers at the same time, and has a memory function that allows it to automatically connect to the previously paired device while working. The adapter also has an LED status indicator that shows the various states of the device, and a built-in microphone for hands-free calls.
The BlitzMax BT06 adapter is compatible with various audio devices and has digital optical and AUX connectors, including a SPDIF audio cable, a 3,5mm AUX audio cable and an RCA audio cable. It has a built-in rechargeable 600mAh battery that provides more than 20 hours of continuous use in RX state and more than 12 hours of continuous use in TX state.
When purchasing the device, use the BGce1a49 coupon code, the price will be HUF 10 here:
---
The updated version of BLITZWILL BW-PLT1 Smart Star Projector is the perfect tool for those who want to admire the beauty of the starry sky without leaving their home. It features rotating constellations and a colorful LED nebula light effect, creating a stunning starlight show.
With 16 preset scene modes and your own setting option, you can easily adjust the brightness, color and contrast of the fog through the Smart Life app. The new music rhythm function allows the lights to synchronize with the rhythm of the music when the volume reaches 60 decibels. You can also control the projector with voice commands using Amazon Echo or Google Home.
To purchase, click on the link below, use the BG414db1 coupon code, with which the price can be reduced to HUF 12 here:
---
The BlitzWolf BW-WA4 wireless speaker is perfect for outdoor activities such as camping, hiking or the beach. Its powerful 30W output power and dual drivers deliver enhanced bass and detailed sound for a concert-like experience.
Thanks to the real wireless stereo sound, you can pair 2 speakers so you can enjoy a total of 60 watts of power. The speaker is also waterproof with an IPX6 rating, so you don't have to worry about getting wet. For versatile use, you can connect via Bluetooth, TF card or AUX input.
Thanks to its compact and portable design, it is easy to carry in your backpack, for example. The battery capacity is 3600 mAh and provides up to 50 hours of music listening at 6% volume or 70 hours of phone calls at 20% volume.
The price of the speaker is a BG339a29 now only HUF 13 with coupon code here:
---
The BlitzWolf BW-WA5 100W Wireless Speaker is a portable and waterproof Bluetooth speaker that delivers powerful sound with deep bass and rich detail. With three EQ modes, you can adjust the listening experience to your musical taste, while true wireless stereo sound allows two speakers to be wirelessly paired for even more powerful 200 watts of sound.
This speaker has a built-in power supply that allows you to charge your devices on the go. It also has a detachable shoulder strap for easy portability. Thanks to the IPX6 waterproof rating, you can take it anywhere without worrying about getting wet or drenched.
The price of the speaker is a BG2149e7 with coupon code HUF 16 here:
Unfortunately, this speaker is sold out. There is still a 100-watt Blitzwolf in the Czech warehouse, its price is HUF 34 instead of HUF 20 with the coupon code BGd9904a by clicking on the link below:
---
BlitzWolf BW-SL3 is a dimmable LED ring light with stand and phone holder designed for TikTok, YouTube, live streaming and makeup. The device has 11 brightness levels and 3 color temperature modes to find the perfect lighting for every occasion.
The ring light is compatible with BW-BS11, BW-SL2 and other selfie stick tripods. It contains 120 surface-mounted LED light sources that provide bright and uniform illumination. The stand has a platform that can be rotated 360 degrees. The lamp can be powered by USB and is compatible with IOS, Android mobile phones and 360 cameras. The kit also comes with a wireless remote control, making it the perfect tool for content creators and makeup artists alike.
There is no coupon for this lamp, you can buy it for HUF 5200 in a flash sale here:
---
The BlitzWolf BW-VF2 is a versatile projector mounting bracket that can be easily mounted on concrete or brick walls or even on the ceiling. It has an adjustable extension arm that can be extended vertically between 43-65 cm and horizontally between 21-32 cm. The holder can be rotated to the left and right up to 30°.
With a maximum load capacity of 25 kg, this mount is compatible with projectors that have a 4-thread connector. Made of durable steel and available in black or white. The package contains all the screws required for installation.
The holder is now priced at BGXIFD410 or the BGRBWVF2 HUF 3800 with coupon codes here:
---
The BlitzWolf BW-S22 Mini PD 35W GaN wall charger is a compact and efficient charging solution for your mobile devices. With two Type-C ports and support for PD3.0, PPS, QC2.0/QC3.0, FCP, AFC, BC1.2, APPLE 2.4A protocols, this charger provides fast charging for a variety of devices, including iPhones , Samsung Galaxy phones, iPads and MacBook Air devices.
The charger has a maximum output power of 35 W and is made of durable PC material. Its EU plug design and compact dimensions of 77,8mm * 40mm * 28mm make it perfect for travel and everyday use.
The price of the charger is a BG2dee3a with coupon code HUF 6600 here:
---

The BlitzWolf BW-S23 is a powerful wall charger with 4 ports for charging your devices. It has dual USB-C and USB-A ports and supports several protocols including PD3.0, PPS, QC3.0, SCP and FCP.
With its maximum power of 100 W, you can quickly charge your iPhone 14, Samsung Galaxy S22, Z Flip 4, iPad Pro 2021 and MacBook Pro 16″, among others. The USB-C1 and USB-C2 outputs support up to 100W, while the USB-C3 and USB-A outputs support 20W and 22,5W, respectively.
It also has many output combinations, including USB-C1+USB-C2, USB-C1+USB-C3, USB-C1+USB-A1 and other output combinations. This wall charger is compact, lightweight and perfect for use at home or on the go.
There is no coupon, but considering the high performance, the price of HUF 14 can still be considered favorable.
---

The BlitzWolf BW-GH1 is a headphone designed for gamers. With a 50mm driver, these headphones deliver powerful sound. Thanks to the advanced bass, you can hear even the smallest sound and react quickly.
The over-ear design with noise isolation covers the entire ear, suppressing external noises. The flexible microphone picks up your voice clearly and you can adjust it to the right angle for clear communication with your teammates. Attractive RGB LED light adds to the atmosphere of the game. This headset is widely compatible with game consoles, computers, tablets and other devices. The skin-friendly material with maximum comfort ensures that your ears won't hurt even after wearing it for a long time.
The price of the headphones, even with the HUF 1000 shipping fee, results in a purchase price of only HUF 5000 if the BG77bfbd you use a coupon code here (make sure you use the cheaper delivery!):
---
The BlitzWolf BW-PC1 hub/USB charger is a convenient and versatile charging solution for all your electronic devices. With three power sockets and three USB ports, including one USB-C PD port and two USB-A QC3.0 fast charging ports, this power hub can charge up to six devices simultaneously. The maximum power of the USB-C PD port is 20 W, while each USB-A QC3.0 port provides up to 18 W of power.
The power connector is designed with a cable length of 1,5 m and a maximum output power of 2500 W, making it suitable for many devices. The product has an EU connector and is compatible with, among others, the iPhone 13, 13 Pro Max, 13 Mini, OnePlus 9Pro, Xiaomi MI10 and other devices. The network connector is made of PC material and is available in an elegant black color. It is easy to use and a must-have for anyone looking for a convenient and reliable charging solution.
The price of the distributor is a BG246f73 8500 forints from a French warehouse with a coupon code here:
---
The BlitzWolf BW-CML2 Pro RGB Gaming Monitor Lamp is a versatile lighting device that enhances your gaming experience and helps protect your eyes while you work. It also has a touch and wireless remote control that allows you to switch between 4 different RGB modes and adjust the color temperature between warm and cool, making it perfect for various activities such as reading, gaming and relaxing.
The brightness is adjustable and anti-glare, which can reduce screen glare and ease eye fatigue, and the asymmetrical front projection design helps eliminate reflected glare from the monitor, maximizing focus and comfort.
The device is easy to install, with a space-saving, triangular design that is perfect for monitors with a thickness of 10-35 mm. This USB-powered light is thin, slim and easy to carry, making it your best companion whether at home, in the office, or on the go.
The price of the lamp is a BG6deb03 with coupon code HUF 9000 here:
---
The BlitzWolf BW-LT40 LED square ceiling light is a high-efficiency light source that provides up to 2200 lumens of light. The lamp has a night light mode that provides a soft and comfortable light, perfect for nighttime use, and a timer function that turns the light off after about 30 seconds.
The lamp can be controlled with an infrared remote control, so you can easily choose the desired brightness and color temperature. The lamp also has a memory function, so previous settings are saved and can be used the next time the lamp is switched on. It is waterproof and suitable for use in the bathroom, balcony, hall, living room and bedroom. The light is easy to install and comes with all necessary accessories, including ceiling light, remote control, manual and installation kit.
The price of a BG589b2e with coupon code HUF 8840 here:
---
BlitzWolf BW-SHP2 is a smart WIFI socket with EU connector that allows you to control your devices remotely with your phone. You can control the outlet with the BlitzWolf Tuya app, or connect it to Amazon Alexa or Google Assistant for voice control.
The socket also supports timed switches and remote monitoring of devices. The compact design takes up only one socket, and the high-performance relay supports up to 16 At. The product comes with a smart WIFI socket and a user manual.
There is no coupon for this and the stock is quite limited in the Polish warehouse. The price is HUF 6200 by clicking here:
---
This smart home item was a big hit last summer, and it probably won't be any different this year, so it's worth getting it now at half price.
The BlitzWolf BW-DS04 433Mhz Soil Moisture Sensor Temperature and Humidity Sensor is a smart device that allows you to monitor soil temperature and humidity in real time using your smartphone. Thanks to its stainless steel probe and IP67 waterproof rating, you can easily place it in your garden. The device also has a humidity alarm value that automatically shuts off watering if the humidity is too high, helping to save water and prevent overwatering.
The device runs on 3 AAA batteries and uses wireless communication up to 50 meters away (in an open space without interference). With a temperature range of -10℃ to 50℃ and a humidity range of 0-100% RH, you can ensure that your plants receive the optimal environment for their growth.
Other gadgets belonging to the sensor can be seen in the description of the next product.
The sensor is a BG1b5b63 with a coupon code, instead of the original price of HUF 12, you can buy it for HUF 880 here:
It seems that the description of the device caused a misunderstanding. As you can read, it works at 433 MHz, not Wi-Fi or Bluetooth, so it's a sensor. For operation, you need the other gadgets from the next post, the solenoid valve shown there can open and close depending on the soil moisture.
---
Don't be fooled by the name of the manufacturer, as it is written on the device, this is the BlitzWolf BW-WTR01 system.
Garfans BW-WTR01 is a convenient and efficient tool for gardening enthusiasts. The device features remote control via a smartphone app, so users can easily set and check watering schedules. The system has sprinkler and mist modes that record water flow and water usage for more scientific irrigation settings to save water.
The irrigation schedule can also be delayed based on the data from the soil sensors. The device can be equipped with rain and soil sensors (the previous product in the list) to cooperate, and the manually activated rain delay function is also available. A gateway can be connected to up to 4 Wifi water timers. The device is battery operated and has an IP54 water resistance rating. The Garfans WIFI Connect Irrigation Timer Gateway Irrigation System is an excellent tool for anyone who wants to take control of their garden's irrigation system.
This package is now available in advance sale, so the price is approx. two-thirds can be ordered for only HUF 20 if we are among the first 800 customers. Shop here:
---
The BlitzWolf BW-CP1 is a high-quality power supply. It supports a wide input range (200-240VAC 5A/7,5A 50-60Hz) making it ideal for use in areas with weak power grids. The power supply has multiple layers of protection, including OCP, OVP, OTP, OPP and SCP protection to ensure system security.
The device is equipped with high thermal conductivity silica gel, which quickly transfers the temperature of the circuit board to the bottom cover, allowing for efficient heat dissipation. The power supply has intelligent temperature control and a large 12 cm fan for quiet operation. The package includes an ATX power supply, 1,5 meter AC power cord and user manual.
The price of the power supply is a BG153b29 with coupon code HUF 5200 here:
---
The BlitzWolf BW-FPE2 TWS Bluetooth earphones are slim, black and designed to fit comfortably in our ears. The earphones have a 13,6mm large dynamic driver that delivers adequate bass and a balanced frequency response for a premium listening experience.
The earphones support high-definition AAC audio decoding, which enables better sound transmission and beautifully restores all the details of the sound. It has a long battery life of up to 20 hours, making it ideal for long listening sessions or travelling. The earphones feature a one-button voice control feature that allows users to activate Siri or Google Assistant on their mobile devices with four clicks.
There is no coupon for this product in the current flash sale, we can get it here for HUF 8300:
---
The BlitzHome BH-CM1503 espresso machine is a high-quality coffee machine that offers precise temperature control for perfect brewing. With its high-performance 1250-1450 W heating boiler and 15 bar high-pressure extraction, it ensures quick and convenient coffee brewing. You can adjust the amount of coffee as you like, the amount of single cup coffee can be adjusted between 25 ml and 60 ml, and the amount of double coffee between 70 ml and 110 ml.
The machine also has professional milk frothing, a hot water function and a separate water tank for easy filling and cleaning. It is made with a durable all-metal cover that is corrosion and scratch resistant. It has a number of safety features, including overheating protection, automatic shut-off and high temperature alarm.
The price of the machine is now very reasonable, a BG19a668 with a coupon code we get a HUF 10 discount, so you can bag it here for HUF 31:
---
The Blitzhome BH-JC01 cold press is designed to make healthy and tasty fruit and vegetable juices at home. This juicer has a 2-speed design that allows you to easily juice a variety of softer or harder fruits and vegetables. With an improved 7-segment spiral stem, it can extract more juice and retain more nutrients while reducing oxidation.
Cleaning the juicer is also easy, and the design of the anti-drip cap allows us to close the juice outlet after squeezing the juice, thus preventing dripping and keeping the work area clean. The machine also has intelligent protection that automatically stops operation if it becomes clogged or jammed, protecting the motor and extending the life of the product.
The price of this machine is also favorable now, since the fruit season has not yet started. THE BGed07ce with coupon code approx. You can save HUF 6000 when shopping at the link below:
---
BlitzWolf BW-TH5 is a 7-in-1 USB-C data transfer hub that allows you to connect multiple devices to your computer. With 3 USB 3.0 ports, SD card reader, TF card reader, 4K HDMI output and Type-C PD charging port, this hub offers versatility and convenience.
With the USB 3.0 port hub, you can easily connect all your USB devices to your Type-C device and keep your desk organized. The 4K HDMI output allows you to convert your phone's signal to HDMI output, and the SD/TF card reader allows you to read data directly from the SD card and send it to another USB port.
Thanks to the USB 5 transfer speed of 3.0 Gbps and the support of the OTG function, you can connect the hub to your mobile phone or tablet and connect a pen drive, mouse, keyboard or other USB device. The hub also supports device charging via the Type-C PD charging port and comes in a durable and portable design.
A BGa860a8 with a coupon code, the price is now HUF 8700 on the link below:
---
CONCLUSION
This article is not a test, the recommendations were written based on the data provided by the store, and the store can take maximum responsibility for them. The article is just a product recommendation, in which we have listed the most interesting discount products of the week.
If you want to buy cheap, join our Facebook group, because there is no such coupon that we cannot find!
We are waiting for you with lots of video tests and live broadcasts on our YouTube channel.
At the time of writing, almost all products can be ordered from EU warehouses (CZ, PL, ES or FR). Pay attention, if the EU warehouse runs out of products, the link will automatically jump to the Chinese warehouse.