This is now the best home treadmill for your money - Geemax C2 review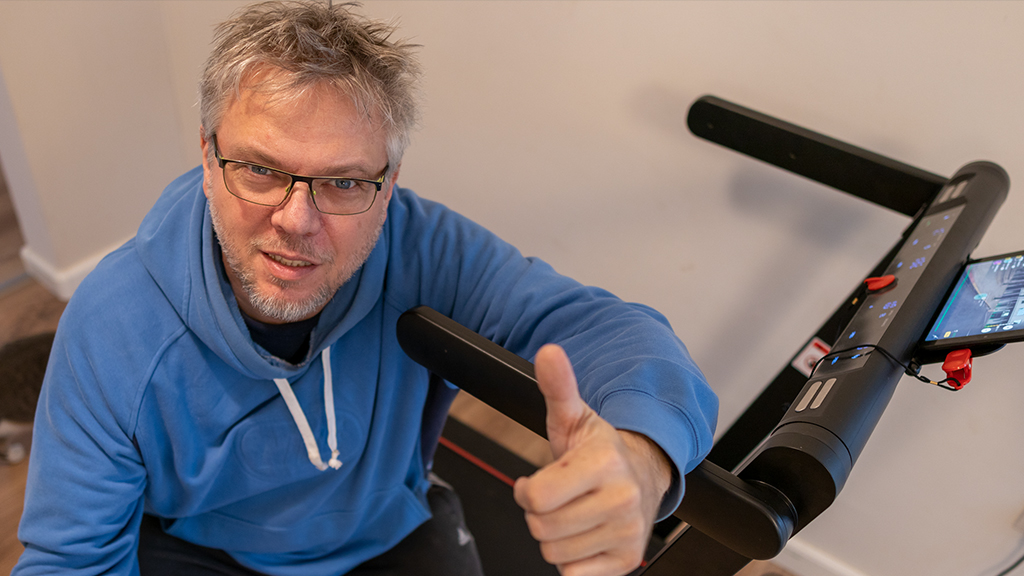 High-end home treadmill for the price of a walking bench!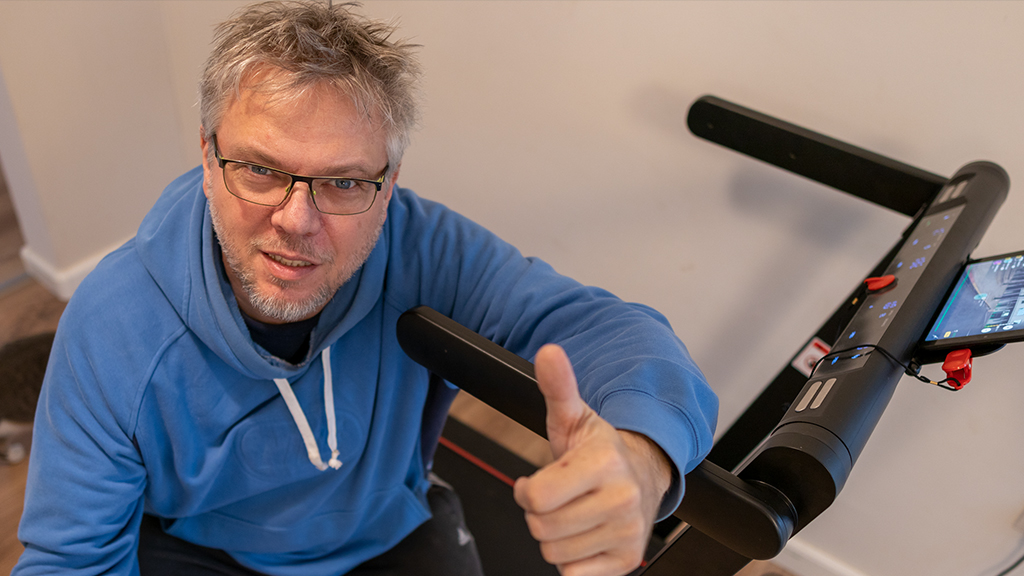 ---
Check out our video tutorial too!
---
Introductory
I've looked at treadmills before, but I always thought they were stupid. In addition, the treadmill is boring, staring at the wall for half an hour or an hour while running doesn't really get you excited. The street is there, it's free, you can go for a run, you just need good shoes. This thing is approx. it was true until the children arrived, I didn't work 10-12 hours a day. Since then, running has become a thing of the past.
Unfortunately, the lack of sport shows on me. I stopped smoking, I stopped running, and the two together now mean an extra 20-25 kilos. The latest thing I've noticed is that my soles hurt when I'm barefoot. It's never been like this, and obviously the extra load due to the extra weight is the reason.
My partner keeps saying, go for a run, you loved it, it's not good if you don't move, and I always defend myself by saying that it's fine, but when should I go? At night, when I stop working and would prefer to go to bed without taking a bath, or at dawn, when every minute of sleep counts, and even at seven o'clock I can barely crawl out from under the covers?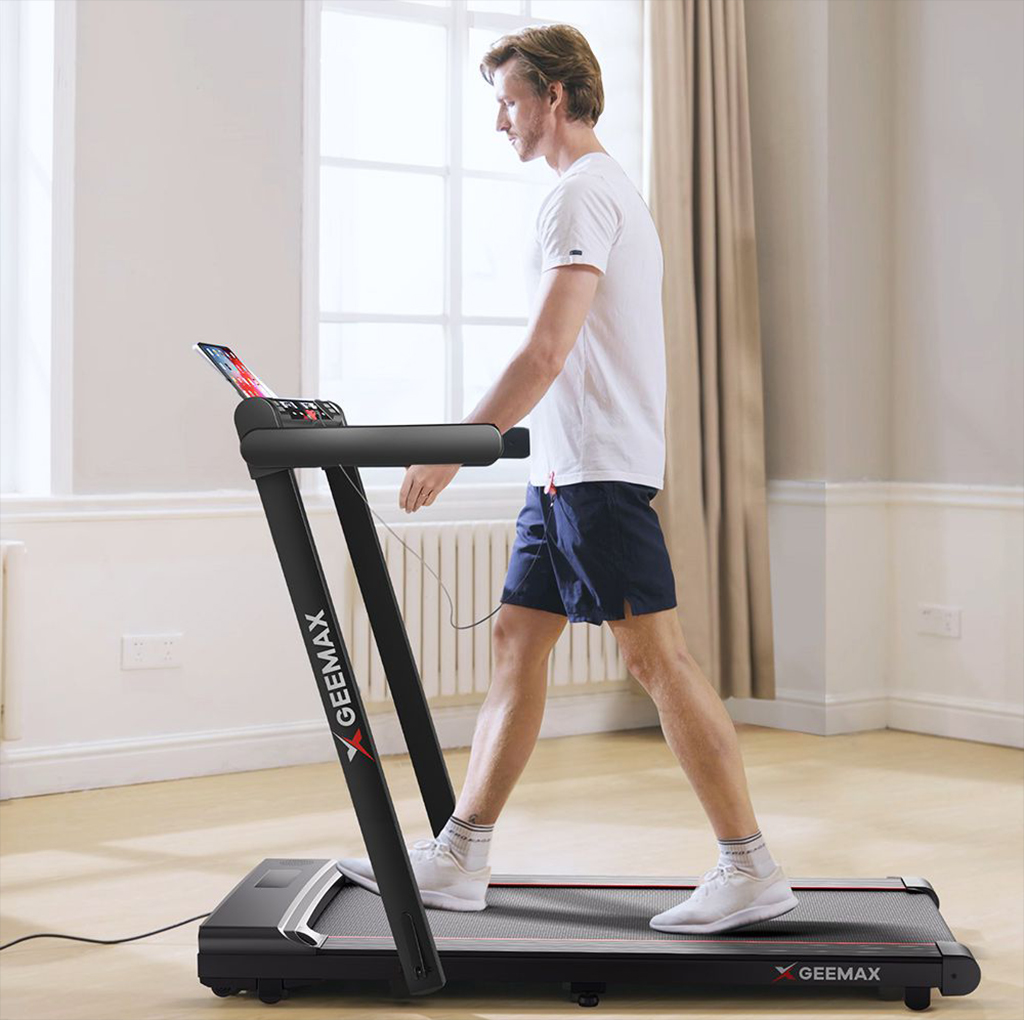 These arguments are valid, but the fact remains, I should do sports, because sedentary work without extra exercise is not really good for health. So treadmills came into play again. I started reading about them and it turned out that the latter was approx. In the 10 years since I had no luck with a treadmill, things have changed a lot.
I wrote down what I would need, that is, what kind of bench I should buy. Keep it small so it can be packed away after use. It should have a speed of at least 10, but preferably 12 km/h, my current body weight of 100+ kilos should not be a problem, it should be programmable, it should measure everything that can be measured, but at least the distance covered, the number of steps, and calories. It shouldn't be too expensive, and last but not least, it should have smart functions, it should have a fucking phone application, because I've read very good things about them (I'll share what those are with you later).
After that, I started browsing the domestic offer, and I felt a bit like it was time to wake up, because my hand was hanging in the potty. The set capabilities started at roughly HUF 200, the limit is the starry sky. So I was left with shopping abroad, where I found the ideal candidate for under HUF 130 in a short time, and it was Geemax's brand new bench, the C2.
I note that I found a domestic source for the Geemax C1, but it is a much weaker structure, and they charge HUF 190+ for it here, so we'd rather leave it at that!
---
Packaging, accessories and exterior
The Geemax C2 comes in a very large package, which is no wonder, since the bench is not small (1257 x 693 x 1016 mm when opened). The cardboard is thick and durable, but it arrived in a rather worn condition. One side was specifically torn, but thanks to the internal impact protection, I was able to remove the bench intact, without damage or scratches.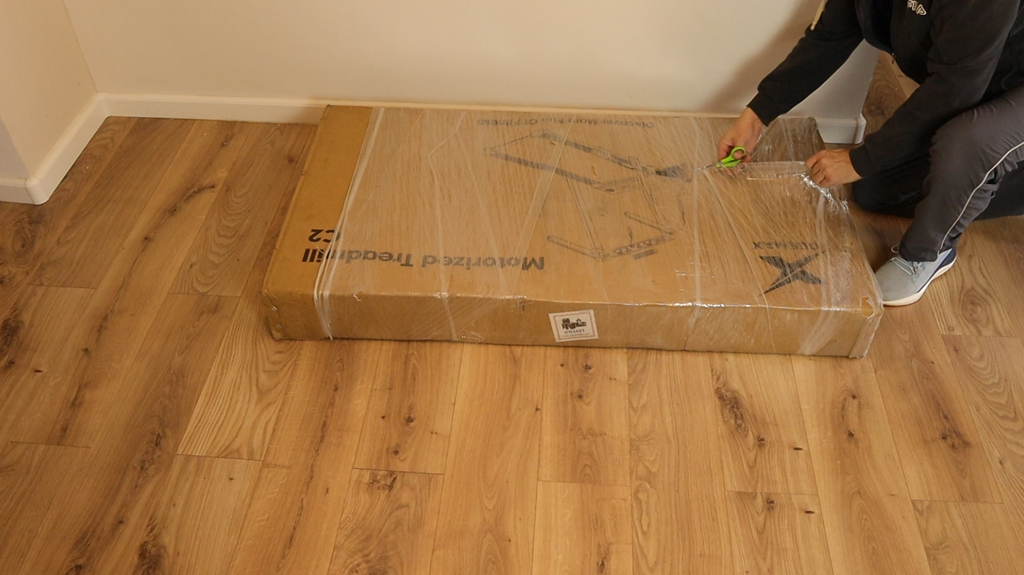 We don't get too many accessories. We find an Allen key, a screwdriver, a wrench, batteries, a remote control with a red string at the end, and a small bottle of silicone oil. At first, the many tools are scary, since I don't have to screw a treadmill together anymore. Fortunately, you don't have to.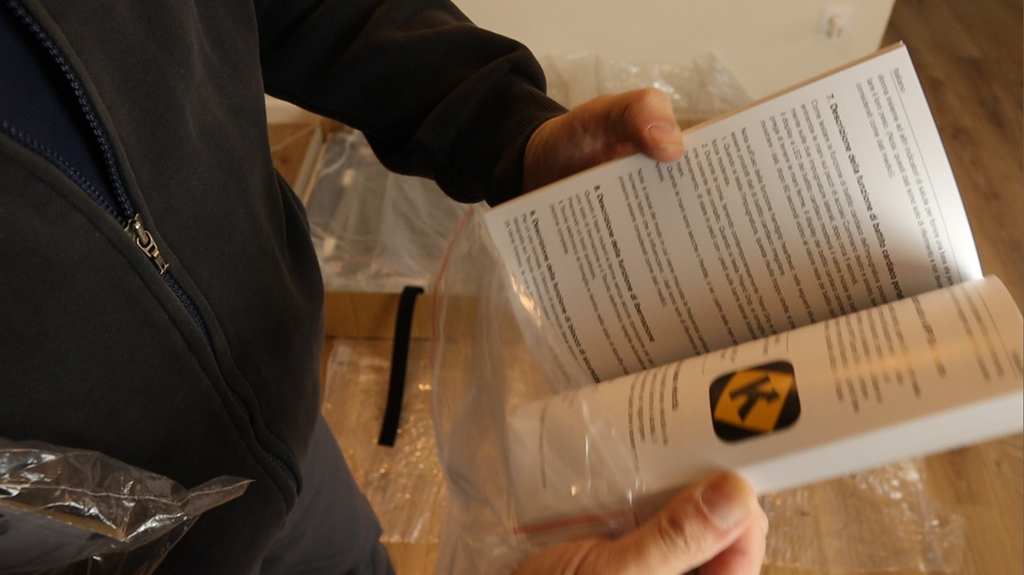 We will find a description in which the information needed for commissioning can be found in great detail. Unfortunately, the Hungarian language is missing in vain if you search for it, but for those who find it a problem, you can find the description online in PDF format, and it can be translated into Hungarian using Chrome's built-in translator, and you can even print it out in Hungarian. So I don't think this is a disadvantage anymore.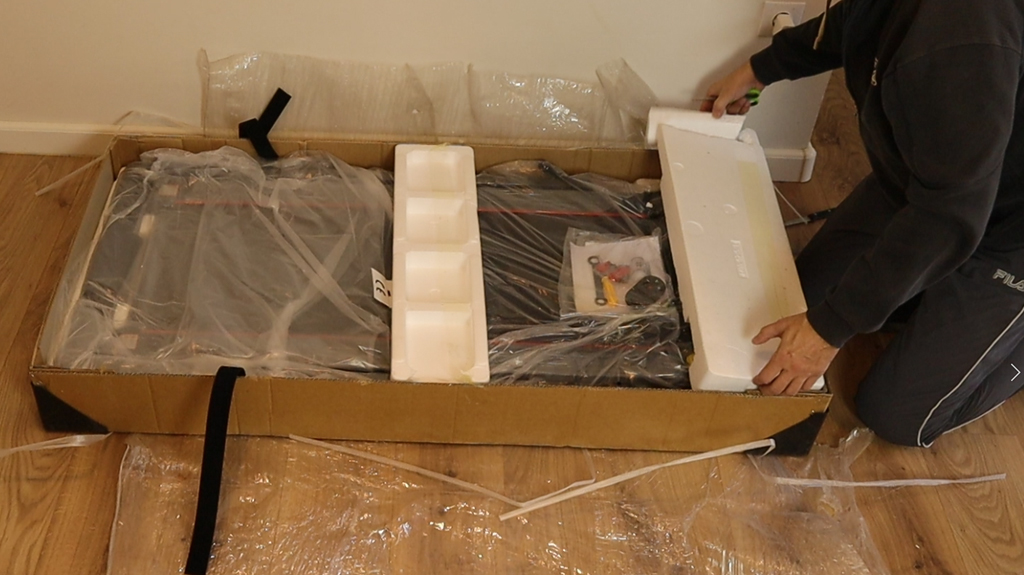 The bench itself looks like a treadmill, being a treadmill. I have already written about its dimensions, but I will talk more about the paper form, because we can use the machine in two ways. The manufacturer says that the material of the C2 is Aluminum+HDF+PVC+Nylon, that is, translated into Hungarian, it is made up of different types of aluminum and plastics.
The most important part of the bench is the running surface, which is 400 millimeters wide and 1050 millimeters long. That is, 40 centimeters and a little more than a meter. The other important part is the openable, fold-up frame (but not a walking frame), which you can hold on to, but it also has a more useful task, on this is the display, and here are the "buttons" that you can use to control the structure. The buttons got into my cat's claw because they are not physical buttons, you can "click" on a touch-sensitive surface.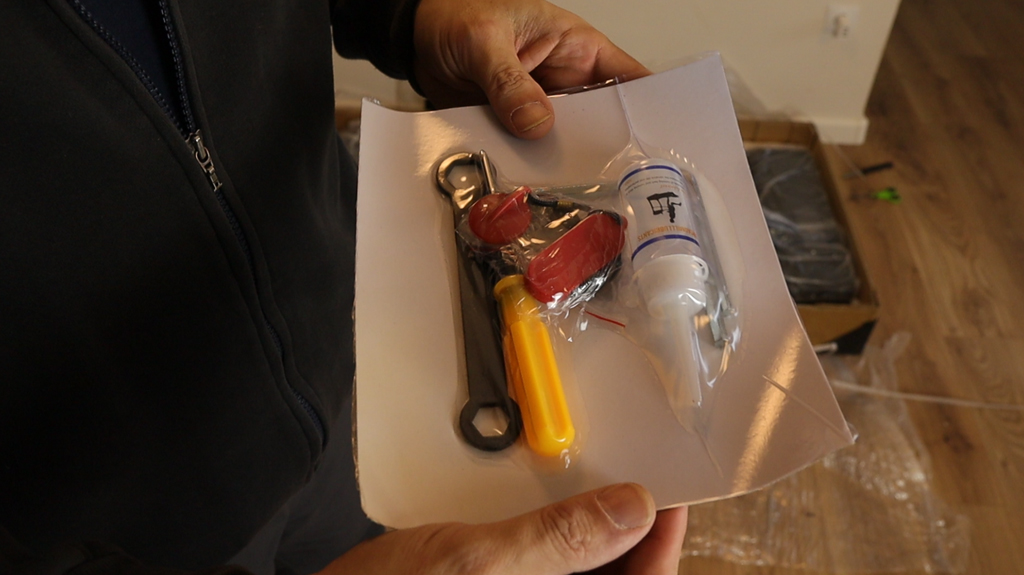 It is also interesting that on this part that can be opened, we can also find a phone/tablet holder, and this has to do with a feature that I really like in this treadmill.
I haven't written about two things yet. One is that there is a display on the bench, in front of the running surface, and a speaker next to it. The other is that there are wheels at the bottom of the bench, so you can move it around the apartment.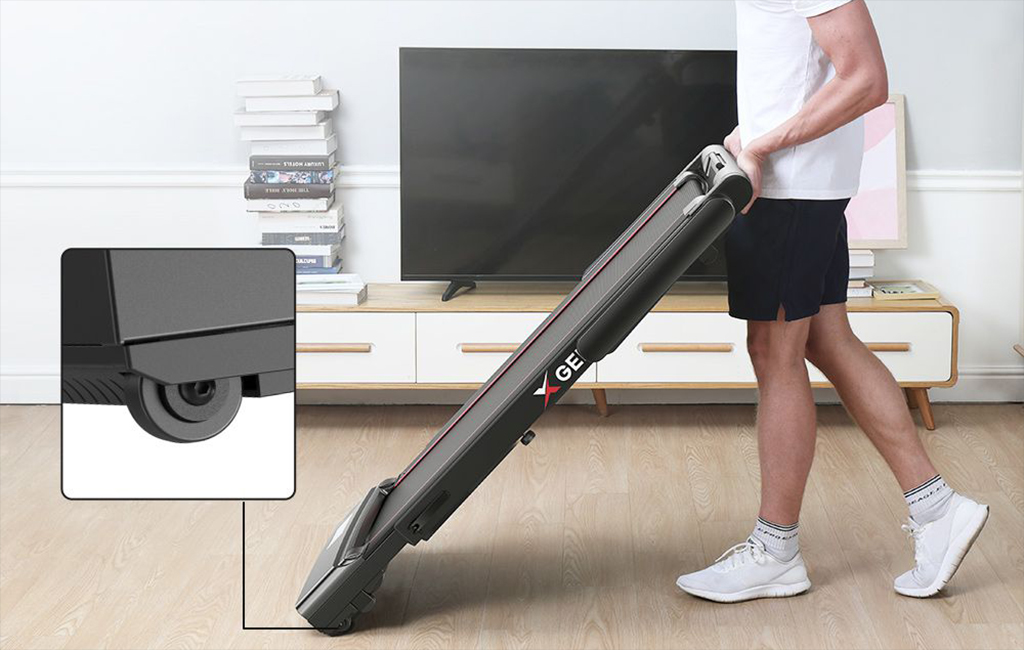 ---
Paper form
Let's see the abilities!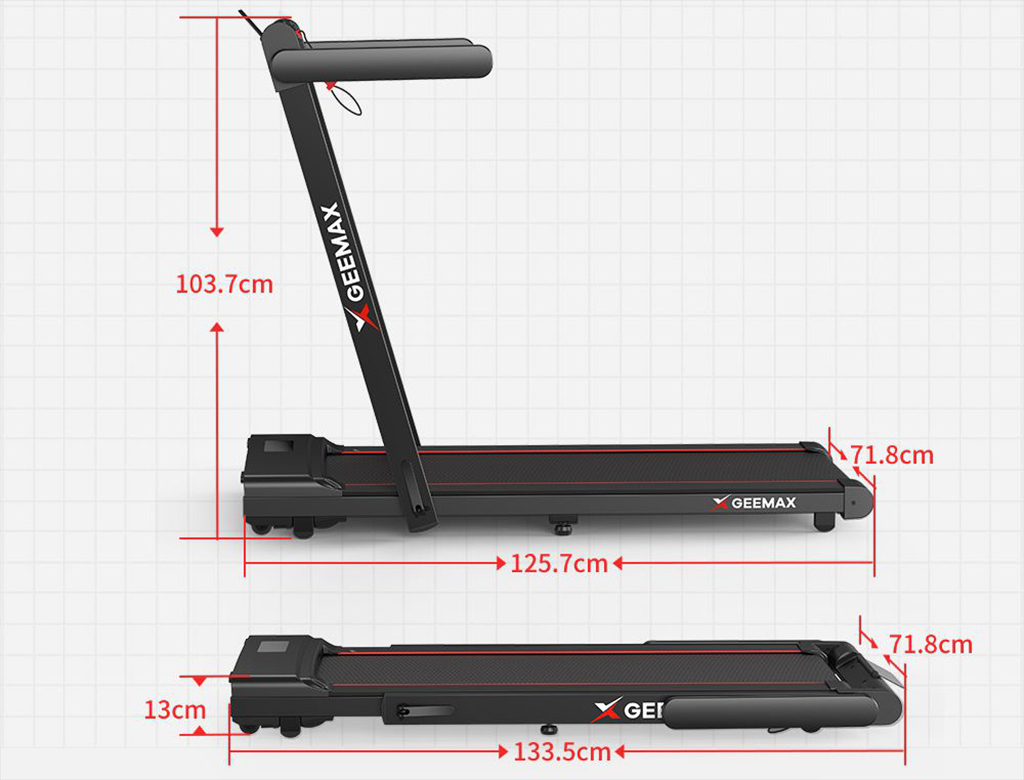 I have already written about the size of the bench, but I will describe it again. When open, it measures 1257 x 693 x 1016 mm, when closed, it measures 1333 x 693 x 130 mm, and weighs 39 kilograms, so it's not a lightweight racer, and you need the wheel at the bottom to move it.
The maximum load capacity is 120 kilograms (fortunately, I still have plenty of space), and the maximum running speed is 12 kilometers per hour. In order to be able to achieve this load and this speed, according to the manufacturer's data sheet, it uses a 3 horsepower motor.
I would like to note here that in the price category of Geemax C2, there are predominantly 1 horsepower machines in the domestic range. That's why I didn't buy it at home... Sic est quomodo homines, qui pretiosa antlia vendunt, ambulant - as the ancient philosopher would say if you want to buy a treadmill.
The C2 basically has two modes, walking mode and treadmill mode. In pedestrian mode, the "handrail" can be left folded down, in which case the maximum speed will be 6 km/h. With the lever raised, we can reach the machine's maximum speed, i.e. 12 km/h, which is a fairly normal running speed. At least for me.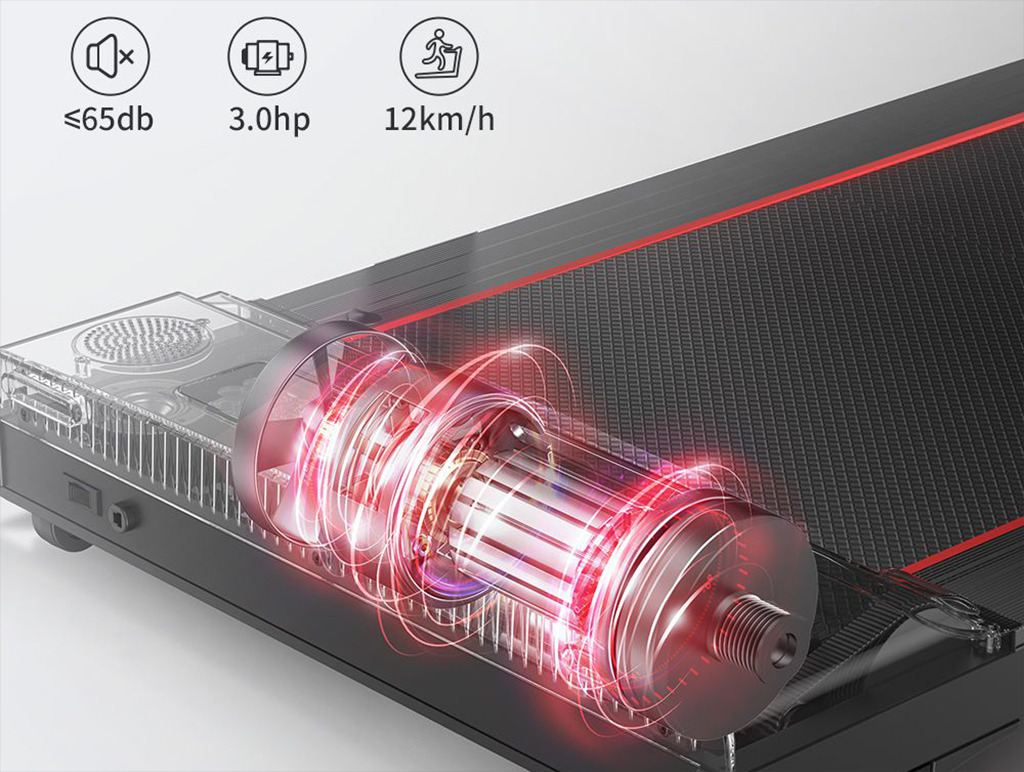 The machine can also be programmed. This means that we can program different load patterns. There are 20 segments within a program, for which you can set how long they last and at what speed the bench moves.
If you don't want to program, you can use the machine completely simply or with minimal settings. The easiest way is to stand on it, set the speed and stop the machine when enough is enough. It's a little more complicated if you set the time before running/or set the distance you want to cover/or set the calories you want to burn. In this case, we do not have to pay attention while running, the machine stops by itself when we have reached the set goal.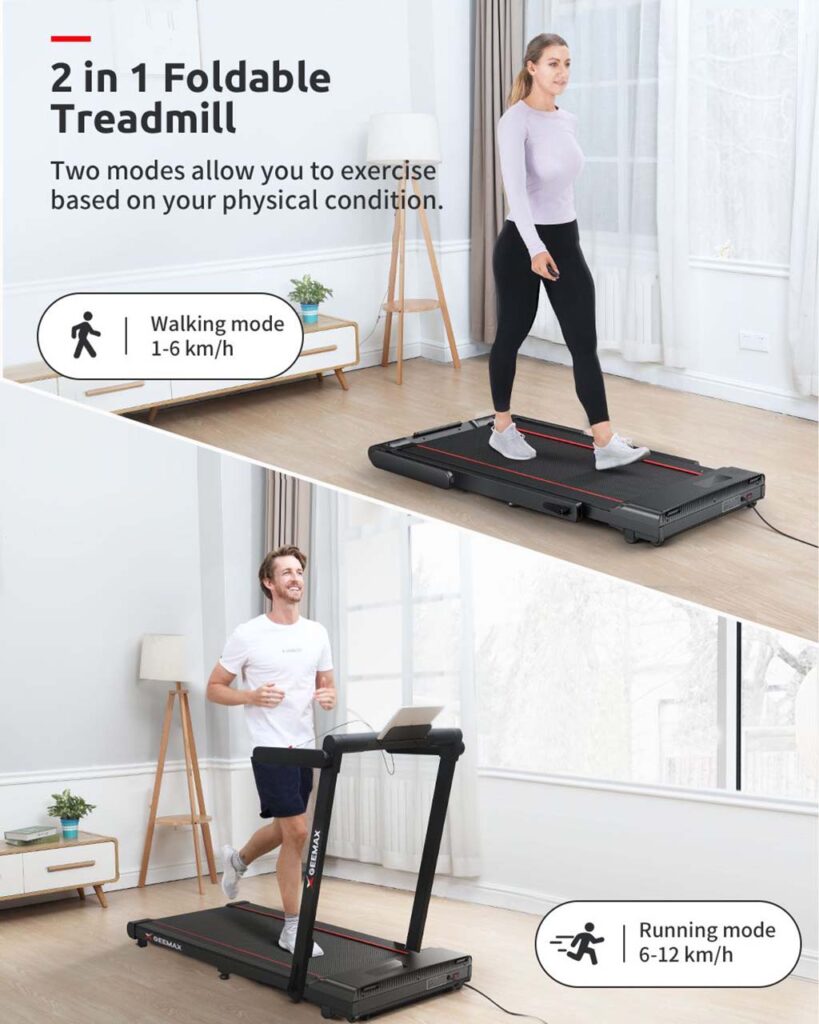 There are two things that I can describe as icing on the cake, or icing on the cake, so, kind of extra. One is that the machine has a heart rate measurement option. For this, you need to touch the metal contacts on the handrail with your palm. The other thing, which is even more extraordinary, is that the machine can also measure the body fat ratio. I will not describe how to do this, it consists of many steps, the user manual covers the setting of this measurement separately.
What I haven't written about yet is the smart function. The machine has a Bluetooth interface, through which it can communicate with our phone or tablet. This communication consists of two parts. It is simpler that we can send music from the phone/tablet to the built-in speaker of the treadmill.
However, there is also a much more important, really smart thing, and that is the use of applications. The program for Geemax C2 is really great. With it, we get an ability that makes running at home between four walls downright fun. But you can read about this in detail a little later, after the chapter describing the installation!
---
Commissioning
Fortunately, this chapter will not be long, since commissioning does not essentially involve any assembly. We get the machine together, there is nothing flat-mounted here. We get a XNUMX-gauge cable, plug it into the socket, click the red switch at the front of the machine, and the machine is already working.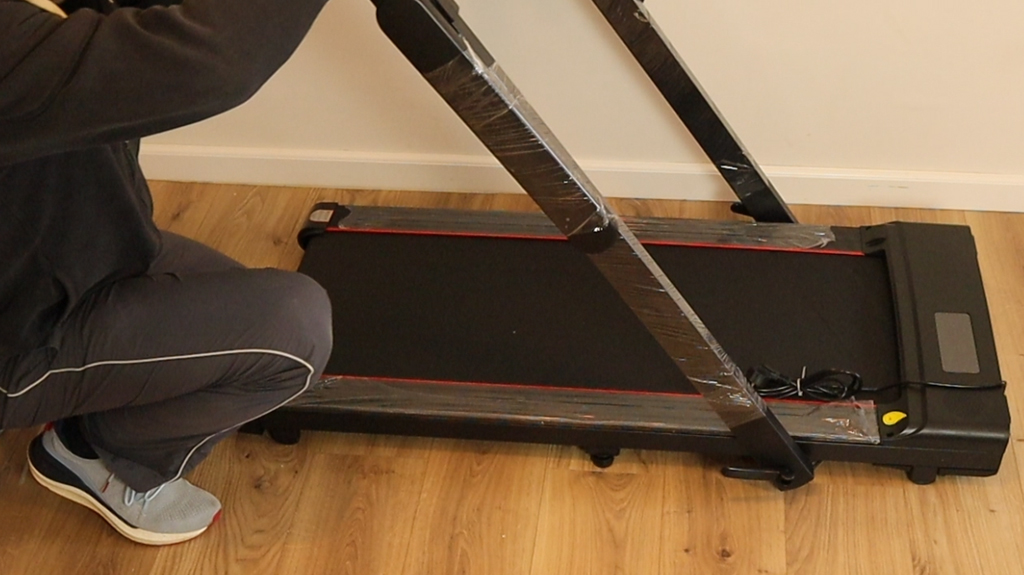 As I wrote above, the machine can also be used with the handrail lowered, for which you will need the remote control. For this, the item(s) were packaged separately. So plug it in and you can remotely control, stop, start, increase or decrease the speed.
You can also do the programming if you want, but I'm adamant that you try the machine first. Take the red string with the tweezers. At the other end of this string is a magnetic part, which must be inserted into the recess in the middle of the bench's handle, without which nothing will start.
Importantly, don't forget that there are 1 height-adjustable leg in the middle of the bench on both sides. You can turn them outwards or inwards. It is important that these feet rest properly on the floor, that the bench does not sway forwards or backwards, because it will not do him any good. If you have that, then you can install and set up the software to make running enjoyable, and finally you can get on it and start your first ride!
One last thing. We find a small oil opening on the machine. Through this, the silicone oil can be delivered under the running surface. If you feel that the machine has become louder, if the belt has difficulty moving, consider that it may need a little silicone oil. You can find the bottle among the accessories!
It really wasn't complicated, was it?
---
Szoftver
I promise it won't be too complicated either!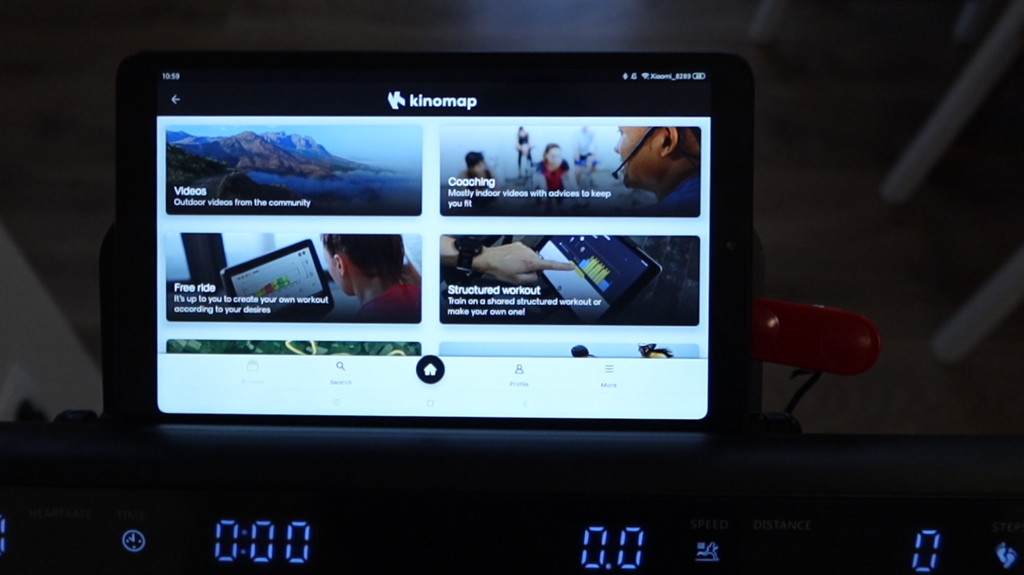 You can download the Kinomap program for free from the shop for your phone. Unfortunately, the free service is only temporary, after the introductory period it costs HUF 2000 per month. There is a reason for this, but more on that later.
Or you can use the FitShow app, but I didn't like it that much.
So, you download the Kinomap software and the installation can begin. You have to register, it's inevitable, because you'll get an online profile that you can access from anywhere and that stores the results of your workouts. In fact, not only that, but also other things, but first let's see what needs to be set!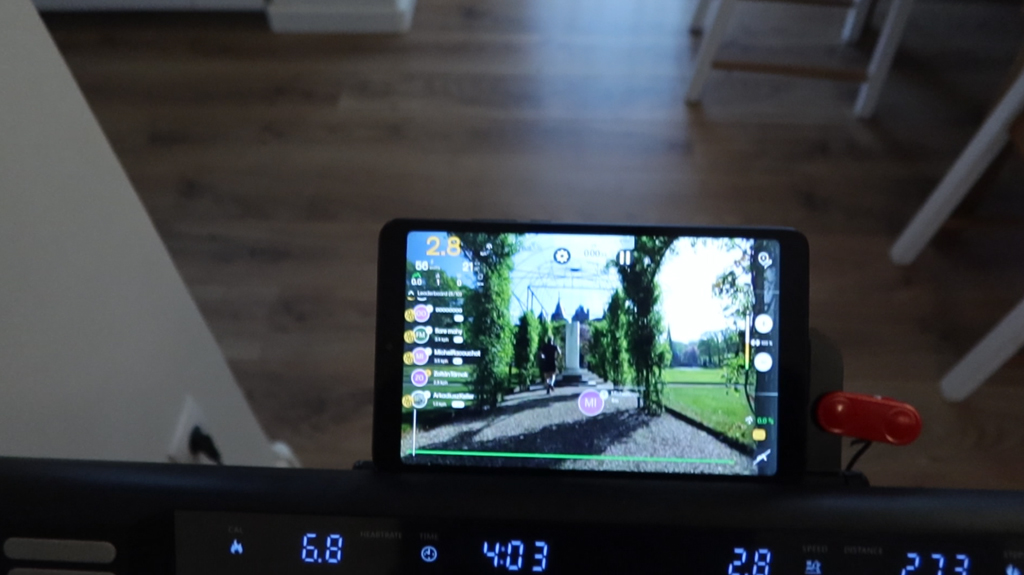 So, after installing Kinomap, you have to choose which machine you want to use it on. There is a treadmill, an elliptical trainer, an exercise bike, and three or so other things that I don't even remember, but it's not important, we need the treadmill.
If selected, the type of pad must be specified. To do this, look for a tool called FitShow. Of course, there must be a connection between the phone and the treadmill.
When we are done with this, we can set our own data, such as age, weight, etc. When everything is OK, the training can begin, and this is where the real essence of the program comes in.
The fact is that, while most applications only serve to log your workouts, Kinomap also gives you the opportunity to run in different places and even compete with others. This should be imagined in the way that the program makes some pre-recorded running routes available for the first time. These are all videos recorded in beautiful places, where the "film" moves according to the pace of our run. In other words, if we run slower, we reach the end of the road more slowly, if we run faster, we can reach the end quickly.
If we complete the challenges, more and more routes will open up before us. While running, you can see where you are running on your phone, but the program also allows you to project the image onto a large-screen TV or even a projector, so it is almost as if you are running in different interesting and/or wonderful places.
Well, that's why I say that running at home with this machine is no longer so boring!
As I wrote, we also have the opportunity to compete. Well, this should not be understood as the fact that many people start at the same time, but rather that you can see how far you are in terms of time, and also that if others are also running on the given track, the program says that the next "competitor " is with Meni in front of you, so it also gives you extra motivation to overtake him.
Do you think that's all? No, the program also offers the opportunity for various training sessions, which you can find under the Coaching section. From boxing training to fat burning, everything you can think of is here. But you can also find routes recorded by others, and you can even participate in multiplayer games in various sports.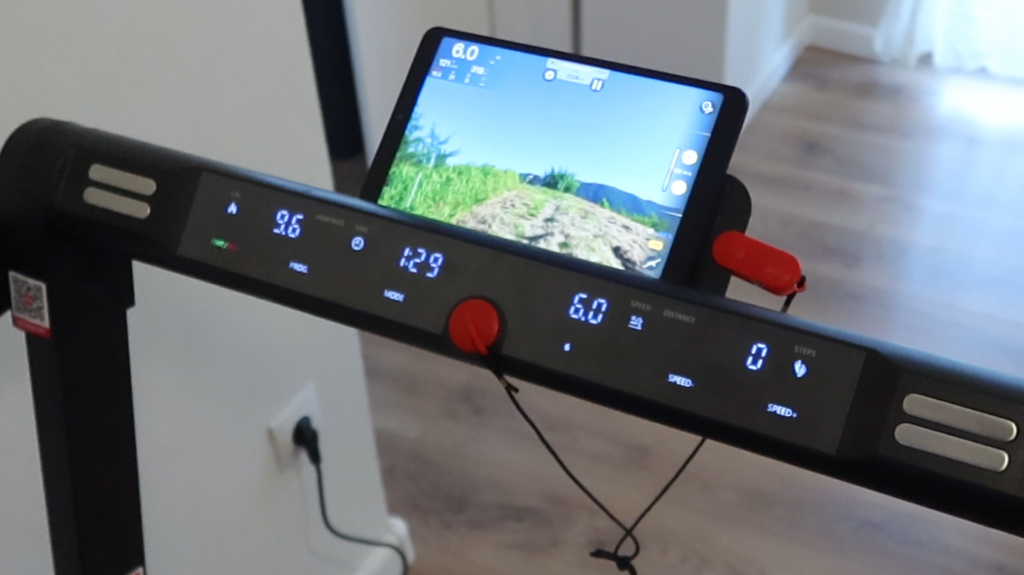 And, of course, in addition to these super abilities, there are also the traditional things, which means you can track your own progress.
Summarizing what has been said so far, it is somewhat understandable that they ask for a monthly fee for this program, since the content is expanding almost every day, and for me (although I started not too long ago), the multitude of options, trainings and other things that are available are still unfathomable.
I'm not even talking about what I already wrote above, that running at home is orders of magnitude more fun than staring at the wall!
---
Experiences
I have a hard time because there are too many things I can't report. Let's start with the only thing that was a little strange to me, which is the red string with the clip and magnet that I mentioned in the first part of this article. This is because it serves the purpose of producing an emergency stop if you move too far from the handrail or fall off the bench.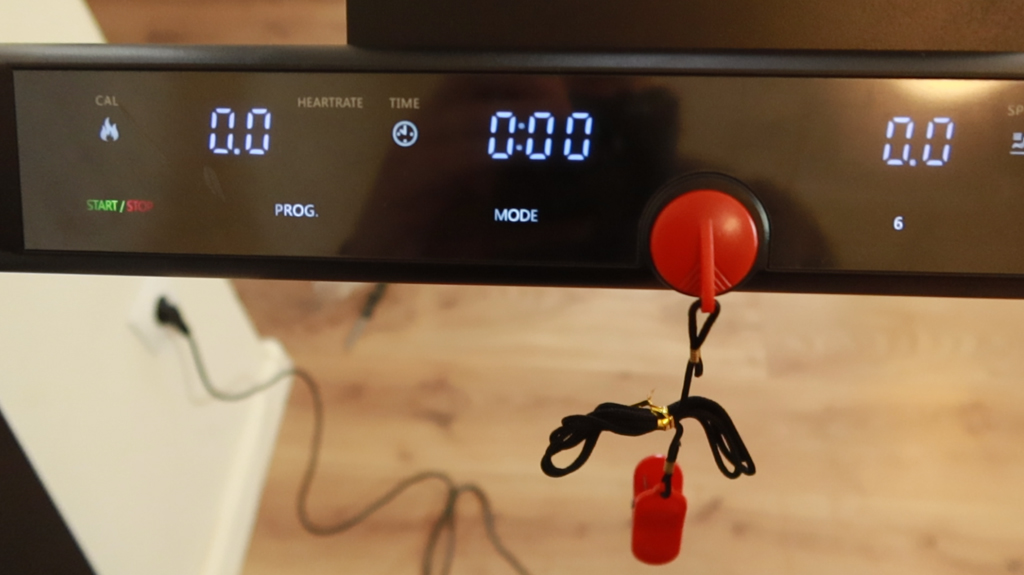 The tweezers have to be clipped onto our clothes, and the string is pulled off the handle by the small magnet, which stops the treadmill.
Well, so far so good, we can avoid a lot of accidents. The problem is that the tape under our feet stops in exactly the same time if we walk at 2 kilometers per hour or if we run at 12 kilometers per hour. This is not a problem in the former case, but in the latter case, if we accidentally pull the magnet from its place and do not expect the tape to stop, we continue to run casually along the stopped tape. I don't know what happens when you sprint for the handrail...
So the point is to either place the tweezers on your clothes in such a way that your hands don't get caught in them, or trust yourself so much that you don't even fasten them while running.
Well, that's the end of the bad things!
Geemax C2 is not a big treadmill. A width of 40 centimeters and a length of a little more than one meter is just enough. I am 184 cm tall, normal, with legs that match my height. I still have 10-15 cm of the one-meter length, as far back as I can go while running.
So, take this to mean that I'm not a robot, sometimes I run a little bit faster, sometimes a little bit slower. These are not big differences, but they are enough that sometimes I move a little forward and sometimes a little backward on the tape. The length of one meter is enough for my height of 184 centimeters.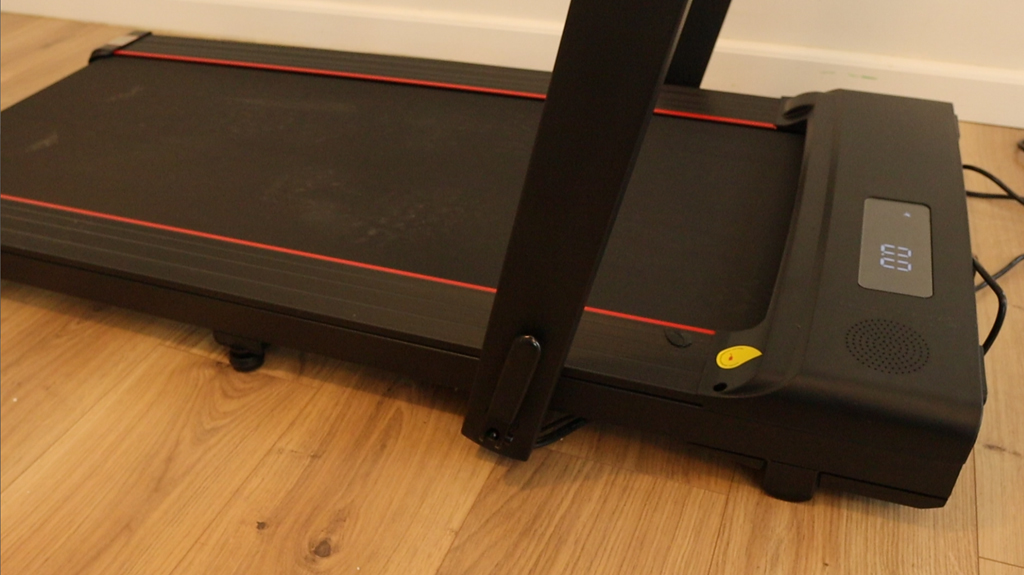 Anyway, you don't need to be very careful not to "run" backwards off the tape. When you run, with the sole of your foot, or rather with your toes, as the sole rolls while running, you feel where the end of the tape is, where the roller is, so a very small acceleration, and you are again in the middle of the tape.
The point is that I haven't managed to fall off it yet.
Geemax C2 is absolutely silent as a walking bench. Now that I have the bench, I thought about buying a height-adjustable table next to it, because I could use it to write an article while walking. I know it's strange at first, but as I said, I need exercise, but my work is more than enough, so it would be possible to bring these two contradictions to a common denominator.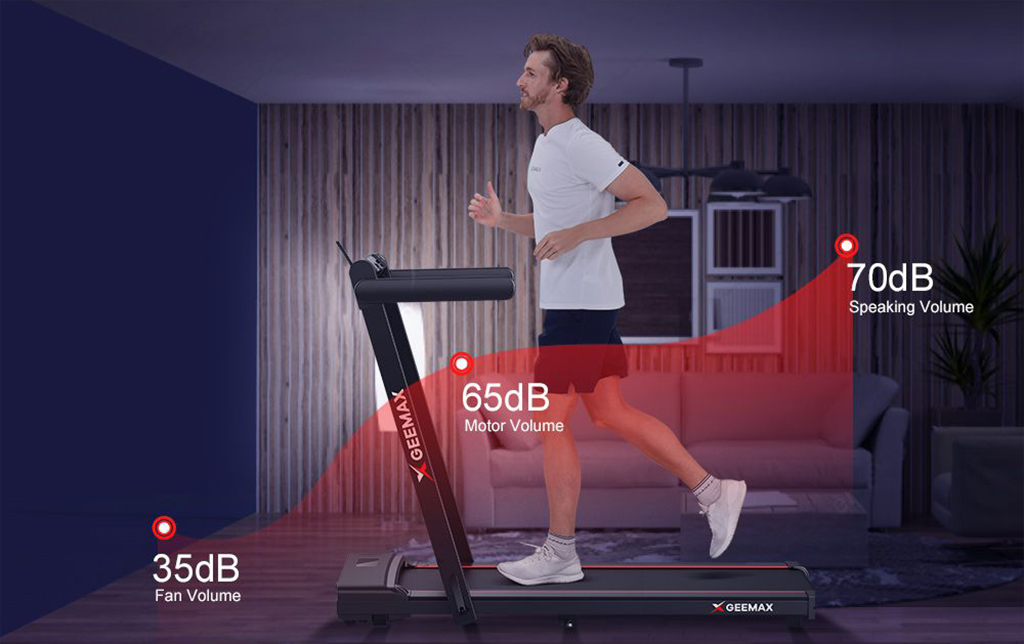 This quietness is no longer noticeable at speeds above 10 kilometers per hour, but even then it is not disturbing, it just wouldn't be suitable for writing articles. It's not like I want to write an article while sprinting.
From the above, it has become clear that the treadmill is easy to use. To be honest, I haven't programmed anything on it so far. Or I just ran for a bit, if I had time or felt like it, or I ran a little on the beach or in other interesting places using the phone app. Meanwhile, I tried to outrun everyone.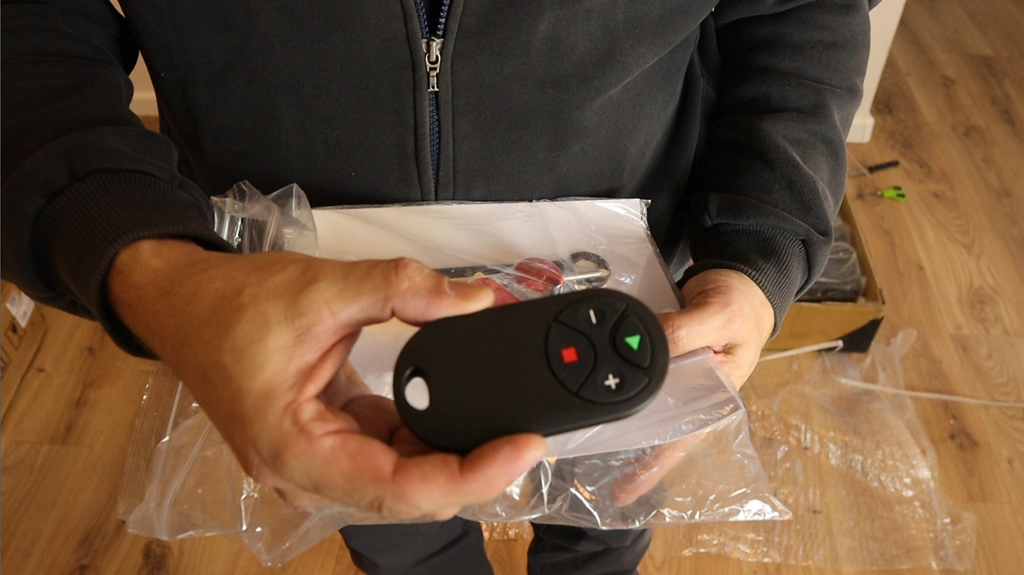 My partner also commented that it is now clear to him why one of our children sees competition in everything, where he had to inherit from.
---
Summary
How should I end this article? On the one hand, I hope I managed to describe everything clearly, and on the other hand, I also hope you understood why I chose Geemax C2. I spent a few months searching, okay, I didn't look for the right treadmill in 0-24, but I spent quite a few hours reading.
Geemax C2 knows everything I wanted, and with this Kinomap application, it even exceeded expectations a little. It's small, even light compared to a treadmill. If I fold down the handrail, I easily push it under the bed, so it doesn't take up space, it doesn't have to stand in the room all the time.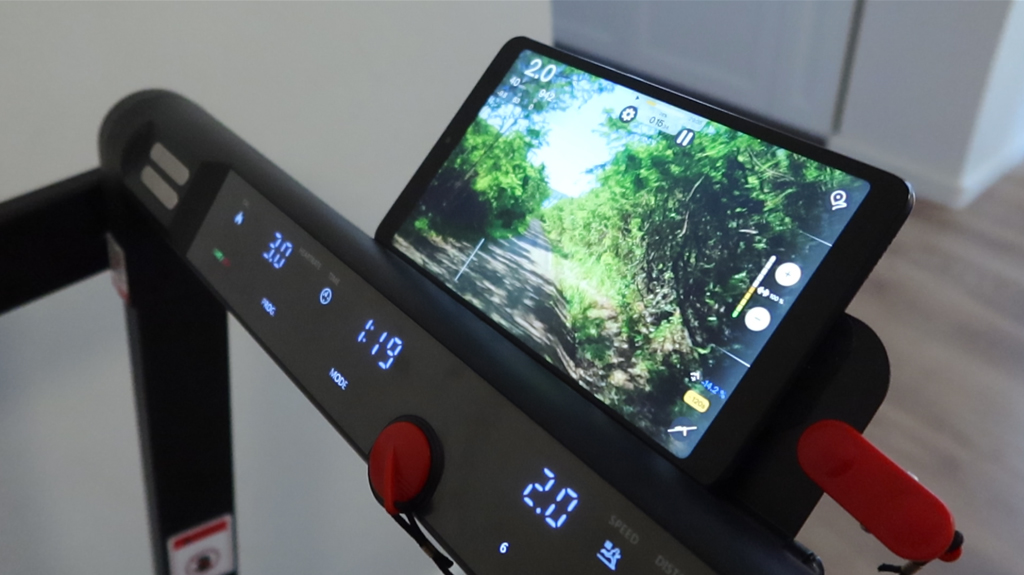 If I want to run, I can put it into operation in about 2 minutes, and then the daily train can start!
In addition to the unfocused knowledge, great application and easy packing, there was of course another very (very, very) significant argument in favor of the purchase, and this is, of course, the price of the bench.
To give a specific example, the inSPORTline inCondi T20i type treadmill is very similar in terms of knowledge, the Kinomap software can also be used for this, but its performance is not 3 - only 1 horsepower, and the price is HUF 236. This is roughly 100 more than the Geemax C2 cost. I don't think I need to explain this any further.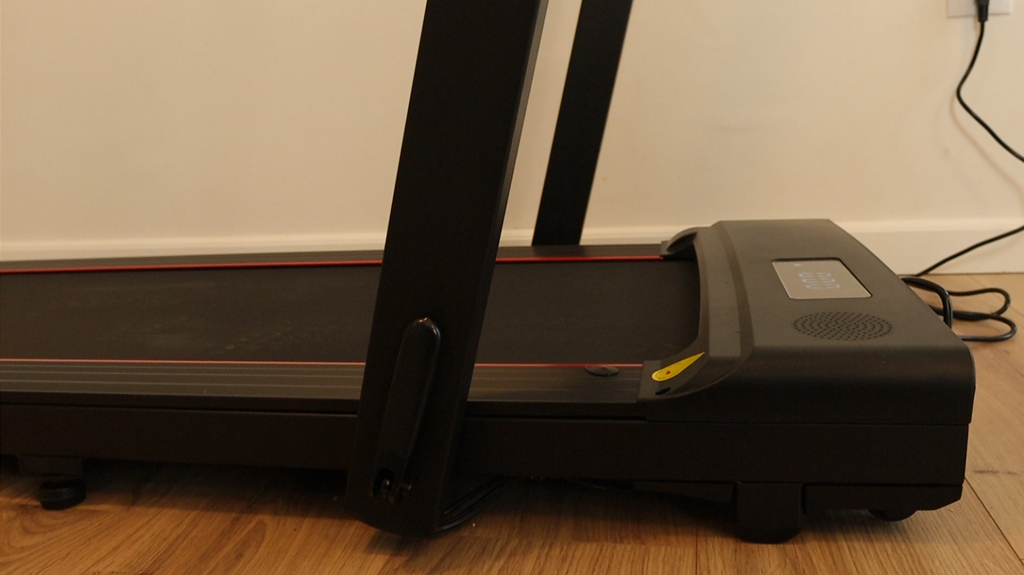 So the bottom line is that I managed to get a very versatile treadmill equipped with a lot of knowledge and skills for really cheap.
Of course, as you may be used to, I asked the distributor for a coupon code for this article as well, like this BGXIFD223 you can buy it from the Czech warehouse for HUF 128 with a coupon code. The delivery is not cheap, as you will receive a large and heavy box, but if you add the HUF 800 cost to the price, it will not be close to the aforementioned treadmill available in domestic distribution (the difference will be HUF 2500 instead of 100) .
Buy by clicking on the link below: