XIAOMI Wanbo T2 MAX - the almost perfect projector
The Wanbo T2 MAX is far from flawless, but for so much money it's still a real miracle.
---
Check out our video test too!
---
Introductory
Projector. For a long time, it was a real luxury for someone to have a projector with usable image quality. It wasn't too long ago when businesses took advantage of being able to rent projectors from them for one occasion because the machines were so expensive that it wasn't worth buying from mortals on earth, but even smaller companies.
And where are we now? Only those who don't want to have a projector. They have HD resolution for just 20 thousand forints, usable FHD resolutions are now available for around 50 thousand.
In this article I will introduce you to a machine that comes from a well-known manufacturer, Xiaomi, can be taken home for less than 50 thousand forints, and its quality is also good.
---
External
Before I bought my currently used Blitzwolf BW-VP9 projector, the Wanbo T2 MAX was what I was eyeing. Although not one of the more expensive DLP projectors, its size is surprisingly small, it looks good, and on paper its knowledge is okay.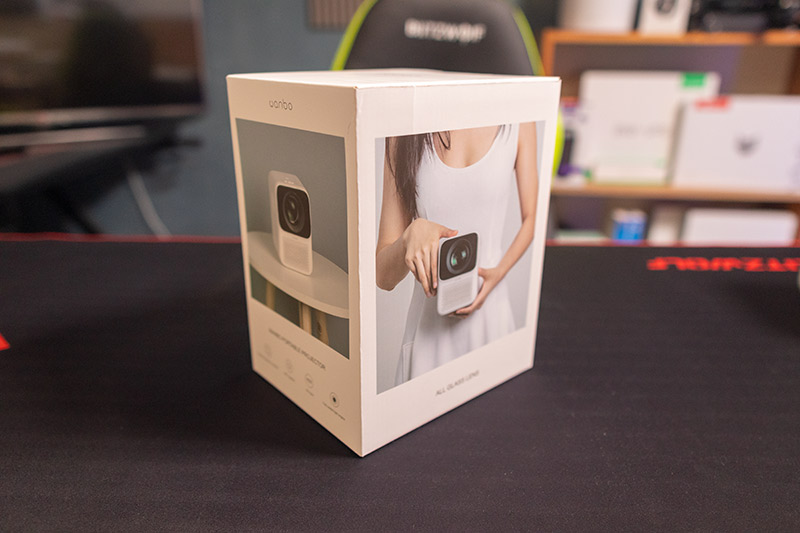 That I didn't even buy it for one reason, it couldn't be obtained in a global, only Chinese version.
Then came this spring and the distributor said that the global has arrived as well, do I feel like trying it out? Of course I couldn't say no!
Before we talk about knowledge, first the appearances!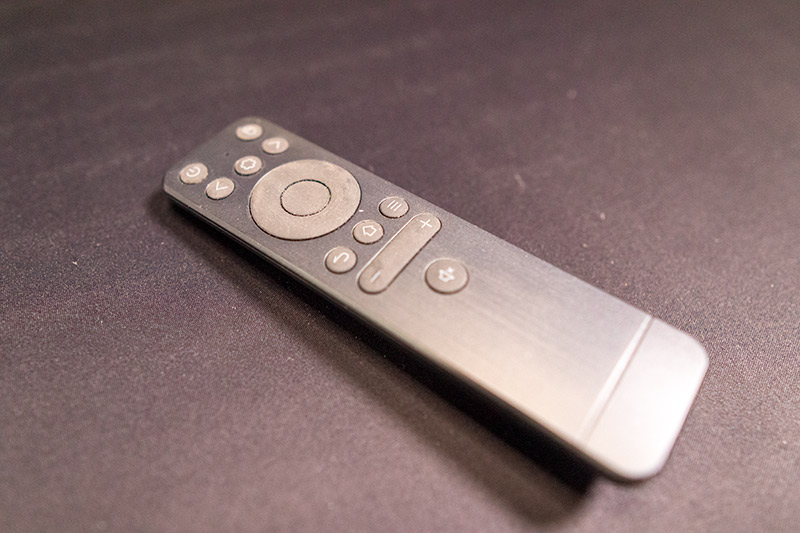 As I wrote the machine is very tiny, only 110 x 140 x 150 millimeters in the box and weighs no pounds and a half. It is no accident that the manufacturer says that it is portable. It really is!
Plus, the little thing looks especially good. Compared to the tiny housing, the huge lens sits a little sunk into the housing, which is useful because no objective protective cap is designed for it.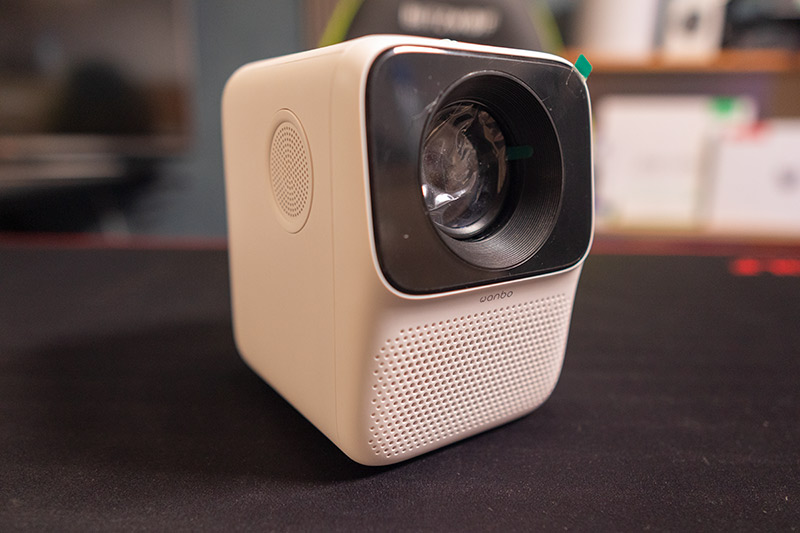 In addition to the machine housing, the knob is used to adjust the focus, the grille of the stereo speaker pair on both sides, some connectors at the back, and a standard thread at the bottom, with which e.g. we can fix it on a tripod.
---
Let's see the abilities!
The resolution is full HD, or FHD, or 1080p, whoever likes that. The brightness is set to 200 ANSI, which also seems realistic. I did not find any data on the contrast ratio, but I will cover it in the experience section. The diagonal of the projected image can vary between 40 and 120 inches (~ 305 centimeters), I also projected a slightly larger one, but basically these values ​​were also entered correctly.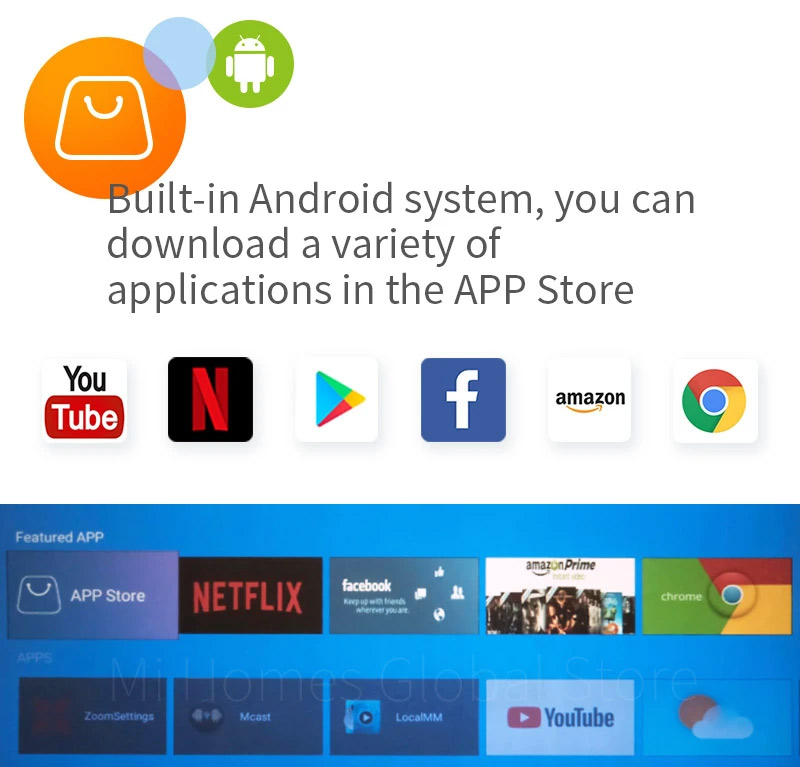 Each member of the lens system is made of glass, the lighting is LED, the image is produced by an LCD panel, and the life expectancy of the LED is 20 hours. The projector has its own operating system, namely an Android 000, we get 6 GB of memory and 1 GB of storage for operation. These don't seem like very good data, but it's not a phone but a projector, so there's no gas.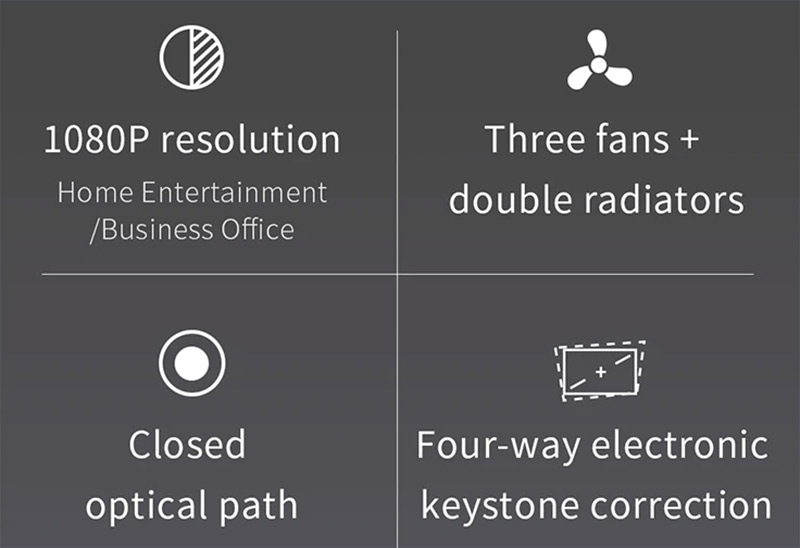 I mentioned above that we have some physical connectors, by that I mean exactly 1 piece of USB 2.0, one piece of HDMI and one piece of jack connector. Bluetooth 4.0 and wifi are available from the wireless interface.
What I haven't talked about yet is the built-in speakers, these are pieces of 3 watts, meaning a total of 6 watts of sound power "rumbles" into our ears.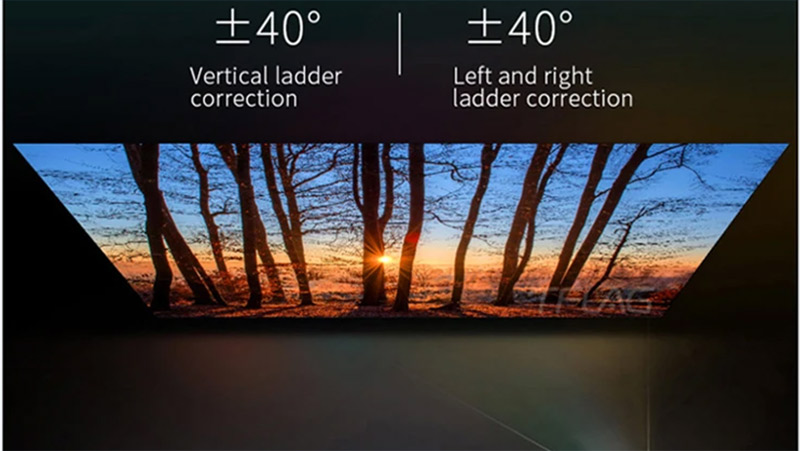 This has been the paper form so far, let's see what the machine can do in real life!
---
Experiences
Well, it's no coincidence that we've run the mandatory laps so fast because I want to cover the experience of use the longer.
Image quality
For a projector, perhaps the most important thing is the quality of the projected image. Currently, I can compare it with the already mentioned Blitzwolf BW-VP9 projector, which will be 20 thousand forints more expensive than this.
Let's start there, that the brightness, i.e. 200 ANSI is absolutely fine. Proper picture quality will require darkening, but you don't have to be soot dark to be able to film.
Of course, I've written several times that this, I mean, blackout isn't a cardinal issue in my opinion, since we're sitting in a dark room in the cinema as well, and probably no one has asked yet why they aren't projected in sunlight. Cinema is like that, it's best in the dark.
I indicated above that I could not find a letter on the contrast. Well, Blitzwolf is a bit more contrasting, the colors are more vivid, the black is blacker, and so on. However, here comes a little twist in the story because I realized that when comparing the images, it might be better that there is no better contrast.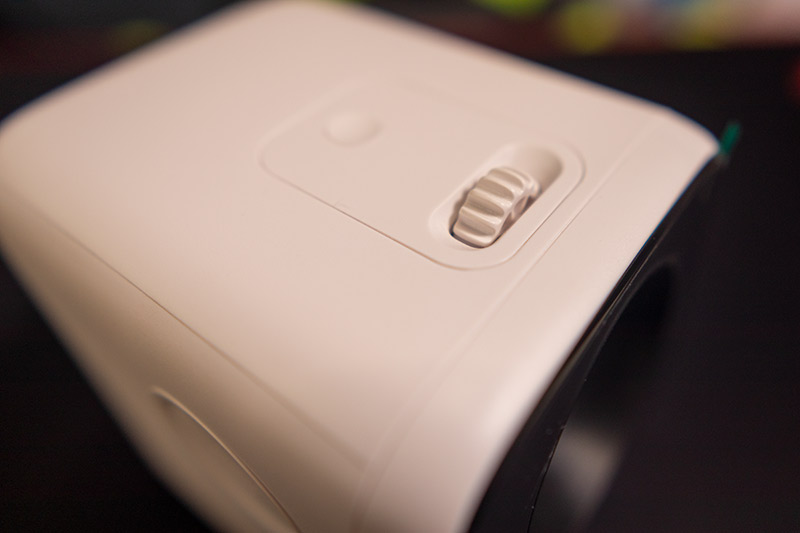 The situation is that the brightness is a little lower than in Blitzwolf, and because of this, due to the higher contrast, the darker blacks, a lot of details would not be specifically visible. Due to the lower contrast, the lower brightness is not disturbing, in fact, the detail of the image thus lags behind the more expensive Blitzwolf.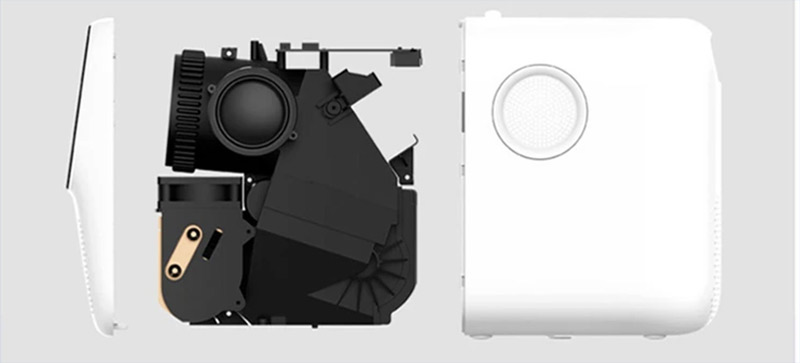 The projected image is maximized at 120 inches in the description, I also projected an image of roughly 125-130 inches, with proper darkening the thing is absolutely enjoyable.
It is part of the picture that the projector has four-way keystone correction, which can also be done with software. This is a very good thing, but net reviews suggest that software keystone correction (or magnification) takes up a significant amount of resources and makes the image stuttering. I didn't want to make this mistake and I tried everything. Maybe the newer global firmware can do that, I don't know.
Overall, I have to say that the picture quality is great. Obviously not compared to a projector of hundreds of thousands, but it is outstandingly good in this category of less than 50. As I wrote above, the contrast is not the peak, but in return the line sharpness is sparse.
I note the keystone correction was amazingly good. I don't know, maybe it's thanks to the lens system that if we project from the side, the image won't be blurry in the far corner, the entire projected surface is needle-sharp, rich in detail, which we see.
Groin
When it comes to sound, it is important to mention two things, the basic noise of the device (cooling) and the quality of the speakers. Well, the cooling became surprisingly quiet. I just don't understand how they were able to solve with such a tiny box to get the LED cooling properly, not even the more serious sound of the air flowing through.
The speakers, on the other hand, are not very steely just because of their size. The sound quality isn't bad, it's just a little weak. I looked at the re-cut Truth League first, and I'm not saying there wouldn't have been a little cocoa there yet, but it was basically okay.
As I wrote, the wind noise is negligible, so at least the speakers don't have to outdo it. However, if you really want something good, you get a Bluetooth speaker or soundbar and enjoy the sound of your movies through it.
Szoftver
The Wanbo T2 Max is running Android, though it's a pretty old version. That's not so much a problem, let's say, since it's a projector, not a phone, we're not going to bank on it, we're just watching movies. However, the software, more specifically the interface, was disappointing.
When I started eyeing this projector, I checked out some tests on it on YouTube. These were made with the Chinese version, which also ran an Android 6, but the interface was very cheeky, modern and manageable. In comparison, the global version is, to put it mildly, low-cost.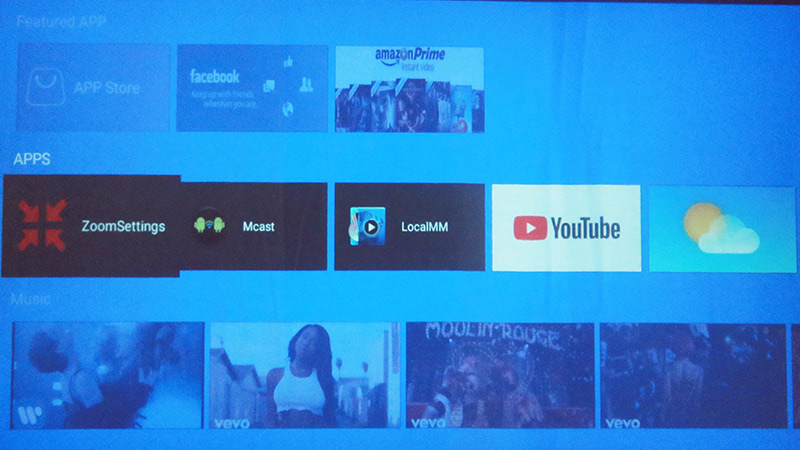 I'm not saying it's useless because it's nowhere near, I just don't get used to it.
I'll be honest, I've only rarely come across a Chinese projector (at least in the affordable category) that would have had a normal launcher. Of course, it's also true that I'm spoiled, my TV and projector are running an Android TV system that was invented specifically for such multimedia stuff, so besides, almost nothing kicks the ball.
Sure, it's possible to download and install other interfaces from the play store, but I didn't find any really good ones.
So things are customary, far from useless, just sin ugly. Luckily, we'll spend a little of our time there, we'll be staring at most of the movies.
The software includes the ability to install a lot of applications on it, but for some reason a lot don't show up in the store. Probably the old Android version is goose, but don't despair, a lot of apps can be installed from APK anyway.
It is also worth asking one or two. A good file manager, a good media player does no harm, preferably one that can also show movies from the local network.
---
What was it like to use?
You'll be surprised, but I thought about selling Blitzwolf and keeping Wanbo. I do this even though the brightness is lower, the contrast is worse, and the software is as it is.
What could be the reason for such a decision?
For me, my sons are still tiny enough so I can't find a fixed place for my projector in the living room (they crumble everything, I don't want to put the projector on the ceiling). If I want to use it, I have to pull it out, unpack it, set it up. And Blitzwolf is a bit big for this, and the constant packing is inconvenient.
Here, however, is the Wanbo, which is quite tiny. The picture is really enjoyable, the weakness of the sound is not a problem because I have "connected" it to the home theater amplifier via Bluetooth and I already have a cinema sound.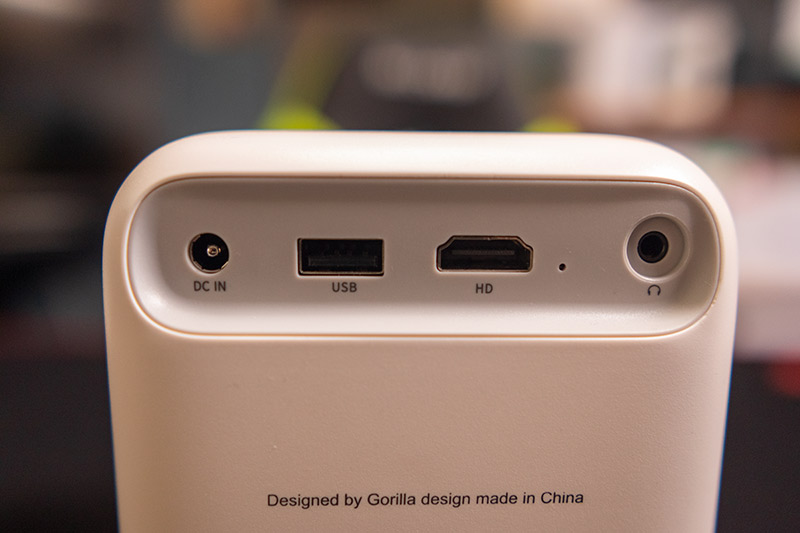 And packing, well, is really easy because of the small size. I take the camera off the tripod, turn up the projector, set it up next to the couch, and the cinema can start.
I found Netflix on it at the factory, Amazon Prime is also there if anyone misses it. There is no HBO Go, however. It's not impossible to install, but it takes a bit of dexterity because we don't get it from the store, the projector is listed as an unsupported device.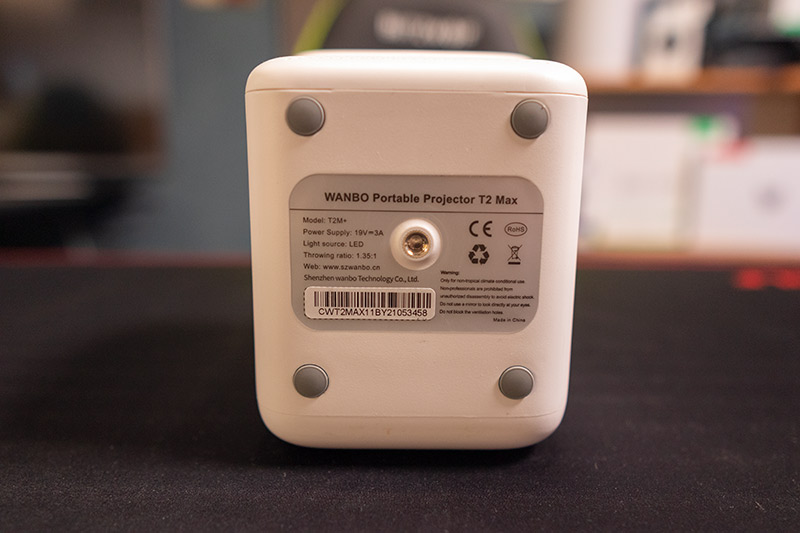 When it comes to Netflix, it's important to note (before someone asks again if 4K goes) that the L + widevine is there, so Netflix can be viewed in high definition, but certainly not in 4K, because the projector still doesn't know that resolution.
I managed to set it up by downloading an older and newer version from apk mirror. Starting the old one, I entered the registration information, then I upgraded to the latest version. At startup, it still says that the device is not supported, yet all movies start nicely.
Of course, there is no problem with YouTube. I started playing 4K content without any problems, it was smooth, but the projector still only knows FHD resolution, so scaling down to 4K resolution at most could have been a problem, but it didn't.
In the case of the Wanbo T2 Max, since it has Android on it, of course we are able to project the image of the Android phone. The thing works, but it will be good for maximum movies, you don't want to play games like this because there is a big delay between the phone's display and the image on the wall.
Since the machine does not have a wired network connection, we have to cope with wifi. Luckily, I didn't have a problem with that, but I note the Blitzwolf VP9 either, and then there were those who wrote that I could have mentioned that you had to replace your home network to use it.
Of course, I can't describe that, just what I experience for myself. So, I have a Xiaomi AX1800 in the office, a Xiaomi AX3600 router in the apartment, and my net is gigabit. In such a network environment, with both routers, everything was jerk-free, whether it was YouTube, Netflix, HBO Go, or material played from my network storage.
I wrote above that the YouTube 4K videos went smoothly, but so did my own material at that resolution. So there was no problem with that either.
I'll add one more trick to use, I haven't read this anywhere so far, so it will definitely be a novelty. By default, we can't adjust the image settings, but I've found a way to change the settings anyway.
If you download the very first version of the Android TV launcher (it's pretty cheap too), you'll get a settings menu using it. In it, image properties such as brightness, contrast and more can be adjusted during video playback. So in this way, the quality of the image can also be affected.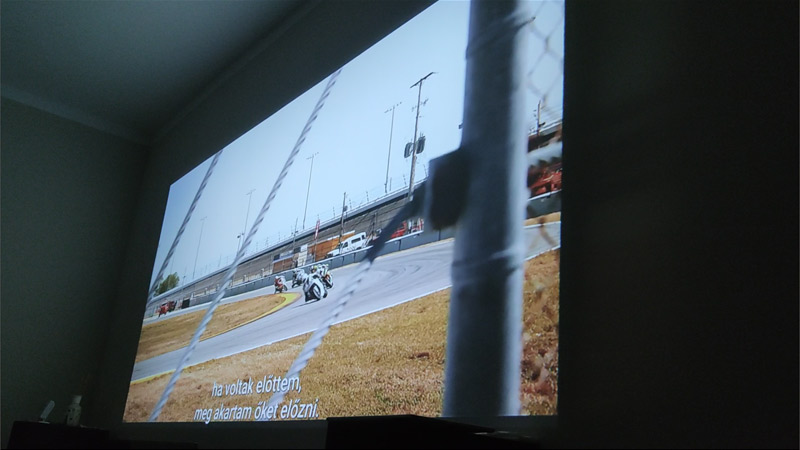 In the video at the beginning of the article, you were able to see many things for yourself. It is often said that an image is worth more than a thousand words, but for a projector it may not be an exaggeration to say that a movie can be worth more than a thousand photos.
So, watch the video too. You won't hear any new information about the machine, but you can see with your own eyes the interface, the loading of programs, the start of movies.
---
Summary
Hopefully, it has been revealed from the above that the Wanbo T2 Max is far from flawless, but slowly after 2 months of living together, I dare to say with a calm heart that it is possible to live with your mistakes and weaknesses.
It is terribly comfortable to use due to its small size and low weight. We can take it with us, but it can also be a good solution if we don't have a permanent place in our living room, we only take it out periodically, for the duration of a movie.
The picture is good, the colors are good, the contrast is also, although there could be a little more of everything, but the lack is not disturbing. If I want to find a flaw anyway, I can mention the woodiness of the software and the relative weakness of the sound, but these are not dangerous things.
I dare say that you will not find a more practical and better projector than this, especially from a reputable manufacturer. The current price is about 46 thousand forints, which I feel will be affordable for many and can bring the experience of home cinema to many.
To purchase, use the BGHU0489 coupon code, with which you can now buy for 46 HUF here:
Description:
Model
T2 Max
Projection technology:
3,5 "LCD

Fully enclosed optical system)

Lens
Glass
Lamp type
LED
Brightness (ANSI)
200 Ansi
Native resolution:
1920 x 1080p
Contrast ratio:
2000: 1
Lamp life (hours):
20000 hours
Aspect ratio:
4:3/16:9
HDMI compatibility
1080

- 1080p

Video format
REVIEWS

, MOV, MP4, MKV ..

Audio format
ACC

, FLAC, MP2, MP3, WAV, OGG ..

Keystone correction:
Vertical and horizontal keystone correction
Projection distance (m

):

1,2 ~ 4m
Projection screen size (inches):
40-120 inches
System:
Android system 6.0, YouTube and Netflix support
Memory:
1 GB + 16 GB
OSD languages:
Chinese, English, German, Japanese, French, Italian, Spanish, Czech, etc.
Connectors:
HDMI x 1 / USB x 1 / 3,5 mm jack x 1
Input voltage (V):
110 V-240 V.

(± 10%) , 50-60 Hz

Power consumption (W):
55 W
adapter
19 V 3 A
Wi-Fi
Yes
Speakers:
3 W x 2 speakers
Standard accessory:
User manual
Adapter
Remote controller
Intelligent cooling control
Yes
Overheat protection
Yes
First infrared receiver
Yes
Color:
white
Installation method:
front projection, rear projection, rear projection lift, front projection lift
Product weight
0,9 Kg
Unit packaging (GW)
1,47 Kg
Product dimension
110 * 140 * 150 mm
Unit packaging: (L * W * H)
211 * 181 * 187 mm