We tried it - Today it is the best 2-in-1 laptop for under 75 thousand forints!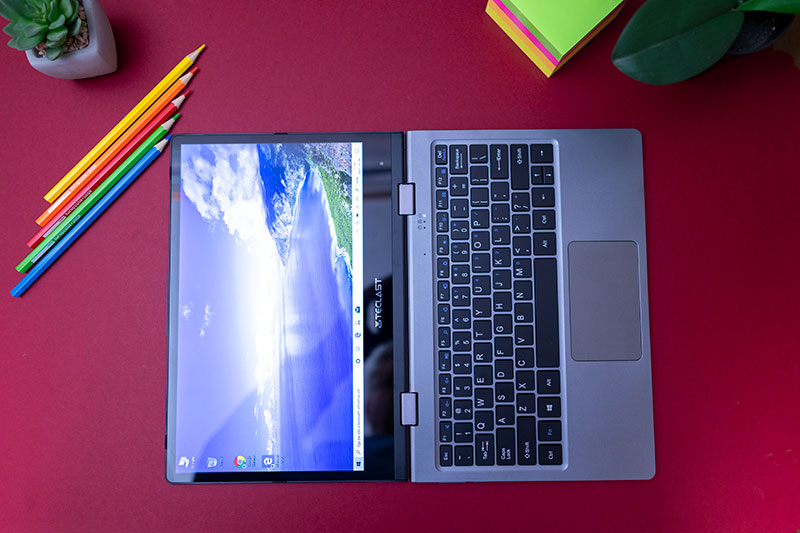 What's in my hand? Not a notebook, not a tablet, Windows runs on it and has a touch screen.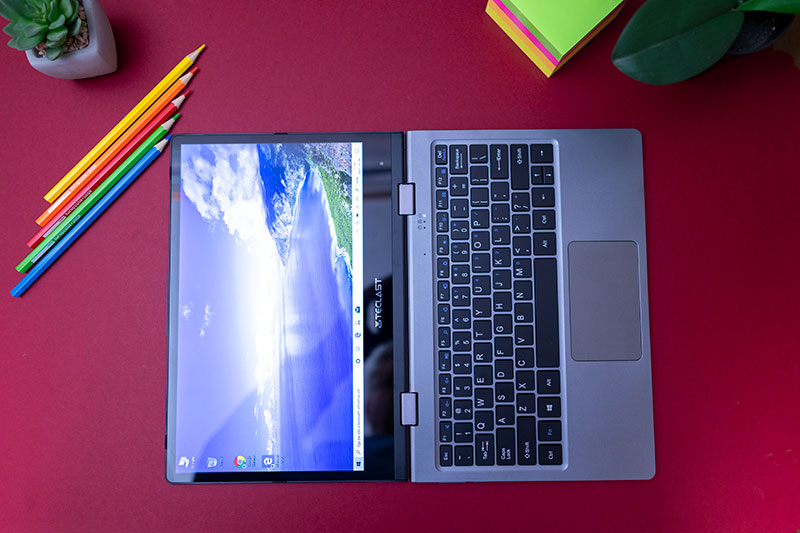 ---
Introductory
Why use a notebook? For many reasons. Small, fits on your desk. No need to buy a monitor. Nice, quiet, cool. Portable. Easy. It consumes little. So there is plenty of reason.
As the target audience is wide, there are so many types of notebooks that the Danube can be blocked with them. Some of them are completely pointless and there are some very usable ones. There are stronger pieces, and some that are enough to do the basic tasks.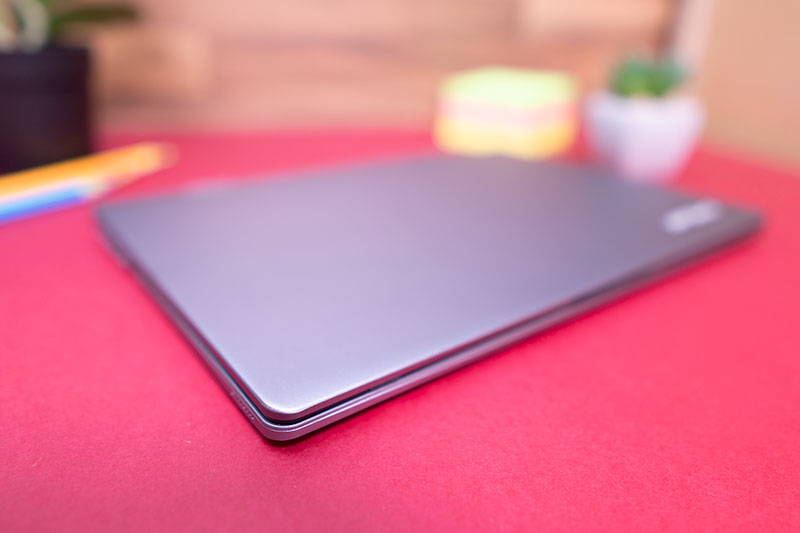 And what does it take for someone who has too much of a notebook? Well tablet!
However, there are some problems with tablets. They run the vast majority of Android, so their use is severely limited. A bunch of programs we use on our desktop computer will not run on them. Most of the keyboards we get for them are not suitable for typing miles of text.
These problems unfortunately persist even if in 90 percent of the cases the tablet is enough because there is that 10 percent when we get stuck with the task and need a normal laptop. But there is not…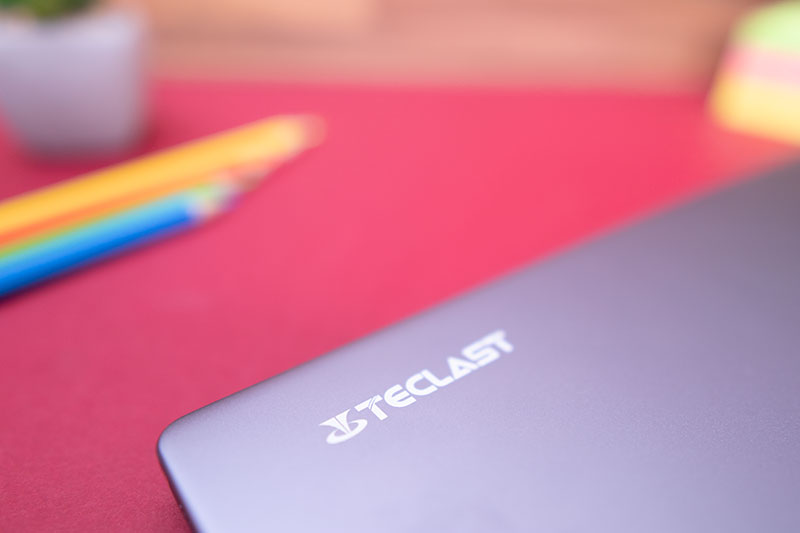 Well, Teclast developed the F5 laptop for just that. For those who usually need a tablet, but sometimes need a notebook. For those who like to carry their machine with them, they like to work on it on the go, and maybe watch a movie.
The Teclast F5 is perfect for this purpose and I will prove it in the article below!
---
Packaging and accessories
It's no longer the first Teclast machine to come to me, so it didn't surprise me. The packaging and accessories haven't changed in recent years, but as they say, that's good, don't change that.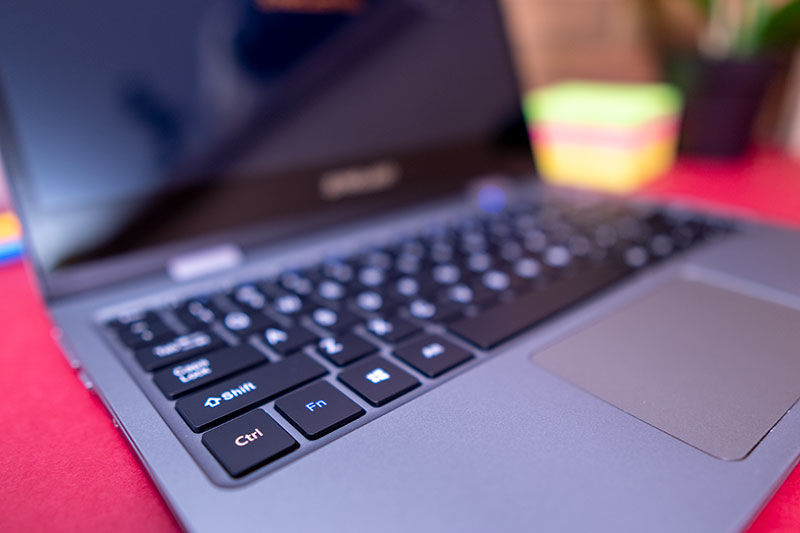 And the packaging for Teclast notebooks is good. I don't know why it should happen to damage the machine, let's say a laser sword could pierce if it existed.
There are essentially no accessories. That is, of course, we get a charger, there is no other. What is welcome is that the manufacturer has been supplying a charger for a while, the plug part of which can be replaced, so on the one hand we can take it anywhere in the world, it will always have a good EU plug, so we can use it at home without any problems!
---
External
If something can't be connected to Teclast machines, that's the outside. Demanding design, demanding use of materials, very good assembly quality characterize these machines, be it a 2-in-1 machine or a normal notebook in the current test.
The machine is small and extremely light. At least it's notarely lightweight among notebooks, but a little heavy on a tablet. True, this is no wonder, as it also has a keyboard and an aluminum housing.
Numerically, the enclosure measures 7.46 x 18.77 x 1.30 centimeters and weighs just one kilogram. Here I would like to draw your attention to the thickness of the machine, which is only 13 millimeters in the thickest part. The structure has become very slim!
The F5 is a very special machine, as it can be used not only as a notebook, but also as a tablet, so the controls and connectors must be suitable for both modes. For this reason (from the front) we find the power button and the volume control on the left, these are the usual shapes for phones and tablets. Above them, on the side facing the hinge, a jack connector awaits the plug of our earphones.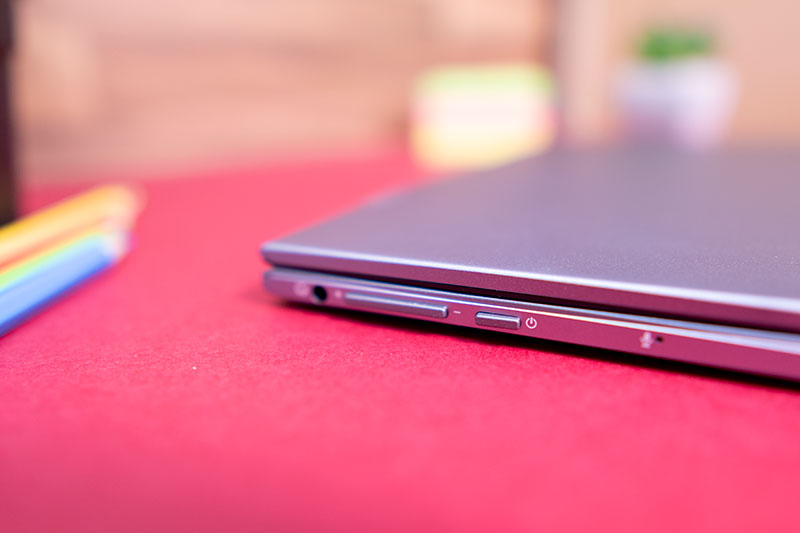 The right is more of a notebook. Up to one USB A connector for USB flash drive, external USB drive. Below it is an HDMI connector so we can export the image to an external display. Meanwhile, a USB Type-C connector (I'll talk more about that later) and at least a card reader. Interestingly, there is a microphone on both sides, just as we find a speaker grille on both sides.
At the bottom of the machine is a single small window with a removable storage behind it. I'll talk about that later!
When you open the machine, you still have a good understanding. The workmanship is great here too. The buttons are large compared to the size of the machine, and the touchpad is also the right size. True, a bigger one would not fit, so it will be mandatory to reconcile.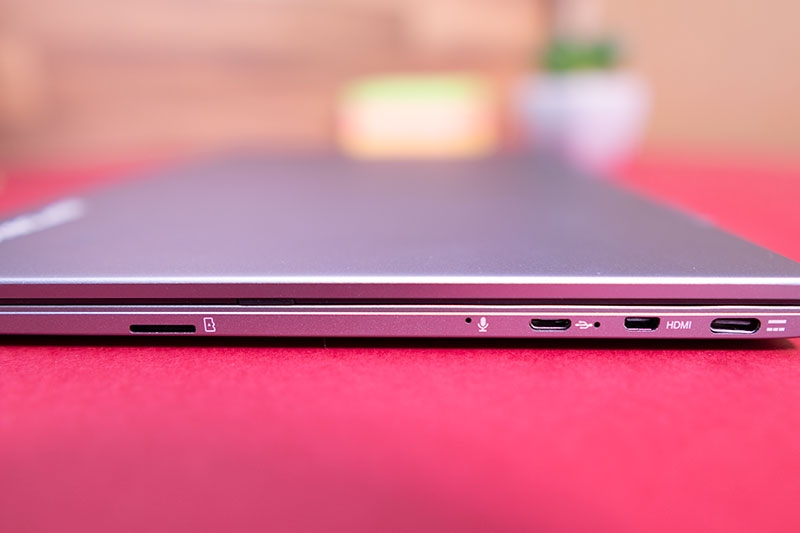 Of course, the keyboard itself is not complete, it also lacks function keys and a numeric part. Again, I can only refer to the size, they just don't fit on a notebook of this size.
Knowledge and exterior include the fact that the notebook's display is fully foldable, this is tablet mode. In this case, the keyboard will be at the bottom. The hinges are strong, as is the frame of the machine, so while it's really very thin, we don't feel like the machine is falling on its atoms the next moment we fold between our hands.
Overall, we can't complain about the appearance. Let's see what Teclast F5 knows!
---
Paper form
In this chapter, as usual, I will describe the capabilities provided by the manufacturer, which I have experienced will fill the next chapter.
The central unit of the machine is the Intel Celeron N4100, which has four cores. Unlike the older M5 proc, it can perform tasks on one thread per core, which is understandable, the M5 had two cores and four threads, the N4100 has four cores and thus four threads.
The base clock of the processor is 1,1 GHz, while the turbo clock is 2,4 GHz. This CPU is one of Intel's most economical solutions, but you can pinch yourself a little if you need to.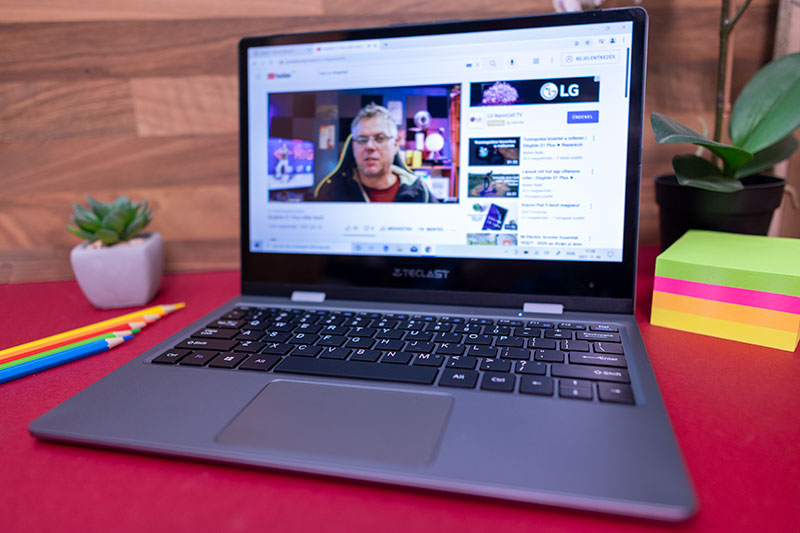 There is two good news about the hardware. One is that we already have DDR4 memory in this machine, not a little, 8 gigabytes. Plus, the memory controller is dual-channel, and the Teclast F5 takes advantage of that capability.
The other is that, as usual from Teclast, a regular, full-fledged M2 SSD, rather than a slow and cheap eMMC, was introduced. This not only makes it good for speed, but also for expandability, meaning that if you grow the 256GB of storage that your machine gets, you can move on to a larger storage capacity.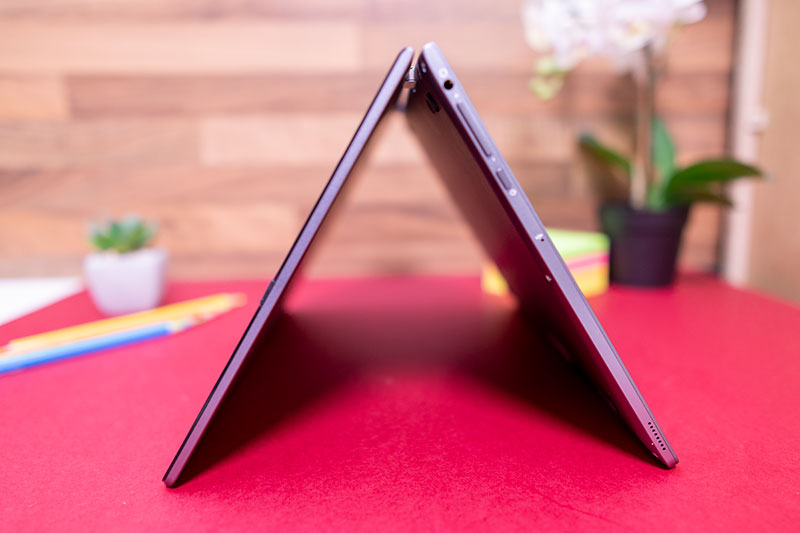 The Teclast F5's display, of course, is IPS (not bad!), With a diagonal of 11,6 inches, an aspect ratio of 16: 9, and a resolution of 1920 x 1080 pixels. As it is not only a notebook, but also a tablet if needed, it is not surprising that the display is touch sensitive, it can separate and detect ten touches at a time.
There are five more things to mention about abilities. The first is the battery, which has a capacity of 3850 mAh. The second is Wi-Fi, which is ac standard (Wi-Fi 5), of course dual channel. The third is Bluetooth, which is 4.2.
The fourth point is the camera, because of course there is, though not a very serious piece. The 1 megapixel resolution will be enough to chat with you, you won't be able to record quality YouTube videos with it.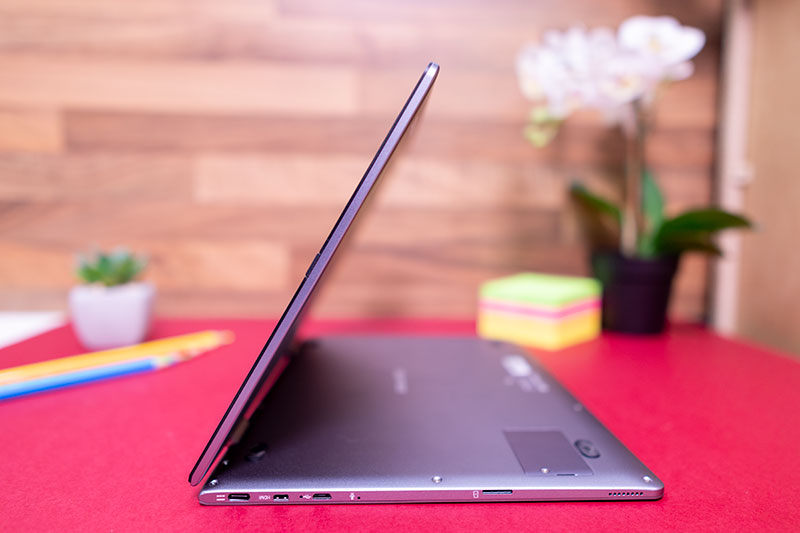 The fourth point is more interesting, this is the USB Type-C connector mentioned above. It is a full-featured connector, which means we can not only charge the machine through it, but it also provides two-way data traffic. It's a real all-in-one connector that, thankfully, is found in more and more machines.
For example, it can export the notebook image to a 4K resolution monitor, so you can work on up to three displays with the built-in HDMI connector and the machine's own display.
Also, if you add a combo dock, you can use a lot of things from the memory card reader to the Ethernet connector that can't fit on such a tiny machine anyway. So, this USB Type-C connector is a real treasure on such a portable machine, you might want to look for a normal dock so we can take advantage of the machine's capabilities!
---
Experiences
I have had the Teclast F5 for more than two weeks, during which time I have tried to get it in hand and use it as many times as possible. That is, I tried to gain as much experience as possible.
First, things about the exterior. Since the power button on the machine went sideways because of the tablet mode, I was afraid it would accidentally turn on when I carried it in my bag. That's why I took it with me several times (I didn't need it at all), just to see that this button could be pressed by accident. Well, I didn't have a problem with that.
If you have buttons. The quality of the keyboard is a top priority for me as I type a lot. As I wrote above, the keys are quite large, but you have to take into account the small size of the machine, so I can say that it always took about 10 minutes for the desktop full-fledged keyboard to get used to the smaller size.
The keys themselves, the keyboard is good. The keys may flicker a little, but the touch detection is perfect, no letters are left as you type. The keystroke path is obviously short, but most notebooks are a little better this or that if the size allows for more mechanics.
Importantly, like all Teclast machines, it has an American keyboard layout.
I can't write either good or bad about the touchpad. It suited me.
I have an important word about the display. As I wrote above we get an IPS panel and not bad at all! The sRGB color space coverage is 97 percent and the AdobeRGB color space coverage is 73 percent. These are brilliant values, to the credit of any notebook, I've seen a lot worse on machines that cost 2-3 times as much. So that's why the machine deserves a huge red dot.
What's a little weak is the backlight. No, I don't really have to use the word weak, because it grabs everyone right away. So it's not weak, but it could be stronger. I suspect that the intensity of the lighting has fallen victim to extending battery life. We had to find the golden mean.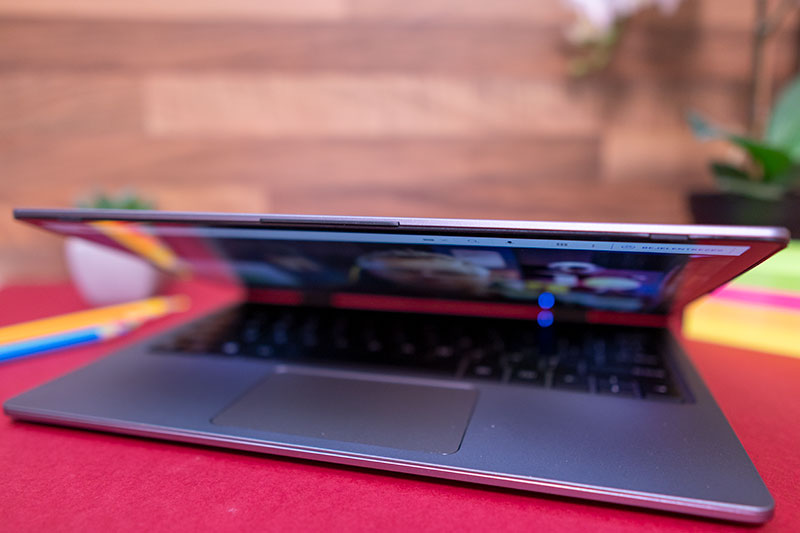 I haven't mentioned it yet, though, because of the tablet mode, it's obvious that the display is touch-sensitive. Users of this Windows may not feel too much of an advantage at first, but we have a similar machine at home (my partner uses it), and when I sit back in front of my regular machine, I want to keep pressing the monitor with my finger. So it's good and it's easy to get used to!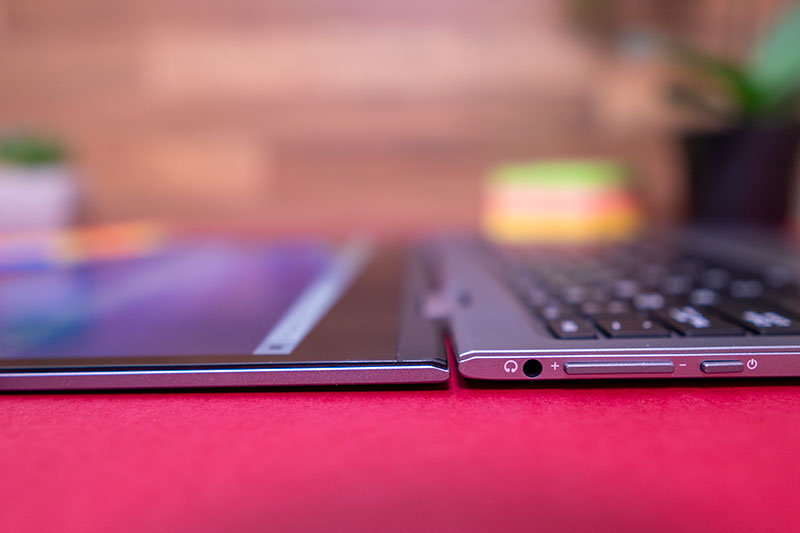 An important piece of information about touch sensitivity is that we get ten accurate sensations, meaning we can hold and use up to 10 of our fingers on the screen at the same time. We won't, but the opportunity is there.
If we've already talked about the display, let's touch multimedia, watching movies too!
For most notebooks at similar price levels, the sound is snappy, and I didn't expect anything else with the Teclast F5. Well, I had to be disappointed, in a positive sense. Due to the two-way speaker grilles on the side of the machine, the separation of the right and left tones was very good. We can even discover some bass in the soundtrack, despite the fact that the speakers are quite tiny. Plus, the volume is good, so you can come to the movies and even listen to music.
Since this is a portable machine I can't avoid the issue of battery life either. Unfortunately, due to its small size, it's clear that a crazy big battery couldn't fit in it, it just doesn't fit. In my experience, if we save energy, four hours of uptime is available, but realistically I prefer to say three hours or a little more. Take this into account if you want to use it without an outlet.
Fortunately, a moving part, e.g. there is no traditional hard drive, this helps in saving. If you turn down the brightness a bit, turn down the speaker, turn off Bluetooth, turn off the power of the processor for battery management in battery mode, you can save a lot of time. As I wrote, it required a bad, small size sacrifice, inevitable.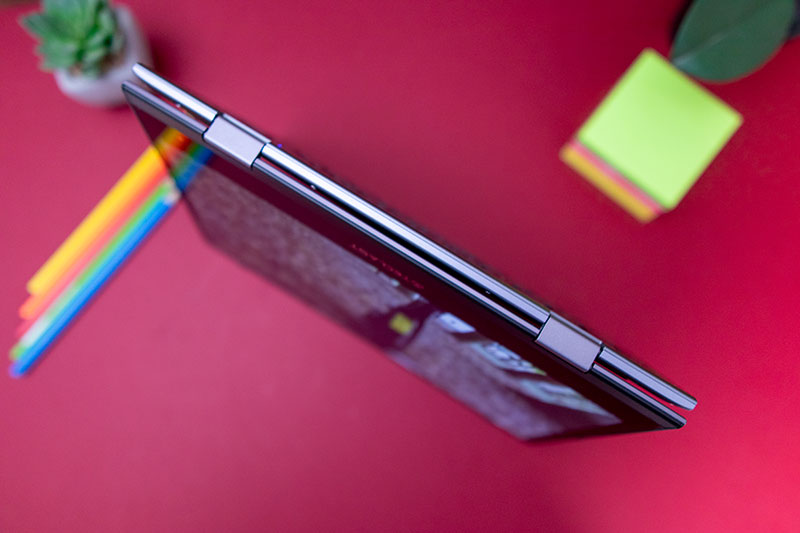 There was basically no problem with the radios. The power of Wi-Fi is enough so you don't have to sit next to the router, and the bandwidth of Wi-Fi 5 is good for work and watching movies. Bluetooth has not become steel, but we can bridge 5-6 meters with it.
Finally the camera. I don't know why, maybe because of the tablet mode, the camera isn't in the usual place, above the screen, in the middle, but exiled to the bottom corner of the screen. The quality is basically okay (although there is a bit of gray in the picture), but it's weird that when we look at the display during the chat, the partner sees our face a little from below, not from the front. So, don't forget to remove the peeling hairs from your nose!
---
Szoftver
The machine comes with Windows 10, but the hardware allows you to upgrade to version 11. This is a pleasure just because a reduced hardware version of the 11 is also reported to be coming. True, plain Windows 10 also runs brilliantly, but special Windows 11 will soar.
I've written about hardware performance in many articles, but of course I will!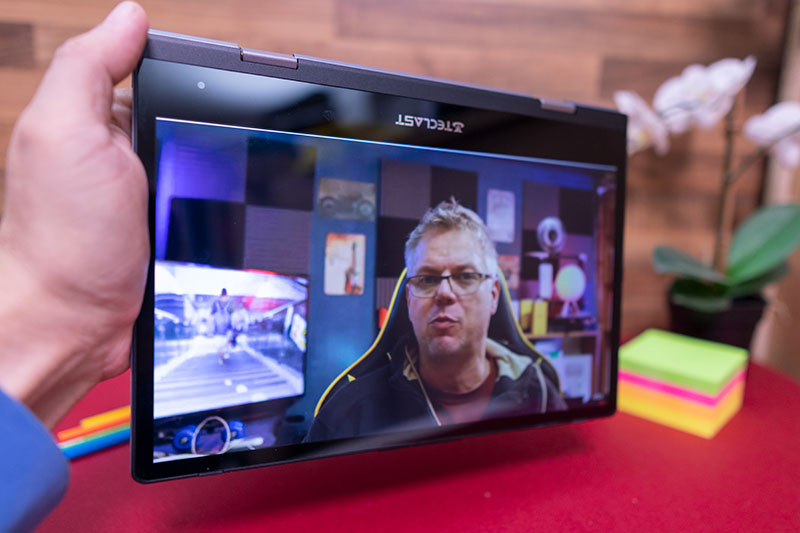 The relatively large and fast memory and fast storage make the machine surprisingly agile. The operating system loads and the programs start very fast. Traditional programs like Microsoft Word and Excel run nicely, of course, only until we reach the end of 8GB of memory. This will not happen under normal use.
With this hardware, we can already edit images for him. Let's say it doesn't hurt to stick to JPG or GIF and the resolution doesn't spread over a football field. So just common sense.
You will not cut a video, or only if you have great patience. I'm not saying cutting 1080p material is impossible, but it won't be fun.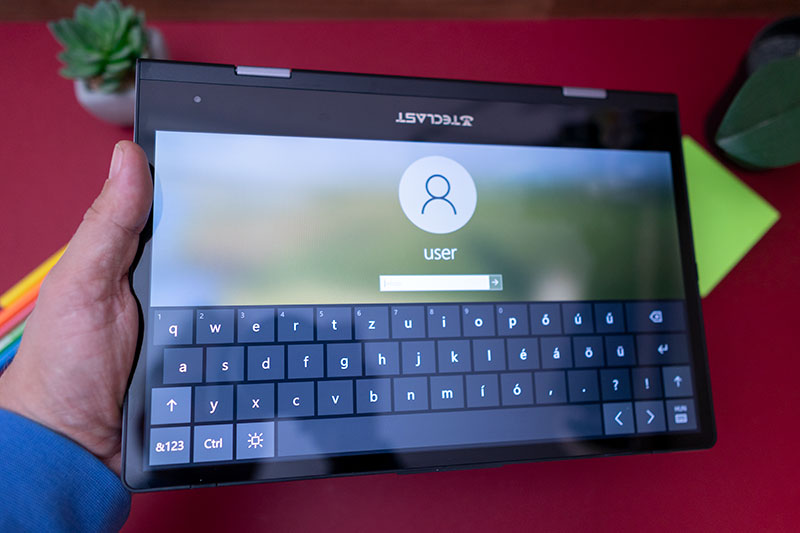 You can even play with the machine. I've watched a lot of video tests with machines in a similar category in recent years, and it can be said that older 3D games also run on them, with a bit of silly graphics at most.
Going back to multimedia, of course I also tried the Teclast F5 with videos. For YouTube, the 1080p playback that matches the display is error-free, but we don't find a problem with 4K either. True, this is really unnecessary to force, as the display can't display that many pixels anyway.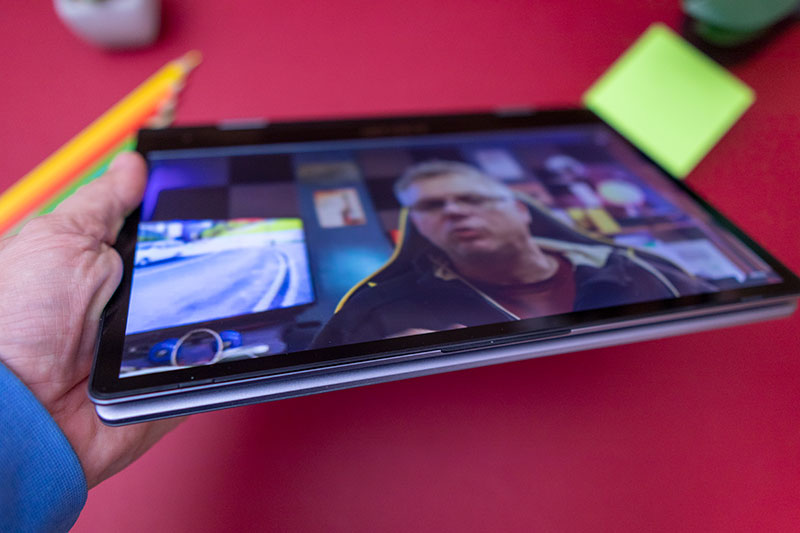 With large 4K MKV files, especially if you have a lot of bandwidth, you have to pay attention to what kind of material you want to play.
I didn't have any problems with the streaming service providers, they worked without any errors, it was really enjoyable to watch a movie on the machine (just because of the speakers that can be used).
---
Usability
The Teclast F5 is therefore a 2-in-1 machine. Sure, the manufacturer says it's more of a 5-in-1, but that's stupid because it also takes the closed state as one. So let's leave this at the 2-in-1 state.
In this area, the Teclast F5 performs very well, not forgetting, of course, that the 1 pound weight per tablet is a bit much. So if you use the tablet with one hand and a few fingers, you can forget that here. They will get tired of your fingers soon.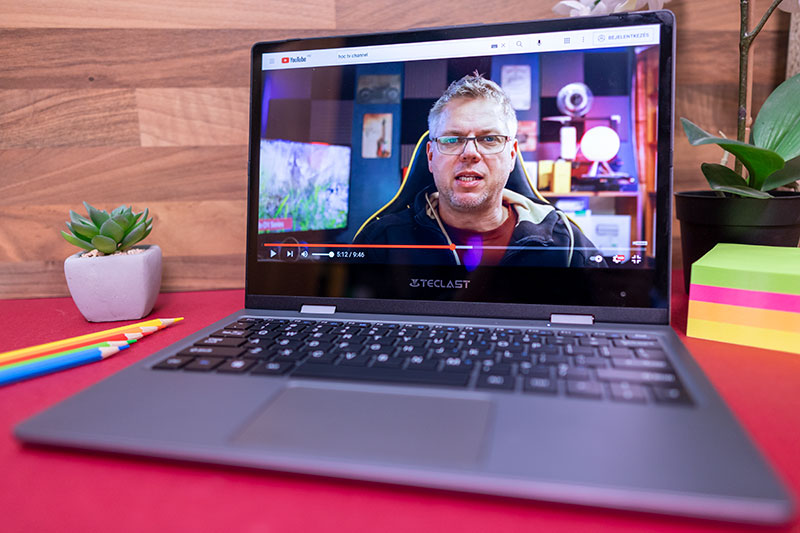 However, it is not impossible to use it as a tablet, you just have to keep it a little different.
As a notebook, the stuff is perfectly good, given the size constraints mentioned in the article, of course. The display is very good, there is no problem with the keyboard, we get the necessary connectors, so after all, this is a full-fledged notebook with minimal compromises.
As I wrote, the hinge is very good, the machine vase is rigid, so it feels really good to use!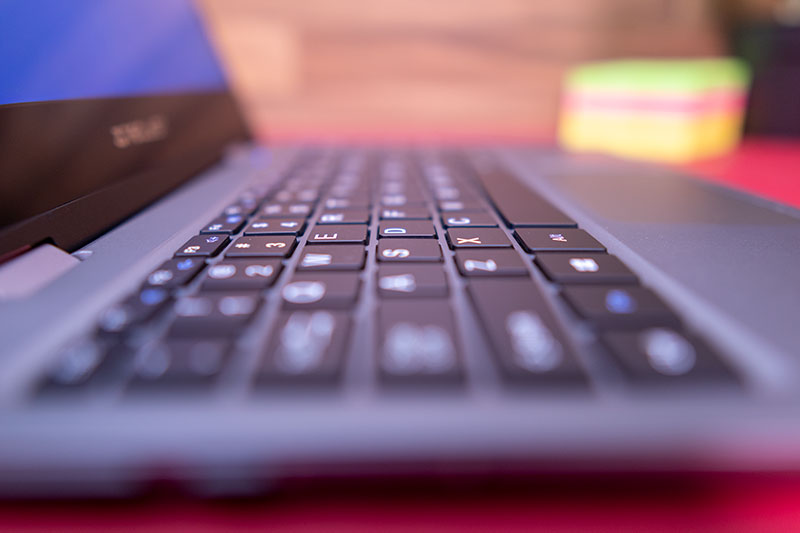 One more thing. The manufacturer also offers a pen for the machine, this is optional, so it is not included in the basic package, but the point is to get the opportunity to scribble with a pen and draw on the display.
---
Summary
As will be hoped from the above writing, it is not all but milky. Due to the small size, we are forced to make some compromises, such as the size of the keyboard. At the same time, I think with Teclast F5 we gain more than we lose!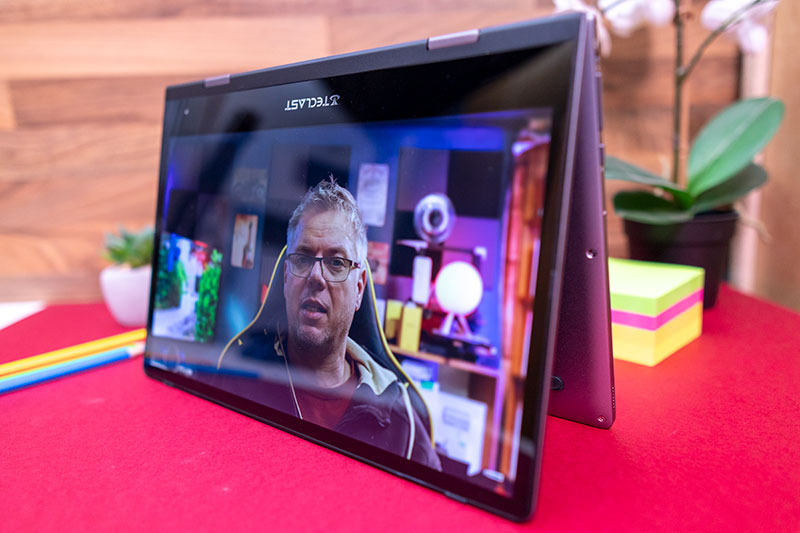 This is an ultra-light, portable machine that allows you to work on the go, fits in even the smallest bag, without tearing your shoulders off. At the same time, you can connect a monitor (up to two), connect a mouse, keyboard, and turn it into a full-fledged home workstation.
And when we're done, we can go through the display and get a tablet. We can watch a movie on it, we can Facebook, we can chat with our friends, so we can use it for all kinds of leisure activities that we used to use a tablet for.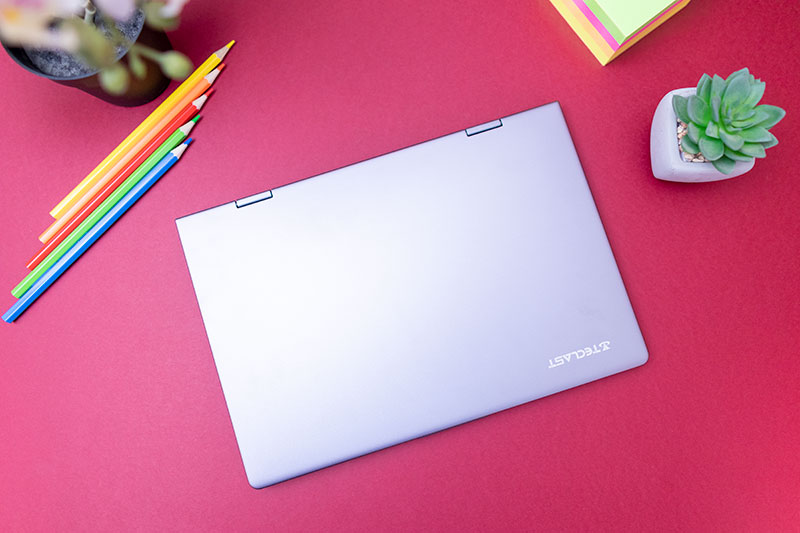 As with all articles, the price is left to the end. Thanks to the ongoing 11.11 promotions, the machine can be obtained for as little as HUF 75. BGHUNF5 using a coupon code that makes it a crazy good buy, especially to get a 2-in-1 machine for a money, a tablet in addition to the notebook. It arrives from the Czech warehouse in a few days, we don't have to deal with customs or customs costs, and VAT is already included in the price.
If you like it, you can buy it here: