Projector on which I watched the World Cup - Excelvan Q7 World Cup Memorial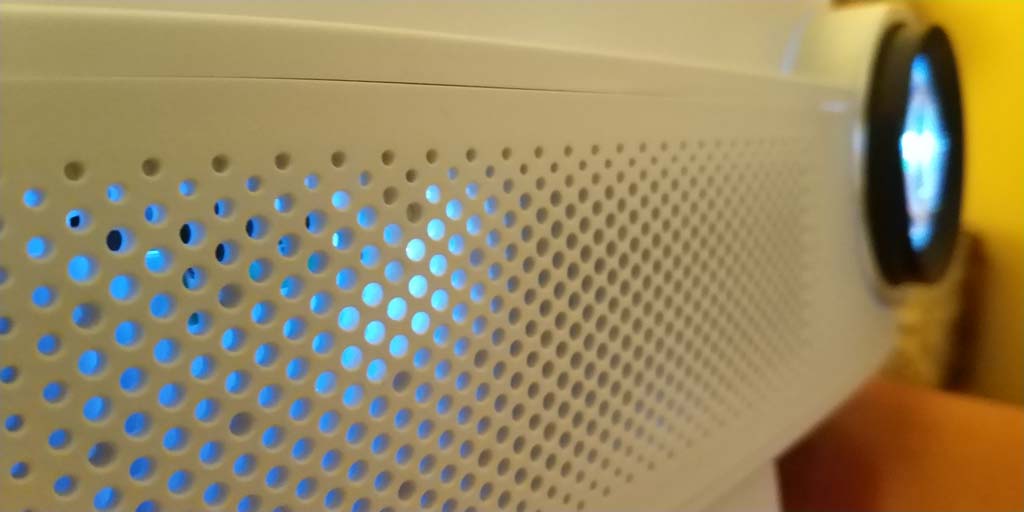 I had long been wondering what an entry level projector was, I was positively disappointed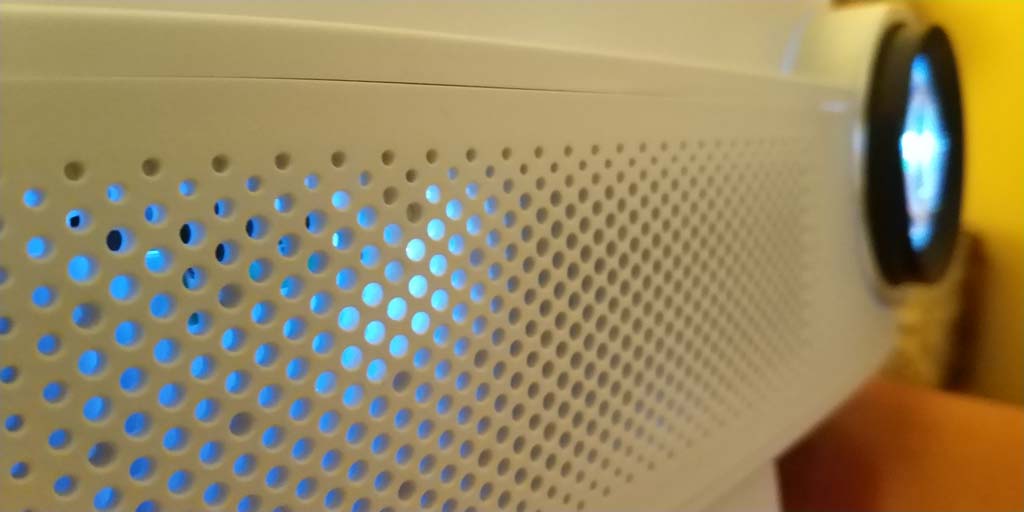 ---
Introductory
Honestly, I never felt like I needed a projector. I don't watch TV much either, even movies only sometimes, on nights on HBO GO, but also on my monitor. So I'm not the stated target audience for projector manufacturers, especially since I last gave a presentation for at least 20 years. On the other hand, I wanted to try what kind of widescreen match to watch, and if the World Cup came home anyway, I could explain why I have to buy a projector right now. It will be cheap, it will be good for more people to get together and scold the spores while having a beer, and I can also connect the pleasant with the useful, so now I can write an article about it, which I hope you are happy about.
There was a serious requirement when choosing a projector, a price below $ 200. In this category, I tried to find one that had the right brightness and customer reviews are also good about it. I found it, moreover, its name is World Cup Memorial, which means I was looking for something better to follow the World Cup matches.
---
Unpacking and exterior
The projector comes in a medium-sized, completely average carton, well lined inside, of course, so that the transport does not depreciate our projector. In the box we get everything you will need for commissioning. It includes an English-language setup guide, a remote control, D-Sub, a traditional monitor cable, an HDMI cord, and a component converter. So we get essentially all the important cables except maybe DVI, but it's already starting to go out of style anyway.
The installation guide explains what to do in some detail, so after unpacking we really have no choice but to unfold the legs, take off the protective cap and the cinema can start!
Not much can be said about the exterior of the projector, it is a completely average piece. Right front of the lens, rear connectors and menu buttons. The back is relatively jawy with its rounded corners, and the brushed aluminum surface of the cover gives an almost exclusive, quality feel. We can't complain about the quality of the material either, the cover is plastic, very high quality, glossy and white. To be sure, we won't have to be ashamed of it in front of our friends, and that's not a bad start.
---
Setting up an Excelvan Q7 World Cup Memorial projector is by no means a vicious task, but before you buy a projector, be prepared to have it somewhere you need to place it for projection. There may be a hockey stick in the middle of the room, but the perfect one is if you can mount a hanging bracket on the ceiling. True, you already need to carry power and an HDMI cable, so in the long run it's worth anticipating these things. If you're with him the way I was, that I want to know first if I need it at all, then stay at the stool! However, be prepared that the possibility of adjusting the trapezoidal distortion is not infinite, so if you want a nice regular picture, you'll be forced to place it so high that you'll be hanging in the picture while sitting comfortably on the couch. Of course, only if you're sitting right behind it.
After turning on, the first thing to do is adjust the sharpness of the image. This can be done by twisting the lens. Be prepared to get a little tight at the end positions so you need more force to turn. Once you move, it will be easy to keep rolling.
If we are done with this, we need to adjust the size of the projected image. You can do this in the SELECT menu, under Focus. Sorry, the name of the menu item is OPTIONS, but although there is a Hungarian language, the accented letters do not appear, so sometimes we may come across strange words.
This is followed by a "hardware" adjustment again, above the lens, by turning the small lever on the cover right and left on the trapezoidal distortion. We are now ready!
As you may have read, the menu "speaks" Hungarian, although its pronunciation is not very eloquent. The point is that he knows the language of our country, so even those who only speak this fluently will prosper with it.
For settings, I definitely recommend the remote control, it will be easier. True, there are buttons on the back of the projector, but it's still more comfortable sitting in an armchair to push through the options. In essence, you will find all the important settings for finely carving the image, so color temperature, aspect ratio and noise reduction are also optional. The latter is especially useful if you connect an SD TV broadcast to the projector, for example. You can also vary the hue, sharpness, color intensity, brightness, and contrast of the image settings.
In addition to the picture, you can tweak the sound settings a bit, use sleep timer or wake up.
If we are all satisfied and satisfied, we need to select the input, which can be either cable or USB, and choose whether to watch a movie (TV), listen to music, watch photos or read text. For my part, I don't see any point in the second and third, I'm guaranteed not to listen to music on the projector, and I bet anything that I won't sink to read an e-book through it. But movies and photos can come!
---
Use and experience
I have already mentioned a few things above, but it is not worth repeating. You cannot place the projector in any corner of the room and at any height. It is an inexpensive machine, so the value of the distance from to the canvas is relatively limited, and our room for maneuver is also relatively narrow with the trapezoidal setting. Not coincidentally, when hanging from the ceiling, the adjustable angle is larger, while when projecting from under the image, it is smaller. I think the manufacturer also thought the final placement would be on the ceiling.
If you are already preparing to receive the projector, be prepared with a screen. No, it's not worth buying a projection screen from a discarded old school. It's not like you can't project it, but the aspect ratio is 4: 3, and we're already looking at everything in 16: 9 or an even wider picture.
The sheets aren't good either. On the one hand, it does not have a coating like a regular vase, so it does not reflect light, on the other hand, it even absorbs what we project, because the fibers are too loose, half of the light will "land" on the wall behind the sheet. So you have two choices. One is a white-painted wall because it at least doesn't absorb light or get a normal canvas. In the long run, it is clearly worth investing in the latter, because we can either wind it up on the ceiling either mechanically or mechanically, if we don't project, and it doesn't bother anyone there. Plus, the picture quality will be the best.
Honestly, I only got the wall or a smaller canvas, but it only made sense for me to see better than the wall. Anyway, the diagonal was so small that I could have watched TV with that force, we buy a projector just to enjoy the picture on a big diagonal.
The projector has 3300 lumens written on it, but it can also read 200 ANSI brightness in smaller letters. Well, for sure, the real brightness doesn't reach 3300. You don't want to use it in sunlight, but it's even so troublesome that we get half-darkened. A normal dimmer or shutter will do, of course, in which case we don't have to wait for the dimming to enjoy the projector.
Sure, but I think you guessed it, it's a whole different experience to watch a movie or football on the big screen. On the one hand, the larger company can fit in front of the picture, on the other hand, we need the big picture diagonal to really enjoy the performance. they say that to achieve a cinematic effect, the focus of our eyes, where we see sharply, cannot cover the whole picture. If we have to rotate our head to the right or left, or at least our eyes, to see the scenes at the edges of the image in full sharpness, we will feel as if we are in the middle of the scene ourselves. This is essentially unfeasible with a TV, it requires a projector, and the Excelvan projector is just enough for that.
---
Conclusion
To put it bluntly, we can say that cheap meat is dilute juice. If we were to say this, you would feel that the Excelvan Q7 World Cup Memorial projector is bad, though it is not. Of course, it has its limitations because, for example, it doesn't matter where we place it in the apartment, how far away from the canvas. Also in that its brightness makes it most suitable for us to move with it in the evening, after sunset. These are drawbacks, but let's face it, if we don't want to or can't spend half a million on a projector, we have to be happy with that performance. But let's not go under this! Structures that offer less than the Excelvan Q7 World Cup Memorial projector are no longer much cheaper, but in exchange for saving a few thousand forints, we get something useless. So let's blow the line here and take note that this is currently the $ 160-170 band where a home projector starts, which is beneath it with good luck.
The final question is whether it is worth buying this projector. My answer is that if you don't want to trigger TV with it, but only sometimes you want a good-looking match-watching or brewing, movie-watching night, then yes. That's why it's really a gift for the money to feel at home in the cinema with family or friends!
I ordered the projector from here: Excelvan Q7 World Cup Memorial projector
By the end of the article, there was nothing left but a table with specifications.