Zero fuel cost for big boys - LAOTIE ES8 roller test
The petrol will be 1000 HUF, but you will still be driving.
---
Check out the scooter in action in our video test and subscribe to our channel:
---
Introductory
I was never a scooter, I always preferred bikes. Then last year I was able to try two electric scooters and get on with it. It was simpler, easier to use than the bike, I could put it in the trunk of my car easily, or if I went to someone, I could take it loosely to the apartment, office.
However, I had a slight sense of lack. On the one hand, I sometimes felt low at 350 watts. I live in a hilly neighborhood, so I could either roll home with a big detour or push the scooter. On the other hand, I didn't just go on asphalt in town, because much of the road to town leads through a forest. There are few urban scooters in such terrain.
I started looking, I tried to find the cheapest solution, which is also suitable in terms of strength and terrain, and it doesn't break my hand when I have to carry it. This is the LAOTIE ES8, which looks pretty cool by the way and is noticeable for its size.
---
Packaging, accessories
It comes in a huge box compared to a roller, which is no wonder the structure itself is not small. The packaging is correct, the box is properly lined, so my new vehicle arrived without damage.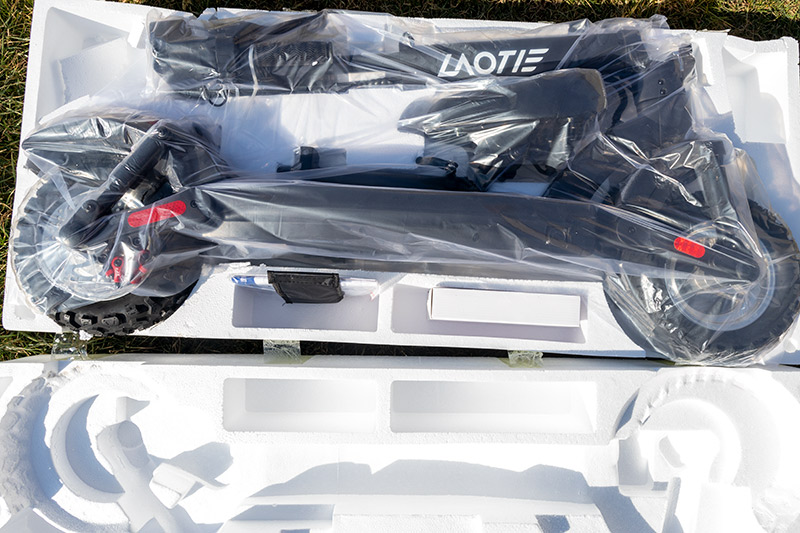 No installation is required in this case. It's all in one, so after unpacking, all you have to do is fold up the handlebars, the seat (because it is), check the pressure in the wheels, test the brakes, and you can go for the first test lap.
There are not many accessories. We get four screws in a bag, we get an Allen key in some sizes, a description and of course the charger.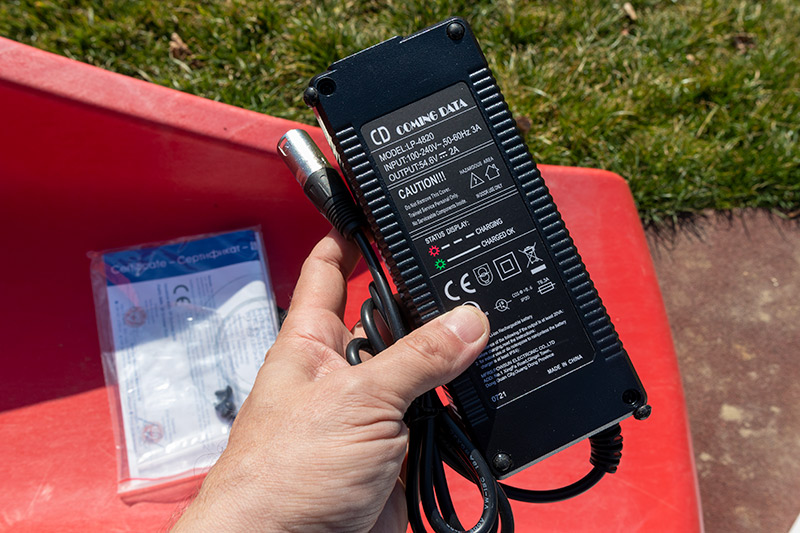 ---
External
The stuff is quite busting. It is a large and authoritative structure. Quite a different dimension than normal electric scooters. Even the larger 10-inch pieces with balloon wheels dwarf it next to it, which is interesting because it's also 10-inch on paper. Well, there is some difference between thin tires for asphalt and off-road tires on the ES8.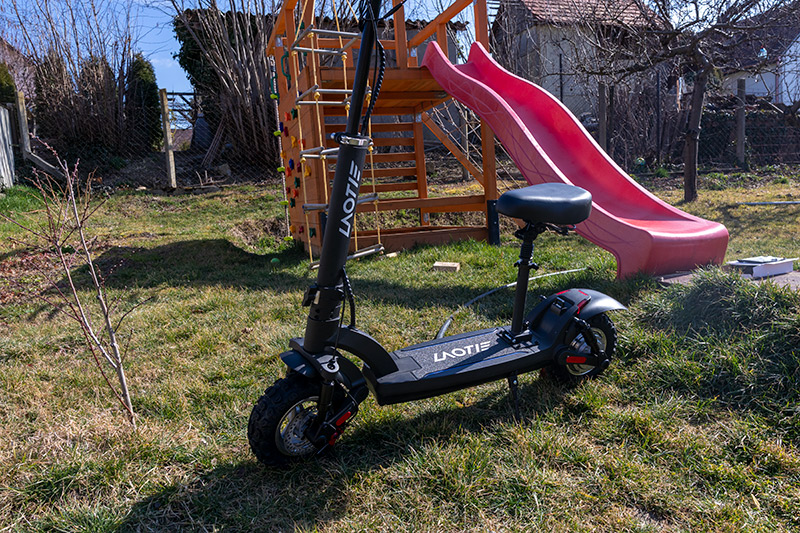 The LAOTIE ES8 measures 1180 x 550 x 1125 millimeters when open. That is, it has a length of 1180 millimeters, a maximum width of 550 millimeters at the handlebars, and a height of 1125 millimeters when the steering column is extended. From this we stand on the trepni am 540 x 220 millimeters, which means that it is quite large.
If we fold the structure, we get dimensions of 1125 x 485 x 235 millimeters. It's not small, but it can fit in an average trunk. I suggest you weigh your trunk before you buy, so don't be surprised when you first want to put it on!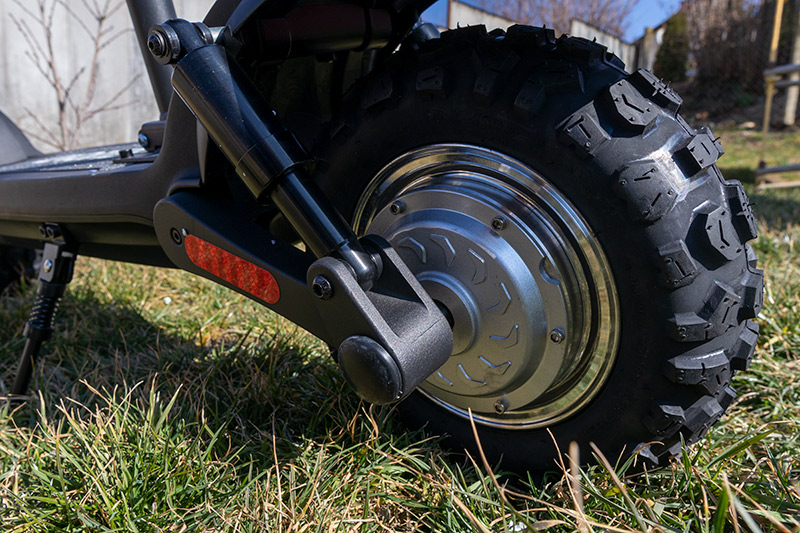 The handlebar can of course be folded down, so we can carry the scooter. Among the larger pieces, the ES8 is still quite light, but the weight of 27 kilograms is not small. It weighs roughly the same weight as an average electric bike. This is despite the fact that the entire body (excluding the bottom cover) is made of aluminum. Of course, the battery pack is not very light.
It is an important fact that this scooter already has a seat. It's not mandatory, but I think you will. Why, I'll describe it from experience!
---
Paper form
Let's also move on quickly and see the abilities. Let's start with the ones that would have fit into the previous chapter because they are visible from the outside.
The LAOTIE ES8 has got all the serious chassis. Both the front and rear wheels swing on a swingarm, and shock absorption is found on both wheels. Well, it's not some crappy leaf spring, there are serious telescopes here.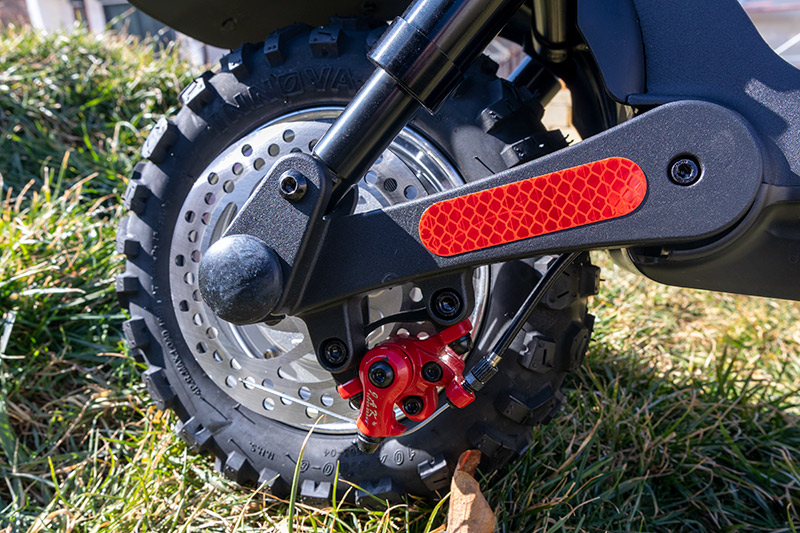 The engine is on the rear wheel, but the braking force was not entrusted to the engine brake. Serious disc brakes at both the front and rear slow down the structure. This is also necessary because the performance of both the electrical system and the motor is beyond an average scooter, but even an average electric bike.
The battery is 48 volts and 15,6 amps. According to the paper form, the large battery pack can be charged from zero in 7-8 hours, and the range that can be done with one charge is 55 kilometers. All kinds of protection are built into the electronics, so we get overload protection, overheating protection, overcurrent protection, short circuit protection and over immersion protection.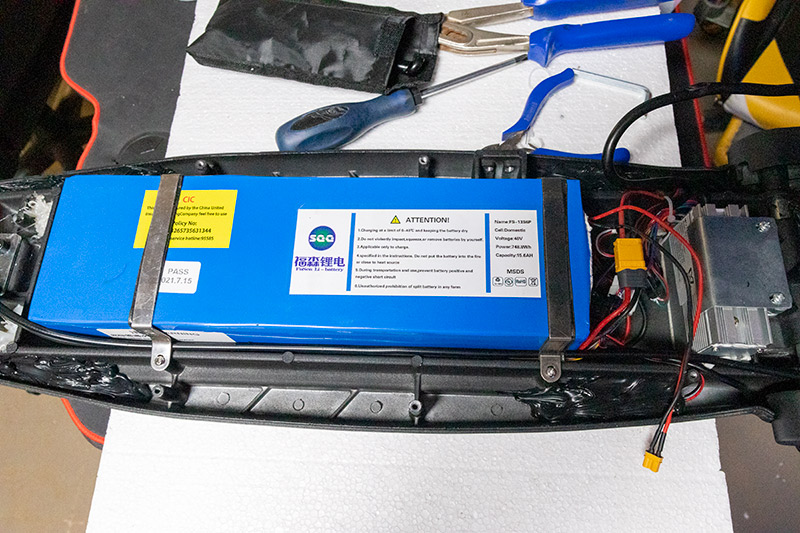 The motor is, of course, carbon-free, 48 volts to match the battery, and has a power of 500 watts. With this system, the scooter can be loaded up to 120 kilograms and, according to factory data, can reach a top speed of 45 kilometers per hour. It would be difficult to stop at this speed with crappy brakes, so believe me, you need that double disc brake!
It is also important that the manufacturer says that we can climb 15-degree inclines with the ES8.
The three-speed roller will be a good friend for beginners and advanced. The first (ECO) mode has a top speed of 6, the second 18 (Power) and the third 25 (Speed) kilometers per hour. Why not the factory-specified 45, I'll write about it yet!
The LAOTIE ES8 is also protected against water against many scooters. Surprisingly, most scooters don't have any protection against water, though it's not hard to replace this at home, you just need a little siloplasty. Well, in the case of the ES8, the sealant can only add extra points to the thing, as we also get IPX4 water protection at the factory.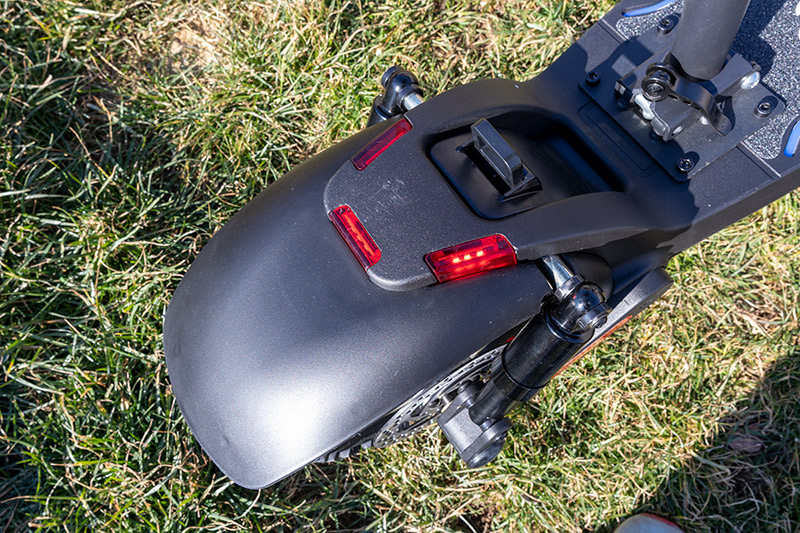 In the case of the LAOTIE ES8, we also have to talk about lighting, because quite a lot of lights have been installed on it. We have a large front lamp with strong light. We have a tail light that also functions as a brake light. There's an index on each side of the tail light that you can switch on from the steering wheel, and there are also two very cool blue LED strips on the trepnin that glow in the dark with quite striking light. This is not a disadvantage, they will not hit us.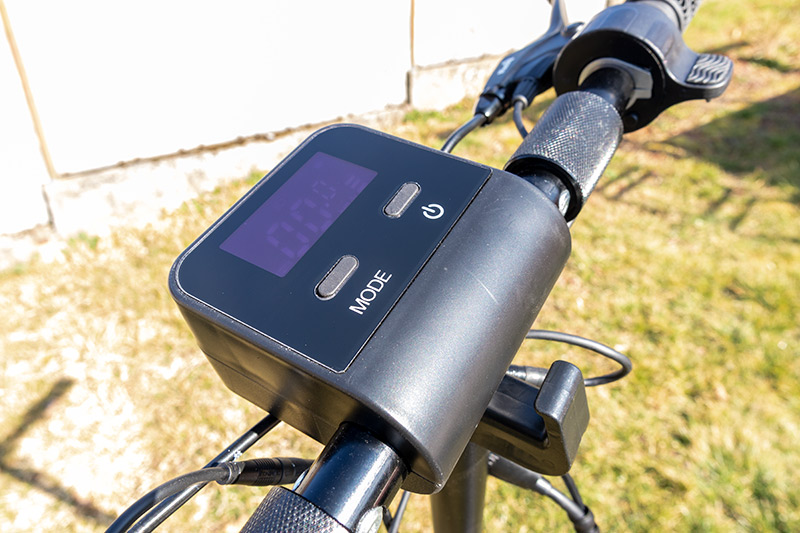 The following controls are found on the steering wheel from left to right. Rear brake lever, lamp button, horn, button, index switch. In the middle is the computer on which we see the charge, the current speed, the mode currently in use, the lamp feedback and the index feedback.
The computer has a power button and a mode switch, which are regular physical buttons with a rubber cover. If you press the power button briefly while it is on, the blue light on the trepine will turn on or off. The front lamp is also built into the computer case, it cannot be moved.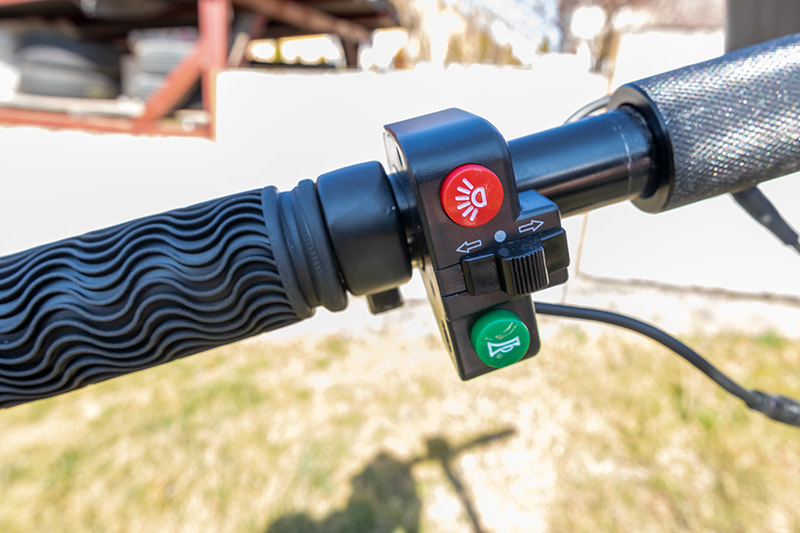 Going to the right will be the throttle lever next, followed by the first brake lever.
I think we went through the factory data, now let's turn a little away from the scooter, I will try to answer the question of whether this scooter can be used legally in Hungary!
---
Legal regulation of electric scooters
Let's start there, currently the use of all electric scooters is out of regulated use. In an extremely flexible way, electric scooters have been placed in the category of mopeds because there is no pedal on it. For a short time like this, a lot of rollers were punished because they were riding a bike ride, because there was no helmet or because there was no index and no license.
Fortunately, the media has loosened by now, and fortunately the concrete decision, the draft of which we know, is expected to be published soon.
According to this, all electric scooters with an engine power not exceeding 350 watts and a top speed of no more than 25 kilometers per hour on their own are given the same rating as electric bicycles.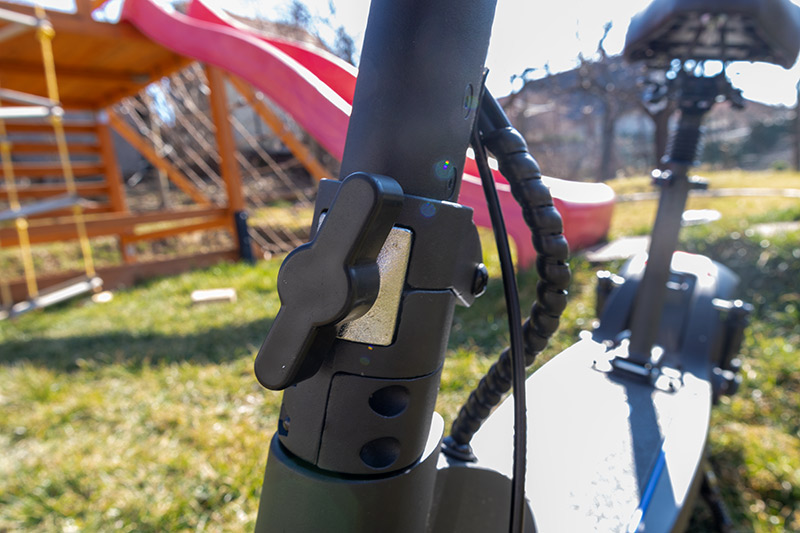 Anything that is more powerful and / or capable of a top speed will fall into the same category as moped bikes, meaning you need a helmet, a license, compulsory insurance, an index, a brake light, and you probably won't be able to ride a bike. It is important to mention here that in the case of mopeds, the maximum self-propelled flat speed can be 45 Km / h. For electric scooters, the maximum power is 4 kW.
Now, I think a lot of people are panicking that LAOTIE ES8 will need a license and insurance then, and so it doesn't. I, on the other hand, say that you think about it once again.
Given an electric-powered vehicle called a high-performance electric scooter. Their power can range from 500 watts to 4000-5000 watts, or they can have a dual motor. Their top speed can range from 40 kilometers / hour to 80-90 kilometers per hour. At extreme performance, they accelerate like a sports car or a sports engine, but even the small 500 watts depress (for a short time) a normal car.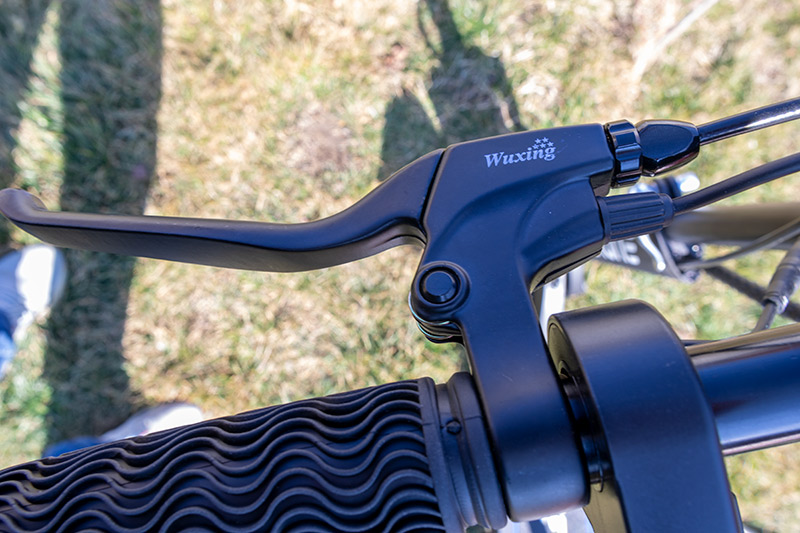 So I ask, in the case of such a device, how legitimate can it be for anyone and anywhere to use it, regardless of age or experience?
No. I think that it is absolutely right for such a means of transport to be used only by a mature and / or adult person who has no problem taking out insurance for a few thousand forints a year, who has no problem passing an exam on an auxiliary motorcycle (if you still have the right to not needed). I think this is the minimum!
I note that a license can be placed on an auxiliary bike from the age of 13.
The LAOTIE ES8 (as opposed to many other high-performance scooters) is at least prepared to meet the stringent regulations. It is equipped with normal lights, has a brake light on it and also has an index. Thanks to the large wheels and normal damping, it is not difficult to drive on a moderately bad road.
Overall, the LAOTIE ES8 is not a toy, not for children, and it is perfectly acceptable and reasonable to consider it a full-fledged vehicle rather than a simple electric scooter!
So I'm telling you not to deter anyone from buying that later, this scooter will be given the same rating as auxiliary bikes. We are adults and it can be seen that some maturity is already required to use it. In return, we get a lot of good things, which I hope will be clear from the next chapter.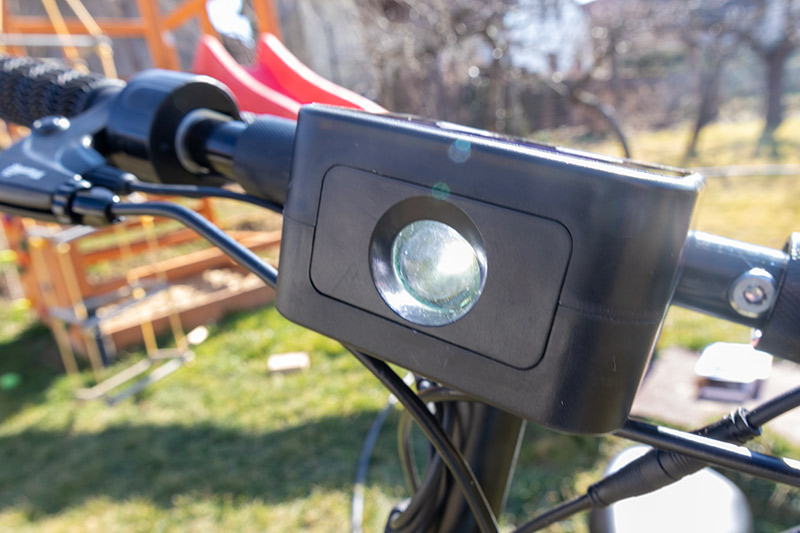 ---
Experiences
Well, first and foremost, for the purpose for which I chose the LAOTIE ES8, it worked perfectly. I was wondering if 500 watts would be enough for power, but in retrospect I don't think I touched it. With a scooter, the 45 kilometers per hour is already a nice speed, it also gives me some adrenaline boost, but not the level where there is an IFA stripe all the way in my pants.
The situation is that with an electric scooter, you will usually be traveling at maximum speed. The throttle lever of the ES8 is good, it can be dosed accurately, but like other scooters, it's convenient to push and hold it to the stop.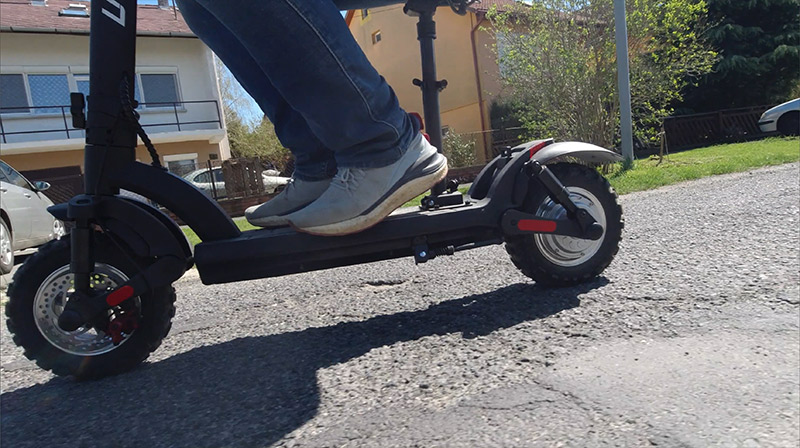 That is, there is an important capability in the ES8 that I haven't talked about before, and that capability helps you not race at a slump when you need to, if you don't. And this is nothing but the cruise control!
Yes, you know, we get a cruise control, which means that even if you turn it on, you don't even have to reach for the throttle while driving. This makes it possible - although not easy - to roll at a fixed set speed instead of the top speed.
I write that it's not easy to use because to turn on the cruise control, you have to hold the throttle in the same position for 20 seconds. You will only be able to do this if you are rolling on good quality asphalt.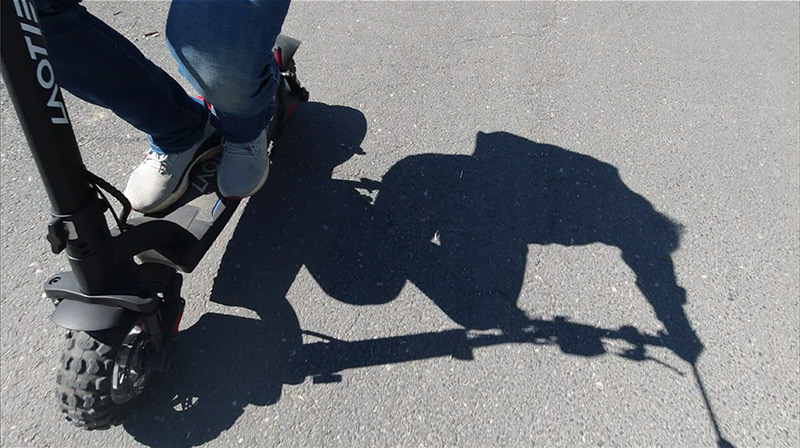 It's also important about the cruise that, of course, it shuts off immediately when you reach for the brake or throttle.
I wrote above that the computer can be set to three speeds. This is quite useful, as in the city, possibly on a bike path, but especially on the sidewalk, it is unfortunate to race at speeds above 40 kilometers per hour. In ECO mode, you get a good distance, and a maximum speed of 6 kilometers per hour is a comfortable walking pace (or a little more than that), so you're not going to run over anyone.
Of particular interest, and the use of ECO mode as a safety mode, is the fact that in this mode, the front and rear lights of the scooter turn on automatically and cannot be turned off. So the ECO mode is not only economical but also safe, allowing even complete beginners to take possession of the LAOTIE ES8-cat.
Now comes the way to use, how to roll with the LAOTIE ES8!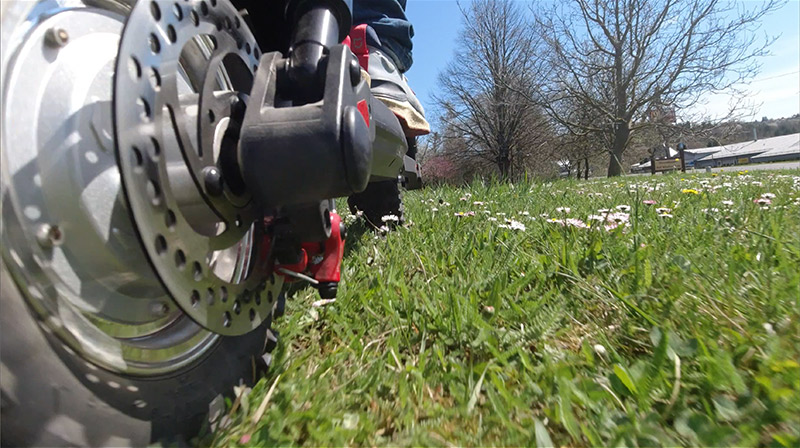 The fact is that we need to split this issue in two. The result will be the same in both cases (beef is good to use), but still, the two uses are fundamentally different. The LAOTIE ES8 can be a tool for more serious work, but it can also be a roller that can be used for madness or even forestry.
When used to commute to work, the seat deserves a huge red dot. Anyone who goes further and travels longer distances with a scooter knows that scootering over 10 kilometers can be a serious affair. You no longer know how to put your feet away so as not to numb, how hard your knees will get out of the way. By the time you get to the job site, you want everything, except you have to stand on the scooter again.
However, having a meeting changes everything. The tread of the ES8 is big enough to fit your legs in front of the seat when you're standing. If, on the other hand, you get tired, there's a chance you can sit down. You turn on the cruise control and roll out of the world.
It's icing on the cake that a shock absorber has also been built into the seat bar so it won't smash your back in any worse way. Baromi comfortable!
However, if you are a person who would also use the scooter for "sports," you have the option to dismantle the seat. It holds only 4 screws. As for the accessories, I mentioned that we get 4 screws in the package. Well, they are given because they are lenticular, and if we dismantle the seat, we can screw the round-headed screws into the threaded holes so they don't go full of dirt.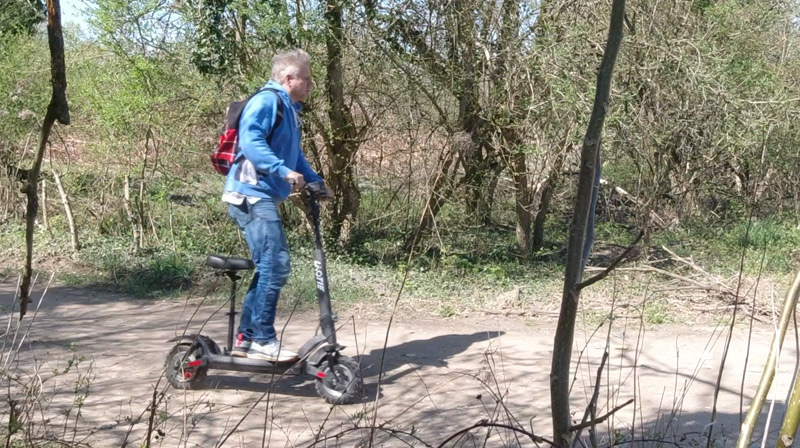 And if you take off the seat, you can go crazy. You can race through the woods and fields, on medium quality forest roads you can team up to 45 kilometers per hour. I admit, I used to do that sometimes because it falls well. J
Returning to work. The ES8's top speed and chassis are already enough to drive between cars and on the road. Of course, you just have to, because traffic in Pest is not child's play. So it's not really an obstacle if you don't have a bike path everywhere you go.
If I've already mentioned racing at 45, let's get back to why the top speed of 25 kilometers is set to maximum in Speed ​​mode. Well, because the top speed is limited by software, so the scooter arrives. However, this restriction can be easily turned off!
All you have to do is pull in the right-hand brake lever when it is switched off, push the throttle lever all the way in and then switch on the roller while holding the brake lever and the throttle lever. An error message appears on the computer and you have released the restriction. If you want to put it back, the method is the same. The brake lever pulls in, the throttle lever depresses, and you turn on the scooter.
The fact is that I have been using the LAOTIE ES8 for many weeks (even months) when I first went shopping with it and I still froze it. I used it on the road, on the bike path, rolled with it in the city, but also on the city entrance. I went out into the woods with him, I went on a very bad and affordable dirt road with him, so I think I've tried it in all sorts of circumstances.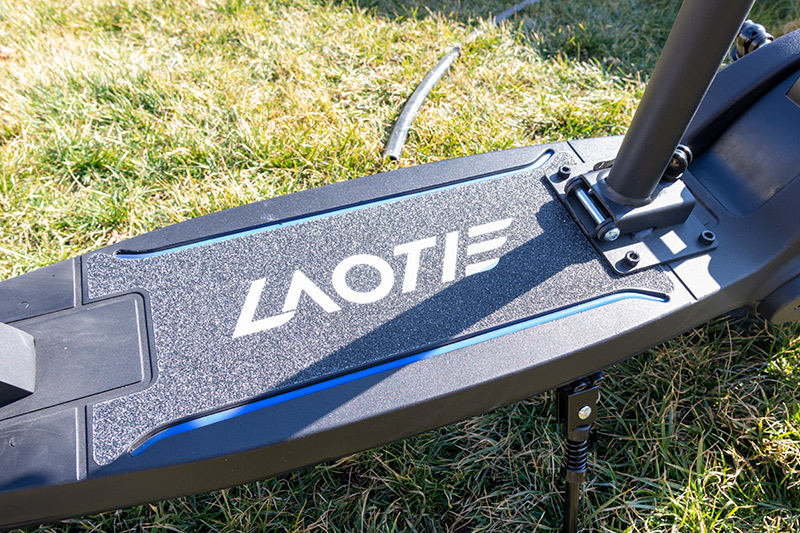 My glaze really picks up weight on a medium ascent, and on smaller ones it loosens loosely. Except for the limitation, the assist doesn't turn off, so I've been on a slope with speeds well over 50. In retrospect, I judged myself not to be completely normal. J
Sure, those who are used to many thousands of watts of scooters are sure to smile now, but anyway, standing on 10-inch wheels on a scooter at a speed around 60 is already pretty much clinging to the handlebars.
I mentioned the brakes above and that they are really needed. Well, by expanding this topic a little, I would like to draw everyone's attention to two things. One is that most bikes and scooters have a front brake on the left and a rear brake on the right. However, at LAOTIE ES8, the opposite is true, and you may have to get used to it. Not for me, because that's right on my bike, it's natural for me.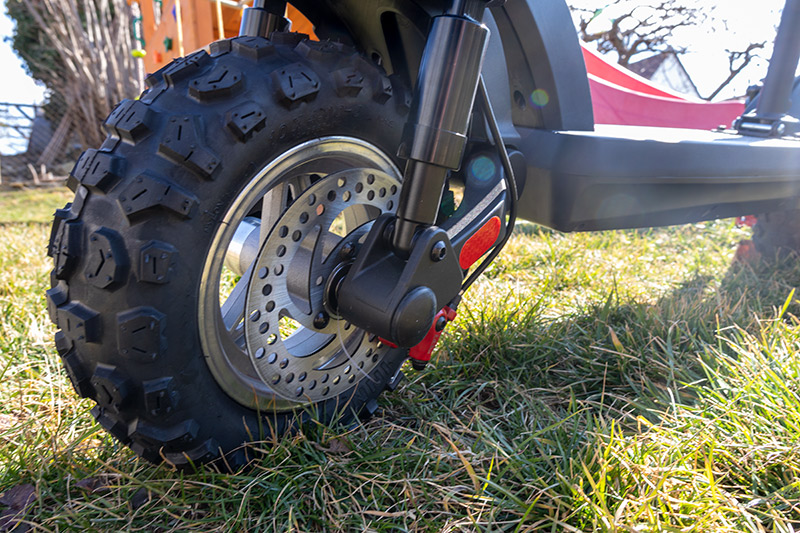 The other thing I have to talk about is braking power, and I have to turn back here that this is NOT a CHILDREN'S GAME! You can fall brutal if you panic in the first brake. It will take you so long to fly over the steering wheel and the scooter will fly after you. Sure, it's not a problem at speeds of 5 to 10 miles, but if you want to stop at 45, you're better off practicing a little.
So here, too, comes out what I wrote above, the LAOTIE ES8 is not a plain electric scooter, but a regular vehicle. For mature people, using it wisely is a huge experience and can be a real danger to life anyway.
---
Conclusion
I think I wrote everything down. You already know what it looks like, you know what you know by paper form, and hopefully what you use it for. Of course, I also made a video to see it in action, I hope this also helps in deciding whether to buy it or not.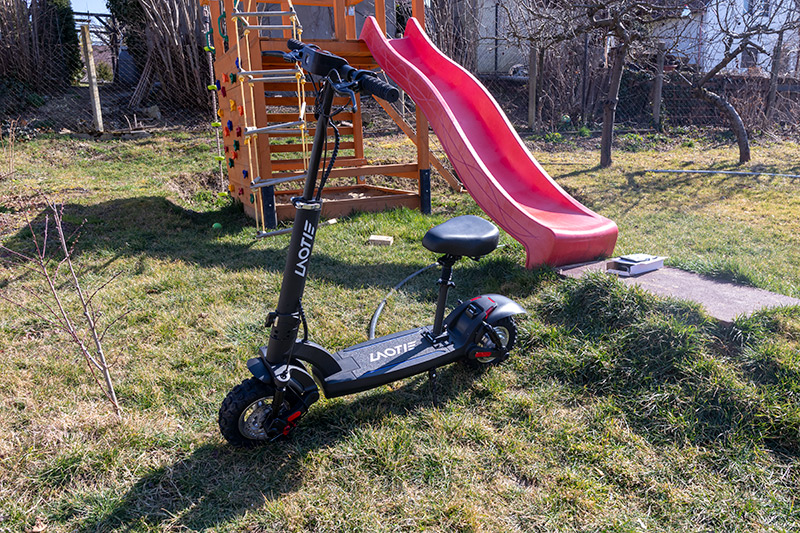 For my part, I think it was a good decision. I don't know how long the petrol prices will last, how long the state price limit for fuels will remain, but even now, at a petrol price of 480 forints, you can save a lot of money by refueling at home or at work, instead of visiting the gas station.
Then, if the price cap becomes unsustainable and the price of petrol is 700-800 forints or more, all means of transport that run on energy squeezed out of the remains of non-destroyed organisms will be greatly appreciated.
I'm already saving a significant amount of money by not jumping in the car if I have to run into town to do business, or maybe buy dinner for the family. True, I'm not starting this savings this year, it's already been a year since I got on my beloved ADO bike, the car stopped in the garage unused for weeks.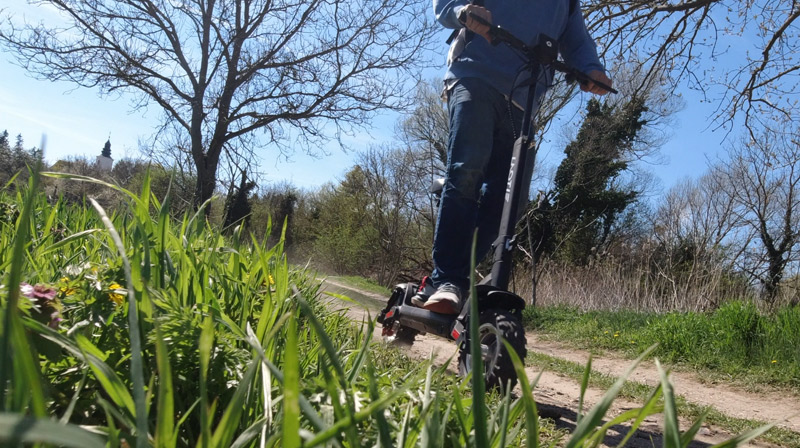 I also really like the fact that because of its size, I don't look awkward when I stand on it. It's a real masculine, macho piece, just like my electric bike, which is still stared out on the street to this day as if it were some expensive Italian sports car. Well, the LAOTIE ES8 is like that, so you won't be invisible, in fact. Under 184 centimeters and under 100 kilometers, you need it!
The point is to the end. If you think you will need a more serious, but not life-threatening performance, if you are mature enough to understand, the LAOTIE ES8 is not a game category, and it may not hurt if you have to spend a few thousand forints a year later on insurance, then buy it calmly, you will not be disappointed in it, in fact you will go to work with it every day with pleasure.
If you liked it, use BGHU1992 or the KarotkaES8 coupon code, which reduces the price of the scooter to HUF 213. The order is made from a European warehouse, so the roller will arrive to you within a few days, and you will not have to deal with customs clearance or paying extra VAT. Click on the link below to purchase: