Mercusys MW325R - simply great ?! (updated!)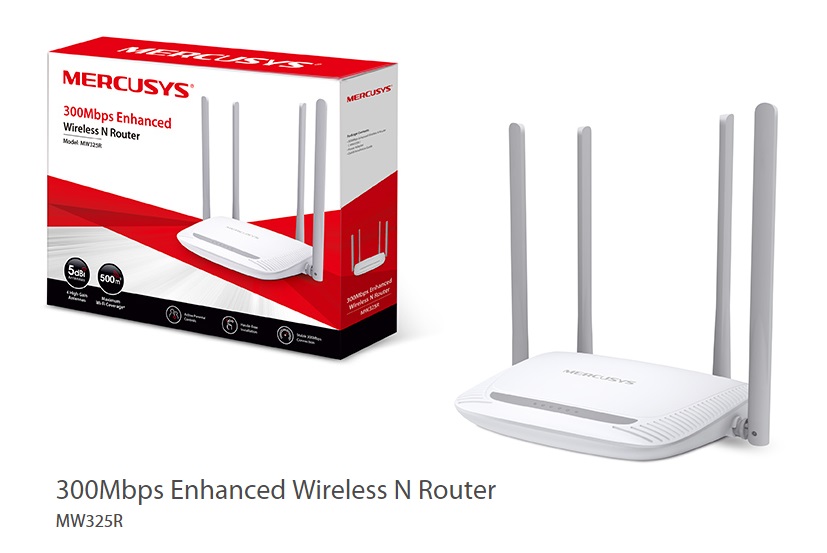 For ease of use, this time we got a low-end WiFi router available to everyone. This is the segment where things are not (yet) overcomplicated, we lack unnecessary services, complicated settings. The stuff holds curiosities nonetheless, though it can't be called an eccentric.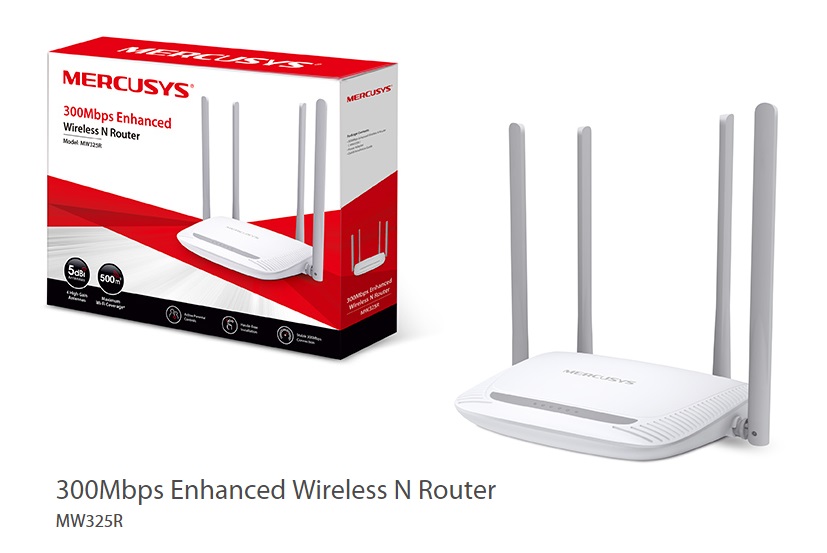 Introductory
We tried not to get bogged down in price, of course that doesn't mean we want to let go of quality and reliability. TP-Link is a brand for us that is already worth noting. How does this name come into play? So that Mercursys is their sub-brand; This is also evidenced by the fact that the MW325R came to us from TP-Link's warehouse in Budapest (Közraktár utca 30., third floor).
I think you are also curious about what the sub-brand character takes. Obviously, not all the details will be tied to our noses, so we contacted our contact on this matter. All we have been able to find out is that (for the time being) the limit is being drawn for the more grumpy ones, ie those with gigabit Ethernet ports, which means that at Mercursys we have to reach with a 10/100 connection. A common point, however, is the 3-year warranty period, and on this subject we have even learned that stubborn individuals are (usually) not repaired. For our part, we can easily imagine - for a cheaper type - that the returned items will end up deep in the warehouses soon after the basic inspection, as the cost is simply not worth inspecting and handling the gadget. After the small detour, let us return to the main subject of our present article.
Let's start with the usual packaging. Since these are four antenna models, I was curious to see how the patient managed to get into the box. I was pleased to find that Mercusys did not save on material, so the product could be transported safely without being tortured in the slightest due to the large size of the interior. Of course, we only find the most necessary ones inside, I think no one will be surprised by this:
RJ45 Ethernet cable (CAT5, slightly more than one meter long)
AC adapter (150 cm cable)
User manual (English, Spanish, Romanian, Polish, Russian, Ukrainian)
A quick note: detailed operating instructions are available on the official manufacturer's website - the one supplied at the factory only helps with installation. Before heading into the deep water, take a look at the product data sheet:
Product details

Manufacturer: Mercusys (TP-Link)
Model: MW325R
Interface: 4 10/100 Mbps LAN ports and 1 10/100 Mbps WAN port
Wireless standards: IEEE 802.11g, IEEE 802.11n, IEEE 802.11b
Security solutions: WPA-PSK / WPA2-PSK
Data transfer rate 300 Mbps (MIMO technology, 2 transmitters and 2 receivers)
Frequency: 2,4 - 2,4835 GHz
Antenna: 4 pcs 5dBi antennas (fixed)
WAN type: Dynamic IP, Static IP, PPPoE, L2TP, PPTP
Access Management: Local, Internal Network and Remote (Internet)
Port forwarding: Virtual server, UPnP, DMZ
Firewall security: IP and MAC address assignment
Transmission power: <20dBm

Sizes

× × 167 118 33 mm

Package contents

1 × MW325R router, 1 × EU network adapter, 1 × RJ45 Ethernet cable, 1 × English user manual
And now it's time to take a close look at this Mercusys gadget.
Appearance is always something that is relative. Plus, with a WiFi router, things can be even more ungrateful, as it's not out of the question that something will go to a place where it won't really be visible. In any case, we can agree that the appearance of the MW325R is clear, the curved-shaped housing with a ventilation grille on both sides takes some life - the mysterious green lighting that filters through it is absolutely winning in the dark. The status lights (operation indicator, internet access and connected PCs) have been placed in front, and due to their relatively solid brightness, they will not interfere in the bedroom either. The four antennas, 20 cm high, can of course be rotated in different directions. Speaking of antenna. It is definitely worth emphasizing that this equipment is not common at all at this price level, and tilting the antennas in different directions helps the waves to propagate freely. Let's take some time to do this and experiment with the setting that works best for us!
At the back, too, everything goes according to the paper format: reset, one WAN and three LAN ports. We could have worn a WPS (Wi-Fi Protected Setup) button, which seems to be the only way. We've seen less and more of the LAN ports than this, however, it seems enough because we don't consider it viable to connect more than three devices to it. There are also two places for wall hangers at the bottom, and there are also ventilation grilles here.
configuration
It's not a big challenge, but see if we have a reader buying this kind of product for the first time. First, unplug everything and then connect the modem to the WAN port with an Ethernet cable. If you have this, connect one of the LAN ports to the network card of your PC, then use the included network adapter to provide the necessary cocoa to the router. That was the physical part of the thing, now the software page can come.
Unfortunately, the menu system is not Hungarian, but due to the above, we now present all the important points in detail here, so it is completely impossible for you to get stuck anywhere. The configuration interface is available at:
As a first step, we need to come up with a password. If you have this, you need to specify the type of internet connection. Feel free to use automatic detection as well (chances are you should leave it to dynamic IP address allocation) if the 180206 firmware is not running on the router - mysteriously this option is gone.
On the next page, all we have to do is enter the SSID (network name) and, of course, the corresponding password, and that's how we did it with the basic configuration. The router will work with WPA2-PSK encryption by default, which it does very well.
This can be followed by virtual boxing, now we can safely use the wireless connection.
If a personal remark is allowed: this background color is not particularly lucky, this is practically exactly what browsers use to warn unsafe websites. Apart from this, the so-called "basic" surface, which is intended for beginners, has become surprisingly cheeky: transparent, clear, concise. Only this background color…
In the following, let's get a little more immersed in the topic, and then come the first experiences.
The advanced interface
Simplicity obviously doesn't mean the router would be absolutely low cost, there's no question about that. Here, for example, is the Guest network, which allows you to create a secure and separate wireless network. In addition to the trivial security benefits, we can also control bandwidth and access time.
We can even benefit from parental control if we are not a believer in tasli. In the "Parents Control" table, you simply need to indicate in which period you want to disable network access - let's say it's not a disadvantage to add your own device to the exceptions beforehand. By the way, this will go pretty easily, the list that appears here will immediately contain the devices that connect to the router.
You can use the Mercusys MW325R router even if you already have a similar solution. This is when the WDS Bridging service comes into play, with which we can essentially "downgrade" the stuff to the level of a repeater; obviously this may make sense if the goal is to extend the wireless network.
It is also possible to fine-tune accessibility, ie you can specify which pages the hosts can access (whitelist / blacklist) - all with a time limit. Okay, these are not revolutionary achievements, however, we considered it important to point out that the router in this area will also jump the bar!
We also make a brief mention of the real delicacies, ie the options specifically for advanced users:
Virtual server
DMZ server
UPnP settings
Static routing
Most users in life will probably not touch these (fortunately UPnP is factory-enabled), however, these are mandatory accessories, and this has been the case for many years.
Surprise
For those of you who want to see the router's dashboard "live" after the above, we have some terrible good news for you: you can start the online simulator by clicking on the image below! We also think this shows that Mercusys is serious about product support, at least for this model.
Experiences
In the former, I think we've discussed the gadget pretty thoroughly, it's time to give some taste of the MW325R's performance. Let's start by defining the test environment:
We can say without exaggeration, we have faced an extremely difficult challenge in front of the router. To the best of our knowledge, the adobe is considered a real WiFi killer, even at this wall thickness! We put another shovel on it; we got our hands on the Acer Iconia B1-710 tablet, which is "amazingly" capable of weaker signal reception than e.g. the prehistoric Huawei Ascend Y200, which is quite surprising - in other words: scandalous. The MW325R ran with the latest firmware, approx. It was placed at a height of 1,5 meters, and roughly the measurements were made in this plane. The floor plan above is (anyway) scaled, so you can calculate the wall thickness (the thinner 32 cm silicate - except for the partition wall between double and triple, which is adobe -, the thicker 52 cm adobe) and the distance. It is also worth observing the rendered images, because it also depicts the factors that significantly influence the propagation of Wi-Fi signals (door, cabinet row).
The position of the router is indicated by the asterisk, the various numbers (or chairs) indicate the location of the measurements. The theoretical speed of the internet connection is 30/4 Mbit / s - on the Speedtest PC (and also on Android) it slightly exceeds this. Another addition: there were 6-8 WiFi routers operating in the area, which is perhaps moderate.
30,1 / 4,3 Mbit / s (excellent signal strength)
12,0 / 4,2 Mbit (medium signal strength)
2,6,1 / 2,8 Mbit (weak signal strength)
29,5 / 4,7 Mbit (excellent signal strength)
What can we read from the numbers? The fact that maybe we put the bar a little too high was made up for by the extra weights. Without a repeater, with such thick adobe walls, it is amazingly difficult to transfer substantial speeds, so at the second measurement point, video and browsing have not yet been a problem. In the 3rd place, however, the situation was worse, here only the basic expectations were actually met. Increasing the distance and wall thickness made it clear the bad scenario in every way wasn't exactly to the liking of the gadget. It can also be seen that the attenuation was negligible in the case of a thinner wall (point 4) or in the case of silicate material, ie if we do not "push too much", it brings the expected comfortably.
For the above reasons, we have reached the following:
Be sure to position the router properly if you intend it in a similar environment. If this is not possible, you may need a repeater.
As the MW325R is not dual channel, it is not recommended with a calm heart in very busy spaces.
Feel free to play chess by rotating the antennas and changing the channels!
During the extensive week of testing, we never experienced any anomalies, no restart was required, the Mercusys MW325R did its job reliably. Now, we could rightly say that this would be normal, but we know for sure, this is not the case with all routers. The stuff also kept the download speed nice, though that's more of an ISP merit. In the load test we used three devices (PC, tablet, smartphone) to work on its size (download, browse and stream), unfortunately we could not find out the CPU load, but it is certain that we did not encounter any minimal heating.
Evaluation
We have come to the summary. We have to keep in mind that we are dealing with a really fairly cheap device - we can find it for 6 forints! At this price level, it's by no means easy to stand out from the field, yet the Mercusys MW990R's four-antenna design has proven to be a fresh spot of color. We could blame him for not having a dual-band, no USB port on it - for an external drive - but let's face it, these aren't exactly realistic expectations around here. We feel that it is a more legitimate suggestion that the advanced administration interface could be more verbose in general (maybe Hungarian?), We would have liked to have given a more detailed description of each menu item. Another observation is that while bandwidth management is solved, it is not equivalent to QoS (Quality of Service), as we cannot yet give priority to audio and video applications with this method. Of course, we also understand that TP-Link doesn't want to shoot all the gunpowder at Mercusys. It is suspected that the "Advanced Security" interface also fell victim to this way of thinking, where we can macerate the protection against DoS attacks at the main brand: ICMP-Flood, TCP-SYN-Flood. I don't go any further in this line of thinking, the real geek always might have some shortcomings anyway…
On the other side of the imaginary pan is a 3-year warranty, reliable background and active product support - the latest firmware is barely two months old. As explained above, we did not deal with the router with a gloved hand; signal transmission in this environment was an almost impossible mission. Despite all this, the MW325R was fairly correct, we see it in a medium-sized family house! By definition, it's definitely a good idea to pay attention to the placement, and we shouldn't be surprised if you don't spin the Speedtest at the farthest point. In this case, we do not have to doubt, as we can remedy the problems with a cheap repeater, and even with that, our wireless network will not cost much. According to our hopes / ideas, TP-Link guarantees a stable background;
The Mercusys MW325R can still be purchased at the link below, the price is 5690 HUF. If you have any questions, don't hesitate to ask!
Update!
This product is subject to long-term testing, so we report some developments from time to time. We hope that this will give you a fuller picture, and that we will be able to answer your questions more accurately and better.
After lengthy correspondence with the support department, we learned that the Mercusys R&D team will improve the KRACK vulnerability!