KUU K2 test - notebook for everyday use under 100 thousand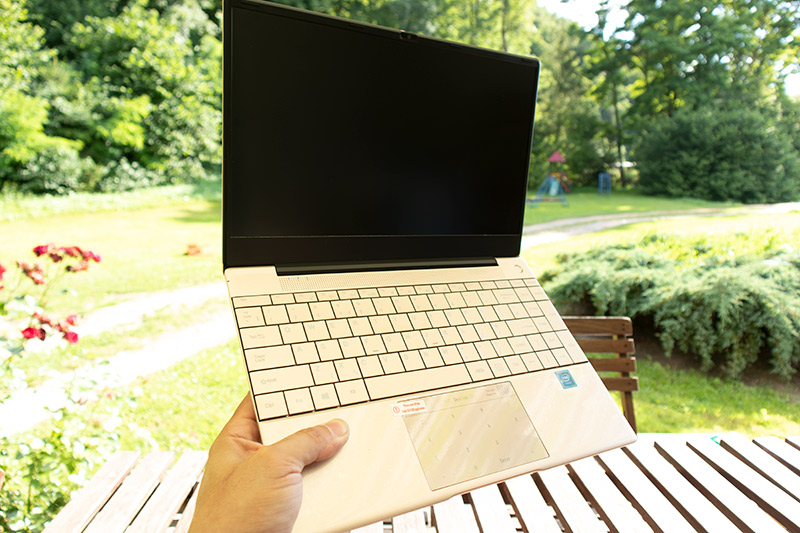 Score from 92%
Score from 92%
Full metal housing, lots of memory, big and fast storage, EU stock, but should you buy it?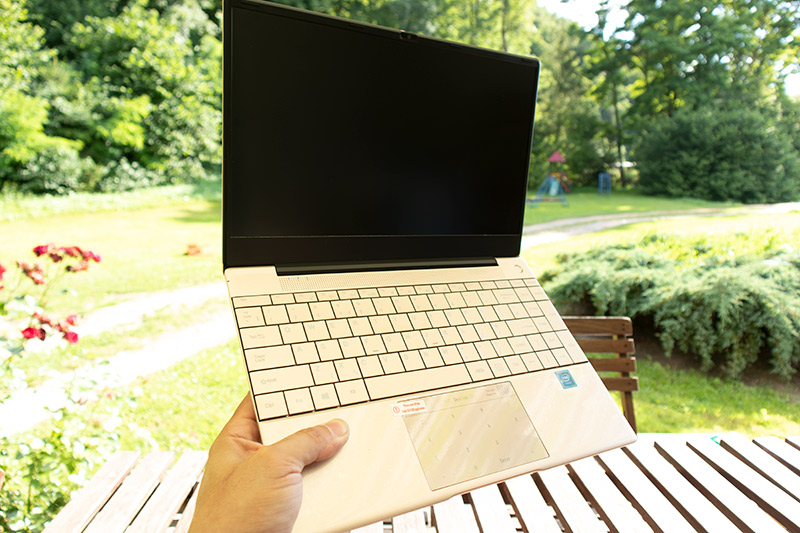 ---
KUU K2 - Introduction
There's nothing better than when you do the work you love in the summer (but also in the winter, of course) and do it where you feel like, say on the patio under the parasol, sipping cold lemonade. The article writing point is such a job and you don't even need to add strong iron, just a cheap but usable notebook and possibly a Wi-Fi connection.
However, it is difficult to find a usable notebook or ultrabook for less than HUF 100. Somehow something is missing from each of them. If the resolution is good, the memory is low, if there is enough memory, the storage is slow, if the storage is OK, the display will be tiny. It's understandable somewhere, you have to save something because it's hard to put together a machine that can be used with so much money, especially since not only manufacturers but also traders want to make money on it.
There may be some solution to this if we are not buying at home, as those predominantly Chinese traders who are in direct contact with the manufacturer may omit quite a few elements of the retail chain from the line. Because of this, we may then stumble upon virtual shelves into machines that can really be used.
The machine in the article is just like that. The weird KUU K2 is the latest ultrabook from the manufacturer, which started its introductory campaign yesterday, so we get it at a very good price. The icing on the cake is that we can buy it from a European warehouse with a delivery time of 3-5 working days, which means that we can beat the keys on it for about a week after leaving the box office!
---
KUU K2 - Packaging and accessories
The machine comes packaged in completely traditional cardboard. If we open the good side, we will find the box that hides the accessories, which has nothing but the charger and the adapter to the EU socket.
The machine is housed in a black shock-absorbing case, slid into a shiny, slightly silvery bag that you can use regularly later if you want to take care of the notira. Inside this bag we find another gift package, in which there is a keyboard sticker suitable for the character set of several countries. There is no Hungarian, but since we get good quality from 100-200 forints at home, this is not a big loss. If you don't want to buy it, you can choose everything from the ones included, at most his letter will be a hat.
---
KUU K2 - Exterior
Let's start with the dimensions! The weight of the machine is only 1,35 kilograms, which is not the hand-held category. In addition to the small weight, the thickness also fits. The 32 x 22 centimeter machine is only 1,6 centimeters when closed, even at its thickest point, but it looks even thinner when used.
What makes me a little trouble is the color of the machine. Depending on whether the light falls on it, it can be beige or gold, but the latter is not the fuchsia, but rather the elegant, brownish style.
In the presentation materials, it is repeatedly emphasized that the whole housing is made of metal alloy, which may be true because I could not twist the part containing the display or the hardware, it seems to be quite durable.
As we have gotten used to from these ulrabooks, they have quite a few connectors on them. KUU K2 will not be popular because of the multitude of them either. On the left you will find the power connector, next to it a USB Type-C port, a little forward an HDMI connector. On the right side from front to back is a headphone jack, a card reader (microSD) and at the back a traditional USB 3.0 socket awaits us.
The machine has two special features that we can discuss here, we could leave it for the hardware part, or even for use. One is that the power button is also a fingerprint sensor. This is a smart solution because it doesn't require a password, you can simply unlock Windows with the configured fingerprint.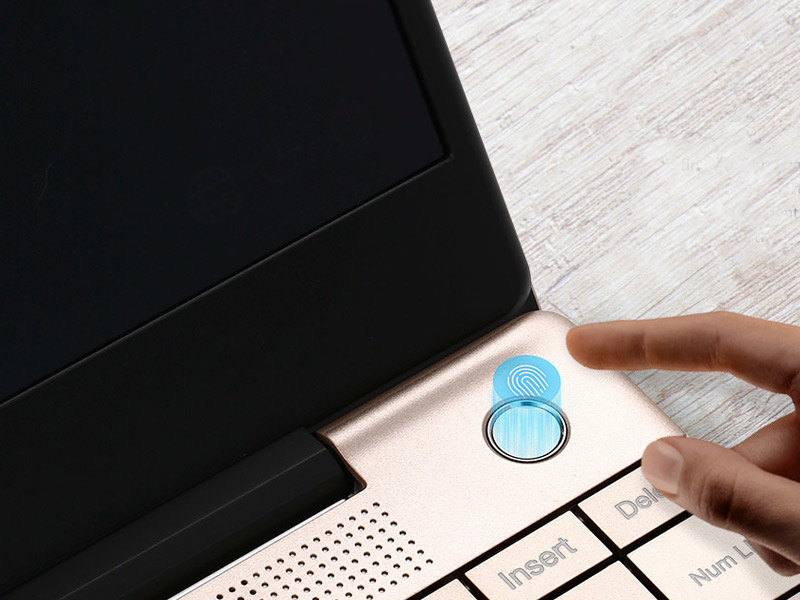 The other similarly interesting and useful thing is that although we can't find a numeric part on the keyboard, we still get one. This has been solved by using the trackpad for normal taping as well, i.e. by controlling the mouse pointer with it or, if you switch it over, by tapping on the scribbled numbers to get the numeric keypad. It's really imaginative, because for someone who needs a lot of help, yet the many keys on the keyboard weren't crowded because of it.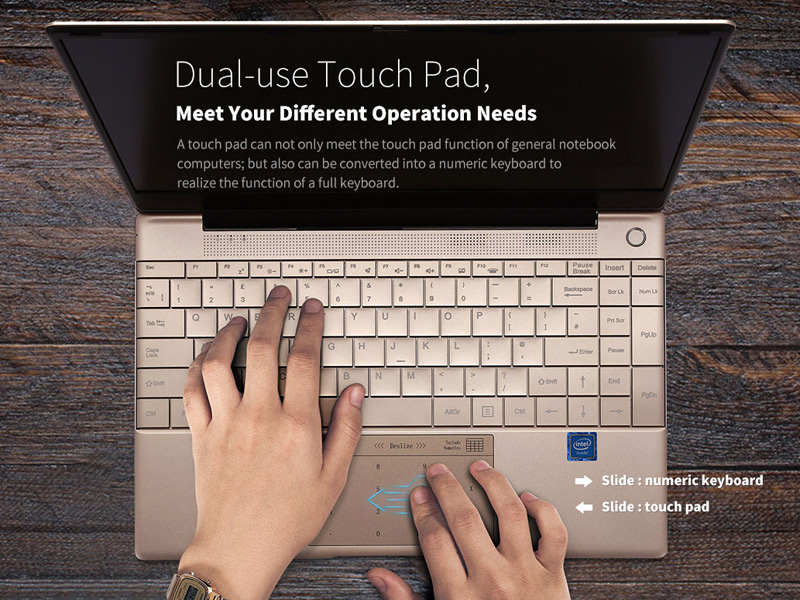 Speaking of the keyboard, I have to mention that we are talking about one of the most successful parts of the machine. The buttons work very gently, but you can feel the press, so it's hard to press next to it, double-tap letters, at least if you do it with unintentional intent.
As I mentioned, the numeric keypad doesn't take up space, so the keys on a traditional, otherwise American-layout keyboard are much larger than average. It really feels really good to type on them. The manufacturer uses the term full size for the keyboard, meaning it is full size, which is so true that the keys are larger than on my desktop's normal keyboard.
Last but not least, let's not forget that the keyboard also got backlit. The letters glow with sufficient intensity in the dark, but not disturbingly. The brightness can be adjusted in two steps with the FN + F10 keys or, of course, switched off.
---
KUU K2 - Hardware
As I wrote in the introduction, the KUU K2 is not a powerhouse. Still, the good news is that the soul-giving Celeron J4115 is a whole new piece from Intel's workshop. It's so new that it was unveiled in the first quarter of this year, so there are probably quite a few notebooks on the market right now that build on that. The manufacturer, i.e. Intel, manufactures the 3000, 4000 series specifically for low-power portable machines. So far, I haven't come across any other models besides the J3455, N4000 and N4100, so it was a question for me too, how the J4115 will perform. Of course, this will only be clear from the next chapter, in the meantime let's see the paper form!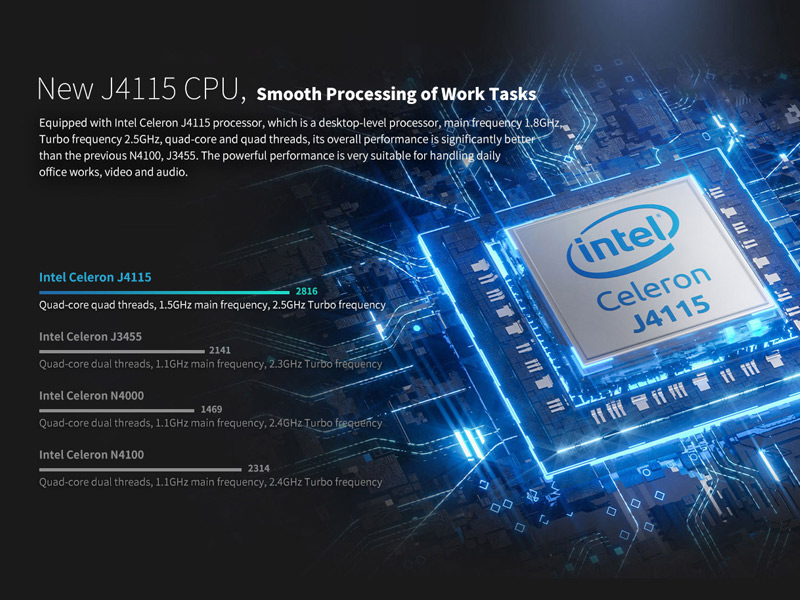 So the central unit is the Intel Celeron J4115, which can handle four cores and four strands. Its base range is 1,8 GHz, but it can spin itself up to 2,5 GHz if needed. By default, the memory is no less than 8 GB, and we get 256 GB of SSD storage. If that weren't enough, you can opt for up to 512GB of built-in storage in exchange for a minimal surcharge. I think 256 GB is enough for such a machine, but if it isn't, there is a solution.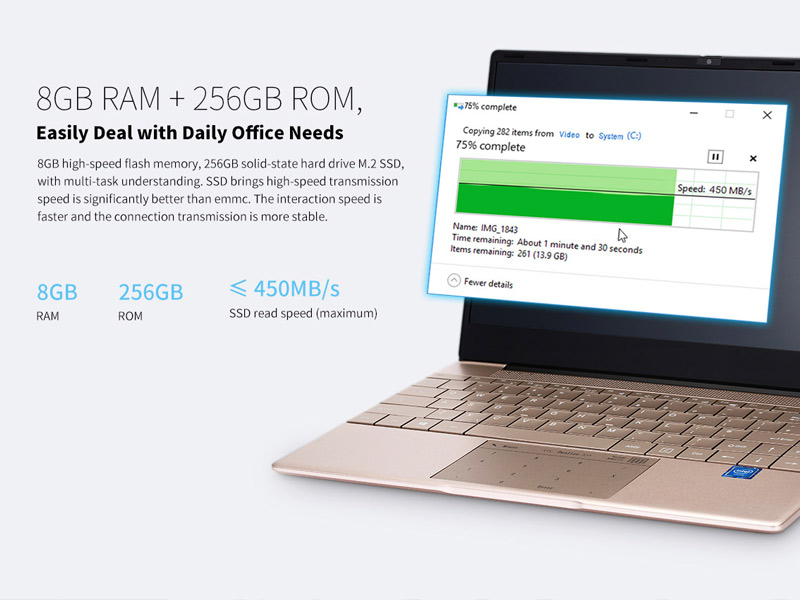 Another good news is that the mass storage is in M.2 format, ie it is not soldered to the motherboard, it can be replaced or expanded if the need arises.
It is also worth mentioning that the housing of the machine is specially designed so that the metal housing participates in the cooling of the processor. Thanks to the special design, the structure has been given a fan-free design, so it operates completely silently during use. In order to be able to do this, of course, it is not enough for the metal housing to be able to dissipate and distribute the heat generated, it was also necessary to have the already mentioned ultra-low-power Intel processor in the machine.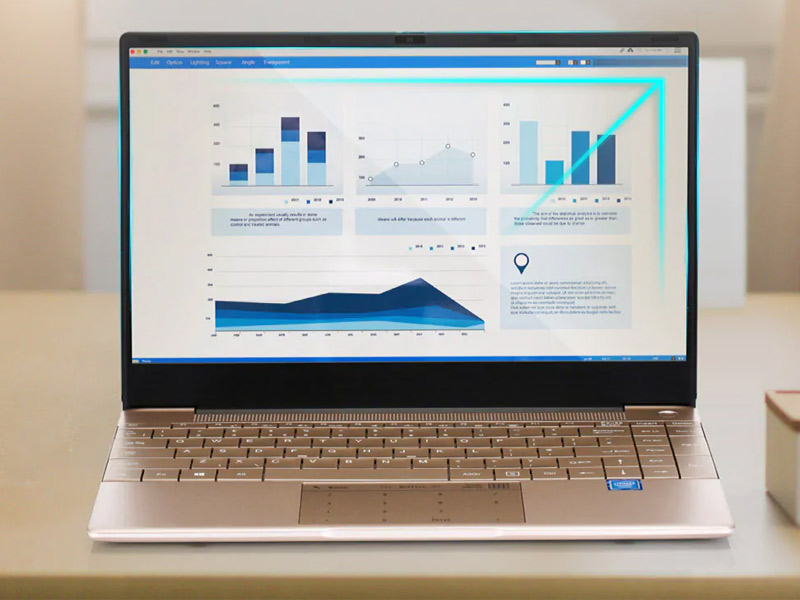 The machine's display is based on IPS technology, so the colors, contrast and viewing angles will be fine. In addition to the 14,1-inch image diagonal, we get a full HD, i.e. 1920 x 1080 pixel resolution. The manufacturer also highlights the display-house ratio in the advertising material, which in this case is 80 percent, which means that according to the paper form we have to find rather thin coffees around the display panel. In practice, I would rather say the thickness of the coffees is average, but by no means large.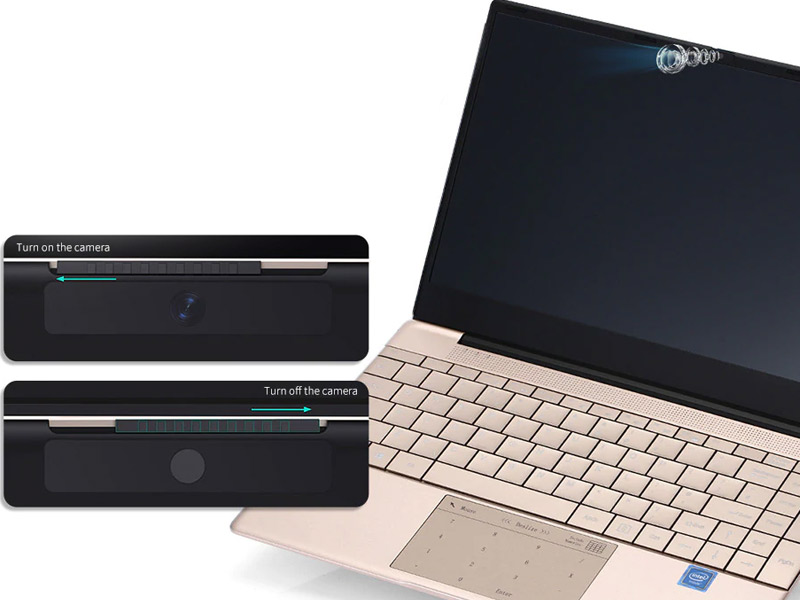 Let's see the remaining abilities. Of course we have Wi-Fi, ac standard, dual channel, we also get Bluetooth and we have a 0,9 megapixel front panel camera and of course a microphone for net chatting. With regard to the camera, it is important that you get a removable small cover (inside, not visible) that obscures the camera sensor when not in use. It is good to say that we are sensitive to our private sphere. The battery has a capacity of 5000 mAh. It's sympathetic to me that they don't project in promotional materials with trillion hours of standby time, roughly realistic 12 hours of standby and 5 hours of working time.
---
KUU K2 - Software
To my great surprise, the machine did not come pre-installed with the usual version of Windows 10 Home, but with the Pro variant. This is good not only because we have more freedom to intervene in Windows stand-alone and automatic update processes — and other things — but also because the machine can be used in an enterprise, domain environment.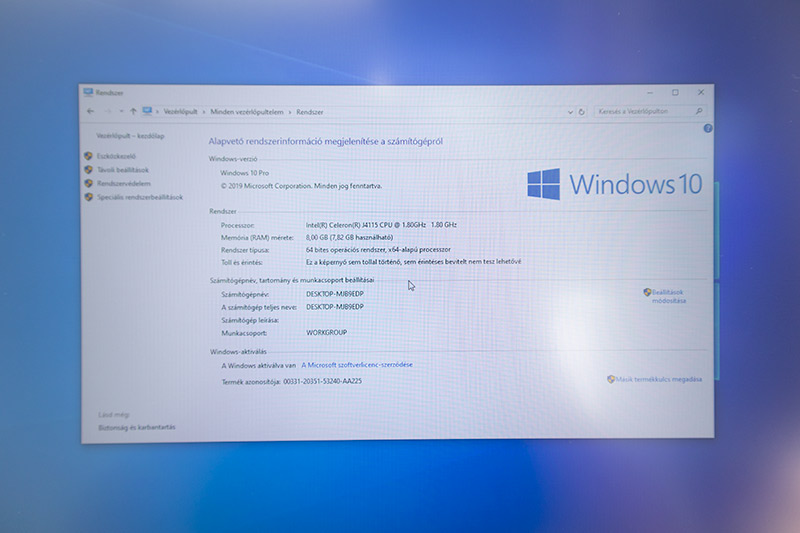 With the pre-installed operating system, you don't get all kinds of lim-lom programs, just the basic Windows. It's a great pleasure, it's because, for example, my Xiaomi notebook, which I loved to the point of admiration, got a bit of a hacked Windows that didn't even translate perfectly. Of course, installing a new, legitimate Windows 10 helped with the problem, but with KUU K2 we won't have a problem with that, because Windows 10 Pro will be ready to use right away with the Hungarian language and regional settings you can choose during installation.
I mentioned above that the physical layout of the keyboard is American, but we can also set the Hungarian when starting Windows. In this case, the accented letters are put in place. If you type blindly, the problem is already solved, but if you have to look at the keyboard in the meantime, you can use a keyboard sticker.
---
KUU K2 - Operation
Let's start with everyday things. As I wrote above I have had the keyboard very good. This is a pretty neuralgic point on these cheaper machines, I already had a branded structure between my hands on which I specifically hated the keyboard.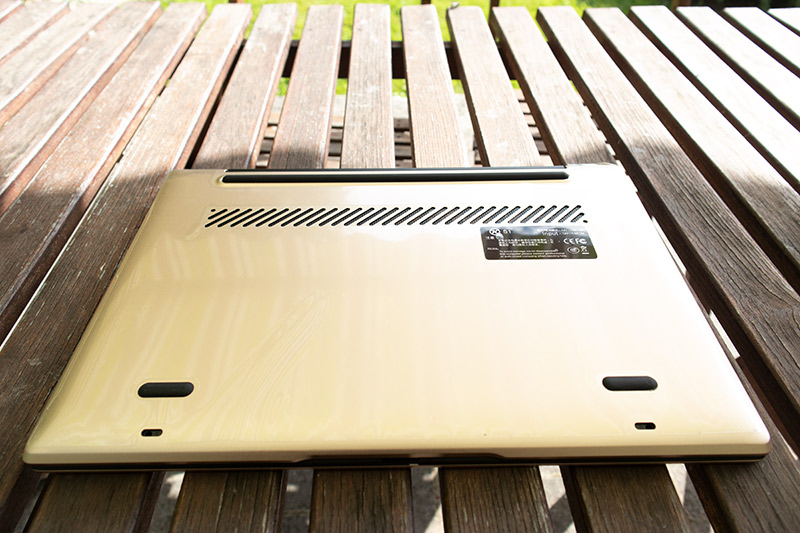 The touchpad is the right size, in fact, it can be said to be quite large. In the case of the BMax Y13 tested last year, this was perhaps the only thing my partner, who has been using the machine ever since, complains about, double-clicking sometimes doesn't want to succeed. In the case of KUU K2, it doesn't click so strongly, it can be felt when pressed.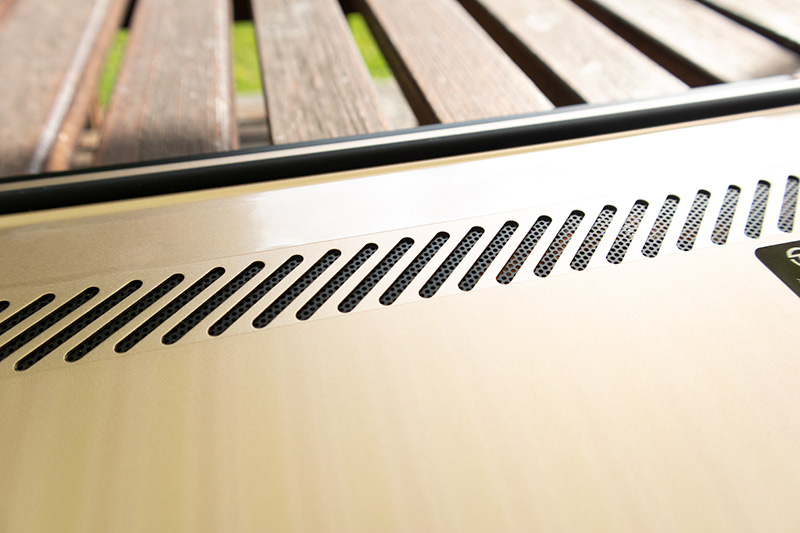 In the same way, there is no problem with the sensitivity of the pad, you can easily and accurately control the mouse pointer.
I didn't have to be disappointed on the display. I haven't seen an IPS panel before, the one in KUU is one of the better ones. The image is sharp, the backlight is fairly even, and there are minimal differences in brightness, but this is only visible if someone is explicitly looking for bugs.
The speed of the machine is exactly what I expected of it. The Celeron proci doesn't tear the romp, but that was to be expected, but the weakness of the processor doesn't affect almost anything, thanks to plenty of memory and fast storage.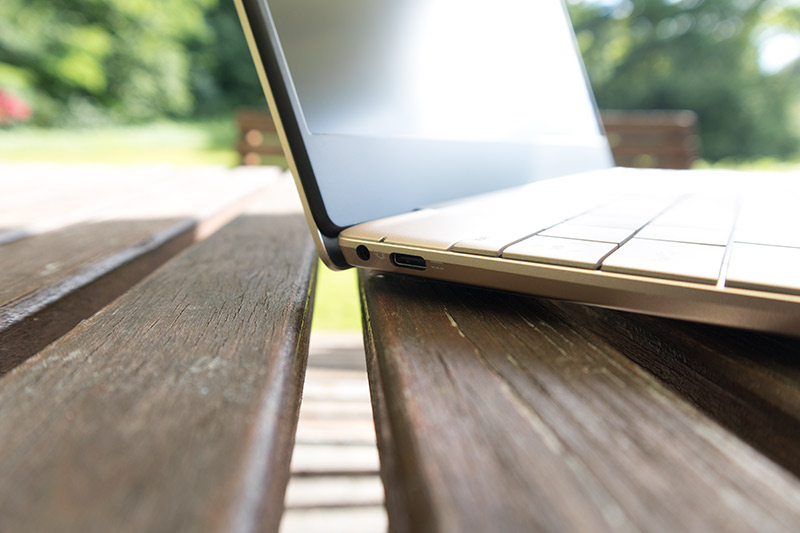 Just an example of speed. With the machine completely turned off, 16,15 seconds elapsed between pressing the power button and fully loading Windows. Roughly this speed is typical during use as well. The launch of programs is lightning fast, but of course it also depends on what computing software we use.
In general, if we don't insist that the latest version of everything is up, even a Photoshop can be used happily on it. Of course, I don't think we're going to edit hundreds of crazy large RAW images because we're going to get into it, but we can even get by with larger JPG images.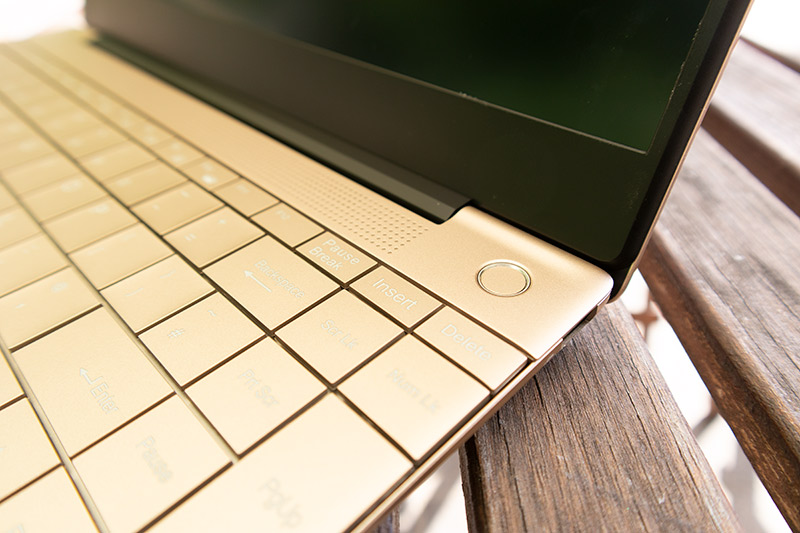 There's obviously no problem with software packages like Microsoft Office, although I've seen an Excel file that has laid out a Core i5 machine, so that makes sense, and should be understood as average use.
After that, I think I'm no longer telling a sensational thing that it's a perfect machine for correspondence, Facebook, web browsing, watching YouTube videos, but of course it can also be used to watch downloaded movies.
It's almost inevitable, and it's sure to be the case now, someone is coming here who will comment that the hardware is so weak that it's good for nothing. I indicate, this is not true, if it were true, no one would build a machine based on these processors. Not only the Chinese don't, but larger manufacturers like ASUS, Acer or Lenovo and HP, but Zotac wouldn't build a minicomputer on it either.
I haven't talked about the sound yet. No speakers were built into the KUU K2. The volume isn't something steel, but luckily it sounds pretty nice. Understand, the sound is not distorted at a very high volume, because let's face it, there is no very high volume. To the bad speakers, I used to say that Sokol is radio quality, so luckily it's not, in fact, it's rather surprisingly clear.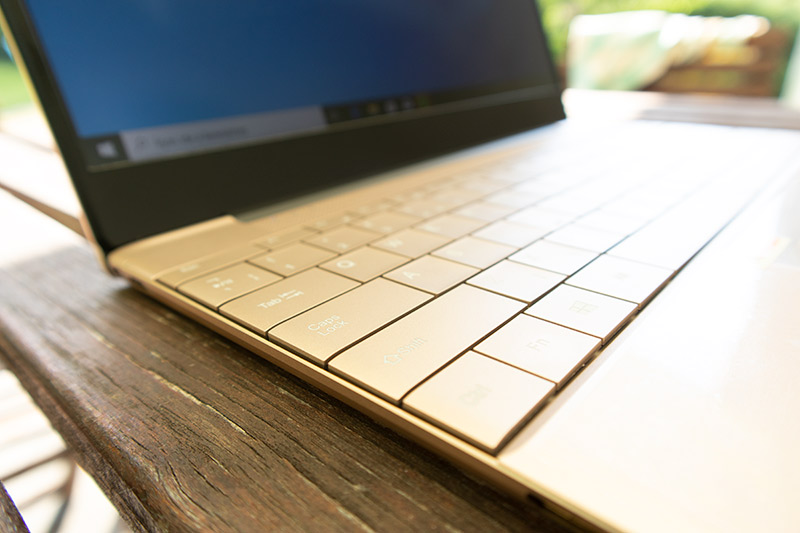 Battery and power consumption. I chose Youtube video recording for the test with full screen display, because in this case not only the VGA controller, but also the proci works, and of course I need an active Wi-Fi connection. So we're talking about relatively fast-paced, yet close-to-average wall usage.
I charged the machine to 50 percent, so with 20 minutes of video, the charge dropped to 5 percent to 45 percent. The rate remained roughly the same with one hour of operation, meaning that the charge dropped 18 percent in one hour. From this point of view, the 5-hour use specified by the manufacturer seems completely realistic.
---
KUU K2 - Conclusion
Honestly, I was afraid of cheap Chinese notebooks for a while. The only exception was my own Xiaomi machine, because it is really perfect, now, after several years of use, it is in excellent condition, I dare recommend it to anyone.
However, I was afraid of cheap machines. I was afraid of their quality, their speed, and so in general, I was reluctant to propagate them, no one would scold my ancestors if they bought it and it turned out to be crappy.
Then I got a Teclast, later a BMax, and now here's the KUU K2. I would add that the BMax Y13 was not only tested by me, it also stayed here, my couple has been skinning every day for more than half a year now, and for now, I knock it off and love it. True, it's a smaller 13-inch machine that also has a touch-sensitive display that can be driven into tablet mode, so it's not a classic notebook.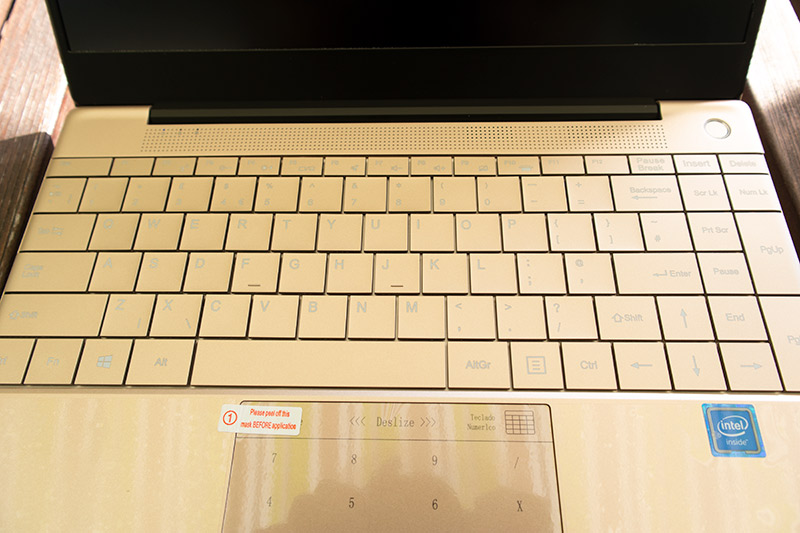 Now that I'm trying my third cheap note, I had to realize that my initial fear was completely unfounded. Surely these machines are no different from the entry-level laptops of the larger brands. If we discover any difference, we can make it at most on the price tag, because surely, as we have become accustomed to in the case of Chinese porters, here we really have to pay for the iron, not the brand name.
To whom do I dare to recommend and to whom not KUU K2?
If you are editing a video do not buy it! If you want to manipulate photos on this because of your work, don't buy it! You don't want to use CAD programs on this machine, at least you don't want to use them in 3D. Don't want to play the latest games on this notebook!
You net a lot, this is your machine! You basically want to edit photos, and it doesn't bother you, if the installed program was released 3-4 years ago, feel free to buy it! You edit text, write, learn on it, you will love this machine. In the evening you love watching the new episode of your favorite series in bed, this notebook was invented for you!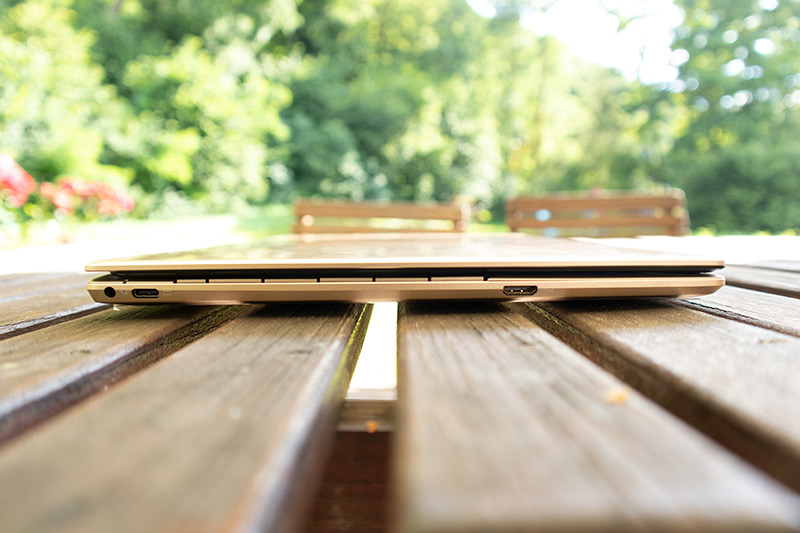 This week, as part of the introductory campaign, the version with 256 GB SSD storage can be put in a basket for HUF 96, and delivery is free. When purchasing, make sure that Ship from: has European listed, which means you want to order from a European warehouse. For such orders, the merchant promises a 300-3 business day delivery time.
More notebook tests on our site
Evaluation
92%
Evaluation The KUU K2 notebook delivers great performance at a low price. Incidentally, it looks good, assembly and material selection are flawless, and convenience features such as fingerprint-based unlocking are not left out either.