Kospet Probe smartwatch test - amazing knowledge for barely 11 thousand forints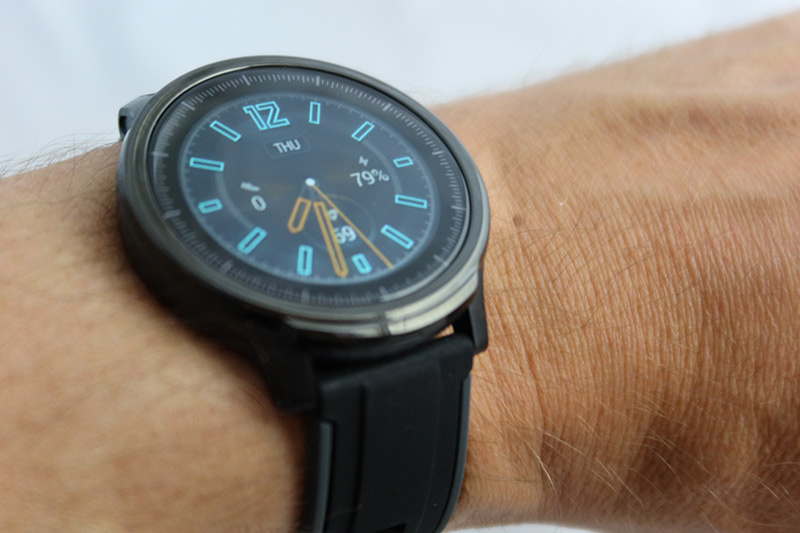 It's nice, it's cheap, you can swim in Kospet's class, how did that get you out of that much money?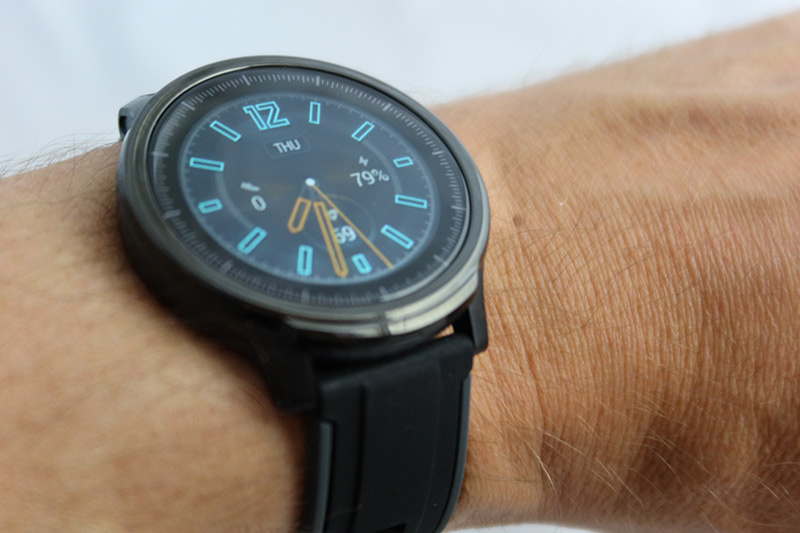 ---
Introduction - Kospet Probe
In recent years, smartwatches have undergone amazing development. Compared to the first tools, today we also get knowledge from cheaper pieces that didn't even exist for 2-3 years. Plenty of new sensors have appeared in these wearable smart devices, so today not only sleep and heart rate monitors are almost basic, but also measurements such as blood oxygen levels and blood pressure measurements.
In order for this not to be enough, the price of these sensors has also dropped considerably, so it is becoming less and less surprising to get these capabilities around the price of 10 thousand forints.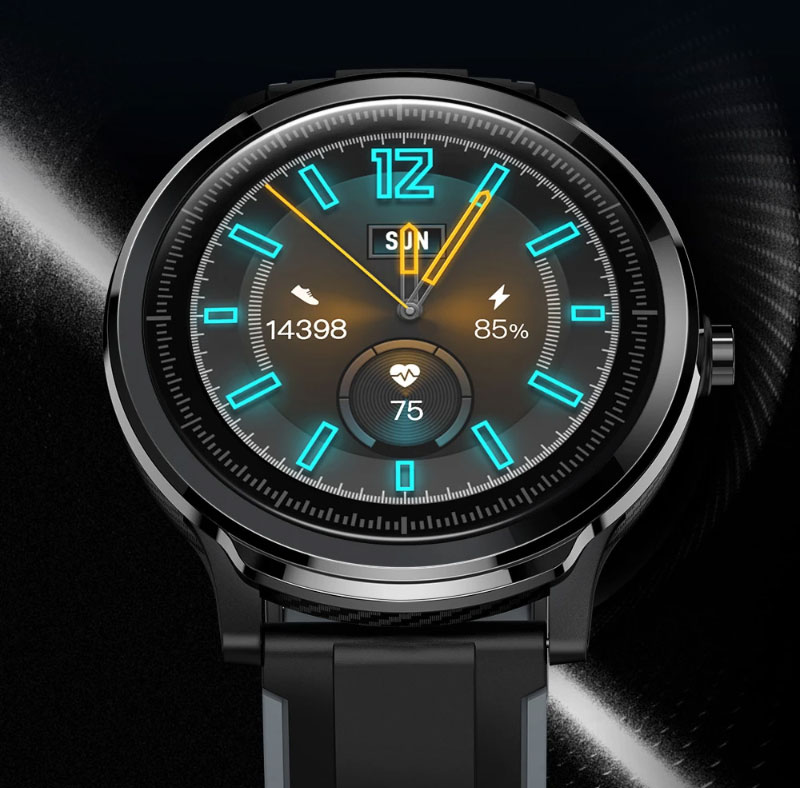 Kospet has launched a lot of amazingly good watches in recent years, but the ones that really caught my attention weren't out of the cheaper pieces. That was simply because they were able to pack a complete mid-range phone into their expensive Android watches. In addition to the quad-core processor, 3GB of memory and 32GB of storage are not uncommon, and they even add a dual camera to their newer solutions to enable face-based unlocking and video calling.
The Probe in the article, however, is a completely different tool. At first, it was not his knowledge but his appearance that caught on. Classic, round, large display, frost-free housing, comfortable-looking strap. Then when I started browsing the range of abilities, the state dropped, and the surprise was only heightened by the price tag. I had to buy one to believe there was one.
The watch has arrived, it's been on my wrist for a week, so it's time to introduce it to you too.
---
Packaging, accessories
Not only compared to how cheap this watch is, but anyway, I've come across so many accessories in addition to a smart watch.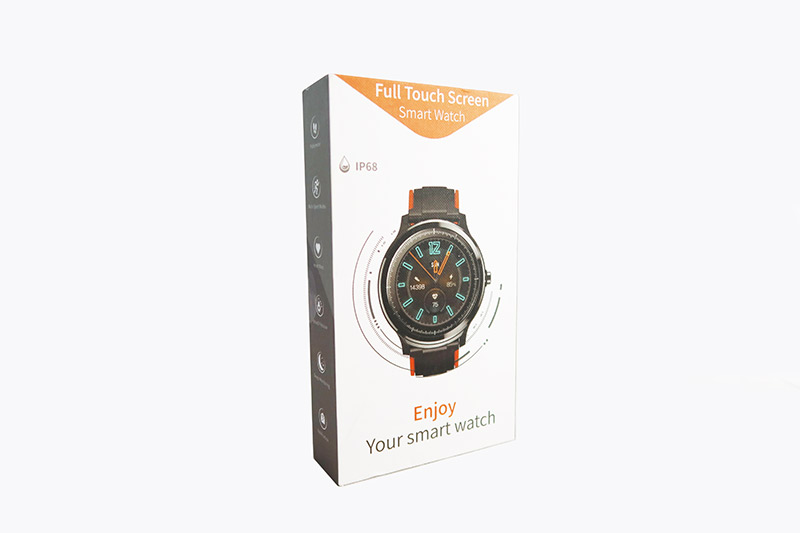 The box that hides Kospet Probe is small and can even be said to be tasteful, as long as a simple cardboard box can be tasteful. Lifting the lid, you will immediately find the watch with a striking protective foil on the dial.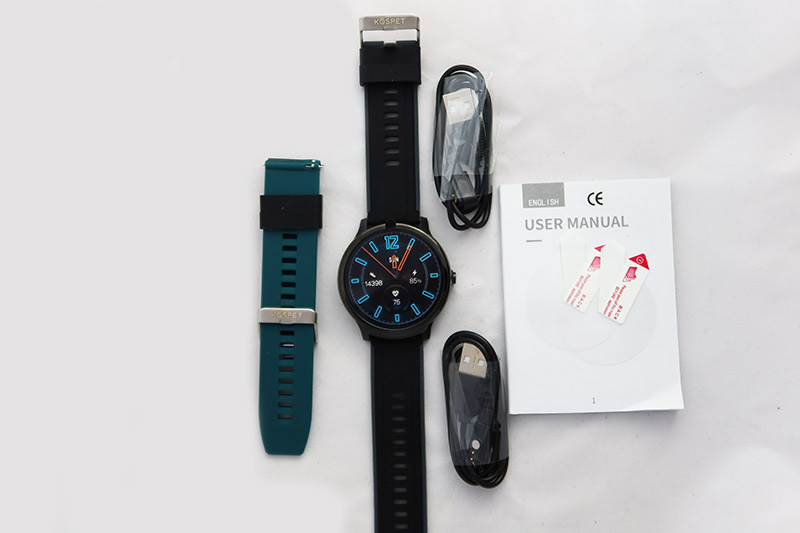 During the class, a tree hides the curiosities, more precisely the line of accessories:
Thick description in English
An extra silicone strap in showy green
2 pieces of screen protector
2 charging cables
I think we can safely say this in abundance, I was actually looking for the state when I saw this package.
---
Hardware
From smartwatches, we can distinguish two main groups. One is watches fitted with a version of Android, and the other is pieces that run their own operating system. The former are much more expensive, require a large amount of memory and storage due to Android, and of course, a strong central unit is not unnecessary for the system to run smoothly.
The latter group, where we can't find Android, is much simpler. It only needs relatively modest hardware to operate, so despite the not-too-large batteries, they are able to operate on a single charge for 1-2 weeks. Their disadvantage is that it is not possible to install programs on them afterwards.
Of course, this is not as much a disadvantage as we think at first, because thanks to well-thought-out software (already from which manufacturer the software is really well-thought-out), we don't even need a program other than what is available in class. This means that these watches will truly be full-fledged smart watches, capable of performing every operation we can expect from such a watch today.
Kospet Probe belongs to this second group, so it is vital that the software installed on it is good. Whether it will be really good to discuss a paragraph below, but now let's deal with the iron that drives the device!
The "brain" of the Kospet Probe is the NRF52832 processor, which highlights the low power consumption of most testers and of course the manufacturer itself. Just 512K of storage and 64K of memory are enough for the system to run smoothly.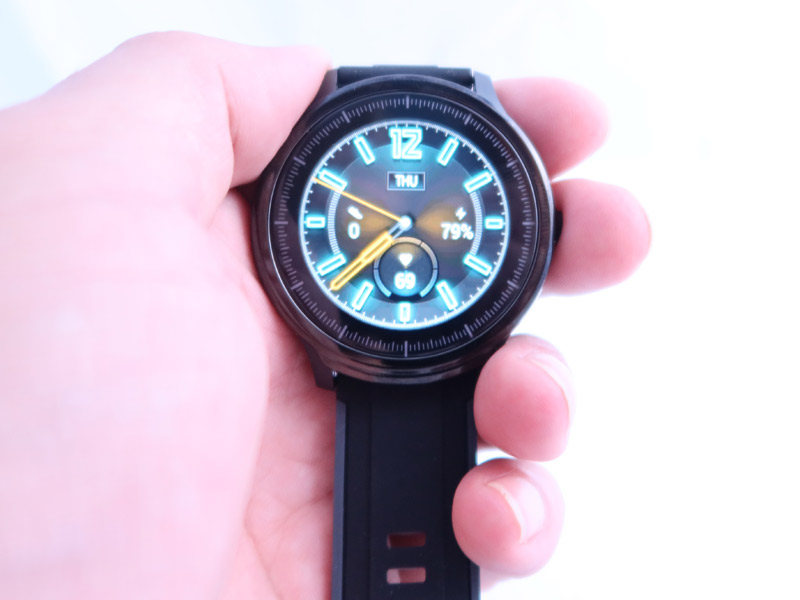 One of the most important components of the display, it determines how enjoyable our watch will be. Well, there's no problem with Probe. Of course, the low price did not include AMOLED technology, but we don't have to complain about IPS either. It also doesn't complain about its size, as this 3-inch, 240 x 240 pixel panel is large enough to comfortably control the clock through it.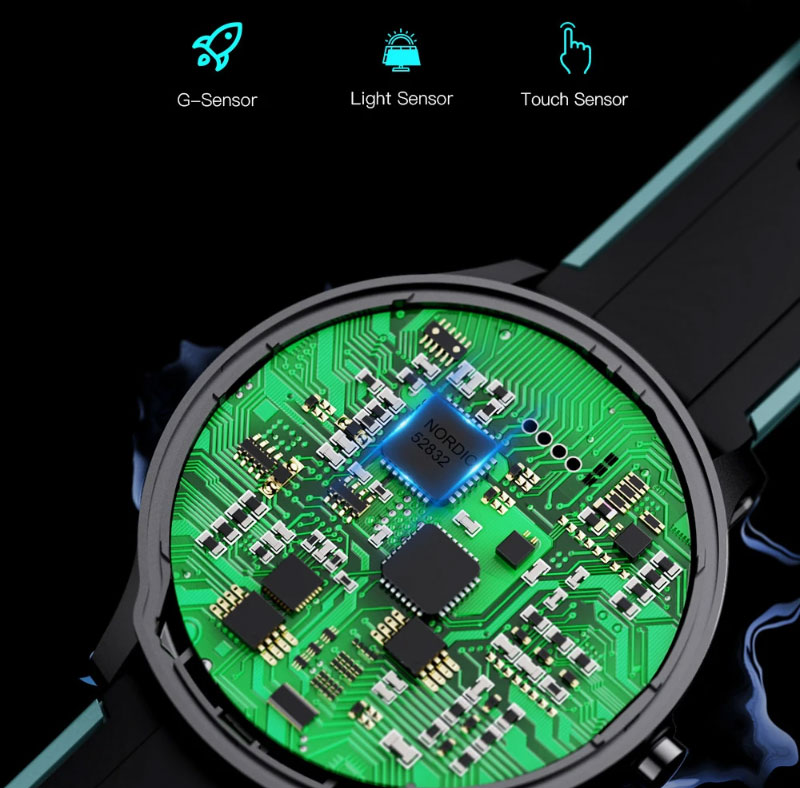 From the previous sentence, you can already see that with just one physical button, there will be a touch-sensitive display on the entire surface through which we can access the functions. It is important to note that according to the manufacturer's data, the watch has protection over the display, not from plastic, but from tempered glass, in addition, as I wrote above, we even get two screen protectors.
Probe shouldn't be ashamed of other abilities either. It also has a gravity sensor (Bosch BMA421) and a heart rate sensor, the upper part of the watch case is made of zinc-magnesium alloy, and the built-in 250 mAh battery provides 60 days of standby time or 14-15 days of use. For the time being, I can neither prove nor refute the latter, because I did not have to charge it during the one-week use.
Last but not least, the watch has been marked IP68, which means we can even swim in it. We don't want to dive, it won't be right, but a little swimming or a shower won't hurt the structure
---
abilities
I am in serious trouble because there are so many of them that it is not possible to discuss everything in detail. It could be more specific, but then you would still be reading this article tomorrow night. So, let's just insist on writing everything in points for the time being, then going back to them a bit in the experience chapter.
Let's start there with the fact that the Kospet Probe is not only a smooth watch, but also a sports tracker, meaning it can also measure our performance during sports.
Normal, familiar clock functions include:
Interchangeable dial
Adjustable brightness
Display incoming messages
Display of incoming calls
Reject an incoming call
Phone search
Control your phone's camera
Remote control your phone's music player
Weather display
Sleep monitoring
Warning for regular fluid intake
In case of sitting work, a warning about regular exercise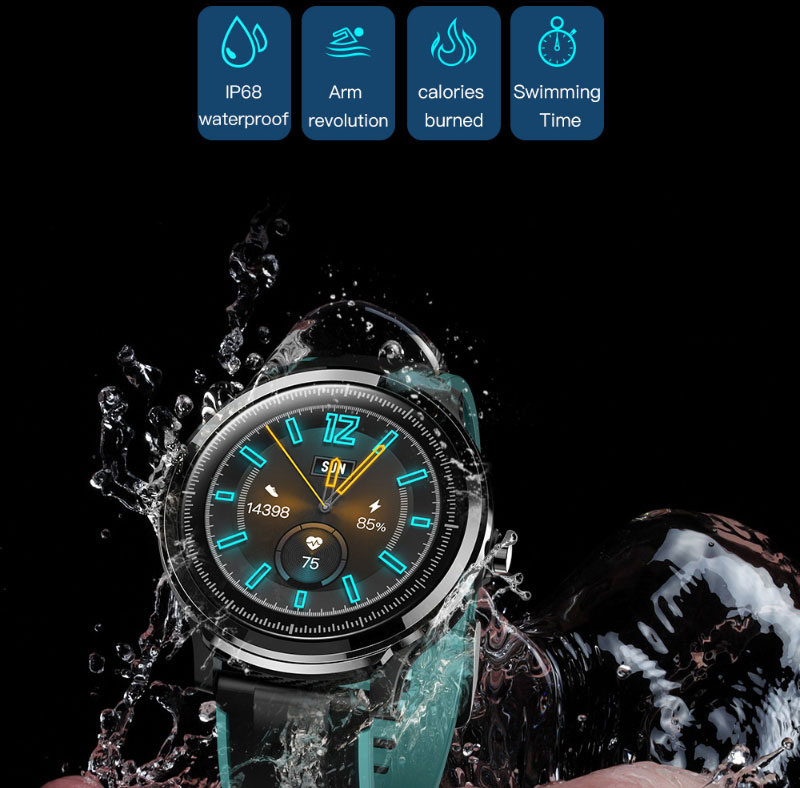 Sports features:
step Count
Stopper
Measuring calories burned
Heart monitor (up to 24 hours)
Blood oxygen level measurement
Blood pressure measurement
Breathe training
And then come the supported sports! Well, this is also a data set where we don't find the usual 5-6 kinds of sports, but pay attention:
Treadmill running
Outdoor running
Outdoor cycling
Walk
Free training - gymnastics, etc.
Elliptical machine
Mountaineering
Skipping rope
Weight-lifting
Joga
Basketball
Foci
tennis
Badminton
Ping Pong
Swimming (only available from the clock menu)
Any more questions? I don't think so! Seeing the lists above, you may already understand why you don't want a complete chapter that features each one individually. Here, it's worth going back to the part where I said that with a well thought out software, the user simply has no reason to want to install anything other than the factory apps. Well, with Kospet Probe, no one can have a sense of lack, spinning an extensive list of features.
---
Phone App
In addition to the watch, you can download an app called YFit to your phone, which is of course also available for iOS and Android. When I saw the app rating (2,6 out of 5) in the store, I was a little scared. Then I downloaded, installed, so now I just don't understand what others might have had a problem with this program. I can assume that the older versions didn't play well because the current ones I think are flawless.
More precisely, he has a mistake because he does not speak Hungarian. It's not as if the English interface can't be understood, we can find recognizable pictograms everywhere to help with orientation.
The program is easy to navigate, has well-separated measurement values, sports, and settings interfaces, and is so beautiful, colorful, smelling throughout. It looks really good, but you can see that in the pictures.
I'll be doing a video test later (probably next week) that will show you everything, sign up for my YouTube channel so you don't miss out on it: HOC Vlog
Before we move on, it's also important to be able to start any measurement from your phone's display so you can easily check your blood pressure, heart rate, or blood oxygen levels. In the same way, various sports measurements are also available from the phone (with the exception of swimming, which can only be started from the watch menu). We can also start and stop them on the display, of course, if the phone is with us while playing sports.
Finally, a few words about pairing your phone and watch. Just a few words because it's about 1 minute all over. We download and install the program. At the first start, we give you the necessary permissions, start adding the clock, which already shows that you have found a device in about five seconds. We click on it, the watch says it's connected to the phone and we're done!
---
Use
Fortunately, today, a kind of trend is beginning to emerge with regard to the watch interface, so anyone who has tried such a watch will most likely do well with the next one.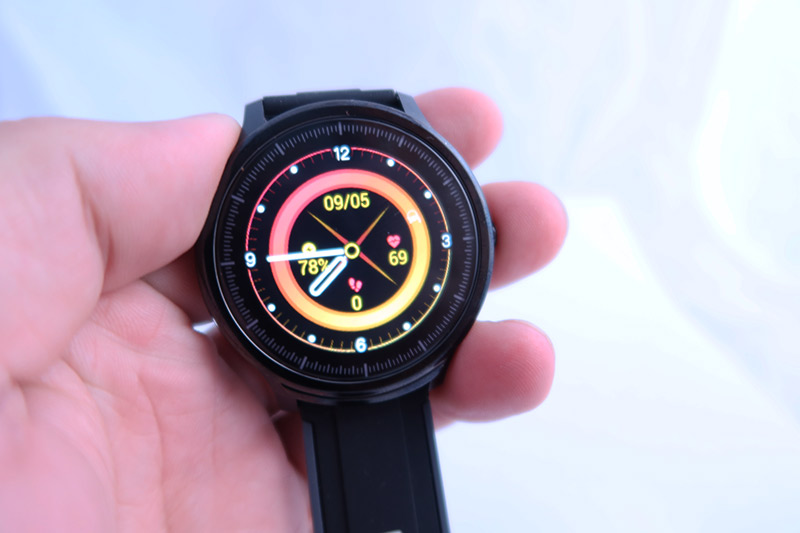 Of course, the clock is the main background, of which we find three types of this watch and four more looks over the phone. Not an insane amount, but I like all but one of the selections. Since I already have to wear glasses to read and I don't like flashy solutions, they look better in vain. Luckily, there are several that have good big numbers, so I don't need glasses to figure out how much time.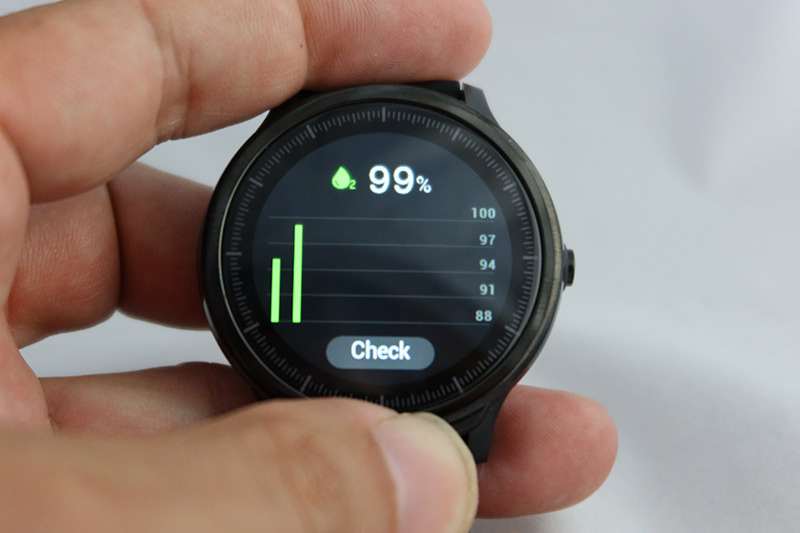 The display can be switched on with the physical button on the side, with this we can always return to the account when it is switched on, no matter what menu is wrong.
By swiping your finger on the display in different directions, you will find the following functions:
Top - down - quick adjustment (brightness, flashlight, etc.)
Bottom-up - heart rate measurement, blood pressure measurement, blood oxygen level measurement, music application control
Left to right - incoming messages, calls, etc.
Right to left - pedometer, sleep monitor, weather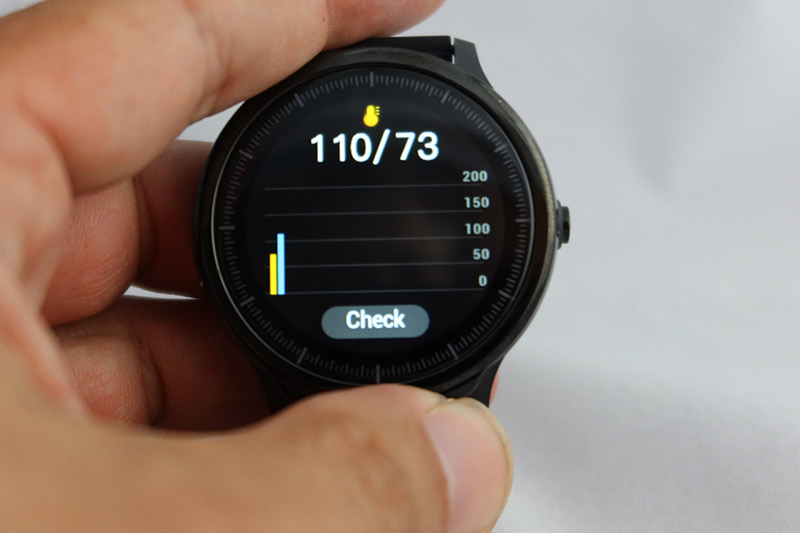 The main menu can be accessed from several directions, here you can find the following menu items:
Choice of sports
Set regular breathing
Remote control of your phone camera
Stopper
Phone search
Display off time
Dial selection
Reset
Turning off
QR code to find the phone application
Dump software versions of the clock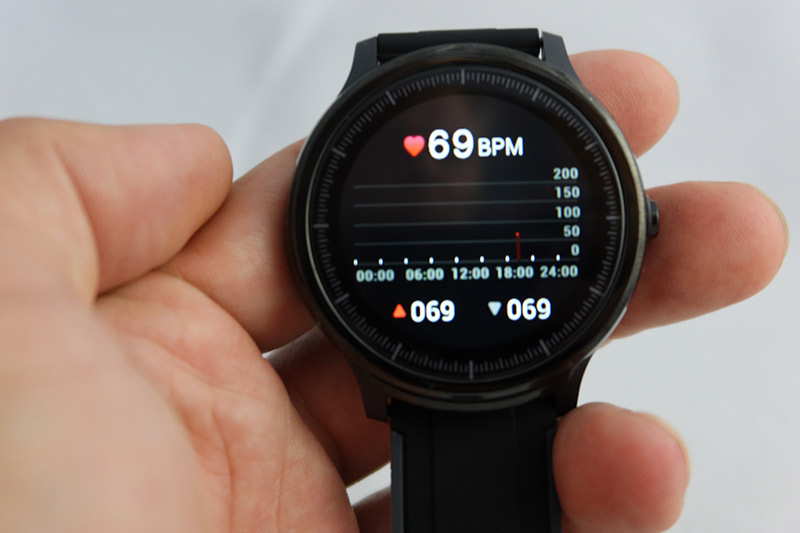 The surface of the watch is also English, but here it is even more valid, which is the case with the phone app, i.e. the inability to get confused, even if we don't speak a mukk in English. Well, in this case there will be a menu or two that you will have to look at what you are doing, but you can learn the thing soon.
---
Experiences
I've been ordering a cheap watch. Not because I want to replace my TicWatch watch, which I've been using for quite some time now, simply because of curiosity, writing the test. Then it was like it didn't become an article, I tossed it on the net and got rid of it cheaply because the gadget didn't come in so much.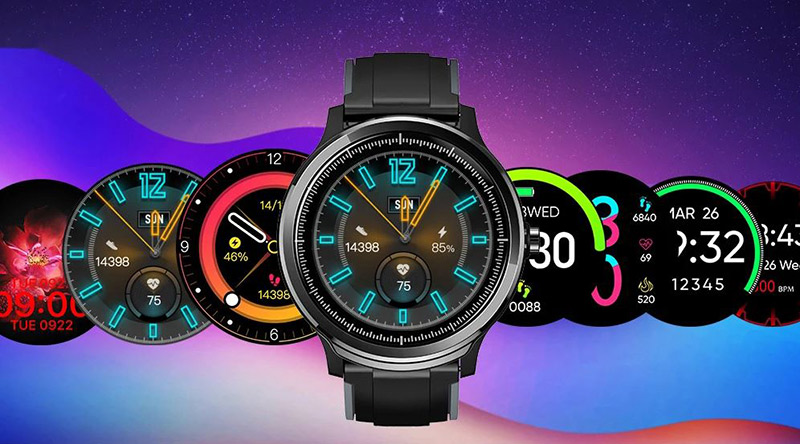 Luckily, I didn't have to be disappointed with the Kospet brand now either. I also really like their expensive watches, which is why I was curious about what they can give for 10 thousand forints. Well, in short, beef a lot!
Unfortunately, I didn't have a way to try all of the sports, maybe I didn't have to explain why. It was running, walking. I could have lifted weights as well, but I didn't have any teeth for that, but I would have been most interested in swimming, which is not feasible in this case, unless I have my own swimming pool at home (no).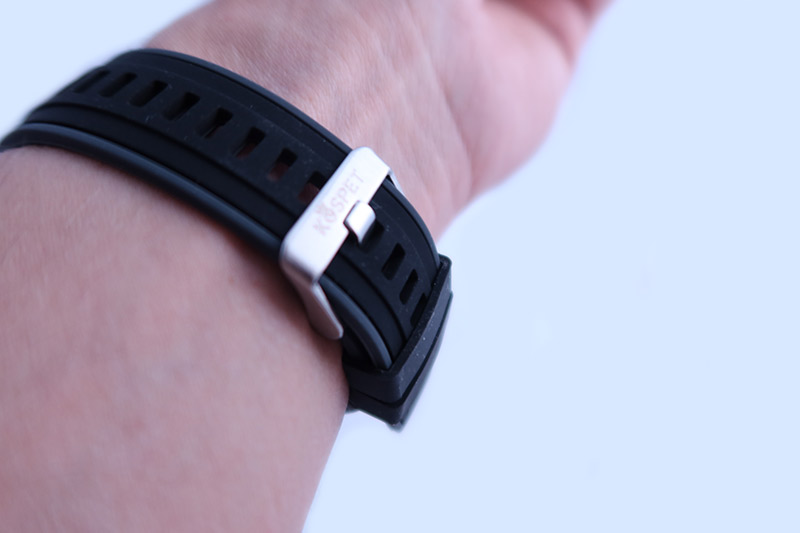 The sports worked well for me. It is important that there is no GPS in the clock, but the phone program can manage the clock data and the phone's GPS together, ie if we take the phone with us to run, not only the number of steps, but also the GPS will help to accurately burn calories. calculation.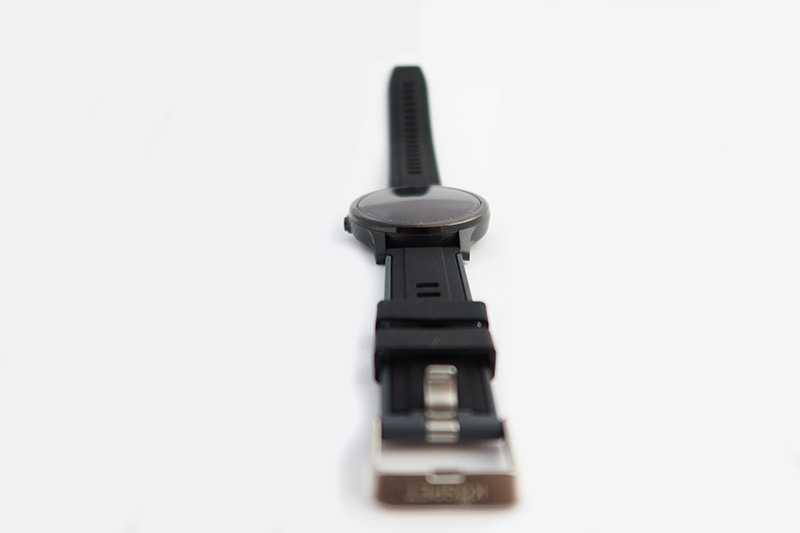 The watch's display may have received perhaps the most criticism for not being AMOLED. Sure, if someone wants to spend a lot of money, they buy a multi-fold AMOLED display watch, but a lot of people can't afford that.
The display is absolutely clear under normal lighting conditions, but when the sun shines, the backlight intensity is low. Unfortunately, this is just such, for 10 thousand forints, let's be glad that an IPS panel operating in quite contrast and beautiful colors will be included in the watch.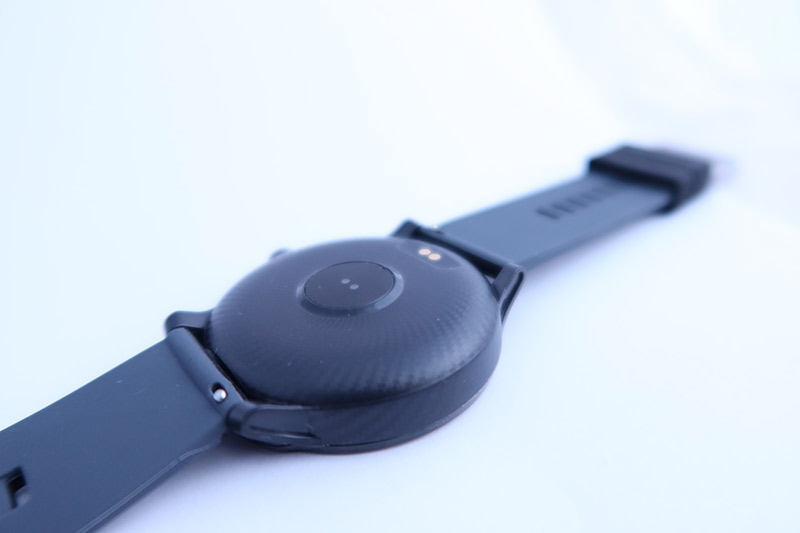 Measurements. Unfortunately, I was not able to compare the measured blood oxygen level with other measured results, but I checked my pulse and blood pressure with an upper arm sphygmomanometer. The result was that although the measurement was not accurate, the error was relatively small for me, and it was always wrong in one direction, upwards, meaning the watch measured its blood pressure slightly higher than the upper arm meter. The heart rate, on the other hand, was essentially correct, with a difference of one or two values ​​up and down, but I think this is acceptable.
It is very important and gratifying that although the watch does not speak Hungarian, it displays Hungarian accented characters flawlessly. This is important because incoming messages remain legible on the dial as well, we don't have to spell out all sorts of silly signs about what was written to us.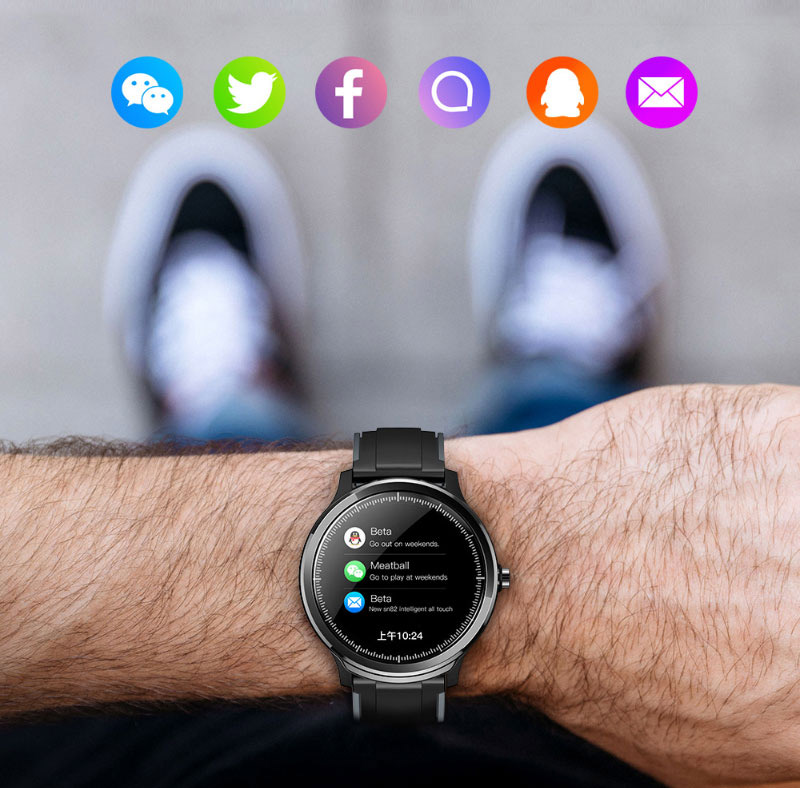 No one will complain about the strength of the vibrating motor built into the watch. Let's say my main test is whether I can sense when I have an incoming message or call while riding a motorcycle, but due to the special situation mentioned above, I couldn't check it now because I don't move out of home very much, ah and yes, I don't go shopping on motorbike either . So motorcycling is unfortunately fired.
The point is that during normal use, the vibration is well perceptible and the pictograms on the watch are also perfectly good, even without glasses I can see if I have anything else to do (e.g. read a message or stand up a little in front of the machine).
---
Conclusion
Kospet Probe was a pleasant surprise. Okay, it wasn't a breast-cutting experience because I know Kospet's classes, so I had high hopes that I would like the Probe as well, so all that happened was that it lived up to my expectations.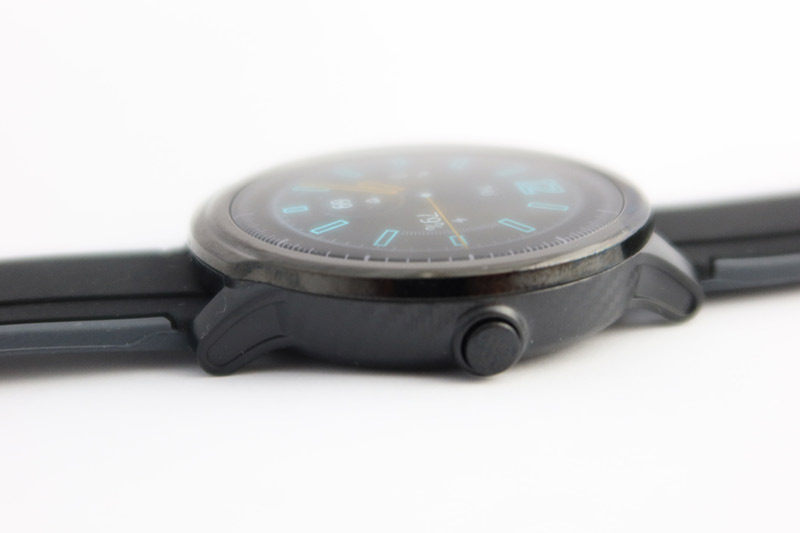 I haven't had a blood oxygen and blood pressure meter so far, so I can't compare this to other similar products, but as I wrote, it was as accurate as might be expected, and the mistake always pointed in one direction from which I concluded that it really does something, even if not the most accurate. So when measuring blood pressure, it is enough to see once how much is wrong and in what direction, and then we can already calculate what the real data is.
I didn't describe it for the abilities, but obviously at one hour it's very important to be comfortable to wear. And Kospet Probe is. The two-layer silicone strap is soft enough to not sweat under my wrist. This, of course, may not be true for anyone else, we are not the same in this respect either.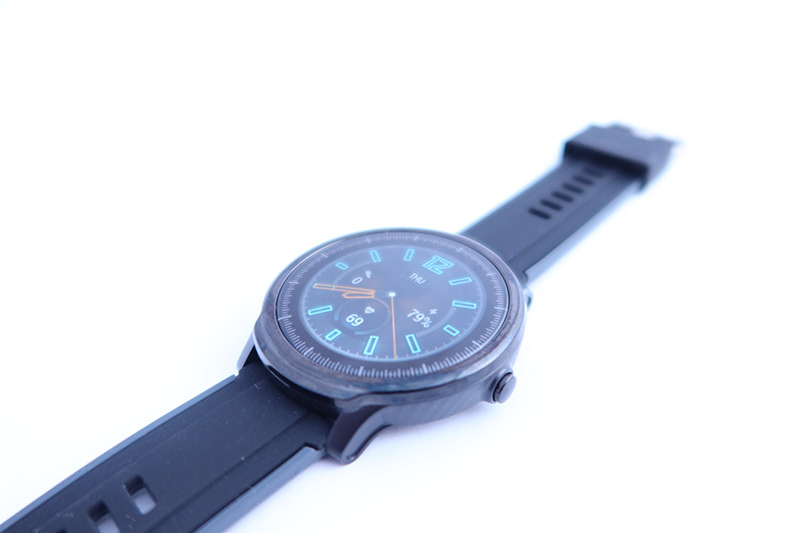 The watch is in tears, not too thick, so after a while we don't even notice it's on our wrists. The thickness is important to me because, for example, using Kospet Hope, I couldn't zip the sleeve of my motorcycle jacket. In the case of Probe, no one has to worry about this, it will also fit in the tight coat sleeves.
So what is the final conclusion? The fact that the Kospet Probe, which costs just 11 thousand forints, is a real, disappointing smart watch. If you don't want to fill your watch with programs, if you feel the flow of abilities listed above is enough, you'll love Probe too!
Buy here you know: