We tried: Kospet Optimus - a smartphone transformed into a watch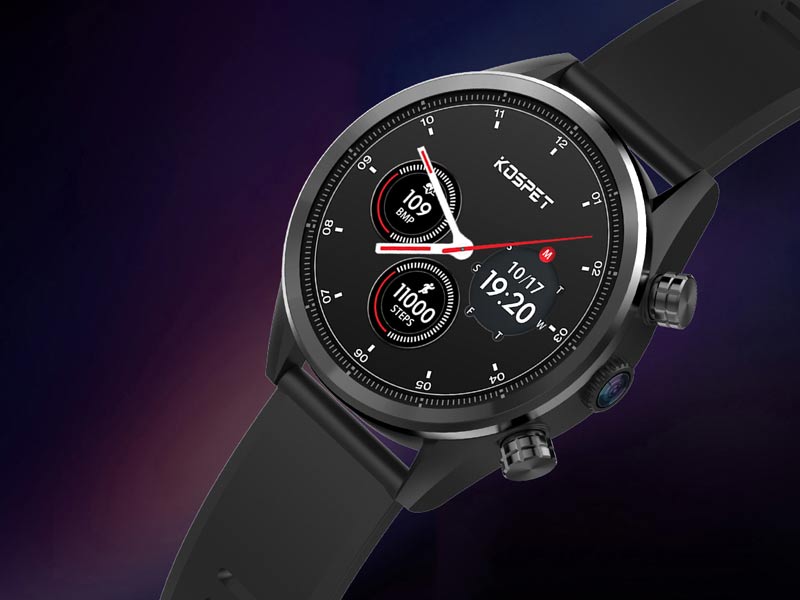 We tried the cheaper release of one of the manufacturer's peak watches, which is all but boring.
Introductory
We have already noted in several articles about smart devices how strongly this area is going through, the number of devices sold is almost explosive, which is also largely due to the fact that the production volume has skyrocketed and the supply is huge. Whether it's a simple activity meter like the Xiaomi Mi Band 4 or the Honor Band 5, or the poisonous Samsung, or maybe an Apple smartwatch, the palette is now so wide that anyone who really wants some smart device on their wrist is sure to find it. Now, we want to introduce a product that exudes high-end virtues in many areas, but its price stays in the ample affordable range. He is none other than Kospet Optimus, the Kospet Optimus Pro little brother. Let's take a closer look at it!
Many may be (still) unfamiliar with the name of the company, but it's worth paying attention to because they've repeatedly put on the table something that "bigger" manufacturers can envy. The company itself was founded in 2014 and is present in more than 40 countries with their various products, aiming at no less than the introduction of a high-end brand in the market. First of all, there is a watch that tries to stand out from the rest of the market in many areas.
Box, accessories
The watch came in a cardboard box embossed with the colors of the company (white, some blue), which is a minimalist but good-looking solution. Of course, the box is only interesting until we open it, after that it will be pushed aside anyway and the inside will be the point. What came outside the box is an extra gift strap for the product - at Kospet, they understand the need to collect the first red dot quickly. It soon became clear that the strap was, of course, replaceable.
The cardboard-wrapped garnish is medium: the essentials, packed in a soft bag and surrounded by delicate material, hide a cradle, a microUSB cable, a user manual, a screwdriver, spare screws and a spare screen protector, the latter also delightful. A UK-EU converter head was included with the strap, we can't do that since. The factory's silicone strap arrives already fitted, so once charged, the smart device is immediately ready to take its rightful place on our arm.
External, display
Kospet Optimus is not a small piece, it will soon be clear from the numbers as well. The watch case has a diameter of 48 mm and a thickness of 15,6 mm. with the silicone strap provided, the watch reaches a length of 274 mm and a width of 24 mm. We can't go without using materials even without a word: the watch cases are made of ceramic and metal, so we don't have to worry about possible injuries. The round ceramic insert already he was also present at Kospet Hope, as an amazingly hard material, is highly resistant to scratches. It weighs just 85 grams - not to say it's a roughly carved piece, but for someone accustomed to featherweight activity meters, it will look pretty monumental.
The watch face is a 1,39 "454 x 454 pixel resolution (square) AMOLED display, thankfully circular, so we can't find any dead spaces on it. It's called the Kospet Retina Display, it's been called by others before, but let's get over it soon, just because the display is really good. AMOLED - so we weren't very surprised by it, but thanks to the high resolution there is no trace of pixelation (372 PPI), the panel is needle-sharp - really top notch. The brightness is, of course, adjustable, with a maximum close-up value that remains readable even in strong sunlight. You can set the number of seconds to turn off, or you can also turn on an always-on display that shows the time continuously with an analog dial - which is pretty dim, difficult to read in more serious light, but better than nothing.
A wake-up call is also given, so if we turn towards ourselves and look at the clock, it wakes up on its own and receives the original dial (home screen). The Optimus has a lot of factory dials, but you can download more from the net in almost endless quantities. The thickness of 15,6 mm is not small, but it will soon become clear that it is justified on the basis of the knowledge inserted, and even so it is a great engineering achievement to fit into this size.
We can observe 3 things on the side of the device body. Of these, two buttons, which are very large in size, are easy to "find". Pressing the top briefly is responsible for anesthesia and wake-up, long pressing is responsible for turning it on and off. The middle, round-shaped element is a camera, because Kospot Optimus certainly offers this as well. Obviously, the area of ​​use is less wide than with a smartphone, but the option is there, and at 8 megapixels (real 5 megapixels) per hour, it shoots quite good photos, but we can even play it for video calling. Below the belly of the watch you will find the charging contacts, the heart rate sensor and a door stop. The factory silicone strap is black, nothing really extra, but it fits the body, as mentioned earlier, its length is 274 mm, so a thicker arm can easily pass through, its width is not small - 24 mm, so it fits the robustness of the Optimus.
The included leather strap also came to us in black, which gives us a little extra elegance in the look. The replacement is not too difficult, you just need to click the small safety pin out of place and you can go into the other copy. It's also available in a brown, maybe a degree better in that. One thing is for sure, if a Kospet Optimus shines on our hands, they are guaranteed to pay attention, it simply attracts the eye. The only icing on the cake is that it's all waterproof, the product is IP67 certified - although it should be added that the manufacturer does not recommend long-term immersion in water.
Hardware, equipment, activity measurement
Now comes the secret of what we can find under the house! The drive is provided by the MediaTek MT6739 processor (4 Cortex-A53 cores with 1,25 GHz clock speed) and 2 GB RAM and 16 GB ROM. Or another coprocessor, which can be identified by NRF52840, is active in connection with BT synchronization in Lite OS mode, but more on that later. This list is quite remarkable considering that the CPU was previously only seen in mobile phones, but the packaging is not average in terms of memory and storage either. In the field of data communication, Bluetooth is given - we get version 4.0 of this - Wi-Fi is already dual-bandes and handles a / b / g / n standards, as well as we get GPS, which can also communicate with GLONASS satellites.
It is no coincidence that the Optimus can even be considered a phone, as we can put a nano SIM card behind the door behind the clock (this requires a screwdriver), which makes it possible to make phone calls and surf the 4G network. It is a special pleasure that the device also handles the B20 band, so it is able to pull things from broadband everywhere in Hungary, where there is a proper deployment. Of course, we get the usual sensors and the vibrating motor, the only thing we can miss is the blood pressure and blood oxygen level measuring function. An 800 mAh unit is available from the battery, which according to the specifications allows 2-3 days of operation and 6-7 days of availability, of course it also depends on the use - we will soon share our experience in this regard.
Due to the fact that it is an activity meter, it was not possible to miss a series of related functions either, so we get a heart rate monitor, a pedometer, and we also have the opportunity to monitor nine sports activities. These are outdoor run, outdoor walk, indoor run, ride bike, play basketball, play football, play ping-pong, play badminton (badminton) and rope skipping.
Szoftver
As far as software is concerned, the watch is running Android 7.1.1, so we get a full-fledged operating system. Language support is also plentiful, which is especially important because the system also supports the Hungarian language. Thanks to this, there is almost a degree of freedom in terms of apps, there is access to the Play Store and we also get standard android apps like contacts, messages, calendar, etc. When the android is running, the 4-core MTK CPU works, which obviously entails a relatively high power consumption, in which case the operating time is also of a smartphone nature. There is another mode that can be accessed by pressing the two side buttons at the same time, in which case the Optimus will restart and load the much more modest Lite OS.
With this software, the touch control is switched off, you can move between the display panels with the buttons. On the main screen, in addition to time, you can read your heart rate, daily stride data and the amount of calories you are satisfied, so the usual things. On the second page we can see the same ones in a larger size supplemented by the distance traveled, while on the third page we are related to the heart rate data. This is roughly the amount of operating time that can be achieved with this mode, according to the manufacturer's data, approximately 5-7 days.
There are no big requirements for pairing with the phone, the device must have at least Android 5.1 or iOS 8.0 OS, but this is no longer a big expectation in 2019. A program called Wiiwatch2 will help you with the synchronization and parameterization, in which you can customize Optimus to your own taste and receive activity notifications.
You can set which applications can send notifications to Optimus, search for the clock (beep), set music control, and more. There's been a minimal improvement since we've used it at Kospet Hope, but overall it's still pretty dewy and clearly lags behind solutions from bigger manufacturers - in this area, Kospet still has plenty to do to catch up.
Usage, operating time
As the In the case of Kospet Hope, Optimus also has a special, hourly version of Android 7.1.1 running on the alarm clock. It can still be said to be usable overall, even if it has its limitations. There are some applications where the buttons protrude a bit from the dial, but in 98 percent everything is easily accessible, adjustable, controllable. Android also speaks Hungarian, all menus and all settings are displayed with a perfect translation, we find English text very rarely. Of course, there is also a Hungarian keyboard, but typing on it is not very convenient due to the small letters, in addition to typing the WiFi password on it, it is not good for many things, we will definitely not be messing with facebook on it. In our opinion, the great virtue of Optimus is the android itself, because this is how we install almost what we want from the Play store. It has enough power, it has enough RAM, it has enough storage space - so why not use it? In this respect, Optimius stands out not only as an accessory, but also as a completely independent device.
We started by popping an app or two on the clock, like Gmail and Waze. The former is obviously good for reading rather than writing on Optimus, while Waze was set up in a matter of seconds, set off, and immediately positioned itself as it should. Of course, while driving, we won't keep our wrists in front of us, but for many of us, navigating with voice help is enough. GPS finds satellites quickly, and Google Maps also works great. So I really liked the freedom offered by the operating system, in this variation the Kospet Optimus is really not just an hour on the arm, but almost a smartphone in a scaled-down form.
The display has been mentioned before, so I wouldn't brush it off anymore. We won't be disappointed with AMOLED's colors and blacks, the resolution is great, the sensitivity is perfectly fine, so this part of usability is 5, except for the "alway-on-display" function, because its brightness is simply too high in many cases. little (outdoors, in natural light). The control and use of the clock is extremely simple anyway. The menus are fast and smooth, we can find everything easily. Drag up to find the pedometer in daily breakdown, and scroll right to see the number of steps, calories burned, and distance traveled that day.
Swipe from the top to the settings section, see the status of the SIM card and Bluetooth, and scroll right to turn on the settings in the phones drop-down menu. Scrolling further is the cleaning function (closes programs, clears the memory), followed by music remote control and weather. Swipe left to right to get notifications on the dial and right to left to go to the menu. I won't go into detail on this, it's basically all like a phone. Except for the fitness menu item, which is not specific to phones. Here we can select the sport mode and see the backups related to that sport.
A few words about the camera. We won't analyze image quality for a long time, as it obviously won't compete with a smartphone camera, but it is a fairly fair piece between smartwatches. Here are:
The battery has a capacity of 800 mAh, which is a fairly high value compared to smart shots. However, on second thought, the Kospet Optimus has to deal with almost a smartphone-level hardware, which is evident in the consumption. If all the features and knowledge of the Optimus are active (WiFi, Bluetooth, GPS, possibly 4G), we need to be prepared to charge the device daily. Obviously, a lot depends on the nature of the use, but we have to accept that such an iron will not offer 15-20 days of operation like tiny, low power activity meters. Using the Lite OS can be a thing of the past, but with that dropped system, we can't really take advantage of the clock's real knowledge. In Android mode, on the other hand, we will have to charge every 2 days. So the operating time can't be said to be strong, but since Optimus is too big to be in our arms at night, we can use the nights smoothly for charging, so we can start the day with the battery pressed on the cob in the morning.
Summary, opinion
By the end of the test, all that was left was to summarize our impressions and experiences with Kospet Optimus. All in all, it can be said that the manufacturer has created a product that can be proudly worn anywhere due to its appearance and use of materials, it really has a look that the eyes stick to. This attraction remains when you see the display. The Optimus is not a small watch, due to its size we recommend it mainly for men, of course we do not forbid the ladies from it either, but it is worth trying something on the hand before buying, which is similar in size and weight so as not to be surprised afterwards.
The hardware and the android running on it is really not everyday, it absolutely highlights the Kospet peak clocks from the crowd, if it can be said to be something like a smartwatch, that's it. However, it's also a fact that it comes at a serious cost in terms of uptime for those who rarely like to spend their things, Android smartwatches aren't recommended for now - battery technology will get there sooner or later to change that. Another serious weapon is the presence of a SIM slot, armed with the knowledge of the B20 band, inserting a SIM card will not be forced on the smartphone, the watch will automatically connect to the broadband net, and as long as it holds a soufflé (or disable it).
The price of the KOSPET Optimus smart watch is currently in the Banggood webshop $ 149,99, As the kospet10coupon code can be reduced by an additional $ 15, so the coupon price $ 134,99r, which is converted ~ HUF 40.490), the Duty free and VAT free EU Priority Line delivery 5,75 dollars (~ 1725 forint), with which the hour arrives in 7-15 working days. If you think you'd rather vote for the Pro version with 3GB of RAM and 32GB of RAM, you'll find it two lines below too!
Specification:
communication : TDD, LTE, B38, B39, B40, B41
FDD LTE: B1, B2, B3, B5, B7, B8, B12, B17, B20
TD-SCDMA: B34, B39
WCDMA: 850 / 1900 / 2100MHz
GSM 850 / 900 / 1800 / 1900
screen type: AMOLED
display size: 1,39 ″
strap length: 274 mm
strap width: 24 mm
resolution: 454 × 454 pixels
operating system: Android 7.1.1
compatible with Android 5.1 & ios 8.0 or later
watch material: Metal + ceramic
strap: silicone strap (additional leather strap, depending on offer)
water resistance: IP67
CPU: MTK6739, 1,25 GHz
memory: 2 GB
ROM: 16 GB
camera: 8 MP (real 5 MP)
battery capacity: 800 mAh
SIM Card (SIM Interface Standard / Micro): Nano
Bluetooth: 4.0
GPS: GPS / GLONASS
G-sensor: Yes
recording: Yes
speaker: Yes
vibration: Yes
clock mode: Yes
custom UI: Yes
pedometer: Yes
message: Yes
weather: Yes
OTA update: Yes
package size Ø 120 (W) mm × 105 (W) mm × 65 (H) mm
package weight : 220 g
charging: 5V / 1A
Package list:
1 smart watch
1 cable
1 manual
1 screwdriver
1 protective film