We tried: GeiL Corsa memory family - it goes better than the 1.2 petrol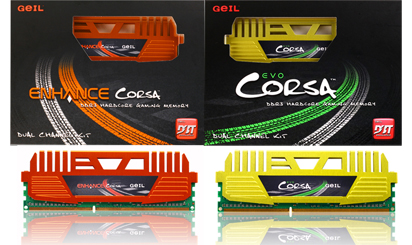 We tried: GeiL Corsa memory family - it goes better than the 1.2 petrol | Memory Articles Arvtech Tests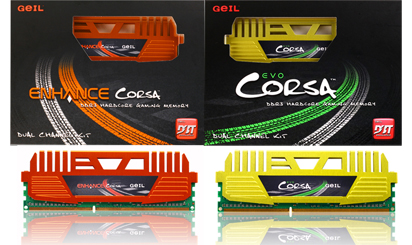 Memories are rare guests with us, which may be due to the fact that development in this market is less rapid and manufacturers also have less room for maneuver than, for example, in the case of video cards. Today, we are still writing about the age of DDR3, which has already looked extensively at altitudes above 2000 MHz (of course, the delay is getting worse), so by 1866 MHz we can come across quite friendly prices.
The name of GeiL does not need to be presented, it has already honored quite a few of their RAMs, now with the help of Bluechip, two GeiL products have arrived again, representing the new Corsa family in the form of Corsa Enhance and Corsa EVO.
Before we introduce them, here are some thoughts on how to buy memory - an approximate sequence of how to buy memory should be set up:
To specify the type of memory to purchase:

This is done by the memory controller in our system and the

motherboard

determine, the former can be integrated into the processor or in a chipset. Some motherboards can be considered hybrid and support two types of memory, but this is not very common. So the easiest way to find out what kind of modules to buy is from the box or manual of your motherboard. Nowadays, this is DDR2 or DDR3, and in the case of expansion or failure of older machines, DDR1 is rarely sought after.

To determine the amount of memory required: You may want to think about what you want to use your computer for. If you just net, film, play less resource-intensive games, 2GB is still enough. We would not recommend 1 GB with a good heart, as it can easily become a limiting factor in terms of system performance and smoothness. With 2GB of RAM, you don't need to use a 64-bit operating system, you can safely stay on 32-bit. If you want to run more serious games as well, unfortunately 2 GB is often a small 3 or 4 GB package, depending on whether it is a 3 or 2 channel kit. In this case, however, the use of a 64-bit operating system is already justified. 4GB is pretty much enough at the moment, but if you really play at the roughest quality levels, very high resolution, maybe encode video, edit images, the programs won't get angry at the sight of 6 or maybe 8 GB of RAM. However, this is really the ceiling, buying more memory than this is very difficult to justify, possibly because we don't know where to put our money. If we had to suggest, we would consider 4GB in a two-channel package ideal for buying a new machine.

Select memory speed: We have to decide how much fast memory is needed for our purposes, since the faster a module costs, the more it costs, so it is not advisable to waste money unnecessarily. On the net, home theater should not be exaggerated, the pace of RAM is less important. For games or resource-intensive applications, on the other hand, extra speed can be useful, which is determined by the operating frequency and delay values ​​of the module. It makes sense that the former is as high as possible and the latter as low as possible, but we will certainly be forced to compromise in some areas. Which feature programs like better varies from case to case. From DDR2 today, the 800/1060/1200 MHz modules are dominant, while from DDR3, starting at 1333 MHz, crossing 1600 MHz, the border is all the way to the starry sky, somewhere below 3 GHz, but at 2 GHz. or kits above are already considered a premium product. When buying DDR2, we would prefer the 1066 package, as it may have the best price / performance ratio, 800 MHz may be low, but 1200 MHz products are disproportionately expensive. On the DDR3 line, perhaps 1600 MHz seems to be the area to be targeted.

Importance of memory manufacturer / brand: As with everything, it's also true for RAMs that you may not want to buy the cheapest, because as they say, cheap meat has dilute juice - of course, if a memory has juice, it used to be bad. True, you can find treasure among the "noname" pieces by carefully selecting or just luckily, but if you can, you can choose from the more famous, well-known products. Some manufacturers stay at the entry level solely with the price in mind, but most companies try to cover the full range, from the simplest needs to aggressive tunings.
We could list a lot of reliable and already proven brands, but it is also certain that by saying the word GeiL, RAMs come to mind immediately. What about this new series? You don't have to expect a lot of novelty. Both releases strengthen GeiL's player-tuning line, but they try to do it all at an affordable price. GeiL mainly recommends them for Intel motherboards based on P67 / H67 / Z68, but of course they can also be used in AMD systems.
Corsa Enhance and Corsa EVO have been given a joint, newly designed heatsink that has been built in the spirit of MTCD (Maximum Thermal Conduction and Dissipation) according to GeiL tradition. Not only is it made in this regard according to the original and unadulterated GeiL recipe, but the modules are also "baked crispy" in the well-proven DBT (Die Hard Burn-in Technology) "ovens" (test machines). The stress test is performed at 100 degrees for 24 hours, the machine can accommodate and burn 1000 modules at a time.
Honestly, I didn't experience any sky-shattering innovation in the rib itself, in fact, I have to say, it wasn't the best quality GieL rib I've ever seen, but somewhere it has to show that these modules fall into the lower priced categories. are targeted. It is worth paying attention to its size, as the rib is quite high, so on motherboards where the DIMM rails are close to the socket, in addition, a huge, wide heat sink is placed on the CPU, installation problems may occur, or the more distant rails may need to be used. . There is no flaw in design, the Corsa Enhance is orange and the Corsa EVO is "eye-catching" in light green.
Dual and Quad Channel KITs are available in this product category, of course the name Quad Channel should be understood to mean that the package includes four modules (the real four-channel mode has yet to wait until X79). The Corsa EVO will be available at 1866 MHz (9-10-9-28) and 2133 MHz (9-10-9-28) at 2 × 2 GB, 2 × 4 GB, 4 × 2 GB and 4 × In 4 GB KITs. The factory operating voltage is quite low, only 1,5 V, which is recommended to be increased to a maximum of 1,65 V on an Intel motherboard, above which you can even expect damage to the CPU.
The Corsa Enhance resembles the EVO as if they were twin brothers, only the color is different, as the Enhance boasts the traditional GeiL orange, as already mentioned. Corsa Enhance targets an even more affordable price level, operating at 1333 MHz (9-9-9-24) and 1600 MHz (9-9-9-28), respectively. There is no change in capacity compared to EVO, in the case of Enhance 2 × 2 GB, 2 × 4 GB, 4 × 2 GB and 4 × 4 GB KITs are also available. The factory operating voltage is 1,5 V here as well, and the modules have a lifetime warranty, whether they are Corsa EVO or Corsa Enhance units. In the case of Enhance, the fact that the modules are also tested at higher operating frequencies can be considered an extra. The 1333 MHz Enhance is tested with 1500 MHz / CL9 settings, and this is also incorporated into the XMP 1 profile. The same means 1600 MHz for 1700 MHz Enhance. At EVO, we did not come across such an extra service.
We received the 1600 MHz (9-9-9-28) 2 × 4 GB KIT from Enhance, here is the summary specification:
CAS: 9-9-9-28
Operating voltage: 1,5 V
Heatsink: CORSA edition heat-sink system with MTCD Technology in Racing Orange finish
Technology: DBT Enhanced, Die-hard Burn-in Technology
Warranty: Lifetime
1600 MHz C9 tested on 1700 MHz C9 (XMP Profile1)
The 1866 MHz model ran from EVO, also in 2 × 4 GB size:
CAS: 9-10-9-28
Operating voltage: 1,5 V
Heatsink: CORSA edition heat-sink system with MTCD Technology in Metallic Green finish
Technology: DBT Enhanced, Die-hard Burn-in Technology
Warranty: Lifetime
Of course, we couldn't let these GeiL RAMs go without a test either, we took some measurements on them after they sat down into our test configuration, which was:
Here are the memory settings:
Corsa Enhance 1600 MHz 9-9-9-28 Corsa EVO 1866 MHz 9-10-9-28
We first report the results of AIDA64 memory operation measurements:
Corsa Enhance 1600 MHz 9-9-9-28
Corsa EVO 1866 MHz 9-10-9-28
Results of various test applications:
Summary, opinion, prices
As can be seen, in the tests, the capacity of both KITs was the same, i.e., 8 GB of memory was strained for each other. The modules were used and measured according to the factory settings. The delay of the EVO is a bit weaker, but to compensate for this, it works at +266 MHz. It also works in SuperPi and wPrime, the Corsa EVO can be faster. If we look at the table, this trend continues all the way to games, with higher operating frequencies always winning with more or less advantage (except for the Cinebench 1-fiber measurement, but taking advantage of all the fibers, things get in place there as well). There's nothing surprising about this because the delay values ​​are very similar, that one piece of 10 doesn't appreciably affect the battle, so the clock advantage can easily show up on the side of the Corsa EVO.
Of course, it's not the job of the Corsa Enhance to beat its more expensive and already faster paper counterpart, but the results could serve as a lesson for those vacillating between 1600 and 1866 MHz RAM purchases. Well, let's get back to the table, because we haven't gone through it yet. In 3DMark11, faster RAM can only be effective in Performance measurement, we don't benefit from Xtreme. In Vantage, we got almost the same result in P, the CPU score improved slightly with the Corsa EVO. In games, however, it is clear that under heavy VGA workloads (and this is how we usually play), the role of RAM is also a secondary, or even tertiary, issue.
Manufacturers prefer to advertise a KIT as gamer memory, which can be effective at higher clock speeds, but it is clear that there is virtually no difference between 1600 and 1866 MHz. The Geil Evo Corsa Kit2 DDR3 PC14900 1866MHZ 8GB CL9 product can be purchased in the Bluechip webshop at a gross end-user price of HUF 17, while the 640MHz 1600GB Corsa Enhance KIT costs HUF 8. We have to decide we need this clock. You can gain an advantage with it at work rather than in games, except in one case. If you are thinking of a configuration that includes an integrated VGA and this VGA works from system memory, it is definitely recommended to prefer higher frequency modules, as IGP should have the bandwidth like a wall of bread, especially if it's from Llano. we are talking. We, of course, leave the decision to our readers.
Overall, we were pleased with the GeiL Corsa production, both for the Enhance and EVO models. They don't include a market-changing innovation, but that's not a big surprise for a memory. The rib look was not an undivided success for us (we have already seen more sympathetic solutions from GeiL), but it is indisputable that the system worked reliably and stably throughout, and it was possible to feel the ribs with confidence during the measurements. During the 3DMark Vantage test (New Calico), we also looked at it for a moment with an infrared thermometer, which at that time showed 41,8 degrees, which is an extremely friendly value, especially in summer, so there is no complaint about cooling performance. We also tried some tuning, but we can't really praise the Corsa in this regard. It should be added, we didn't embark on a full morning of testing, in the Maximus IV Extreme BIOS we tried to force the next adjustable step on the RAMs.
True, these limited jumps due to limited BLCK tuning, we tried the 1600 MHz setting on the 1866 MHz Corsa Enhance, while the 2133 MHz step on the Corsa EVO, 10-10-10-38- by increasing the delay, raising the voltage to 1,66 V. It is also forgivable that EVO did not like 2133 MHz (although the memory in our test machine has this setting without a word, even though it was originally 1600 MHz), but Corsa Enhance would have to withstand 1866 MHz. , if already tested with a 1700 MHz XMP profile.
Of course, the fact that tuning was not effective with us does not mean that the Corsas would not know more in another hardware environment, under a more competent hand, since the spiritual world of hardware is inexhaustible, but we have experienced this. If you look at Bluechip's 8GB RAM KIT offerings, you can see that the Cor1866 EVO in the 1600MHz price is wedged between several 1600MHz KITs, so its purchase price is really competitive. The XNUMX MHz Corsa Enhance is at the top of the list, which by choosing an ascending order by price means it can also be there at or slightly below the price level of the renowned competitor, which is also a significant weapon factor.
GeiL Corsa Enhance and GeiL Corsa EVO memories are available at Bluechip KftWe got it for testing from, where the products in question can be expected! Thank You!
Gábor Pintér (gabi123)
---
Thanks to the following sponsors for our permanent test components in this article: