BS-30KP365 - Brutal external battery from Baseus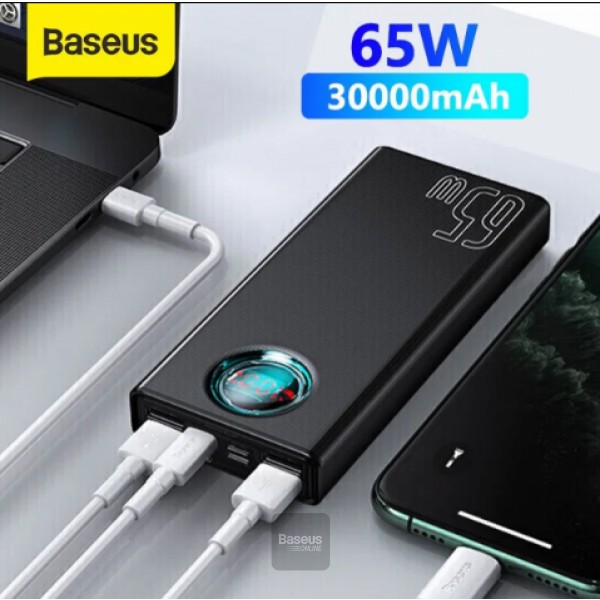 You can even charge a notebook with this!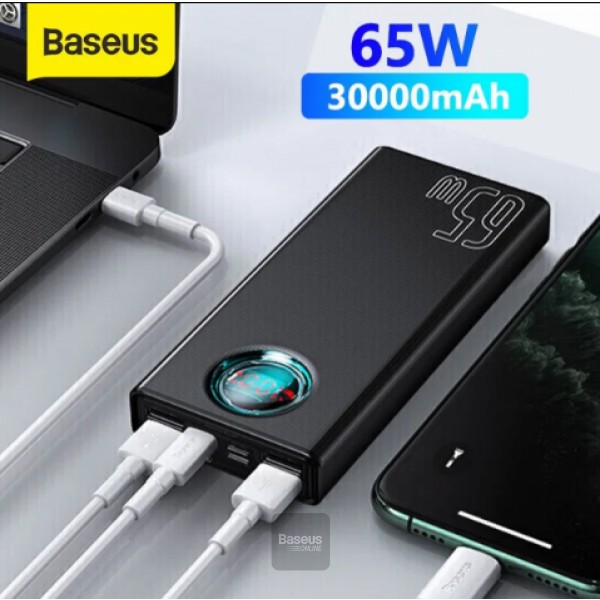 External batteries are good, we love them because they save a dead phone, tablet, camera and more. The goods are now bearable, and not only for the 5000 mAh capacity pieces, but also for the 10 or 20 thousand solutions. The 30 ones are a bit more expensive, especially if they know something like the Baseus BS-365KPXNUMX!
Well, this structure has a capacity of 30 mAh, we get USB-C/Micro USB/ for Lightning connectors for input, and USB Type-C and USB A ports for output. So everything is here, just like in the farewell! These values ​​are given for Type-C output: PD000+QC3.0 3.0V/5A 3V/9A 3V/12A 3V/15A 3V/20A 3.25W, and for USB A: QC65+SCP 3.0V /5A 4.5V/4.5A 5V/9A 3V/12A 2.5V/20A 1.5W. You can see that we get both PD and QC fast charging.
As you can see, the structure is capable of delivering brutal power, since we can get up to 65 watts on connector C, but A can also deliver 30 watts. Type-C is particularly interesting, as it can be used for recharging the ever-increasing number of notebooks equipped with a Type-C charging connector. It is also interesting that if we use all outputs together, in principle we still get 15 watts on the USB A connectors, and 45 watts remain on Type-C. So your little one knows something!
There is also a variety of protections, including overcharge protection, overcurrent protection, short circuit protection, and overheating protection. After that, the mag-sized display is really just icing on the cake. Be prepared for the fact that this little one is not that small, as the 30 mAh capacity has to fit somewhere. The weight of the device is not less than half a kilo.
The reason why I wrote this review is that the Baseus BS-30KP365 pre-order campaign started today, in which the first 30 customers can get the device for HUF 33, while from the 447th to the 30th customer, the price will be HUF 100. Besides, the dog knows, and will find out when this action is over. If you want such a battery, you can find it at the link below. Of course, there is no coupon, this is an introductory promotion.
Specifications:
| | |
| --- | --- |
| Brand | Baseus |
| Model | BS-30KP365 |
| Name | Baseus 30000mAh Power Bank |
| Color | Black and white |
| Capacity | 30 mAh/000 V (3,7 Wh) |
| Rate Capacity | 18000 mAh |
| Input interface | For USB-C/Micro USB/Lightning |
| Output interface | USB-C / 4 * USB-A |
| Energy conversion rate | >75% |
| Micro input | QC2.0 5V/2A 9V/2A 12V/1.5A 18W |
| Type C input | PD3.0+QC2.0 5V/3A 9V/3A 12V/3A 20V/3A 60W |
| for lightning input | 5V / 2.1A |
| Type C output | PD3.0+QC3.0 5V/3A 9V/3A 12V/3A 15V/3A 20V/3.25A 65W |
| USB1/USB2/USB3 output | 5V / 3A 15W |
| USB1/USB2/USB3+USB4 output | 5V / 3A 15W |
| USB4 output | QC3.0+SCP 5V/4.5A 4.5V/5A 9V/3A 12V/2.5A 20V/1.5A 30W |
| USB4+Type-C output | 18W + 45W |
| USB1+USB2+USB3+USB4+C type output | 15W + 45W |
| Full output | 5V / 6A max |
| Size | 145 * 65 * 38mm |
| Weight | 550g |