BMAX Y13 - the best notebook for 100 thousand from China!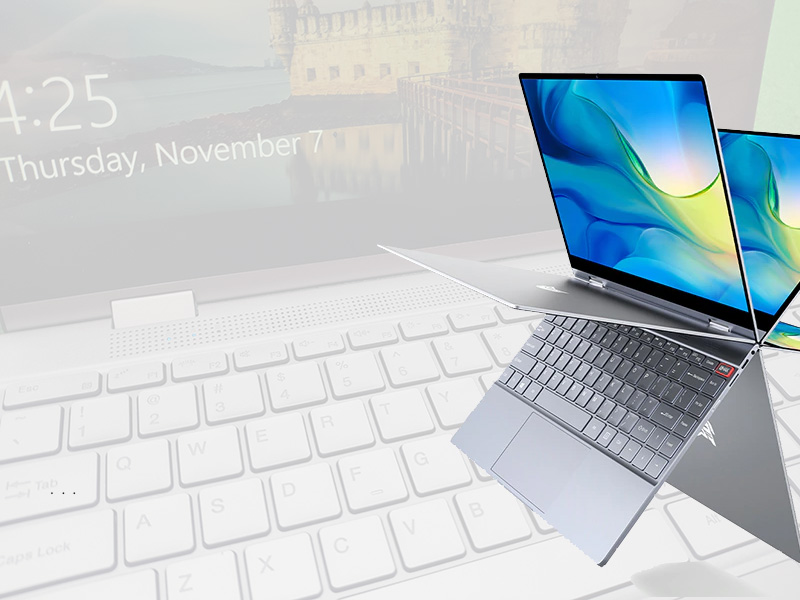 You fold out tablet, you fold notebook, real travel, portable machine.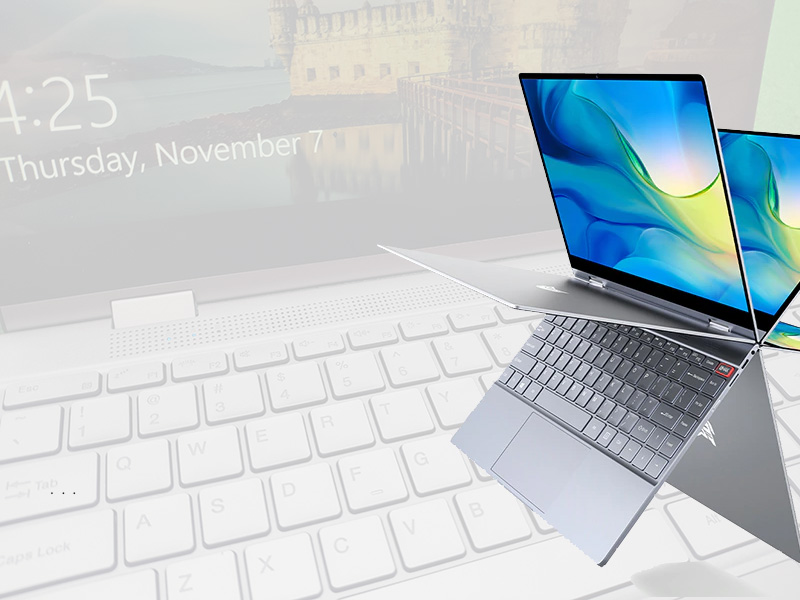 ---
Introductory
It turned out that my couple needed a notebook. Mostly free time, sometimes a little work, but the point was to be light, preferably with a large battery. He doesn't want to do some serious graphic work on it, but it would be nice if some image editor would talk to him, it wouldn't hurt to be able to watch a movie on it, even while traveling. To make word processing, Excel and their peers work was a default requirement.
Honestly, I didn't search too much. I was sure that if it fit into my budget, I would choose a machine that could also be used as a tablet. The BMAX Y13 came across me in the Gearbest store, and browsing through the capabilities, it soon decided. I paid for it, ordered it, and now I'm waiting here to write something nice about it. You won't be disappointed because you're almost going to read it well, keeping the factual description.
---
Packaging and exterior
The machine came in a surprisingly large cardboard box, but it turned out that because of the matryoshka effect, there was a smaller box in the big box, and the machine lived in it. This inner box was showy, with a logo on the Transformers on a white background, with the manufacturer's name on the edge, really good. Although the small one in the larger carton also sat in a sponge, the small one has a sponge under, above, and around the machine. This is thus an almost certain guarantee that you will come here from China without being harmed.
The noti seems stiff at first glance. The cover is made of aluminum on all sides (even at the bottom, the cover covering the SSD), yet its weight is very friendly, at just 1,2 kilograms. The exterior dimensions are also pretty good, since, although the display is 13 inches, it's only 30 x 20 inches and isn't an inch and a half thick at its thickest point. This is brilliant just because it has a fairly large battery packed in, plus it needs proper bracing, as the display can be flipped, meaning it is full-fledged and can be used as a huge tablet.
Turning the machine, we can see that not too many of the connectors have been packed on board. There is a full Type-C connector on the front left edge next to the charger connector, unfortunately I couldn't test now to see if it could be used to drive an external monitor because I didn't have a USB monitor at the moment. On the right side, at the back, is a headphone jack, in front of it is another Type-C jack (this is only good for connecting a data cable as described), even first there is a microSD card slot. There is also a power button on this page. This is a bit unusual, but while using it I found it to be extremely practical because even if I use the machine as a tablet, I can easily turn it off, I don't have to look for the power switch on the back-facing keyboard.
Opening the lid we find an almost completely frameless display. The framelessness essentially persists even after turning on, as the area on two sides where there is no image is only half an inch, but at the top where the camera is hidden no more than 1 centimeter.
Above the display, at least for feel, is a sheet of glass with a factory-fitted scratch-resistant foil. The part carrying the display panel itself is surprisingly stiff, at least I didn't expect that, seeing the thickness of what you write and say is just 4 millimeters.
Not only is the keyboard a full value, but the keys are even larger than average. True, on a 13-inch machine, the numeric keypad didn't fit that way, but I don't think it's a big drawback on a device that's primarily for relaxation. What's a big positive is that the arrow keys are also full-size, and it's really just icing on the cake that the entire keyboard has been backlit, the brightness of which can be adjusted in two levels.
The touchpad is a nice size, maybe just the speaker grille looks weirdly small.
Tablet mode is thanks to two fairly wide hinges that allow the display to bend completely backwards. True, we have only been using it for a few weeks, but for now, the structure is stable enough, we hope it stays that way.
I can't say bad things from the outside or from the inside open. No, it's not a Xiaomi, but since we can buy three of these machines for the price of a Xiaomi Notebook Pro, it's no wonder. At the same time, I don't think there would be anyone who would talk about the house, the look of the BMAX, because it's as perfect as it is.
---
Hardware
As it turns out so far, the BMAX Y13 is not a power plant, fortunately it is not even sold for it. For everyday use, however, the power of the hardware is plenty, because even if the processor isn't a bankrupt, they've packed enough memory and fast storage behind it.
The eighth-generation, ultra-low-power (14-4 W) Intel Gemini Lake processor, built with 6-foot manufacturing technology, of course already includes a GPU, or VGA controller, so you don't need it separately. The proci is specifically an Intel N4100 that has four cores, a 1,1 GHz base, and a 2,4 GHz turbo clock. This essentially means that depending on the load, the clock signal of the cores can move between these two values. Don't be surprised that the clock can vary so wide, this is to reduce power consumption and extend battery life when using less power-hungry programs. The proci is packed with no less than 8GB of memory, which is strongly out of the category, of course, upwards. For similar machines, 4GB is the usual one, and because, these machines are terribly thin, memory chips are usually soldered to the motherboard. That is, if we take the machine with 4 GB, there is so much left in it, it can't be expanded much. For this reason, it is doubly welcome that the BMAX Y13 is packed with 8 GB of LPDDR4 memory. The mass storage is a 256 GB SSD in M.2 format. If that capacity isn't enough, you don't have to panic, because you can change the storage to a larger one, and you don't have to disassemble the machine, that is, you can unscrew and screw the larger capacity drive at home.
The integrated VGA controller already mentioned above is responsible for displaying the image, in this case an Intel UHD Graphics 600 with a maximum clock speed of 700 Mhz.
Despite the low price of the machine, it also included a great full HD resolution IPS display. Brightness is great, colors and contrast are to be expected from IPS technology. That is, impeccable. Of course, since it is not customary to control a tablet with a keyboard, but with our hands, the display must be touch-sensitive. That is it, that is, it can distinguish ten of our fingers at once.
We're slowly getting to the end of the hardware presentation, but there are a few more moments to talk about! One of them is that the manufacturer has not saved in terms of radio connections, version 5.0 is already built in from Bluetooth, and from a wifi interface that supports dual channel mode (2,4-5 GHz), and it also complies with the ac standard, thus providing the fastest possible wireless connection. We also get a camera on the front panel, the resolution of which is not very steel, as the sensor is only 1 megapixel. Of course, this doesn't have to be compared to the cameras on the phones, as we won't take photos with it, and to have a video call on the net, chatting is a perfect fit.
One more thing is left out, the battery. This is a pretty important component of the hardware for a notebook, but the manufacturer handles this data quite shyly. Digging into the information available on the net, I found a capacity of 7000 mAh, which, based on factory data, allows for 6 hours of continuous video playback. If this is true, then in practice it means that we can essentially load enough souffle for a daily use.
---
Use
As you may have read above, this machine may not be popular because of its brutally strong hardware, but because of other, very pleasing features. If you think it's slow due to a weak processor, you're very wrong. Obviously, there are programs that make you sweat, like multi-gigantic Excel files you don't like anymore, especially when it's full of all sorts of functions. I tried Photoshop, which ran quite well while working with smaller, say 1920 × 1080 JPG files (up to 2-3 pieces), but more serious image files with larger file sizes or more compression were already loaded properly.
Of course, most people either don't use such programs or, if they do, they don't use such a machine. A good example of speed is that the manufacturer claims that the operating system will wake up in 6 seconds after power-up, i.e. from non-sleep mode. In my experience, this is an exaggeration, it took him 10-11 seconds as well. This is, say, still ridiculously little time, but the programs load just as fast.
The display is good, the brightness is good, the colors and viewing angles are excellent, as is the contrast, making the machine perfect for watching movies. One thing we can relate to is the quality of the speakers, but it was expected that they could only bring out some high and mid range from such a thin house, bass and nothing. The volume, on the other hand, is adequate, even if the sound is "boxed" a little further at a high level.
For these folding machines, manufacturers prefer to write bullshit texts such as 6 in 1 machines, and the like, and then try to set the display to the most neck-wrapped modes possible, and set each mode to a newer mode. Well, I'm saying that pretty much 3 of these are really well-distinguished modes. One is, of course, notebook mode, the other is tablet mode, and the third is when we fold the keyboard backwards and use it as a base to watch a movie on the display.
The BMAX Y13 is really suitable for these three modes, and it does its job well. Fortunately, preinstalled Windows 10 already has tablet mode, so you can use it without a mouse. The keyboard turns off when you return to tablet mode, so you don't have to worry about accidentally typing something.
The point is, the entertainment goes perfectly for the machine, but it's still right when we work on it. The keyboard is, of course, a notebook, which means that the keys go a short way, but when pressed, the end position is not reached by tapping hard, but gently, so typing is not tiring, it does not destroy the joints either.
Going back to the battery and the runtime, I didn't try to watch the machine purely on video, but I started Youtube, with this, with wifi turned on, using the display at full brightness, the machine went on for 4 hours and 42 minutes. Based on this, by making the display more economical and turning off the wifi, the factory-set 6 hours may be available, even if in a few minutes.
---
Summary
We've been using the machine for about a week and a half, so far, of course, nothing wrong. It's perfect for what we've bought, work, net, Facebook, Viberize, so everything we use an average notebook for is appropriate. It also looks good, it's not crappy at all because of the full aluminum cladding, and not just for the price, anyway. Later, we will also design this machine to entertain our guys in the back seat on longer trips, so it will come in handy that it can also be used as a tablet. Of course, z isn't bad either, because in the evening, sitting on the couch, it's better to read the news on this than on a traditional notebook.
The point is, it has lived up to all but one of our hopes. And this one is the use of a capacitive pencil, which is not perfect even with an active pencil. So if you want to draw freehand, don't buy it, it won't be good, but everything else will.
---
Closing Remarks
The other day, I came to an art institute called ALDI, where I discovered a machine that was eerily similar to the BMAX Y13. Stepping closer, it already appeared that they were not the same machine, only the size, shape, and tablet mode were similar. In addition to 4GB of memory, it had 512GB of storage, which was otherwise the same in almost every other respect. Oh, and of course it was a Chinese machine. What was the biggest difference between the two notebooks was the price. The ALDI machine was a little over 150 thousand forints, which means a strong 50 thousand (50 percent) more than the BMAX Y13. That, I think, says it all about the price-performance ratio of this machine.
Anyway, the owner loves it. I was praised for making a good choice, and I'm glad I was able to bring a little joy. So, everyone is happy, the notebook is perfect, and life goes on, all that has happened is that my darling will no longer elude my machine. That's what they say - two birds in one fell swoop!
If you liked the machine, you can now buy it cheaper than the actual list price due to the Chinese Black Friday, i.e. the day of singles. To do this, you need to use coupon code GBBMAXY13 here:
Choose the free EU Priority Line (DPD) mode as the delivery method, with which the ordered notebook is delivered duty-free.
---
Remember, if you want to buy anything from outside, contact us on our Facebook group, because there is no coupon we can't find! Don't buy expensive if it can be cheaper!
You can also subscribe to our coupon newsletter, so you will find the latest promotions in your mailbox several times a week!