Alfawise V10 A3050 - budget gamer (updated!)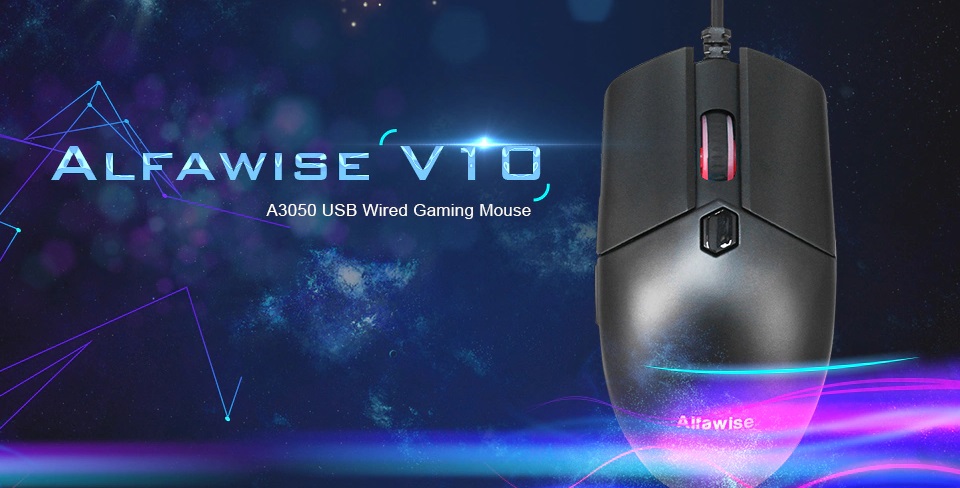 Once again, we can welcome an affordable rodent in our circles. Theoretically, this wired mouse can already do a good service for playful users, we will see for ourselves.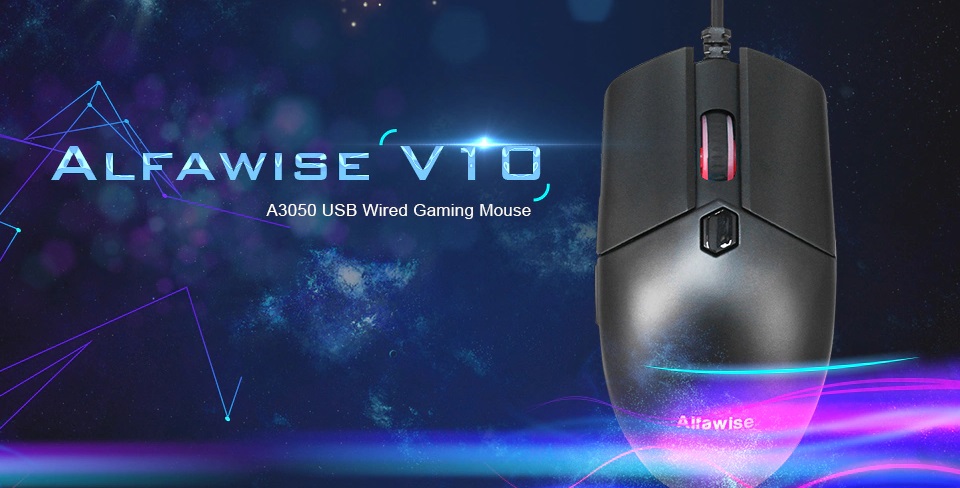 At first glance, the Alfawise V10 looks like a really promising copy, as the following list shows:
Full specification
Product details

Avago A3050 optical sensor (20G acceleration, 60 IPS, 2 DPI)
Wired, USB connection, 1,6 meter cable length
Configurable RGB LED lighting and adjustable sampling,
use macros
1 / 000 / 2 / 000 DPI
Six-button design
Size 13,0 × 6,5 × 3,5 cm
Downloadable utility (here located)
Wrapping
I put it very subtly when I say that the packaging has managed to be pretty lousy. There are no traces of user manuals or technical descriptions, and the box fell apart soon after the gluing surrendered. This negligence was very astonishing, with approx. the X3 mouse, which costs half as much, came in a premium package, so not everything can be caught at that price either.
External
On closer inspection of the mouse, it will be immediately noticeable that we are not dealing with a bitang big cattle. Its grip isn't bad anyway, though the side design doesn't support the thumb, which I'm not particularly happy about. There are a nice number of buttons, or rather switches, because there are two at the bottom:
configurable polling rate (this is the number of times the mouse's own position for the operating system per second), we'll talk about that a little later
RGB lighting with four modes (more under the picture!)
In our opinion, the use of materials has already reached an acceptable level; it is still abundantly felt that we are not dealing with top quality, but we will not encounter more serious discomfort. The slides are made of simple plastic, yet they provide sufficient glide. I found the pressure point of the buttons to be completely ideal, I especially liked how well it behaved during dragging operations.
By the latter, I mean that you can hold down the button with quite a subtle force, which I can otherwise appreciate during a long period of work. Scrolling is just as easy, but the steps of the mouse wheel could be more separated.
The good news is that the lights can be turned off completely, so the Alfawise V10 can be a good choice for sensitive users. There are a total of three modes to choose from for those who like a unique look. These are parameterized quite well anyway, although one has managed to be a bit wild:
the first mode is "breathable" lighting, where the entire color range is manifested with slow transitions
the second only operates in bright colors, the shifts are fine here as well
pushing the switch to the third position has a similar effect as the second option, only here the transitions are much, much faster
Usability
The Alfawise V10 is guaranteed not to get tired even with long-term use, as it is incredibly light. Since we have no way of weighting, we can say: you get used to it or you get away with it. As mentioned above, the V10 is ideal for a palm grip if it does not have a very large palm. It is primarily recommended for fingertip grip, and since I also prefer this, I am largely satisfied with this design; the only thing I object to (definitely) is that the mouse is completely flat on the side, so we're not going to rest our thumbs here.
| | |
| --- | --- |
| | |
Again, we used Enotus Mouse Test to test. According to our own measurements, the mouse produced the following DPI results: 1 / 000 / 2 / 000. So we can safely say that, unlike the X3, we can confirm the factory-specified specifications here. In the second round, the polling rate was discussed. The Alfawise V000 came as no surprise here, with Enotus reporting a sampling rate of 4 Hz. Let's just say we don't necessarily recommend using the mouse in this mode, but it worked flawlessly at 000-3 Hz. Setting the sensitivity to 10 DPI, the overall picture is really good - not coincidentally this is the native resolution - and Angle Snapping (AS) intervenes relatively modestly, the jitter was not very conspicuous even with higher DPI.
Unexpected surprise that there is drive also a user utility for the mouse. You can see the possibilities in this in the pictures below.
I admit fragmentarily, I didn't install the software myself. There's a simple reason for this: although VirusTotal says the stuff was harmless, I still don't think of the idea of ​​installing drivers from Gearbest for safety. By the way, the stuff doesn't offer anything at first glance that can't be set in Windows or another application, maybe customizing the DPI can be (not) useful, maybe parameterizing the side buttons. By the way, the user interface seems to be a fair craftsmanship, if you demand it, I will get the virtual machine… I note that at this price level this level of "support background" is very rare, so it is worth perceiving as an extra rather than an expected phenomenon.
Evaluation
Decent craftsmanship is the first thing that comes to mind. The Alfawise V10 is clearly not at the bottom of the rankings - material usage, sensor, assembly quality, etc. - while we can still say with full conviction that it is affordable. It is not ideal for a larger-than-average hand if its owner prefers a palm grip, otherwise there will be no problem with it anyway. For our part, we feel that this is the level we can already offer you with a calm heart.
The Alfawise V10 USB Optical Mouse is currently available for purchase on Gearbest (click on the picture!) For only $ 9,99. If you have any questions, don't hesitate to ask!
Update!
With this coupon (GBxHou020) you can now lower the price to $ 8,99!